1947 Chrysler Town and Country news, pictures, specifications, and information

Tweet
At the conclusion of the Second World War, the automobile manufactures ceased production of military material and resumed production of automobiles. Chrysler introduced the Town and Country line for their post-war selection, featuring both sedans and convertibles. The body style was the most memorable with its name coming from the combination of the steel front end representing 'Town' and the wood panel representing 'Country.' The body is framed in white ash and required extensive hand work; as a result, production of Town and Country models ceased in 1950. The four-door sedan was marketed as an 'Estate Car' and was well received by the public. This car has been toured for thousands of miles, all trouble free.
| | |
| --- | --- |
| | New Yorker Series Convertible |
The 'Town & Country' name is credited to Paul Hafer, of the Boyertown Body Works. Hafer drew sketches of wood-bodied wagons, and said, 'The front end looked 'town' and the rear looked 'country' so I thought it natural.' The convertible was the first Town & Country released, at a price of $2,743. Sedan and wagon versions of the Town & Country were also released, but the convertible was the most favored. A total of 8,368 of these were produced from 1946 through 1948. The wood trim of the vehicle covers all surfaces from the cowl back, with the exception of the rear fenders. This example has recently undergone a complete restoration, with the aim of preserving as much of the original wood as possible. The ash wood is original, but the mahogany panels were so deteriorated that they had to be re-veneered. Standard features on this car included two-speed windshield wipers, cut-pile carpeting, and spotlights.
| | |
| --- | --- |
| | New Yorker Series Convertible |
This was Chrysler's top-of-the-line vehicle and the pinnacle of postwar glamour. It was a dazzling expression of status when new, and is powered by a 135-horsepwoer, 324 cubic-inch straight-eight 'Spitfire' engine with Fluid Drive transmission. Produced from 1946 through 1950, the car was based on the New Yorker chassis and built in limited numbers due to its complexity and high exterior maintenance requirements. The wooden parts came from Pekin Wood Products of Helena, Arkansas, and were shipped to the Chrysler Jefferson Street Plant in Detroit for final assembly. Since the wooden parts required extensive fitting during assembly, the cars were essentially hand-built. For the 1948 model year, both sedans and convertibles were part of the line-up. Convertibles had a base price of $3,420, and just 3,309 were sold. The mahogany veneer inner body panels were replaced with metal panels covered with Di-Noc wood-appearing decals in late 1947 to reduce manufacturing costs and maintenance. IN 1951, Chrysler transferred the name to a station wagon body style, and the name remains in use to this day.
The majority of the Town & Country Woodie Sedans were built in 1946, with a limited number carried over into 1947. This example is powered by a 323.5 cubic-inch inline eight-cylinder engine producing 135 horsepower. There is a three-speed manual transmission and four-wheel hydraulic drum brakes.

Lloyd Mayes acted quietly and waited patiently when he acquired all four of the remaining Eighty Cylinder Sedan and added them to his collection. This car was reportedly his favorite of the four, which he called 'Big Red.'

Mr. Mayes purchased this car in 1990 from longtime owner Mr. Bob Porter. When it was purchased, it had roughly 44,000 miles on the odometer.

In 2006, this car was purchased by the current owner, who began a comprehensive nut-and-bolt, frame-off restoration. The engine and transmission were rebuilt and some inside mahogany panels were replaced. The wooden framework remains original and restored.

The car won its class at the Meadow Brook Concours d'Elegance. It also has its AACA Junior and Senior badges.

The car has window visor, roof rack and side-mounted spotlights, and additional bumper guards.

In 2009, this Town & Country Sedan was offered for sale at the Automobiles of Arizona auction presented by RM Auctions in Scottsdale, Arizona. The lot was estimated to sell for $325,000-$375,000 and offered without reserve. As bidding came to a close, the lot had been sold for the sum of $330,000 including buyer's premium.
By Daniel Vaughan | Apr 2009
Understandably, this was Chrysler's top-of-the-line vehicle and the pinnacle of postwar glamour. The Town and Country was a dazzling expression of status when new and remains so today. Produced from 1946 through 1950, the model was based on a New York chassis and built in limited numbers due to its complexity and high exterior maintenance.

The unique wood body parts for the T&C came from Pekin Wood Products in Helena, Arkansas, a subsidiary of Chrysler. Steel body parts came from Briggs. From there, they were shipped to Chrysler's Jefferson Avenue plant in Detroit for final assembly. The wood framing was assembled prior to being fitted to the body, which required extensive hand-formed contouring of the compound curved frames so they mated to the metal body parts correctly.

This Sumac Red sedan with maroon leather and Bedford Cord interior is one of just 1,175 sedans produced in 1948.
New Yorker Series Convertible
Chassis Num: C3937634

High bid of $97,000 at 2014 Mecum. (did not sell)

After the war, the most significant change in the Chryslers involved the Town & Country, which was no longer a wagon but a separate series of six- and eight-cylinder sedans and convertibles. Chrysler had promised a full line of non-wagon Town & Countrys, including a two-door brougham sedan and even a true roadster and a hardtop coupe.

The Town & Country line had its origins in a concept conceived by Chrysler Division General Manager Dave Wallace. In the early 1940s, his team of engineers produced an elegant fastback sedan body with a unique clamshell rear doors. Its wood trim covered all surfaces from the cowl back, except for the rear fenders. In 1946, the Town & Country returned with Chrysler-designed bodies built by Chrysler subsidiary Pekin Wood Products of Helena, Arkansas. They had Ash framework, a luxurious interior, and regal bearings. It was positioned as the company's 'halo' cars tasked with luring potential buyers back to their showrooms.

Chrysler built 3,136 examples of the Town & Country convertibles in 1947. This example is a California 'Black plate' car that is finished in black paint with a red leather interior. It has a power-operated Beige soft top and is powered by a 323 cubic-inch, 135 horsepower flathead straight-eight engine. There is a 'Presto-Matic' 4-speed semi-automatic transmission, wide whitewall tires, and fender skirts.
By Daniel Vaughan | Dec 2014
Produced only from 1941 through 1950, the first woodie wagon with an all-steel roof was designated the Town & Country. This 4-door sedan luxury vehicle was built for either city or estate transportation, and was available for 6 or 9 passenger versions.

Due to World War II, production of the Town & Country was halted in December, 1941. A mere 1,000 models were produced during 1941 and 1942. In 1942 the sheet metal was updated, and the design of woodie remained similar to its previous look.

Following the war, the new wave of Town & Country woodies were produced in much larger numbers as coupes, convertibles, sedans. The first production hardtops ever produced by any manufacture, seven 2-door hardtops were also manufactured by Chrysler. The final Town & Country woodie models were produced only as 2-door hardtops only for the last year.

In the last year of its production, a box type woodie station wagon was offered by both Chrysler and Desoto. Plymouth and Dodge also released box type woodie wagon throughout the 1930's and 1940's. In 1950, production of the original Town & Country was ended.
By Jessica Donaldson
For more information and related vehicles, click
here
BARRETT-JACKSON SALON COLLECTION TO HIGHLIGHT SCOTTSDALE AUCTION
•(Lot #5087), a 1949 Talbot-Lago T-26 Grand Sport Franay headlines Barrett-Jackson's Salon vehicle lineup •An exquisite 1929 Alfa Romeo 6C 1750 SS (Lot #5083) will be among the auctions most notable consignments •One of 300, a stunning silver 1955 Mercedes-Benz 3000 SL Gullwing (Lot #5075) will cross the Scottsdale auction block SCOTTSDALE – Jan. 5, 2015 – Barrett-Jackson, The World's Greatest Collector Car AuctionsTM, will feature a rare docket of exquisite Salon vehicles during its...[Read more...]
THE NEW AMG 4.0-LITER V8 BITURBO ENGINE
Powerful, innovative and efficient July 25, 2014 - Affalterbach -- Mercedes-AMG presents a new technological masterpiece: the AMG 4.0-liter V8 biturbo engine is a new development at the sporting heart of the new Mercedes-AMG GT car. This innovative eight-cylinder unit stands out for its sublime power delivery, the purposeful lightweight construction, as well as its high efficiency and environmental compatibility. With peak power of up to 375 kW (503hp) and maximum torque of up t...[Read more...]
Russo and Steele Collector Car Auctions Kicks off 2014 in a Big Way with Outstanding Results and New World Records at Scottsdale
Phoenix, Arizona (January 22, 2014) – At Russo and Steele Collector Car Auctions, we are thrilled to announce the achievement of outstanding results and world-record sales at our January 15-19 Scottsdale, Arizona Sports and Muscle auction event. Throughout the event's five action-packed days, beautiful weather helped draw record attendance numbers, estimated at 35% higher than 2013 levels. At the time of writing, preliminary sale results exceeding $21 million were generated with a very st...[Read more...]
One of the Three Final Cars Built by Famed Italian Engineer Giotto Bizzarrini To Be Offered at Russo and Steele's Highly Anticipated Monterey Auction
Monterey, California – As the engineer responsible for the design and development of some of the most successful and innovative racing and GT cars ever conceived, Giotto Bizzarrini remains one of the most revered names in motorsport history. Hailing from Livorno, Italy and eventually leaving Alfa Romeo for Ferrari where he began as a test driver and quickly rose to Chief Engineer, Bizzarrini collaborated with Carlo Chiti on the 250 Testa Rossa's V-12 engine and the 250 SWB, with his caree...[Read more...]
POW! BAM! ZOOM! The Original 1966 TV Batmobile To Cross Auction Block At Barrett-Jackson Scottsdale
Holy Grail of TV Star Cars to be Sold for First Time January 19, 2013 Barrett-Jackson, the World's Greatest Collector Car Auctions™, announced today that it will offer one of the most recognized and popular pieces of entertainment history worldwide, at its 42nd annual Scottsdale www.barrett-jackson.com/scottsdale/ auction in January – the only 1955 Lincoln Futura concept car which was heavily modified by legendary customizer George Barris to become the original 1966 Batmobile in the l...[Read more...]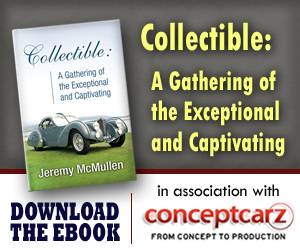 Chrysler
Monthly Sales Figures
Volume
December 2014
30,930
November 2014
27,243
October 2014
27,546
September 2014
28,781
August 2014
29,762
July 2014
23,455
June 2014
24,026
May 2014
22,592
April 2014
21,967
March 2014
26,140
February 2014
25,230
January 2014
21,113
(More Details)
© 1998-2014. All rights reserved. The material may not be published, broadcast, rewritten, or redistributed.