1947 Morgan F-Super news, pictures, specifications, and information

Tweet
This very rare 3-wheeler is one of only 92 post war F-Super made with a four-cylinder flat-head engine, as opposed to the V-Twin in front of the radiator.

The entire sub-frame, firewall and door frames are made of wood. The single rear wheel is suspended on two half leaf springs and driven by a chain. It has the 4-cylidner Ford side-valve engine under the hood as opposed to the 2-cylinder engine mounted outside. The F-Super was produced for a very short period and discontinued in favor of the 4-wheel model. This particular vehicle has undergone an extensive body off frame restoration including all new wooden sub frame.

The car is an AACA National First Place Winner.
Budding car manufacturer, H.F.S. Morgan, was the son of a clergyman and an apprentice engineer with Great Western Railway. He opened a garage in Worcestershire in 1906 and, by 1909, had developed his first car, a single seater powered by a Peugeot V twin engine. His first production car, a three wheeled roadster, was produced in 1910. Morgan production would be exclusively three wheeled vehicles until after World War II.
| | | |
| --- | --- | --- |
| | | Roadster |
The Morgan F-Super Three Wheeler was the car that straddled the war years while the Morgan Motor Company manufactured armaments and aircraft parts for the war effort. This particular F-Super was actually started in 1939 and was completed eight years later. One of only 92 F-Supers, it has an enclosed 10 hp flathead Ford side-valve engine instead of the exposed 2 cylinder unit seen on earlier three-wheelers. The model was the last of the Morgan three-wheelers, built up until 1952. Its current owner has driven the car many miles, including participating in the Governors Cup Rally from Phoenix to the Grand Canyon.
H.F.S. Morgan created a three-wheeled runabout with seating for one in 1909. Morgan created the vehicle for his own personal use and to meet his needs. Interest in the little vehicle soon spread and requests were made to produce more examples. After patenting his designs, production commenced. The early examples were mostly powered by a single-cylinder engine; a twin-cylinder version soon followed.

Morgan's first three-wheeler was powered by a 7 horsepower Peugeot engine which was more than adequate to carry the lightweight vehicle. It was built atop a rigid frame and given an independent front suspension.

Two examples were shown at the 1911 Olympia Motor Show. One example was powered by a single-cylinder engine which created about 4 horsepower. The second example had a twin-cylinder J.A.P. engine which doubled the horsepower of the single-cylinder unit. The cars were alluring and attracted much attention, but it soon became obvious that a two-seater would be more marketable.

The following year, the two-seater examples were on display and generated more work than Morgan could handle. To meet the demand, Morgan purchased the necessary machining tools and built larger facilities.

The cars endured much success in races and hill-climbs. After witnessing the success the nimble vehicles achieved, racing enthusiasts were eager to get one for their own. Around 1913, Morgan produced special derivations of his Morgan cycle cars for racing, which were longer and had the seat set lower into the chassis. After McMinnies was victorious at the Cyclecar Grand Prix at Amiens with the specially prepared cyclecar, the vehicle was given the designation 'Grand Prix'.

The next iteration of the Morgan cyclecar was a four-seater version, which Morgan had created for his family use. Once again, the idea seemed appropriate and soon versions were being made for sale, and would continue until 1937.

For many years, the Morgans featured two speeds and a two-chain drive. The engines were from motorcycles, placed in the front, and were either air-cooled or liquid cooled. Little improvements were needed or made to the vehicle for most of its lifespan. Modern amenities such as starters and electric lamps found their ways onto the vehicles, but in terms of the chassis, little changed. During the turn of the 1930s, a three-speed version with one chain drive was introduced.

The F-Series was introduced in 1932 and would stay in production until 1952. These versions had four-cylinder engines courtesy of Ford and a press-steel chassis. Other variations of this design were created during this time, including the F-2 and F-Super.
By Daniel Vaughan | Oct 2008
For more information and related vehicles, click
here
VOLKSWAGEN OF AMERICA REPORTS JULY 2014 SALES
◾July sales total 30,553 units ◾Golf GTI delivered 1,727 units for the month, marking a 39.7 percent increase in sales for the model over the previous July ◾Passat delivered 8,668 units for the month ◾Jetta sedan delivered 11,008 units for the month ◾Tiguan delivered 2,121units for the month ◾High-mileage, TDI® Clean Diesel models accounted for 7,062 units, representing 23.1 percent of sales in July o Year-to-date TDI sales were 49,202, representing 23.5 percent of sales o Passat ...[Read more...]
WINTERKORN: 'VOLKSWAGEN STAYING ON COURSE WITH QUALITATIVE GROWTH'
• CEO confirms midsize SUV for American market in Detroit • Further momentum for US market with start of new Golf production in Puebla • Group is to invest over US$7 billion in North America over the next five years • Goal reaffirmed: One million vehicles from the Volkswagen and Audi brands to be sold per year in the US by 2018 Detroit / Wolfsburg, January 12, 2014 – 'The Volkswagen Group is staying on course with qualitative growth.' This was reaffirmed on Sunday in Detroit on the ...[Read more...]
VOLKSWAGEN BEETLE DUNE CONCEPT TO DEBUT AT NAIAS
◾Beetle Dune concept is a potential version of the design icon ◾Customized design and ski rack at the rear Wolfsburg / Detroit, January 2014 - The Beetle is a phenomenon, regardless of where it shows up in the world: People are always happy to see this car, whether it's the coupe or the Convertible. With the world premiere of the Beetle Dune at the North American International Auto Show in Detroit, Volkswagen is giving the public the chance to see a Beetle with a cool and rugged offro...[Read more...]
RM Auctions Lifts Gavel On Charlie Thomas' Texas-Sized Collection of Automobiles
• RM Auctions further expands its 2012 calendar with the addition of 'The Charlie Thomas Collection', a single-day, single-vendor sale to be held in Dallas, Texas, October 20, 2012 • Auction features a superb assortment of more than 150 collector cars, all offered without reserve • Sale further consolidates RM's reputation as the specialist for private and estate collection auctions RM Auctions, the world's largest collector car auction house for investment-quality automobiles, is delighted...[Read more...]
The world-renowned 'Old Bill' Comes to Market
The world-renowned 'Old Bill', which has featured in every book ever written about the incomparable Brough marque, ticks all the above boxes and just about every other one too. It has been consigned by H&H for auction as part of the Roger Allen Collection at the company's Duxford sale on October 4. However, it can be viewed as early as April 28/29 at the International Classic Motorcycle Show, Stafford. It carries an estimate of £250,000-270,000. The motorcycle originally known as 'Spit & Pol...[Read more...]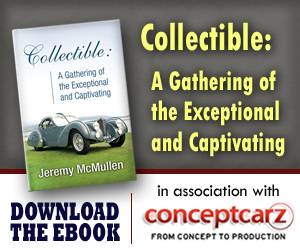 © 1998-2014. All rights reserved. The material may not be published, broadcast, rewritten, or redistributed.