1961 Sunbeam Harrington Alpine news, pictures, specifications, and information

Tweet
Thomas Harrington Ltd. proudly traces its history, as a Motor Coach Builder and Automotive Engineers, to the late 1800s. In the 1950s, they pioneered the production of fiberglass components such as hardtops for existing cars such as Triumph TR4 and Sunbeam Alpine. The Harringtons also owned a Rootes dealership. A byproduct of this relationship is the conversion of the Alpine body into a closed coupe, with an eye towards use in racing.

The Rootes Groupe of England produced the Sunbeam Alpine model. In 1961, after extensive modifications, it became the 'Harrington Alpine.' As with most race-inspired touring cars, each car is built to order, with the buyer's choice of three engines provided by race engine specialist George Hartwell. Limited production continued through 1963. Harrington stopped all coach building activity in 1965.

The example shown sports the 1.6-liter, Stage III, 4-cylinder engine. It is one of 17 remaining from a production of 110 and one of three residing in the United States. The car typifies the best of British thinking, specifically Lord Rootes, Thomas Harrington & George Hartwell, the industry luminaries who collaborated to make this performance and styling statement.
In preparation for the 1961 24 Hours of Lemans race, two Sunbeam Alpine vehicles were delivered to Thomas Harrington Limited Coachbuilders in Hove, Sussex. Work began immediately on the creation of the fiberglass fastback body.

The LeMans race is one of the most grueling and competitive races of all times, testing the driver, team, and vehicle. For 24 hours the vehicles are raced around a circuit at top speed competing against opponents in an attempt to travel the farthest during that 24 hour time frame. Many have trouble just staying in the race and avoiding mechanical problems. For the 1961 LeMan race, the Sunbeam Alpine racer driven by Peter Harper and Peter Proctor finished faultlessly. It covered 2194 miles at an average speed of 91 mph. It was 15th overall and second in class. For this, it was awarded the Index of Thermal Efficiency award. After a few short months, and to commemorate this achievement, Sunbeam introduced the Harrington LeMans production coupe. The vehicles were given fiberglass bodies by Harrington, similar to the LeMans racers. Most of the intended 250 vehicles were destined for the US. The 250 unit mark was never achieved due to high production cost and low profits for the company.
By Daniel Vaughan | Sep 2007
For more information and related vehicles, click
here
SHELBY AMERICAN COMMEMORATES 50TH ANNIVERSARY FIA COBRA WITH SPECIAL EDITION CAR
• Iconic Shelby FIA Cobra to be Celebrated
Scottsdale, Ariz. – Jan. 17, 2014 – In 1964, Shelby American, today a wholly owned subsidiary of Carroll Shelby International Inc. (CSBI:PK) introduced the FIA version of the small block Cobra, which competed in the 1964 World Manufacturers Championship series against marques like Aston Martin, Jaguar and Corvette. To celebrate the birth of the 289 Ford powered roadsters, Shelby American will offer 50 limited edition continuation (CSX70...[Read more...]
2014 LINCOLN MKX INTRODUCES TREE-BASED ALTERNATIVE TO FIBERGLASS FOR INTERIOR PARTS
• Has Lincoln Found New Life For Christmas Trees?
DEARBORN, Mich., Dec. 20, 2013 - While many Lincoln MKX drivers may tie a tree to the top of their vehicle this time of year, 2014 will see the MKX crossover with tree-based components inside the vehicle. A three-year collaboration between The Lincoln Motor Company, sustainable solutions pioneer Weyerhaeuser and auto parts supplier Johnson Controls has culminated in the creation of a tree-based, renewable alternative to fiberg...[Read more...]
Eleanor of 'Gone In 60 seconds' Will Cross The Block At Mecum's Indy Auction
The Opportunity to Own the Original Movie Hero Car is this May 18 in Indianapolis A true movie star will make its way down Mecum's signature red carpet this May in Indianapolis. Known by most simply as 'Eleanor,' the modified 1967 Ford Mustang from Touchstone Pictures' 'Gone in 60 Seconds' will cross the block as Lot S135 at Dana Mecum's 26th Original Spring Classic auction this May 14-19. This collector car icon piloted in the movie by retired master car thief Memphis Raines, playe...[Read more...]
World's Rarest Muscle Car to Join a Spectacular Show Field at the 2nd Annual Concours d'Elegance of Texas
Houston, Texas. April 1, 2012. Organizers of the 2nd annual Concours d'Elegance of Texas have confirmed that the world's rarest muscle car, the only big block GT convertible ever built by Shelby American Inc., will be part of this year's spectacular show field on Sunday, May 5 at La Torretta Lake Resort & Spa. The 1967 Shelby GT500 Convertible was originally assigned to Carroll Shelby, the most expensive GT500 in Shelby American's company car inventory and the only Shelby GT Convertible f...[Read more...]
RICHARD PETTY DEDICATES MUSCLE CARS FOREVER STAMPS
Raw power gets a stamp of its own today as seven-time NASCAR National Champion Richard Petty helps dedicate the America on the Move: Muscle Cars Forever stamps. Petty, his son Kyle and Postmaster General Patrick Donahoe will dedicate the limited-edition stamps at the Daytona International Speedway where 'The King' won a record seven Daytona 500 Championships. Typically equipped with big, powerful engines, these high-performance vehicles began roaring across America in the 1960s. The limite...[Read more...]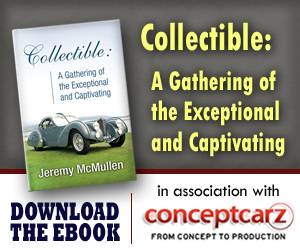 © 1998-2014. All rights reserved. The material may not be published, broadcast, rewritten, or redistributed.