1961 Sunbeam Harrington Alpine news, pictures, specifications, and information

Tweet
Thomas Harrington Ltd. proudly traces its history, as a Motor Coach Builder and Automotive Engineers, to the late 1800s. In the 1950s, they pioneered the production of fiberglass components such as hardtops for existing cars such as Triumph TR4 and Sunbeam Alpine. The Harringtons also owned a Rootes dealership. A byproduct of this relationship is the conversion of the Alpine body into a closed coupe, with an eye towards use in racing.

The Rootes Groupe of England produced the Sunbeam Alpine model. In 1961, after extensive modifications, it became the 'Harrington Alpine.' As with most race-inspired touring cars, each car is built to order, with the buyer's choice of three engines provided by race engine specialist George Hartwell. Limited production continued through 1963. Harrington stopped all coach building activity in 1965.

The example shown sports the 1.6-liter, Stage III, 4-cylinder engine. It is one of 17 remaining from a production of 110 and one of three residing in the United States. The car typifies the best of British thinking, specifically Lord Rootes, Thomas Harrington & George Hartwell, the industry luminaries who collaborated to make this performance and styling statement.
In preparation for the 1961 24 Hours of Lemans race, two Sunbeam Alpine vehicles were delivered to Thomas Harrington Limited Coachbuilders in Hove, Sussex. Work began immediately on the creation of the fiberglass fastback body.

The LeMans race is one of the most grueling and competitive races of all times, testing the driver, team, and vehicle. For 24 hours the vehicles are raced around a circuit at top speed competing against opponents in an attempt to travel the farthest during that 24 hour time frame. Many have trouble just staying in the race and avoiding mechanical problems. For the 1961 LeMan race, the Sunbeam Alpine racer driven by Peter Harper and Peter Proctor finished faultlessly. It covered 2194 miles at an average speed of 91 mph. It was 15th overall and second in class. For this, it was awarded the Index of Thermal Efficiency award. After a few short months, and to commemorate this achievement, Sunbeam introduced the Harrington LeMans production coupe. The vehicles were given fiberglass bodies by Harrington, similar to the LeMans racers. Most of the intended 250 vehicles were destined for the US. The 250 unit mark was never achieved due to high production cost and low profits for the company.
By Daniel Vaughan | Sep 2007
For more information and related vehicles, click
here
MANX V: POWERED BY REV-TEC, IT'S THE MANX FOR THE 21ST CENTURY
Newport Beach, CA, May 8, 2014 - The Manx is one of the world's most iconic vehicles. Name another car that looks as contemporary today as it did 50 years ago. It's a design that transcends time and borders. It's as beloved in Europe, Australia and the Middle East as it is in all of the Americas. And it's ageless in its appeal. Five years old or 95, there is no generation gap with a Manx. It's simple in its elegance and elegant in its simplicity. A perfect blending of form and...[Read more...]
John Barnard's Finest: Some of the Greatest of Barnard's Design
The latter-part of Barnard's Formula One career would be filled with disappointments and disputes. However, there was no disputing the genius of the man from London. In fact, a couple of innovations that are mainstays in Formula One design were first introduced by this man who had been involved in motor racing in some form or manner since the 1960s. John Barnard would be born in London on the 4th of May in 1946. The war was over and a whole new world loomed on the horizon. It was t...[Read more...]
MIKE RYAN'S BANKS SUPER-TURBO PIKES PEAK FREIGHTLINER A UNIQUE BIG ONE TO WATCH IN PIKES PEAK OPEN DIVISION
Colorado Springs, June 20--------The Freightliner Cascadia Pikes Peak Special racing machine of Mike Ryan (Santa Clara, CA) is truly like no other entry in the Pikes Peak Open division during the 91st edition of the Pikes Peak International Hill Climb on June 30. Ryan, a veteran driver, finished ninth (12:39.960) last year on the Peak in the division, but has his sights set on a higher finish this year with this amazing vehicle. The winner was rookie French driver Romain Dumas, who bri...[Read more...]
One of the Three Final Cars Built by Famed Italian Engineer Giotto Bizzarrini To Be Offered at Russo and Steele's Highly Anticipated Monterey Auction
Monterey, California – As the engineer responsible for the design and development of some of the most successful and innovative racing and GT cars ever conceived, Giotto Bizzarrini remains one of the most revered names in motorsport history. Hailing from Livorno, Italy and eventually leaving Alfa Romeo for Ferrari where he began as a test driver and quickly rose to Chief Engineer, Bizzarrini collaborated with Carlo Chiti on the 250 Testa Rossa's V-12 engine and the 250 SWB, with his caree...[Read more...]
Carroll Shelby, Ford Family for More Than Half a Century
Carroll Shelby was a member of the Ford family for the better part of 60 years, producing stunning performance vehicles from concepts to production models. He once said his energy and passion for performance products were always strongest when he was working with Ford. Shelby most recently collaborated with the company on the 2013 Ford Shelby GT500 Mustang, the most powerful production V8 in the world. Working with SVT engineers at Sebring and the Arizona Proving Grounds, at times he drov...[Read more...]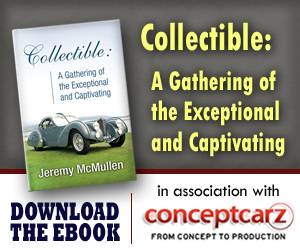 © 1998-2014. All rights reserved. The material may not be published, broadcast, rewritten, or redistributed.