1936 Stout Scarab news, pictures, specifications, and information

Tweet
This car is known as 'Car with a Bar' and is the winner of the Palm Beach Intl. 2006, 2006 AACA Junior, 2007 AACA Senior.This car is one of probably nine that were built by William Stout, an aeronautical engineer in Dearborn, MI. It was sold to a French publishing magnate and spent its entire life in France, supposedly used by General Eisenhower in North Africa and then by General DeGaulle. It was then used by a circus to house monkeys until Philippe Charbonneaux, a French automotive designer, bought it in the early sixties for his museum.

Not only did it have a unit construction body made out of light aluminum, it featured the famous Ford flathead V8 engine placed at the rear driving the rear wheels via a Stout-built three-speed manual transaxle. It has a 135-inch wheelbase, 4-wheel independent coil spring suspension, and the most spacious cabin of any American car as the result of no running boards and no drive shaft tube. This $5,000 aerodynamically vehicle was well ahead of its time.

William Stout was Father of Aviation and designed the Ford Tri-motor airplane for Henry Ford.
The Stout Scarab was an aerodynamic masterpiece that featured a rear-engine layout, flow through ventilation, concealed running boards, and modular seating. This particular example is the second Scarab created.

The Scarabs were produced in very limited numbers, with only nine examples built. Part of their rarity was due to their $5,000 price tag per vehicle, an incredibly steep price in the post-Great Depression era. However, Scarabs did find homes with some of America's industrial giants. Scout Scarabs resided in the garages of the Wrigleys (chewing gum), the Dows (chemicals), the Strahanans (Champion Spark Plugs) and the Firestones. Mr. Stout was a close friend of these pioneers as well as Henry Ford.

The car shown was once part of the famous Harrah's Collection in Reno, Nevada. It was purchased by the current owner in 1983, and has since had a ground-up restoration. The work included complete mechanical restoration as well as a new woven wood headliner.
When the Stout Scarab was introduced, there was nothing on the road quite like it. Its 90 horsepower Ford flathead V8 was mounted in the rear providing lots of room to accommodate passengers inside. Outside, it looked more like it was built by an airplane designer than by an automaker. In-fact, it was. William B. Stout served as chief engineer of Packard's aircraft division during World War I. After the War, he designed a high-winged monoplane without the struts and wires that characterized earlier aircraft. Still later, his design for a three-engine commercial aircraft served as the inspiration for the successful Ford Tri-Motor.

Inspired by aviation techniques, the Scarab - named after the hard-shelled Egyptian beetle - with its metal panels over a framework of tubing, took much of its strength from what was essentially an exoskeleton. Not only was the exterior and much of its design revolutionary, the interior packaging was most astonishing. Unlike its contemporaries, the fenders were incorporated into the body and the running boards dispensed with - thus reducing wind resistance and interior noise. Flush window glass and hinges were quite novel, too; as was flow-through ventilation with dust filter, thermostatically controlled heat, electric door locks, movable seating (including a table), and indirect interior lighting. The interior features understated wood trim along with a varnished wicker headliner and leather seats. Five of the nine produced are known to exist today. At $5,000 when new, the vehicles were sold by invitation. Owners including chewing gum king Phillip Wrigley, fellow investor William Dow, Robert Stranahan of Champion Spark Plug, and Harvey Firestone.
Mecum Hits East Coast with 1,000 Collector Cars and Vintage Motorcycles in Harrisburg
Auction Slated for July 24-27 at Pennsylvania Farm Show Complex and Expo Center Walworth, WI - July 9, 2014 -- Mecum Auctions, the largest collector car auction company in the world, will conduct its first-ever auction in Harrisburg this July 24-27 at the Pennsylvania Farm Show Complex and Expo Center with an estimated 1,000 collector cars expected to cross the auction block Thursday through Saturday and 200 motorcycles on Sunday. Featured consignments include a well-docume...[Read more...]
POTEET, CIZEK EARN TOP AWARDS AT GOODGUYS 16TH PPG NATIONALS
Columbus, OH – Tennessee's George Poteet and Nebraska's Ron Cizek collected the top two awards at the Goodguys 16th PPG Nationals in Columbus, Ohio last weekend. Under brilliant sunshine and in front of record crowds, Poteet's vintage NASCAR-inspired '69 Torino won the Goodguys 2013 Optima Batteries Street Machine of the Year while Cizek's popular Ridler award-winning '40 Ford coupe collected the Goodguys 2013 Classic Instruments Street Rod of the Year title. For Cizek, it's the second ma...[Read more...]
Lingenfelter Collection Garage Crawl To Take Place Saturday, June 15 During 26Th Annual Eyeson Design
BRIGHTON, Mich. - Ken Lingenfelter, owner of Lingenfelter Performance Engineering, will open the doors of his famed Lingenfelter Collection by hosting a Garage Crawl during the 26th Annual EyesOn Design week of activities. All proceeds from EyesOn Design events, this year themed 'Revolution over Evolution,' will benefit the Detroit Institute of Ophthalmology. Lingenfelter, who serves on the EyesOn Design Board, will also exhibit select vehicles from his collection in the EyesOn...[Read more...]
Raw Power Has a Stamp of Its Own Muscle Cars Roar at Spring Classic Auction
What do you get when you bring the U.S. Postal Service and Dana Mecum's Original Spring Classic Auction together at the State Fairgrounds — a Muscle Car Extravaganza! Since it began 26 years ago, Mecum's Spring Classic auction in Indianapolis has featured the largest auction of muscle cars in the world. This year, the Postal Service will celebrate the raw power of the performance vehicle at the Spring Classic event by dedicating five, limited edition stamps featuring iconic muscle cars...[Read more...]
Edsel Ford's Speedster Stars at 'The Amelia'
Edsel Ford's 'continental car', a custom boattail speedster, will take its rightful place in the Sports Car Class of the 18th annual Amelia Island Concours d'Elegance. In the shape of Edsel's seminal speedster is the genesis of Ford's legendary design department. Edsel Ford was hardly 'a chip off the old block'. The acorn fell well away from the mighty oak that was Henry Ford, founder of the Ford Motor Company. Edsel was not just the President of Ford, he was a car guy to his core. His ta...[Read more...]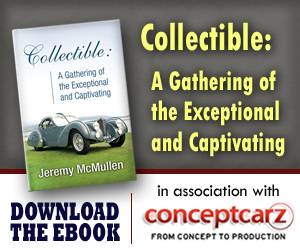 © 1998-2014. All rights reserved. The material may not be published, broadcast, rewritten, or redistributed.