1952 Hudson Hornet NASCAR news, pictures, specifications, and information

Tweet
The Hudson Hornet dominated stock car racing and won over 80 NASCAR races between 1951 and 1955. The Hudson's low center of gravity, 'mono-built body' and center point steering contributed to the car's outstanding cornering and handling characteristics. The 308 cubic-inch, six-cylinder engine developed great torque at low engine RPM. This engine, combined with overall road-ability, plus the fact these cars were over engineered and over built, made them unbeatable in competition on the dirt and the very few paved tracks of the 1950s. Hudson was the first automobile manufacturer to get involved in sports car racing. By NASCAR rules, Hudson dealers made 'Severe Usage' parts available to the public as they were used in NASCAR competition. In response to driver requests, Hudson engineers developed dual carburetors systems (Twin H-Power), dual exhaust manifolds for racing only, several optional camshafts, heavy-duty suspension parts and engine mounting kits. There were 132,000 Hudson Hornet models produced from 1951 to 1954; the Club Coupe amounted to only 7% of production.

This is the former Herb Thomas NASCAR stock car. It was given to Herb Thomas by the Hudson Motor Car Company and raced in 1952 and 1953. Hudson was the first automobile company to realize the value of racing for improving the performance and durability of their products. The program was administered by Hudson engineer V.W. 'Vince' Piggins. He would leave Hudson after American Motors was formed, and head up Chevrolet's performance division when the 'small block' Chevrolet V8 models were introduced in 1955.
In the early days of NASCAR, to say Hudsons were dominant would be a huge understatement. Their domination of the series was truly unbelievable. What made it even more impressive is that they did it with an inline-six cylinder engine. The 308 cubic-inch Hornets won 27 of 34 races in 1952 and 22 of 37 races in 1953.

The popularity of these cars came to light when the 'star' of the movie 'Cars' was chosen to be a representation of these famous racers. Through Doc Hudson, the legend of the Fabulous Hudson Hornets has been carried forward to the up and coming generation of enthusiasts.
The Hudson Motor Car Company came into existence in 1909 and produced vehicles until 1957. It was created by Howard Coffin, George W. Dunham, and Roy E. Chapin. Based in Detroit, Michigan, the company had it most successful year in 1929 when it produced and sold over 300,000 vehicles. From 1942 through 1945, the Hudson Corporation did its patriotic part by manufacturing war materials such as naval engines and aircraft parts, during the Second World War. After the war, the Company had its share of ups and downs before it merged with Nash Motors in January of 1954, when it became known as American Motors. The Hudson plant closed while the production of Nash vehicles bearing Hudson badges continued. The brand name ceased to exist after 1957.
In 1951 Hudson introduced the Hornet. The Hornet sat atop a modified version of the Super Six chassis and outfitted with a 262 and 308 cubic-inch inline six-cylinder power-plant. It dominated the NASCAR circuit in the early fifties. In 1952, it won 27 NASCAR Grand National races, 22 in 1953, and 17 in 1954.

The car sat low, giving it an excellent center of gravity. Its flowing, curvy lines and enclosed rear wheels gave it aerodynamic features. The car sold well for the company when first introduced but slowly faded into the history books. The Big Three auto manufacturers were able to change the faces of their model line-up every year, the Independent Auto Manufacturer, Hudson was not. So by the time the Hudson was discontinued, it was feeling and looking its age.

A wonderful car with seating for six and featuring an L-head straight six coupled with Twin-H Power carburetors was enough to breathe life into the Hudson Company for only a few years. The company had lasted through two World Wars and the Great Depression but it would ultimately find its demise at the hand of low-cost, mass-produced automotive giants.
By Daniel Vaughan | Mar 2006
For more information and related vehicles, click
here
MUSTANG CLAIMS NASCAR NATIONWIDE OWNER CHAMPIONSHIP
RYAN BLANEY, No. 12 Discount Tire Ford Mustang - Finished: 4th 'We had a good night. Towards the middle part of the race we were really good and we got the lead and it was really going good. I was really happy with our car. It fell off a little in the long run but we kind of over adjusted and got too tight toward the late stages. That last 25 lap run we were back to where we were good in the middle of the race but it just didn't end up going as good. We got too tight. I am happy to finish i...[Read more...]
SPEED ENERGY FORMULA OFF-ROAD PRESENTED BY TRAXXAS STARTING 2015 SEASON IN AUSTRALIA
CHARLOTTE, N.C. (October 16, 2014) – Stadium Super Truck series founder Robby Gordon and South Australian Tourism Minister, Leon Bignell, announced today the SPEED Energy Formula Off-Road Presented by TRAXXAS 2015 season will start in Adelaide, Australia, in conjunction with the Clipsal 500 Adelaide. The Clipsal 500 Adelaide attracted more than 273,600 spectators over four days in 2014. The invitation from Australia's premier motorsports event is a testament to the rapid growth and po...[Read more...]
SPEED ENERGY FORMULA OFF-ROAD PRESENTED BY TRAXXAS RETURNS THIS WEEKEND WITH THREE EVENTS IN SOUTHERN CALIFORNIA
Costa Mesa, California (September 15, 2014) – The SPEED Energy Formula Off-Road Presented by TRAXXAS series will headline a full weekend of racing in Southern California Sept. 19-21 at two separate venues. The Stadium Super Trucks (SST) that compete in the high-flying series will be part of the Sand Sports Super Show at the OC Fair and Event Center Friday and Saturday nights, and then will move further south and be part of the Coronado Speed Festival Sunday afternoon at Naval Air Station ...[Read more...]
Limited-Edition Ford Racing History Artwork Unveiled at SEMA; Limited-Edition Print Sales to Benefit JDRF
•Special limited-edition Ford Racing history artwork is unveiled at the annual SEMA show as part of the Ford press conference •Famed automotive artist Sam Bass created the artwork at the request of Edsel B. Ford II, with proceeds from sales of limited-edition autographed prints benefiting JDRF •Drivers and Ford race vehicles featured on the special artwork include Henry Ford (Sweepstakes), Trevor Bayne (No. 21 Fusion), Dan Gurney/A.J. Foyt (Ford Mark IV), Bob Glidden (NHRA Thunderbird), Jack...[Read more...]
SUBARU PUMA RALLYCROSS TEAM BATTLES IN GLOBAL RALLYCROSS DEBUT AT CHARLOTTE MOTOR SPEEDWAY
The 2012 Global RallyCross Championship (GRC) kicked off this weekend within the immense confines of the Charlotte Motor Speedway and the Subaru PUMA Rallycross Team was there to do battle amongst a total of 17 participating Rallycross teams. Seasoned team drivers Dave Mirra and Sverre Isachsen, as well as Rallycross rookie Bucky Lasek piloted their race-prepared Subaru WRX STIs against stiff competition on a unique road course incorporating parts of the oval at Charlotte Motor Speedway in Nort...[Read more...]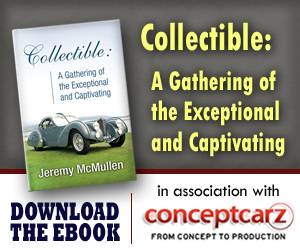 © 1998-2014. All rights reserved. The material may not be published, broadcast, rewritten, or redistributed.