1952 Hudson Hornet NASCAR news, pictures, specifications, and information

Tweet
The Hudson Hornet dominated stock car racing and won over 80 NASCAR races between 1951 and 1955. The Hudson's low center of gravity, 'mono-built body' and center point steering contributed to the car's outstanding cornering and handling characteristics. The 308 cubic-inch, six-cylinder engine developed great torque at low engine RPM. This engine, combined with overall road-ability, plus the fact these cars were over engineered and over built, made them unbeatable in competition on the dirt and the very few paved tracks of the 1950s. Hudson was the first automobile manufacturer to get involved in sports car racing. By NASCAR rules, Hudson dealers made 'Severe Usage' parts available to the public as they were used in NASCAR competition. In response to driver requests, Hudson engineers developed dual carburetors systems (Twin H-Power), dual exhaust manifolds for racing only, several optional camshafts, heavy-duty suspension parts and engine mounting kits. There were 132,000 Hudson Hornet models produced from 1951 to 1954; the Club Coupe amounted to only 7% of production.

This is the former Herb Thomas NASCAR stock car. It was given to Herb Thomas by the Hudson Motor Car Company and raced in 1952 and 1953. Hudson was the first automobile company to realize the value of racing for improving the performance and durability of their products. The program was administered by Hudson engineer V.W. 'Vince' Piggins. He would leave Hudson after American Motors was formed, and head up Chevrolet's performance division when the 'small block' Chevrolet V8 models were introduced in 1955.
In the early days of NASCAR, to say Hudsons were dominant would be a huge understatement. Their domination of the series was truly unbelievable. What made it even more impressive is that they did it with an inline-six cylinder engine. The 308 cubic-inch Hornets won 27 of 34 races in 1952 and 22 of 37 races in 1953.

The popularity of these cars came to light when the 'star' of the movie 'Cars' was chosen to be a representation of these famous racers. Through Doc Hudson, the legend of the Fabulous Hudson Hornets has been carried forward to the up and coming generation of enthusiasts.
The Hudson Motor Car Company came into existence in 1909 and produced vehicles until 1957. It was created by Howard Coffin, George W. Dunham, and Roy E. Chapin. Based in Detroit, Michigan, the company had it most successful year in 1929 when it produced and sold over 300,000 vehicles. From 1942 through 1945, the Hudson Corporation did its patriotic part by manufacturing war materials such as naval engines and aircraft parts, during the Second World War. After the war, the Company had its share of ups and downs before it merged with Nash Motors in January of 1954, when it became known as American Motors. The Hudson plant closed while the production of Nash vehicles bearing Hudson badges continued. The brand name ceased to exist after 1957.
In 1951 Hudson introduced the Hornet. The Hornet sat atop a modified version of the Super Six chassis and outfitted with a 262 and 308 cubic-inch inline six-cylinder power-plant. It dominated the NASCAR circuit in the early fifties. In 1952, it won 27 NASCAR Grand National races, 22 in 1953, and 17 in 1954.

The car sat low, giving it an excellent center of gravity. Its flowing, curvy lines and enclosed rear wheels gave it aerodynamic features. The car sold well for the company when first introduced but slowly faded into the history books. The Big Three auto manufacturers were able to change the faces of their model line-up every year, the Independent Auto Manufacturer, Hudson was not. So by the time the Hudson was discontinued, it was feeling and looking its age.

A wonderful car with seating for six and featuring an L-head straight six coupled with Twin-H Power carburetors was enough to breathe life into the Hudson Company for only a few years. The company had lasted through two World Wars and the Great Depression but it would ultimately find its demise at the hand of low-cost, mass-produced automotive giants.
By Daniel Vaughan | Mar 2006
For more information and related vehicles, click
here
MUSTANG VISITS VICTORY LANE AGAIN AS RYAN BLANEY WINS NASCAR NATIONWIDE RACE AT BRISTOL MOTOR SPEEDWAY
Ford Finishing Order: 1st – Ryan Blaney 10th – Chris Buescher 13th – Trevor Bayne 14th – Ryan Reed 28th – Dakoda Armstrong RYAN BLANEY – No. 22 Discount Tire Ford Mustang – VICTORY LANE INTERVIEW – HOW WERE YOU ABLE TO MAKE THE PASS ON KYLE BUSCH ON THAT FINAL RESTART? 'First of all, I have to apologize to Kyle Larson. I just got loose on the bottom and got into him. I'm really sorry about that. I was trying to pull a slider and got really loose, so sorry about that. But Kyle (Bus...[Read more...]
PORSCHE MOTORSPORTS PRE-EVENT NOTES. BRICKYARD GRAND PRIX. INDIANAPOLIS MOTOR SPEEDWAY
Dateline. Indianapolis, Indiana Circuit. Indianapolis Motor Speedway Track Length/Turns. 2.439-mile, 14-turn Road Course Round. TUDOR United SportsCar Championship. Round 7 of 12 Next Round. TUDOR Championship. Continental Tire Road Race Showcase, Road America, Elkhart Lake, Wisconsin, August 8-10 Porsche Events. TUDOR United SportsCar Championship Date. Friday, July 25, 5:45 p.m. ET/ 2:45 p.m. PT Race Duration. Two-Hours, 45-minutes Classes. GT Le Mans (Por...[Read more...]
RACEQUIP BECOMES SAFETY PARTNER OF ROAD AMERICA
ELKHART LAKE, Wis., June 12, 2014 - Road America announced today a new sponsorship agreement with RaceQuip, a manufacturer of high quality auto racing safety equipment, as its new safety partner. RaceQuip's safety apparel and gear will be available for purchase at Road America's Paddock Shop and RaceQuip will also have a presence on-site at Road America events through venue signage while displaying its full line of products for competitors at many Road America events. In addition, RaceQui...[Read more...]
PALMER COMPLETES WEEKEND SWEEP WITH SECOND VICTORY OF LAMBORGHINI BLANCPAIN SUPER TROFEO NORTH AMERICA SEASON
MONTEREY, Calif. (May 4, 2014) - 2013 World Final winner Andrew Palmer finished a sweep of both Lamborghini Blancpain Super Trofeo North America races this weekend at Mazda Raceway Laguna Seca, winning Race 2 on Sunday, May 4. Palmer, from Chicago, became the first two-time winner in the series this season in the No. 14 Lamborghini Beverly Hills Gallardo LP 570-4 Super Trofeo. He led all but four laps of the 50-minute race on the 11-turn, 2.238-mile circuit, losing the top spot only as...[Read more...]
Auctions America By RM's 2012 Auburn Spring Auction
'Variety' is the buzzword for this year's Auctions America by RM June 1-3 Auburn Spring auction, which will offer a huge range of collector vehicles and an enormous private collection of automotive memorabilia. More than 600 American muscle cars, Classics, foreign sports cars and hot rods will cross the block at the historic Auburn Auction Park, the company's national headquarters in Auburn, Indiana. 'Last year was our first spring event at the park,' said Auctions America by RM's President ...[Read more...]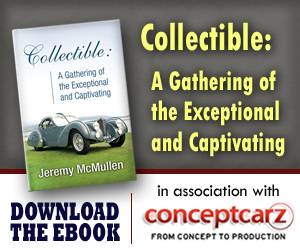 © 1998-2014. All rights reserved. The material may not be published, broadcast, rewritten, or redistributed.