1956 Packard Caribbean news, pictures, specifications, and information

Tweet
The Caribbean by Packard was one of the signature cars of the 1950s. Built on the Packard 400 chassis, the Caribbean series automobiles were loaded with luxury appointments. The company produced 276 Caribbean convertibles in 1956.

The Caribbean series was powered by Packard's own overhead valve V-8 engine that displaced 375 cubic-inches and produced 310 horsepower thanks, in part, to twin four-barrel Rochester carburetors.

The 1956 Caribbean Convertible was the last full size Packard produced. This car sold new for $5,995.00. The 374 cubic-inch V-8 engine had 310 horsepower which was the highest in the industry. This engine featured two - 4 barrel carburetors with 10:1 compression ratio and a push button automatic transmission. The original colors were: Dover White, Scottish Heather and Maltese Gray.

The interior featured reversible seat cushions with leather on one side and boucle cloth on the other.

New for 1956 was the twin traction differential with limited slip 'designed for the fellow who must drive in all kinds of weather.'

Packard also featured other safety itesm for 1956 such as:
- Side marker lights
- Wrap around parking and tailights
- Automatic torsion leveling system for optimum nighttime visability

This Packard was sold new in Painesville, Ohio. Ten years later it was acquired by Glenn Malme of Downey, California. In 2010, after putting 15,000 miles in his Packard over 44 years, Mr. Malme donated the car to the National Packard Museum.
This is 1 of 276 Packard Caribbean Convertibles produced by Packard in 1956. It has a 374 cubic-inch V-8 engine with 310 horsepower and uses 2 Rochester Type 4 GC carburetors.

This car has many unique features:
- Fully reversible seat cushions, cloth on one side for winter and leather on the other side for summer
- Ultra-Matic push button automatic transmission.
- Very rare factory air conditioning
- Unique torsion ride suspension which adjusts the cars ride height via an electric motor.
- First year electric door locks.
Caribbean has caused double takes when they first appeared in 1956, and they continue to amaze today. One of only 276 built, this car has won Best of Class at Meadowbrook and was a Car Collector Magazine feature car.

The triple-tone colors that were 'stock' did nothing to enhance the car's aesthetic beauty. In its current color of Maroon with the stock gold-colored accents and striking top and interior colors, this is truly a striking example of the marque.
| | |
| --- | --- |
| | Custom Convertible |
This 1956 Packard Caribbean Convertible is one of only 276 built by Packard Motor Car Company in 1956 and this particular example is one of only 10 equipped with air conditioning from the factory. This is the only car known that was produced with reversible seat cushions. The cloth side was for winter and the leather side for summer.

The Caribbean was fitted with Packard's most powerful engine; a 310 horsepower, 374 cubic inch, V-8 engine. The car rests on a 127-inch wheelbase and weighs 4,960 pounds. The $5,995 price tag made this model the most expensive model Packard produced in 1956.

Restoration was completed in December 2004 and this is the first time it has been shown. (2005 Amelia Concours).
By 1958, Packard was in trouble. Big trouble. Sales were way down and the two-year-old merger with Studebaker was drowning both companies in red ink. As a result, at the end of the 1956 model year, Packard's Detroit assembly and engineering operations were shuttered. The proud American luxury brand was effective finished, although lightly disguised Studebakers built in South Bend, Indiana would masquerade as Packard's for two more years.

For all the troubles of 1956, the fabulous Caribbean Convertible remained the untarnished queen of the line one last time. Styling changes from 1955 were minimal, but new tri-tone exterior color combos set the 1956 apart. The Caribbean was powered by a massive 374-cubic-inch V8 with an impressive 310 horsepower rating. Standard luxury equipment included Ultramatic automatic transmission with push-button controls, gold-tone 'Caribbean' scripts, power windows and a Wonderbar radio. Novel reversible seat cushions (brocade on one side and leather on the other) were also featured.

A total of 276 Caribbean Convertibles were built in 1956; the car displayed here is the 115th off the line. Cost new was $6,000.
This is an example of the last in the Caribbean series and of the last utrue/u Packard. (The 1957 & 1958 Packard's were re-labeled Studebakers).

The 1956 Caribbean was very technologically advanced for the era and was the most powerful American 'production' car offered in 1956. This particular car has most of the available options for 1956 with the exception of air conditioning (a Packard accessory since 1939). This (as all Caribbeans) was built at Mitchell Bentley Corp. in Ionia, Michigan with Packard components for Packard on a custom basis.

The '56 model is the last in the distinctive Caribbean series begun in 1953. The first (53) model was a simple and clean classic design that is still admired today. Its silhouette is found on current Rolls-Royce models. The 1955 and this last (1956) version succumbed to industry market pressures. Their distinctive tri-color paint scheme (Dover white, Danube blue and Roman cooper), hooded headlights and 'cathedral' tail lamps underscore the mid-50's decor.

This car is mostly original and has been driven about 50,000 miles since new. The interior space is incredible and the seating is opulent.

This car was a featured participant on 'the Miracle Mile' in Disney's nationally televised 'Christmas 2005 - Festival of Lights Parade' in downtown Chicago.

The Packard Club's registry is able to document only 61 of these cars remaining.
By Daniel Vaughan | May 2008
The 1956 Packard Caribbean was a milestone car for Packard; the last full-sized Packard built as well as the most luxurious, technically-advanced and expensive car in the 1956 line-up.

A total of 539 1956 Caribbeans were built - 276 convertibles; the rest hardtop coupes. The convertibles featured exclusive, reversible seat covers made of leather on one side and broadcloth on the other. Standard equipment included a limited slip, twin traction differential, side marker lights, wraparound tailights, automatic torsion leveling system and tri-color paint combinations.

This 1956 Packard Caribbean convertible is powered by the massive 310 horsepower, 374 cubic overhead V8 with twin four-barrel carburetors. The car sold new for $5,995.
James Ward Packard once complained to Alexander Winton about his new Winton automobile. Winton, successful racer and supercilious auto magnate, challenged Packard to build a better car himself if he could. Packard did. He built the first Packard in 1899 and founded the Ohio Automobile Co. in 1902 but soon renamed it Packard Motor Car Company and relocated to Detroit. It became one of the leading luxury marques for years to come. When it opened in 1903 in Detroit, the 3.5 million square foot Packard plant was considered the most modern automobile factory in the world. Designed by Albert Kahn, it employed craftsmen for over 80 trades.

Legend has it that a customer once wrote James Packard requesting information about the dependability of his cars. No sales literature yet existed. And Packard didn't have time to reply personally, so he told his secretary to advise the gentleman, 'Ask the man who owns one.' This spontaneous turn of phrase became a legendary Packard advertising slogan.

The current owner rescued this car form 30 years of storage. It has a push-button transmission along with factory air conditioning, and power brakes, steering and windows along with a 374 CID, 331 horsepower V8. The owner's father had owned an identical Packard in the early 1960s. Early one morning, while parked at home, a drunk driver totaled it.
One of the signature cars of the 1950s, the Caribbean was built on the Packard 400 chassis. It featured Packard's own overhead valve V8 engine with displacement of 375 cubic inches producing 310 horsepower. An exclusive limited-production automobile, the regal Packard Caribbean was manufactured from 1953 until 1956. Offered in either convertible or hardtop form, the sleek Caribbean came with many lux options and features. The Caribbean was marketed by the Packard Motor Car Company as a 'halo' vehicle to promote sales for the entire brand. The styling of the Caribbean was inspired from the Pan American Packard show car of the previous year. From 1953 until 1955 the model was available only as a convertible with a hardtop model being added in 1956, the final year.

With it full cutout rear wheel housing and glam side trim, the 1953 Caribbean was a truly eye catching sight. As part of the Packard Cavalier model range, the model featured a chrome band outline that stretched along the whole length of the vehicle that also helped to define the car's wheel openings. The wheelbase measured at 127 inches, with an overall length of 218.5 inches and width of 78 inches. Standard on the Caribbean was a sporty steel continental spare tire. A distinctive, low leaded-in hood scoop was featured on the hood.

On the inside of the Caribbean was standard power-assisted steering, which was incredibly rare at this time. The interior of this model featured rich leather upholstery, dual heaters and defrosters, power brakes, power windows and seats and three-way radio with an electric antenna. Mitchell-Bentley Corporation of Ionia, Michigan was responsible for the elegant styling of the Caribbean body. Owners could choose from limited colors Maroon Metallic, Sahara Sand, Polaris Blue and Gulf Green Metallic. A small variety of special-ordered automobiles were built in Black or Ivory.

Optional on the first year model was the Ultramatic transmission and power windows. For the first year on the market a total of 750 models were produced. Today these are highly collectible and restored models can go as high as six-figure amounts.

In 1954 the Caribbean rose to senior Packard level. It continued to feature plenty of its own distinctive styling features though the full rear-wheel cut outs were removed. Chrome and stainless trim became a lot more generous and now allowed for two-tone paint combinations. New this year was a four-way power seat. The Caribbean received heavier 'finned' headlight housings, much like the Patrician. This was one of the styling cues that set these senior Packard's from their lower priced siblings. This year the Caribbean featured the 359 cubic-inch straight eight senior engine used in the last manifestation of Packard's straight eight engine. Four hundred of these 1954 models were produced, making this the most rare year for the Caribbean.

For 1955 the Caribbean line received the V8 engine and implemented the Senior Packard line styling completely. The Caribbean was offered in either two or three-tone paint patterns. The old Packard Senior body was transformed into a suave, contemporary design by designer Richard Teague. Packard's torsions level suspension went to the Caribbean and the single hood scoop was split into two units. For this year a total of 500 units were produced.

The final full-sized Packard built, the 1956 Packard Caribbean was built as well as the most lush and modern car in the 1956 lineup. The final year for the Caribbean, 1956 brought about the model being broken into its very own luxury series. A hardtop model was added to the lineup. Only slight updates were made between the two model years to differentiate the models and they included trim updates and grille texture changes. The grille now matched the one found on the concurrent Patricians while the rear treatment that featured Packard's cathedral style taillights resumed.

New this year, the headlights adopted much more exaggerated hoods. For 1956 a total of 263 hardtops and 276 convertibles were produced. Only 10 exclusive convertible models were equipped with air conditioning from the factory. The 1956 model sold new for $5,995, which was the most expensive model Packard produced this year. It was available in original colors of Dover White, Maltese Gray and Scottish Heather. New features this year included twin traction differential with limited slip designed for all weather conditions. Additional new safety features included wrap around parking and taillights, side marker lights, and automatic torsion leveling system for optimal nighttime visibility.

The 1956 model featured a huge 374-cubic inch V8 engine with an impressive 310 horsepower rating. Extravagant standard features included gold-ton 'Caribbean' scripts, power windows, Ultra-matic automatic transmission with push-button controls and a Wonderbar radio. Additional features included novel reversible seat cushions with brocade on one side and leather on the other.

Unfortunately Packard was facing deep financial troubles with drowning sales. Packard's Detroit assembly and engineering operations production ended and the Caribbean model was discontinued. Despite all of the financial troubles surrounding the Packard line, the exquisite Caribbean Convertible has remained the unblemished queen of the marques line.


Sources:
http://en.wikipedia.org/wiki/Packard_Caribbean
By Jessica Donaldson
The Packard Caribbean was a limited-production automobile produced from 1953 through 1956. It was inspired by the Pan American concept car that Packard had displayed at the 1952 New York Auto Show. It was available in convertible and hardtop form. Originally, only the convertible was offered but in 1956 the hardtop was introduced. The vehicle was outfitted with as many amenities available at the time and overseen by Packards stylist, Dick Teague. The interior was adorned in leather trim and was equipped with dual heaters and defrosters, three-way radio with electric antenna, power brakes, windows and seats. Even power-assisted steering was standard, a rarity at the time.

Under the hood lurked an outdated Packard 327 cubic-inch inline eight-cylinder side-valve engine capable of producing 180 horsepower. In 1954, the horsepower rating was increased to 212. A new V8 engine was introduced in 1955 and the horsepower rating skyrocketed to over 300. The 'Twin-Ultramatic' transmission was controlled through push-buttons in the middle of the dash and the Suspension was torsion bars inter-connected from the front to the rear.

The 1953 and 1954 version had a continental spare wheel fixed atop the rear bumper pan. A hood scoop gave the vehicle a sporty persona while the wire-spoke wheels gave it a hint of European styling. Two-tone paint schemes and chrome accent strips gave the vehicle a distinct appearance.

In 1954 Packard merged with Studebaker to try to compete, (stay in business), against the large mass-production automobile giants. By 1956, their body supplier, Brigg, sold out to the Chrysler Corporation. Packard moved the body manufacturing to a Detroit factory where it struggled with supply and quality issues. Chrysler had their C-300 and Cadillac their Eldorado, both were moving in on Packard's territory.

The Caribbean exclusivity was guaranteed by their steep sticker prices. 400 examples were sold in 1954, and between 1955 through 1956, 500 examples were sold. This exquisite vehicle made it into production just before the Packard name became part of the past.
By Daniel Vaughan | Aug 2013
For more information and related vehicles, click
here
NISSAN ANNOUNCES 2014 PATHFINDER HYBRID U.S. PRICING
NASHVILLE, Tenn. – Nissan today announced U.S. pricing for the 2014 Nissan Pathfinder Hybrid, which is on sale now at U.S. Nissan dealers nationwide. The new Pathfinder Hybrid joins the Pathfinder 3.5-liter model in the expanded 2014 lineup, bringing the available model configurations to 14 – allowing buyers to select the perfect combination of powerplant, 4-wheel or 2-wheel drive, features and equipment to fit their family needs and budget. The Pathfinder Hybrid starts with a Manufact...[Read more...]
Toyota to Launch 'New Era' of High-MPG Hybrids, Expand Its Global Hybrid Rollout
•Early information on Next-Generation Prius •VP Carter challenges industry: 5 million U.S. hybrid sales by end of 2016 •Global verification tests of new wireless/inductive charging system •2015 hydrogen fuel cell vehicle at Tokyo and CES shows YPSILANTI, Mich., August 28, 2013 — Want to save money and gas? Toyota plans to help consumers do both. Promising continued gains in fuel economy, Toyota Motor Corporation (TMC) Managing Officer Satoshi Ogiso outlined the launch of a new...[Read more...]
McLAREN AND FORZA MOTORSPORT 5 COLLABORATION WILL GIVE COMPETITION WINNER THE RIDE OF A LIFETIME
◾Money can't buy opportunity to ride in the groundbreaking McLaren P1™ as it speeds up the world-famous Goodwood Hill during its global dynamic debut at the Festival of Speed ◾A preview of the McLaren P1™ in Forza Motorsport® 5 can be viewed here: www.youtube.com/watch?v=r46D1lRpO1k ◾Enter the competition at www.ForzaMcLarenRide.com McLaren Automotive has teamed up with Xbox to offer one of the best seats of the summer at the 2013 Festival of Speed: the passenger seat of the M...[Read more...]
Inovative DeltaWing to Make its Monterey Debut
American Le Mans Monterey Celebrates 15 Years of Le Mans-Inspired Road Racing DeltaWing Racing Cars, in its first full season in the American Le Mans Series, will make its inaugural appearance at Mazda Raceway Laguna Seca in the American Le Mans Monterey race weekend May 9-11. The revolutionary open-top DeltaWing premiered in 2012 at two races – the 24 Hours of Le Mans and the Petit Le Mans at Road Atlanta in October, where it finished in fifth place overall. This year, the Del...[Read more...]
Audi R18 e-tron quattro: heading for Le Mans with all-wheel drive
In a month from now a prestigious success will be at stake for Audi. On June 16/17, a hybrid vehicle could be winning the Le Mans 24 Hours for the first time. Electrified drive and quattro all-wheel drive – what looks like two different worlds at first glance has been merged into a technological synthesis by Audi. 'Soon after the TDI phase had begun we started to think about the hybridization of a Le Mans sports prototype, when it was foreseeable that the regulations would open up this optio...[Read more...]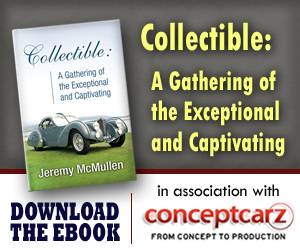 Similarly Priced Vehicles from 1956
Porsche 356A ($3,210-$5,900)
Lancia Aurelia B24 ($5,510-$5,510)
Arnolt Bolide ($4,000-$6,000)
AC Aceca-Bristol ($5,550-$5,550)
Aston Martin DB2-4 MKII ($6,000-$6,300)
Aston Martin DB2-4 MKI ($6,000-$6,300)

Average Auction Sale: $79,633
© 1998-2014. All rights reserved. The material may not be published, broadcast, rewritten, or redistributed.