1960 Edsel Ranger news, pictures, specifications, and information

Tweet
The Ford Motor Company produced the Edsel in 1958, 1959 and in 1960; only 2,846 units were manufactured. Seventy-six convertibles were produced during the 44-day production run in 1960. Of these 76 examples, 60 have been located; 29 are in good original condition or restored, 6 are under restoration and the balance either need restoration or no longer exist.

This Edsel Ranger Convertible came equipped with a four-barrel carburetor on a 352 cubic inch V-8 engine producing 300 horsepower coupled to a three-speed automatic transmission. It sits on a 120-inch wheelbase and weights 3,836 pounds.

Options on this car include radio, heater, rear fender skirts, spinner wheel covers, electric wipers, wind shield washers, wide white wall tires, dual spot light with mirrors, power steering and backup lights, all of which boosted the base price of $3,000 to $3,500.

Since its 1985 restoration, the car has been driven 15,000 miles.
This is the rarest of all Edsels, only 76 of this model were produced and 58 (76%) have been located (some destroyed, some still exist, some parted out). We equipped with a 352 cubic inch V8 engine, four-barrel carburetor, and a three-speed automatic transmission. It has been driven almost 15,000 miles since the restoration was completed in the late 1980's. It was driven with the top down from Maryland to Denver Colorado as well as other trips from Maryland to Iowa and Florida to attend Edsel Meets.

The list price of this car was approximately $3,500 from an Edsel dealer, which by the beginning of this model year totaled less than 50 surviving dealers (far less than the 1,100 on opening day of Edsel sales on September 4th, 1957).

The 1960 Edsel was only produced for 44 days with a total production of 2,846.

Edsel production ended on November 17th, 1959 with a total production for the three years of 110,846 cars.
One of only 76 Edsel Convertibles produced before the Edsel was cancelled. It was built on the last day of scheduled production - November 18th of 1959. This Edsel was equipped with almost every option offered including rare factory seat belts. The original cost was $3,485.

This automobile has won numerous awards, including the August, 2006 Edsel Nationals Best of Show in Golden, Colorado, and March, 2008 AACA Grand National 1st in Melbourne, Florida. It also won the February, 2007 AACA Special National - the Post War Car Award, and the May, 2006 AACA National 1st Jr. in Virginia Beach, Virginia.
This car is the original Lilac Metallic and Polar White color. Only 1,288 four-door sedans were produced for 1960. The 1960 Edsel was manufactured for 10 weeks ending November 19th of 1959. A total of 2,846 were produced for the 1960 model year.

This car was purchased by the current owner in 1992 in Columbia, South Carolina. It had been driven from 1960 to 1969 and then stored. The car was cosmetically restored in 1997. It has 98,000 original milies, and the engine has never been rebuilt.
A marketing disaster for Ford and for Ford's corporate strategy for meeting GM's product line for product line, the 1958 Edsel was unfortunately not what the public was expecting. The Edsel made its official debut on September 4th 1957 in showrooms spanning the country. Craftful and expensive marketing pre-empted this launch, as the extensive advertising kept everyone whispering and wondering about this mysterious new vehicle.

Keeping potential consumers on the edge of their seats with their tactful and slightly sumblimanal advertising, ads had begun running months earlier that simply featured a hood ornament or a covered car carrier, with the simple text 'The Edsel is Coming'.
Great lengths were taken to keep the appearance and features of the concealed vehicle a secret until the debut. Dealers were liable to fines or loss of franchise if they revealed the undercover vehicle prior to the release date.

Many critics believe that the car's name was a major part in its downfall. Following extensive surveys, the company even involved Ford staffers for suggestions, before throwing away all of the marketing research, and naming it after Henry and Clara Ford's only child, Edsel Bryant.

The day the vehicle was finally unveiled, consumers assembled in massive numbers at the dealerships. Believing that they would be shown something radically new, they're curiousity was rampant. Edsel's chief designer, Roy Brown Jr. set out to create a one-of a kind appearance that would be instantly recognizable for years to come.

Unfortunately, what the public found was really just another 1958 model. Not living up to the hype surrounding it, consumers thronged around the Edsel, but they only came to look. The company had high expectations to sell a minimum of 400 Edsels daily through 1,200 dealers. This goal was not met.

Edsel executives began worrying when early sales proved to be unexpectedly slow. Though the Edsel was set apart from other mid-1950's vehicles with a big impact ring in the middle of the front end, rather than two headlights and a horizontal grille, this alone wasn't enough to boost sales. Criticism came swiftly concerning the new look. Many reviewers considered the new Edsel to be a large gas-guzzling automobile with strange styling.

At this point in the decade, people were looking more and more towards smaller economy vehicles. Consumers were now growing tired of huge big finned vehicles covered in chrome. Edsel aimed incorrectly with their marketing scheme when they assumed this trend was going to continue. Unfortunately, 1958 was one of the worst years for the automobile industry. The only two cars that saw an increase over their 1957 production was the Ford Thunderbird, and the Rambler American.

The time of year that the debut was released also contributed to the problem, as typically, new models came out in November for the next model year, while the launch of the Edsel in September meant that it would reflect 1958 pricing, while competing with 1957 models. In comparison, the Edsel looked expensive when compared to the discounted 1957, as dealers tried to clear their lots in anticipation of the new year's models.

A tough sell, especially during a recession year, when put against the end-of-year specials, Edsel chose to push their largest, most luxurious, and most expensive model. This proved to be disasterous, as without an established customer base Edsel sold only 64,000 units during its first year. As the 58 model year drew to a close, the company attempted to promote how inexpensive it was to own a bottom-line 1958 Edesl model, but this attempt proved to be too late.

The Edsel was launched as its own division, and completely separate from Ford. This decision ended up being a very costly and unfortunate choice by Ford. Brand-new dealerships were recruited rather than franchising with Ford/Mercury. Yet, rather than creating separate manufacturing facilities, as there were no plants set up to produce the Edsel, the division was squeezed on the Ford and Mercury assembly lines. This decision was yet another folly, as many of the Ford/Mercury employees resented having to build another division's vehicles.

This led to intentional vandalism, while vehicles would come to the end of the line with missing parts and faulty brakes, and many cars were unsafe for the road. Unfortunately, preceding the Edsel was their reputation for mechanical problems. Occasionally the wrong parts were put on the car, or the part was not availble, and would be delivered to the dealership this way. This resulted in the Edsel developing a reputation for mechanical problems.

A list would be found on the steering wheel which would say which parts were missing. Part of the problem was the complex and unfamiliar state-of-the-art-technology of the Edsel with its automatic Tele-touch transmission. Mechanics' were confounded with the complicated system that was earlier than its time. Other design flaws created issues for buyers. The hood ornament became a safety hazard as once the car reached up to 70 mph, the ornament would fly right off.

Sharing its body with the Pacer, the Edsel Ranger was produced by the former Mercury-Edsel-Lincoln Division of the Ford Motor Company located in Dearborn, Michigan. The Ranger was built off the shorter Edsel platform and was sold through the Edsel marque in 1958.

During the first and second years of the Edsel's automobile marque, the Ranger was introduced as the base trim option, and was offered in either two or four-door sedans. The base trim included a rear-view mirror, two coat hangers, a cigarette lighter, arm rests and black rubber floor mats. Available optional items included a basic heater and air conditioning in 1958.

Differentiating itself from the upmarket Pacer, the Ranger did not have the stainless trim on the front doors and fenders. While two-tone paint was optional, Edsel Rangers showcased chrome around the rear quarter panel cove molding on the exterior. Early on in the model years, a very rare, optional, Ranger only door trim was made available from dealers to be used together with the Pacer fender trim.

Sharing Ford's 118 inch wheelbase, the Ranger had a staddard 361 in³ V8 along with a standard three-speed manual transmision. Optional was the highly promoted trouble-prone Teletouch Automatic which had the drive-selection buttons placed in the steering wheel hub, or a three-speed automatic transmission with a standard column mounted gear selector.

The trouble prone Teletouch transmission featured was dropped in 1959, along with the best-selling Pacer and the premium Citation. The new top-line Corsair and the Ranger shared the 120 inch wheelbase for this model year. The horsecollar grille was replaced by a shield shape filled with rows of bars, as the syling for the Ranger became more conservative. While prices ranged from $2,629 to $2,756 for the 1959 year, body styles remained at 2-door coupes, 4-door sedans, and 2 and 4-door hardtop bodies.

The following year, the Edsel Ranger became the only car that Edsel offered, and the 1960 Ranger was introduced on October 15, 1959. The 1960 model shared such a various arrangement of body panels and interior trim features wth the Corsair, that the decision was made to eliminate both the Corsair, and the vertical grille element. The convertible bodystyle was given to the Ranger, and at this point the only defining element was its taillights, grille and name badges. This convertible body style was available only in 1960, though not during 1958 or 1959. The Edsel Villager was a nameplate that was applied to two station wagons, a 6 and a 9-passenger model.

Four days following the introduction of the 1960 model, the Edsel marque was discontinued by Ford, and the final car was rolled off the assembly line by the end of the month. While prices ranges for the 1960 model ranged from $2,643 to $3,000, only a total of 2,846 Ranger models were produced for this year.

An estimated 21,701 total units of the Edsel Ranger were produced during its production run. 4,615 were two-door coupes, 7,414 were four-door sedans, 6,005 were hardtop coupes, and 3,667 were four-door hardtops, while prices ranged from $2,484 to $2,643.

Edsel Ranger models are considered to be quite collectible to this day, due to the low production volumes during its three years of existence. The 1960 Ranger convertible has been frequently conterfeited over the years.
By Jessica Donaldson
FOUR ENGINES, FOUR DOORS, EIGHT-SPEEDS AND UP TO A WORLD-LEADING 204 MPH: DODGE ANNOUNCES PRICING FOR CHARGER LINEUP
Dodge unleashes the Quickest, Fastest and Most Powerful Sedan in the world, along with the most capable and technologically advanced Charger lineup ever with a starting U.S. Manufacturer's Suggested Retail Price (MSRP) of $27,995 ◾The Dodge and SRT brands take America's only four-door muscle car and offer the most comprehensive sedan lineup ever, loaded with even more performance, technology and world-class hardware: ◾As the most-equipped entry Charger model ever, the new Charger SE model i...[Read more...]
BMW X4 SPORTS ACTIVITY COUPE AND M4 CONVERTIBLE MAKE WORLD DEBUT AT 2014 NEW YORK INTERNATIONAL AUTO SHOW
◾New BMW 4 Series Gran Coupe and BMW ALPINA B6 xDrive Gran Coupe to make North American debuts ◾Updated BMW X3 Sports Activity Vehicle also makes North American debut including first BMW Advanced Diesel X3 model for the US ◾BMW Concept X5 eDrive showcases new dimension of BMW EfficientDynamics technology Woodcliff Lake, NJ – April 3, 2014 6:00pm EDT/3:00pm PDT. . . The all-new BMW X4 Sports Activity Coupe as well as the BMW M4 Convertible make their world debuts at the 2014 New Yor...[Read more...]
KIA MOTORS SHOWCASES FUTURE TRANSPORTATION TECHNOLOGY AT 2014 CONSUMER ELECTRONICS SHOW
Advancements in Kia's highly regarded UVO voice-activation telematics system highlighted ◾Thoughtful updates in smartphone integration and voice-activation technologies advance functionality and safety ◾New suite of Electric Vehicle-centered telematics serves as a preview to upcoming introduction of Kia's highly anticipated Soul EV ◾Innovative Kia CUB concept makes North American debut Las Vegas, January 7, 2014 – The journey through Nevada's desert, heading toward the brig...[Read more...]
DODGE ANNOUNCES PRICING FOR NEW 2014 DODGE DURANGO
Best-equipped Seven Passenger SUV Loaded With Advanced Technology, Efficiency, Performance and Style for a Starting U.S. MSRP Less Than $30,000. ◾The new Dodge Durango features a slew of new standard features for 2014, including a new standard eight-speed automatic transmission with steering-wheel mounted paddle shifters, Uconnect Bluetooth, 5-inch Uconnect Touch Screen and 7-inch customizable gauge cluster, signature Dodge brand LED racetrack taillamps and standard three-row, seven pass...[Read more...]
2014 FORD F-150 TREMOR SPORT TRUCK WILL PACE FIELD FOR NASCAR TRUCKS RACE AT MICHIGAN INTERNATIONAL SPEEDWAY
◾2014 Ford F-150 Tremor has been chosen to pace the NASCAR Camping World Truck Series Michigan National Guard 200 on Saturday, Aug. 17 ◾2014 Ford F-150 Tremor sport truck with EcoBoost® engine cranks out 365 horsepower and 420 lb.-ft. of torque, delivering V8 power with V6 fuel economy ◾Ford F-150 Tremor will be on sale this fall The 2014 Ford F-150 Tremor – the first EcoBoost®-powered sport truck – will lead the field to the green flag at the always-fast Michigan International Speedway for...[Read more...]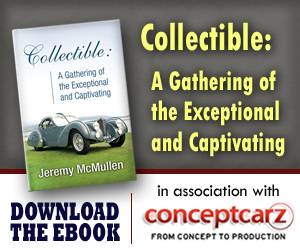 Similarly Priced Vehicles from 1960
Studebaker Lark Regal VIII ($2,330-$2,760)
Simca Aronde 1300 Oceane ($2,888-$2,888)
Pontiac Catalina ($2,630-$3,210)
Triumph TR3A ($2,670-$2,840)
Mercury Monterey ($2,630-$3,075)
Buick LeSabre ($2,755-$3,491)

Average Auction Sale: $41,740
© 1998-2014. All rights reserved. The material may not be published, broadcast, rewritten, or redistributed.