1957 Kurtis Kraft 500G news, pictures, specifications, and information

Tweet
Kurtis-Offenhauser KK500G2 Roadster
At a very young age, Frank Kuretich began working with metal in his father's workshop. Word spread about his metal working skills and he was able to make a living working on and building his own race cars. Frank Kuretich later changed his name to Frank Kurtis.

After World War II Frank Kurtis started to build his own midget race cars, and by the mid-1950s Kurtis midgets were dominating the sport. Kurtis then turned his hand to American Championship racing during the heyday of the front-engined roadsters, and his Kurtis cars established a racing record second only to Harry Miller. This vehicle was built for J.S. 'Duke' Donaldson. In its first Indy 500, driven by Bill Cheesbourg, it qualified in 23rd as the 'Seal Line Special.' In 1959, then known as the 'Bryant Heating & Cooling Special,' it was driven by Eddie Johnson to 9th overall. Robert Sutherland acquired the car in the early 1980s and had it fully restored.
This 1957 Kurtis Kraft 500G (KK500 G2) Roadster was first built by Frank Kurtis for Lee elkins and ran in 1957 as the #73 'McNamara Special' with Andy Linden driving it to a fifth place finish.

Andy Linden started in 12th place after he qualified the car at 143.244 mph for the 1957 Indy 500. He finished 5th in this car. In 1958, the car was sponsored and owned by the City of Daytona/Henry 'Smokey' Yunick and driven by Paul Goldsmith who qualified the car in 16th place with a speed of 142.744. He finished in 30th place. The car failed to qualify for the 1959 Indy 500 Race and did not run in the 1960 race.

After World War II Frank Kurtish, in Los Angeles, saw an opportunity to mass produce midget race cars and later produced 'big cars' and in the front engine-era of American Championship racing, the record of Kurtis-built cars ranks second only to Harry Miller cars. This car frequently runs in vintage racing events.
Kurtis Kraft was first and foremost a builder of race cars although it also built a few road-going models. The company was founded by designer Frank Kurtis. Kurtis Kraft cars were entered at Indianapolis from 1950 through 1960. At that time the Indianapolis 500 was part of the FIA World Championship, and drivers competing at Indy were credited with World Championship points and participation. One such driver was Jack Turner, who entered this Offenhauser-engined Kurtis in 1957, finishing in 11th place. Jack Turner participated in four World Championship races and was the first two-time AAA National Midget champion after winning the 1954 and 1955 championships.
This Kurtis 500G Dayton Steel Foundry Special was driven by Grand Prix Champion Juan Manuel Fangio, who completed his rookie test and practiced for the Indianapolis 500 in 1958. Because Fangio couldn't match the pace of the front running cars, he decided not to race. The car had already been raced in the 1957 500, and after Fangio turned down the drive in 1958 it was driven by Mike Magill. Historic racing collector Nick Mason acquired the car in the 1980s and restored it before the current owner bought it in the 1990s. It has made several appearances since, including the Juan Manuel Fangio tribute at the 2011 Goodwood Festival of Speed.
Frank Kurtis infatuations with automobiles began at an early age. His father owned a blacksmith shop located in Pueblo, Colorado that repaired automobiles and horse-and-buggy. The family later moved to Los Angeles, CA where Frank got a job working with Don Lee Cadillac, after lying about his age. By the 1930's, Frank was designing, building, and repairing racers in his four car garage located behind his house.

In 1941 he had created a car to be entered in the Indianapolis race which was driven by Sam Hanks. Near the mid-1940's, he had created two other racers designed for Indy. The first was for Ross page and the second was the Novi Special. The Novi V8 Specials were racing cars designed to compete at Indianapolis from 1941 through 1965. These were very fast and powerful machines that had a reputation for their handling, which had claimed the lives of two drivers.

During the 1940's, Kurtis fostered a reputation for his midget and Indy racers. In 1946, the Kurtis Miller Ross Page Special had been created and was ready to compete in the first Indy 500 after World War II. The rear faring was constructed of Plexiglas and powered by a 183 cubic-inch Offenhauser engine. It competed in the 1946-1948 Indianapolis 500 races.

By 1947 he had created the Kurtis-Kraft Special, his personal entrant in the 1948 Indy race. This one-off was built specifically to Frank Kurtis's specification and desire. During the 1948 season, it carried Frank to a 9th place finish at Indy and 12th in points. For the 1949 season, under the name of Wynn's Oil Special, it was driven by Johnny Parson and wearing the number 1 on its side, to a first overall finish at Indianapolis. The vehicle was later sold to Jim Robbins who drove it in the 1951 Indianapolis race where he finished with an impressive 2nd overall.

During the early 1950's, Kurtis continued to built Indianapolis and midget racers. He even began building sports cars which later evolved into the Muntz Road Jet. By 1952, the majority of cars entered in the Indianapolis race were designed and built by Kurtis Kraft.

In 1952, Herb Porter and Frank Kurtis built the Wolcott Special, also known as the Kurtis 500A. It ran at Indianapolis in 1952, driven by Joie James, where it set records and lap times of 140 mph.

The 500 S was constructed in 1953 where it quickly proved its potential at sporting events around the country. The 500 S was quickly followed by the 500 M. There were six 500 X cars produced during the mid-1950's. The cars featured a four-bar torsion suspension, hand-formed aluminum panels, and a 364 cubic-inch Buick nailhead engine with Hilborn fuel injection.

In 1956, Frank left the Kurtis-Kraft Company and his business partners to begin his new company called Frank Kurtis Company. The company continued to build midget roadsters, go-karts, and sports cars. Since then, the company has shifted their focus to designing airplanes. Contracts with Lockheed Corporation lead to the construction of Start Carts for the SR-71 Blackbird.

In 1968 Frank retired from the company leaving his son Arlen in charge.

During Frank Kurtis's illustrious career, he created vehicles that dominated the midget racing series, racers that filled the grid at Indianapolis, and sports cars that were street legal Indianapolis racer variants. His custom creations, such as his 1941 Buick was sensational which ultimately led to the Muntz Jet automobiles.
By Daniel Vaughan | Aug 2011
120 years of motor sport at Mercedes-Benz take centre stage at the Goodwood Festival of Speed 2014
'Addicted to Winning': at this year's Goodwood Festival of Speed, Mercedes-Benz looks back on some fascinating racing victories of the last 120 years •The unique motor sport heritage of the Mercedes-Benz brand is being celebrated with an exclusive installation by sculptor Gerry Judah •Mercedes-Benz and Gran Turismo®6 jointly celebrate '120 years of motor sport' Stuttgart. – The thrilling victories of the Mercedes-Benz Silver Arrows mark the peaks of the history of motor sport for...[Read more...]
Techno Classica 2014: more than 30 racing cars to celebrate 120 years of Mercedes-Benz motor racing history
•Cars that were the heroes of magical moments put their stamp on this high-powered, most comprehensive show presentation •With more than 30 vehicles, Mercedes-Benz Classic presents motor racing history in all its unique breadth and depth •120 years of Mercedes-Benz motor sport in the focus of the leading international classic motor show 120 years of Mercedes-Benz motor racing history have produced a timeline of extraordinary victories which since 1894 also stand for outstanding innovations ...[Read more...]
OFFENHAUSER HEROES AND MERCHANTS OF SPEED SEMINARS OFFER FANS A BACKSTAGE PASS TO AMERICAN MOTORSPORT
A pair ofthe Amelia Island Concours d'Elegance's popular seminars will offer 'backstage passes' to the history and the business of American motorsport. On Friday March 7, 2014 the celebration of Offenhauser-powered vehicles will begin in the Talbot Ballroom of the Ritz-Carlton, Amelia Island at 3:00 PM with the Great Offy Drivers and David Hobbs Seminar. Amelia's seminars are famous for their star power. On Friday Indy 500 winners Johnny Rutherford, Parnelli Jones and Al and Bo...[Read more...]
HURLEY HAYWOOD HONORED WITH RRDC'S 2014 PHIL HILL AWARD
DAYTONA BEACH, Fla. (Jan. 24, 2014) - Hurley Haywood, winner of more endurance classics than any other driver in racing history, was honored by the Road Racing Drivers Club with the 2014 Phil Hill Award. RRDC president Bobby Rahal presented Haywood with the award at a dinner prior to the running of the Rolex 24 At Daytona, the season opener of the 2014 TUDOR United SportsCar Championship. The Phil Hill Award has been presented annually since 1993 to the person who the RRDC feels has re...[Read more...]
RK MOTORS ADDS 'LEGENDS OF MOTORSPORTS' COLLECTION OF HISTORIC RACING MACHINES TO UPCOMING AUCTION
Charlotte, N.C. – October 14, 2013— Only weeks after revealing plans to auction the 1977 McLaren M26 that James Hunt drove to his final F1 victory, RK Motors Collector Car Auctions (RKMCCA) today announced that four additional iconic racing machines will cross the block during its auction at the Charlotte Convention Center, October 31 to November 3. Furthering the auction's historic motorsports theme, RKMCCA will offer bidders an opportunity to own: Mario Andretti's 1974 Viceroy Gurn...[Read more...]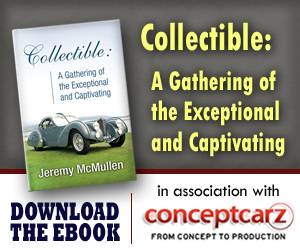 © 1998-2014. All rights reserved. The material may not be published, broadcast, rewritten, or redistributed.