1936 Delahaye Type 135 news, pictures, specifications, and information

Tweet
Delahaye launched the Type 135 in 1935 in a bid to relive the company's glory years and lure sporting owners back to the marque. One of the Type 135's biggest assets was its low-slung chassis, which made it a popular choice for coachbuilders such as Figoni et Falaschi. In 1936 Giuseppe Figoni used this Delahaye to debut the first of his legendary Goutte d'Eau, or Teardrop designs. This Competition Court coupe with lightweight body is powered by a 3.6-liter, six-cylinder engine producing 120 bhp. In competition, the Type 135s had their finest win at the 24 Hours of LeMans race in 1938 when they finished first, second and fourth.
The Delahaye Type 135 Competition Court chassis was an 'under the counter' factory competition special, with only friends of the house able to order this dual-purpose homologation. Competition features on this car include the oil cooler, brakes, high-compression head, and dual fillers. Only several dozen Competition Court Type 135 chassis were ever constructed and few remain today.

Figoni & Falaschi was known for producing some of the most flamboyant, if not elegant coachwork of the French carrossiers. Joseph Figoni loved working with the designers of high fashion who created gowns, hats, gloves, and shoes that perfectly matched the designs and colors of his cars. Falaschi once said, 'We were truly couturiers of automotive coachwork, dressing and undressing a chassis one, two, or three times and even more before arriving at the definitive line that we wanted to give a specific chassis-coachwork ensemble.'

This car was ordered by Mr. Jeancart of Paris, a wealthy French industrialist who purchased many Figoni-bodied cars. It made its debut at a Paris Concours d'Elegance where it was shown by the Countess De Saint-Amour de Chanaz. It is a sister to the 1936 Paris Salon show car and one of Figoni's first fully enclosed aerodynamic creations, predating the Talbot-Lagos that he also designed.

Fifty 'competition court' short wheelbase chassis were built by Delahaye to be used for sporty two-seat bodies. This one features enclosed front and rear fenders, curved chrome teardrop-shaped accents to highlight the flowing lines of the car, and a split rear window. It is equipped with a sliding metal sunroof, a four-speed manual gearbox, and a windshield that opens at the bottom for interior ventilation.

This unique coupe with flamboyant coachwork by Figoni et Falaschi was commissioned by wealthy industrialist M. Jeancart of Paris, well-known for purchasing the first few teardrop Talbot Lagos created by the same coachbuilder. This car was specifically called 'Competition Coupe' because of its shortened factory custom 2.70-meter wheelbase. It was completed and licensed in February of 1936 under French registration number 4505RK1. Figoni et Falaschi's internal number for the car was 532, according to Claude Figoni in a 1996 interview. It was originally delivered to the Delahaye factory, where it was retained for show and demonstration purposes. After surviving the war, it was sold to the sales manager for Delahaye and founder and president of Club Delahaye, Jean-Pierre Barnard.

The car was completed on January 14th of 1936 and shown by Comtesse de la Saint Amour de Chanaz at the Cannes Concours d'Elegance, where it won the grand prix (grand prize).

This coupe is powered by a 3557cc overhead valve, 160 horsepower, 6-cylinder engine coupled to a 4-speed manual transmission. The car has a top speed of 103 mph.

The car was sold several times in later years and, at one point, according to Delahaye club archivist, Andre Vancourt, to 1930s film star Dolores del Rio and during the 1950s to noted American collector, Judge North. It was sold to American Daniel Roy Johnson in 1959. He kept the car in Europe and presumably drove it across the French/Italian border where it was parked near Lake Garda. It was re-discovered by Christoph Grohe of Geneva in the late 1990s.

This one-off Type 135 Competition Court Delahaye is one of three surviving Delahaye F&F coupes from 1936. Each was uniquely styled; this is the only F&F coupe to feature headlights faired into the front fenders. Other F&F features introduced on this car were uniquely louvered bonnet, central tail fin, twin rear windows, rear wheel spats complimented by finned rear fenders, and an F&F signature molding that flows down the hood to finish over the rear fender.

The current owners purchased the car in 2004, reinstalling the car's original engine and restoring it to its factory configuration.
Disappearing Top Convertible
Chassis Num: 46864
Engine Num: 46864

This car (with Chassis #46864 and Engine #46864), previously thought to be a 1938 135 MS and subsequently misidentified as a 1937 135 M and even a 1940 135 Coupe-des-Alpes, was 'rediscovered' by its current owner with the assistance of Alan Taylor Restoration of Escondido, CA, Club Delahaye, France and Claude Figoni. What followed were a series of discoveries about the car's racing heritage (such as 1949 Rallye Monte-Carlo), ownership from new, proper identification and discoveries of errors in restoration. The car was a unique special order car designed to be used either for competition or show. In the worlds of Club Delahaye, who featured the car's 'rediscovery' in their June 2004 club magazine '...this is one of the most elegant creations of Joseph Figoni and one of the most important Delahaye cars.' Over a year of thorough research has produced an exceptionally beautiful and rare car that, in the words of Club Delahaye: 'It is clear that the chassis 46864 is correct in all aspects.'

This one-off Disappearing Top Convertible was given a no-expense-spared restoration that as carried out by Hill & Vaugh in the early 1990s. It has subsequently been restored again by the present owners. Both engine and chassis are competition. The car was raced by famous racing team of Guy Mairesse and Paul Vallee. Mairesse was the 1948 winner of the Grand Prix des Frontieres. The original owners were Mr. & Mrs. Wolf of Paris, France.
Grand Prix
Chassis Num: 47190
Engine Num: 103492B84

Delahaye produced twenty-five low chassis badged Type 135-S (surbaisse) in 1936. Of those, an estimated fourteen were short chassis Type 135 CS (Competition Specials). This example, chassis number 47190, was ordered by privateer Henri Toulouse to compete during the 1936 season. He won the Grand Prix de Marseilles and finished 2nd at the French Grand Prix before crashing at the Grand Prix de la Marne.

The next owner was Eugene Chaboud who raced the car at the 1937 Tunisia and Bone Grand Prix. With the help of Jean Tremoulet, he achieved notable success in the ACF, Marne and Antwerp Grand Prix.

In 1938, the car won the 24 Hours of LeMans. Three weeks later, it was crashed at the 24 Heures de Spa-Francorchamps. The driver received minor injuries, but the car was badly damaged.

In 1938, John Snow of Australia purchased the car and had it restored. After it was restored, he used it compete at Brooklands and Le Mans. In 1939, the car was shipped to Australia where it raced at the Bathurst Road Race, and the Grand Prix of Australia on several occasions over the next decade. During this time, the car was in the care of several owners.

During a truck fire, the car was badly damaged. Over the years, it changed hands several times before being acquired by Ian Polson, who restored it to original configuration in 1968.

In 1994, the car was sold to John Ruston. The current owner purchased the car in 1999.

The car is powered by a six-cylinder, overhead valve engine capable of producing 160 horsepower. There is a four-speed Cotal pre-selector gearbox and four-wheel cable-operated drum brakes.
By Daniel Vaughan | Jan 2013
The Type 135 was Delahaye's most successful model ever, and the stylish and versatile French car was produced in many forms - as a coupe, a saloon, and a Cabriolet, as on this rare short and low chassis. It is fitted with Delahaye's straight-6 cylinder, 3.6-liter engine with triple Solex carburetors. Built in early 1936 and bodied by Guillore, it was sold to a French deputy in the lower chamber of the French Parliament in 1936. A chemist based in Normandy purchased the car after World War II and later sold it to another collector in 1971, where it remained through 2010, when the current owner purchased it. This Delahaye was mechanically overhauled and repainted approximately 20 years ago and has been used sparingly since then.
Emile Delahaye was born in Tours, France in 1843. He studied engineering in Angers, France. In 1869 he began work with his engineering degree in applied arts and crafts.

Emile Delahaye began business in Tours, France in the middle of the 19th century for the purpose of constructing engines for the ceramic industry. The company branched out and began constructing mechanical appliances such as pumps and engines. In 1888, Delahaye designed an internal combustion engine for the shipping industry. It was not until 1896 that Automobile production began for Delahaye. His first automobiles produced were powered by belt-driven single and twin cylinder engines.

Emile used motor racing to promote his vehicles. In 1896, Emile Delahaye entered the Paris-Marseilles race. Not only did he enter a vehicle his company had created, but he entered as the driver. The results were astounding, which truly speaks highly of the caliber and quality of the automobile. The demand for the vehicles began pouring-in and a second factory was opened.

Due to failing health, Delahaye was forced into retirement in 1901. This was a year after the second factory was opened in Paris. Since Delahaye had no heirs, management control was passed onto a young engineer named Charles Weiffenbach. Weiffenbach oversaw operations until 1954.

In 1905, due to failing health, Emile Delahaye passed away.

Automotive racing was paramount during this period in history. This is why many of the vehicles built during this era were built to be raced and to be used as the daily driver. The sales of the vehicles were stimulated by the way the vehicle performed on the race track. Weiffenbach, however had a different philosophy. His main focus and priority was to build dependable vehicles. Many of the early vehicles were equipped with four cylinder engines capable of producing between 9-12 horsepower. Near the beginning of the first World War, a 6 cylinder, 2565cc, engine was used.

In addition to automobiles, the Delahaye company produced trucks, lorries, parcel carriers for the post office, motor ploughs, fire engines, and other commercial and military vehicles. Many of the vehicles were used during the First World War

From 1927 to 1933, productions of the medium-class cars were low, but the vehicles that were produced carried with them a reputation of being reliable and robust.

In the early thirties, Weiffenbach, also known as 'Monsieur Charles' by his piers, was in his early 60's. The decision was made to boldly move into the sports car arena. This was in response to the market trends and a way to re-establish a competitive edge in the automotive technology spectrum. For an automotive company that had never created a car that could achieve a top speed faster than 110 km/h, this would be a major undertaking.

Jean Francois, a 29 year-old engineer, was commissioned to construct a series of sporty cars using as many of the spare parts as possible. Talbot's new independent suspension was used along with a new chassis with box-section side members. The engine was borrowed from one of their trucks. The engine featured a 65mm crankshaft with internal lubrication. In 1933, the vehicles were introduced at the Paris Car Salon. They were the 4 cylinder 12CV and the 6 cylinder 18CV. At the show, Lucy O'Reilly Schell approached Weiffenbach with a request to have a vehicle built that could be entered in rally events.

Lucy O'Reilly, a wealthy American with an Irish origin, had a passion for racing. So fueled by Delahayes desire to produce sports cars and Reilly's financial backing and quest to win motor sport events, the company re-entered the racing scene.

The Type 135 was created with variants such as the 135 Competition Speciale (135 CS), designed specifically for racing. The 135 Sport and the 135 Coupe both featured a 3.2 liter engine. The Sport produced 96 horsepower while the Coupe had 110 horsepower. 120 horsepower was produced by the 3.6 liter engine that rested in the Type 135 Competition model. The engine in the 135 CS was a simple pushrod operated engine borrowed from the 1927 Type 103 truck engine. It gave up horsepower for great acceleration and torque.

The Type 135 is considered as one of the most famous and prestigious vehicles produced by Delahaye. In both design and racing competition, it was very successful. Designed in 1934 it was quickly entered into races such as the 24 Heures du Mans, the Monte-Carlo Rally, and the Paris-Saint-Raphael motor race, where it had great successes at being a competitive and reliable automobile.

The Type 135 Competition Speciale Sports Car (CS) had a chassis 25 cm shorter than the 135 touring car. This shortened version had better weight distribution which greatly improved the handling and performance. The engine and 4-speed Wilson epicyclic gearbox was placed lower in the chassis, thus contributing to the benefits of a better balanced vehicle. The 135 CS came equipped with an 80 liter or a 100 liter fuel tank, this option was left up to the buyer's discretion.

The 135 CS was debut in the 1936 Monte Carlo Rally where it finished 2nd in a field of fierce competition. In 1936 it was the winner of the Marsailles Gran Prix. At the French Gran Prix is placed second, third, fourth and fifth.

Well-known coachbuilders, such as Franay, Letourner & Marchard, Chapron, and Guillore, were tasked with outfitting the 135's. This may have been influenced by Delage, an automotive company that Delahaye merged with in 1935. As a result, the 135 won numerous awards for styling and design.

The Type 135's are truly a prestigious masterpiece with a strong racing history and a heritage that was formed on stability, robustness, and stamina.
By Daniel Vaughan | Feb 2007
For more information and related vehicles, click
here
Spectacular 1936 Delahaye Type 135 Competition Court Coupe and 1969 Ford GT40 MKI take Best in Show at the Concours d'Elegance of Texas
Houston, Texas. May 17, 2013. Last weekend, the award winning La Torretta Lake Resort & Spa in Montgomery, Texas, played host to the biggest celebration of vintage motoring in Texas, welcoming thousands of visitors through its doors for The Houston Classic Weekend and 2nd annual Concours d'Elegance of Texas. The weekend got off to a high-octane start when Concours participants took to the open road on the Texas Tour d'Elegance, led by Richard Rawlings of Fast N' Loud fame, in a newly re-s...[Read more...]
Postwar Ferrari Named Best of Show at 2014 Pebble Beach Concours d'Elegance
1954 Ferrari 375 MM Scaglietti Coupe Named 'Best of Show' PEBBLE BEACH, Calif. (August 17, 2014) -- Excited cheers echoed across the 18th fairway of Pebble Beach Golf Links Sunday when a 1954 Ferrari 375 MM Scaglietti Coupe was named Best of Show at the 64th annual Pebble Beach Concours d'Elegance. The car, owned by Jon Shirley of Medina, Washington, was the first postwar car to take the top award at the prestigious event in nearly five decades. It was also the first Ferrari to win. ...[Read more...]
120 years of motor sport at Mercedes-Benz take centre stage at the Goodwood Festival of Speed 2014
'Addicted to Winning': at this year's Goodwood Festival of Speed, Mercedes-Benz looks back on some fascinating racing victories of the last 120 years •The unique motor sport heritage of the Mercedes-Benz brand is being celebrated with an exclusive installation by sculptor Gerry Judah •Mercedes-Benz and Gran Turismo®6 jointly celebrate '120 years of motor sport' Stuttgart. – The thrilling victories of the Mercedes-Benz Silver Arrows mark the peaks of the history of motor sport for...[Read more...]
Techno Classica 2014: more than 30 racing cars to celebrate 120 years of Mercedes-Benz motor racing history
•Cars that were the heroes of magical moments put their stamp on this high-powered, most comprehensive show presentation •With more than 30 vehicles, Mercedes-Benz Classic presents motor racing history in all its unique breadth and depth •120 years of Mercedes-Benz motor sport in the focus of the leading international classic motor show 120 years of Mercedes-Benz motor racing history have produced a timeline of extraordinary victories which since 1894 also stand for outstanding innovations ...[Read more...]
75 years ago: triple victory for Mercedes-Benz in Tripoli
• Spectacular launch of the W 154 'Silver Arrow'
• Hermann Lang is victorious on the Mellaha course in Libya
Stuttgart – A triple victory was secured for Mercedes-Benz and the then new W 154 twelve-cylinder racing car on 15 May 1938. Hermann Lang won the Tripoli Grand Prix, ahead of fellow drivers Manfred von Brauchitsch and Rudolf Caracciola. This one-two-three win launched a season that saw Mercedes-Benz dominate European racing – a season in which Caracciola would also be cr...[Read more...]
Sebastian Vettel Becomes First Formula One Driver To Sample New Grand Prix Venue In Sochi, Russia
Triple world champion Sebastian Vettel made history again today by becoming the first Formula One driver to experience the Sochi Olympic Park Circuit in Sochi, Krasnodar Krai, Russia. Vettel, recently announced as Infiniti's Director of Performance, was joined by former Formula One driver David Coulthard in driving part of the track, which is still under construction, in an FX Vettel Edition amongst other Infiniti products. He then toured the sports venue with officials from the Russian Go...[Read more...]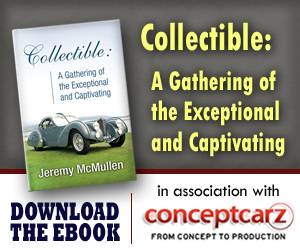 Similarly Sized Vehicles from 1936
Cord 810
© 1998-2014. All rights reserved. The material may not be published, broadcast, rewritten, or redistributed.