1937 Delage D8 120 news, pictures, specifications, and information

Tweet
In 1936, the Delage D8-120 was introduced. It was given a modified Delahaye chassis and featured an advanced independent suspension in the front with a transverse leaf spring. Power was basically a Delahaye 135M six-cylinder unit, with the addition of two cylinders. The resulting displacement was 4.3-liters and horsepower was rated at 95. It would quickly grow in size and in power output to 4744cc and 115 horsepower. The D8-120 weighed approximately 3,700 pounds, meaning its eight-cylinder engine provided enough power and torque to propel it to speeds approaching 95 miles per hour. Many of Europe's leading coach builders were tasked with building designs atop the chassis. The short list of artisans includes Saoutchik, Chapron, Portout, and Letourner et Marchand being the most notable among them.

Letourner et Marchand built the elegant Aérosport coupes which have been considered by many to be the most attractive of these creations. It is believed that fewer than twenty were created, likely fourteen, built in two styles - the sporty fastback, and the elegant notchback coupe, referred to as Style 5677.

Marcel Letourner was the individual responsible for creating the design of the Aerosport bodies and is considered to be one of the greatest French designers of the 1930s. The coupes had long hoods, flowing fenders, and a unique pillarless design.

Production of the D8-120 last from 1936 through 1939. The D8-120 created such a sensation that it was invited to join the French government's automotive display at the 1939 New York World's Fair.

This example is chassis number 50789. It is believed to be the sole surviving example of approximately ten cars that were originally built with the notchback coupe body. The early history is mostly unknown. What is know is that it was sold new in France. Following World War II, it went to Australia where, after time, it fell into a state of disrepair - although complete. It had been involved in a front-end accident, and its fenders were replaced with incorrect ones from another car.

Richard Scott of Sidney, Ohio, discovered and purchased the car. It was shipped to the United States and treated to a restoration in preparation of the Pebble Beach Concours d'Elegance. It was entered in the 2006 edition of the Pebble Beach Concours, where it earned a Second Place Award for European Classic 1925-1939 Closed automobiles.

In 2009, this very rare and elegant car was offered for sale at the Automobiles of Arizona auction presented by RM Auctions. The lot was estimated to sell for 1,000,000 - $1,500,000. As bidding came to a close, the car had been sold for the sum of $825,000 including buyer's premium.
By Daniel Vaughan | Jan 2010
The Delage was designed by Georges Pauin and built by the coach-builder Pourtout for Louis Delage's personal use, and very much to his careful design specifications. It is an experimental chassis, very low, ('surbaisse' in French) and features a 4.7-liter engine, the only car the company ever built to that specification. The design is totally unique and arguably one of the purest of line and most aerodynamic of the pre-war era. It is four-place and has a sizeable trunk with the original fitted luggage. The windshield is not only curved, revolutionary technology for the period, but also appears to be a single ribbon of glass from the rear around the front to the other side. The straight-eight D8-120 engine is largely aluminum, with three carburetors and develops about 160 horsepower. The transmission is a four-speed Cotal electromagnetic unit, and the car is a joy to drive comfortably at speeds up to 100 mph.
Louis Delage was born in 1874 in Cognac, south of France. His family had a modest income which allowed for him to attend and graduate from the Ecole des Arts et Metiers in Angers in 1893. He then moved to Paris and began working with the Turgan-Foy company. Later he accepted a position with Peugeot. He left soon after to start his own company. Louis Delage began designing and building cars in 1905 with Augustin Legros as his chief engineer. Legros had left Peugeot with Delage and stayed with the company until 1935. The company focused on building cars that were of high quality and reliability. Their first cars were produced in 1906, and called the Type A and B. The cars were powered by a single cylinder de Dion engines producing about 6-7 horsepower.

Louis Delage was a very ambitious man. He had a passion for racing and a competitive edge that led him to produce some of the greatest sports cars of the era. In 1906 he participated in the Coupe des Voiturettes and was awarded a second place finish. This accomplished fueled sales. In 1908 he had three cars entered in the Coupe des Voiturettes race where their achieved a fist place victory.

In 1909 Delage moved away from the de Dion engines and began using their own 4-cylinder engine. However, some of the models they produced did use engines produced by the famous engine supplier, Ballot.

Throughout the years, Delage had many successes in the racing arena. Sadly, it was not enough. In 1935, their fortunes change. The company closed due to bankruptcy and was bought by Walter Watney, the owner of used Delage car dealerships in Paris. A machine tool company purchased the main factory in Courdevoie. Delahaye, another famous automobile manufacture of the time, bought the rights to manufacture cars under the Delage name.

The D8 120 was outfitted with coachwork done by famous coachbuilders such as Chapron, Pourtout, and Letourner et Marchand. At the front was a very larger and imposing radiator. Hidden underneath the hood was a powerful, eight cylinder engine that gave this vehicle a reputation as being a fast, high-performance automobile.

This D8 120 was built after the merger with Delahaye. Even though it retained its Delage styling, there are Delahaye influences. A Delahaye-style chassis was used that included a transverse-leaf independent front suspension and a Cotal electromagnetic gearbox.

The Aerosport was the highlight of the D8 line-up. It was designed by Marcel Letourner, the son of Letourner. In 1939, the design was selected to represent part of the French government's automotive display at the World's Fair in New York.

The vehicle displayed here, chassis number 51018, was the fourth Aerosport built. It was sold for $501,000 at Christies Tarrytown, New York action on April of 2000.
By Daniel Vaughan | Dec 2008
In 1906, Louis Delage constructed his first voiturette and by 1908, his light cars were winning races. By 1914, the vehicle had adopted such advanced technology as twin-overhead camshaft engines and four-wheel brakes.

By the early 1920s, Delage was producing elegant automobiles for wealthy clientele. The success of the Delage Company was due, in part, to the race cars that had swept the French Grand Prix in 1914 and won at Indianapolis the same year. Delage would also win the World Grand Prix Championship in 1927 with their 1.5-liter Grand Prix car.

As the 1930s came into view, automakers worldwide - especially in the luxury car segment - were crippled by the Great Depression. Delage was forced out of his own firm. The D8 was the last series bearing his name produced after the company's merger with Delahaye. The D8-120 was the last of that line, appearing in 1937.

It is believed that around 1,200 Delage automobiles exist in modern times, with just 58 of those being the D8-120s.

Chassis number 51629
This example was sold new to the Argentine businessman Fritz Mandl. It wears two-door Deltasport four-seat aluminum coachwork by Carrosserie Henri Chapron of Paris. Power is from a straight-eight Delage-derived engine that delivers 140 horsepower through a Cotal electromagnetic four-speed transmission.

When Mr. Mandl and his wife divorced in 1937, his wife Hedwig 'Hedy' moved to the United States. There she caught the attention of movie executives in Los Angeles, and soon rose to stardom as actress Hedy Lamarr. Mandl remained in Argentina. It is believed the next owner of the Delage was G. Sesa and was later acquired by Hector Alberto Podesta Lando, a Buenos Aires collector and broker.

Podesta gave the car cosmetic attention and the bodywork was re-sprayed cream with contrasting dark green fenders, wheels, and spare wheel cover.

Manny and George Dragone of Dragone Classic Motorscars in Westport, Connecticut - along with their West Coast partner, B. Paul 'Ben' Moser - arranged to purchase the car from Podesta in early 1990. Ownership later passed to Alfredo Brener of Houston, Texas. Though Mr. Brener planned to undertake a restoration, the car was put on display at the Pebble Beach Concours d'Elegance in 1990 (the car was not judged).

The car was on display at the Blackhawk Museum in Danville, California from early February through late September of 1991. On its return, a restoration began.

In the mid-1990s, Brener traded the Delage back to Dragone; it then came into the care of the current owner. Since that time, it has continued to receive mechanical work and re-freshening as needed. It has a new black top and a period-correct black with green body,
By Daniel Vaughan | Dec 2013
It is believed that this Delage was originally delivered to a French actress in September of 1937. After World War II, the car was in the care of British ownership where it remained until the 1960s, at which time it was exported to the United States. It remained in the care of two separate owners in the US before returning to Europe in the 1980s. It was in a French Collection and treated to a comprehensive restoration.

In 2006 it was acquired by the current owner. In 2010, it was offered for sale at the Gooding & Company Auction held in Scottsdale, Arizona. It was estimated to sell for $550,000 - $650,000. As bidding came to a close, the lot was sold for the sum of $605,000, inclusive of buyer's premium.
By Daniel Vaughan | Feb 2010
Delage was at its best in the late 1920s and early 1930 producing elegant automobiles for a wealthy clientele. Its success stemmed in part from the fact that the marque's 1.5-liter car won the Grand Prix Championship in 1927. By 1935 automakers worldwide, especially in the luxury segment, were crippled by the Great Depression. Delage introduced the D8, which was the last series bearing the Delage name, just after the company's merger with Delahaye. The D8-120 was the last of that line, appearing in 1937. It has a straight-8, Delage-derived engine that delivers 140 horsepower through a Cotal pre-selector, electromagnetic transmission.

One of the most stylish and elegant pre-war coupes built is this 1937 Delage D8 120SS two-door Aerodynamic Coupe by Letourneur et Marchand, resplendent in black livery with chrome wire wheels. This exceptional one-off short chassis coupe was ordered for a European prince and is the only known short chassis 8.120. Immediately after World War II, it was part of the famous Gerry Albertini collection in London and was then acquired by the Blackhawk Collection. This unique car has just had a complete mechanical and body rebuild by the well-known RM Restorations and is in total Concours condition. The coachwork has exotic flowing lines with each wing highlighted by chrome strips and a wide chrome bodyline from the front radiator to the rear wing. The large diameter chromed exhaust manifold project through the bonnet and exit as two exhausts at the base of the large single ribbed boot cover.
It was Delage founder Louis Delage who asked Marcel Pourtout to build this high-speed aerodynamic prototype (chassis 51620) for the 1937 Paris Auto Salon.

Georges Paulin was the chief stylist for Pourtout, and he accepted the challenge. He was also at work on the aerodynamic Embirlcos Bentley, and there are marked similarities between the two cars.

Upon its introduction, this Delage was lauded by the press. It was immediately recognized for being a milestone in streamlined styling.

Built on the D8-120 S chassis the automobile's suspension was lower than standard, adding to the drama of Paulin's design, which was simple and balanced. He used no chrome, no fancy accents, preferring instead to have the pure lines of the car speak for themselves. The lines and curves are all continuous. Nothing is allowed to stand out in a way that might detract from the overall effect, with everything tapering to the tail. Even the traditional Delage radiator tilts back into the body to create a more graceful profile.

The body shape was tested in a wind tunnel in France to ensure that it was aerodynamic.

The body was produced in aluminum, so the car is lightweight and the engine size was increased to 4,750 cc (up from the standard 4,300 cc). So the car definitely has power.

Of course, such things come with a price. The coachwork alone cost $30,000 French francs.

Delage liked the car so much that he kept it and used it for himself.
In the late 1930s Letourneur et Marchard of Paris built a series of aerodynamic 'coaches profiles' that pushed the typically French pillarless style to its aesthetic limits. The Delage Company was unable to weather the economic storm of the early 1930s, and its demise in 1935 led to the amalgamation of Delahaye and Delage in 1936. The new company brought out the first D8-120 wîth two cylinders added to the Delahaye 135MS straight-6 engine, bringing the capacity to 4.3-liters. Most of the D8-120s were built on a longer chassis and were very stylish for the period and were owned by the rich and glamorous.

This is one of ten Aerosport coupes built by Letourneur & Marchand on the eight-cylinder Delage chassis. Though all were slightly different, they shared pillar-less styling and Vue Panoramic windows for greater visibility. Discovered in a barn in France during the early 1990s, this Delage received a meticulous restoration and is painted in its original colors.
Source - Peterson Museum
Louis Delage was born in 1874 and was handicapped by blindness in one eye. This handicap would not hinder him at all in creating some of the most elegant and beautiful creations of the pre-WWII era, and into the early 1950s. He acquired his engineering abilities while working for Peugeot. He worked with the company until 1905, when he left to build cars bearing his own name.

Delage had a strong loyalty to France, and he endeavored to build cars that would bring honor to his country. He began racing in 1906 and acquired some success. By 1913, he had constructed a worthy racing machine to claim the Grand Prix de France. His racing machines continued to evolve. In 1914, they featured double overhead camshafts and brakes on all four wheels.

Rene Thomas drove a Delage in the 1914 Indianapolis 500 where he emerged victorious. In 1924, he set a land speed record at just over 143 mph.

During World War I, the newly built factory in Courbevoie was used for the production of military items.

During the mid-1920s, the Delage cars were powered by eight-cylinder engine displacing 1.5-liters. In 1927, Robert Benoist drove a Delage with an inline-eight cylinder engine to a victory at the Grand Prix de France, Spanish Grand Prix, British Grand Prix at Brooklands, and the Grand Prix de l'Europe at Monza. After this brilliant accomplishment, Delage announced his retirement from racing.

Delage had left the sport on a high-note, but there were troubled times in its future. The Great Depression rattled many industries, including the automotive world. By 1935, Delage had felt the strains of this painful time in history, and was forced to enter liquidation. A Delage dealer named Walter Watney purchased the company's assets. This proved to be a pipe-dream for Watney, and soon was looking for aid from an automotive partner who could help bear the costs of engineering, development and manufacturing. Luckily, he found the assistance he was searching for - at Delahaye. An agreement was reached which allowed the Delage name to continue.

The first new product from this union was the D8-120. Mounted in the long, graceful bonnets were an eight-cylinder engine. The engine was basically a Delahye 135MS six with two additional cylinders. Some of Europe's greatest coachbuilders were tasked with creating designs for the chassis. The list includes Saoutchik, Chapron, Pourtout, and Letourner et Marchand.

The Delage D8's were very impressive automobiles that had style and glamour in a high-performance package. Though the economy disparity of the time begged Delage to move down market, the company refused, and continued to produce their high-priced machines.

The Delage D8-120 had hydraulic brakes, Cotal electromagnet gearbox, and a suspension comprised of transverse leaf springs in the front. The 4.3-liter eight-cylinder engine was capable of producing nearly 100 horsepower in unmodified guise.

The Delage D8-100 was a long-wheel base version of the short-wheelbase D8-120. Both the D8-100 and D-120 were built as a conventional rolling chassis and supplied to the coachbuilders for completion. The coachbuilders would often construct the final product to the exact specifications and requirements supplied by the customer. Because of this, many of the vehicles and their specifications vary considerably. Prior to World War II, around 100 examples were created.

Production of the Delage vehicles continued until 1953.
By Daniel Vaughan | May 2010
For more information and related vehicles, click
here
1937 Delage Takes Home Best Of Show At The 10Th Annual Keeneland Concours D'Elegance
Mustangs, classic cars, helicopters and motorcycles take center stage LEXINGTON, KY – July 22, 2013 – A very deserving 1937 Delage was named Best In Show at the annual Keeneland Concours d'Elegance on July 20. The Mari Hulman George award for Best of Show went to the 1937 Delage D8 120 SS Aerodynamic Coupe presented by The Patterson Collection of Louisville. The French car also was named top car in its class, Coach-built Classics. The Best of Show Award is presented by the In...[Read more...]
Postwar Ferrari Named Best of Show at 2014 Pebble Beach Concours d'Elegance
1954 Ferrari 375 MM Scaglietti Coupe Named 'Best of Show' PEBBLE BEACH, Calif. (August 17, 2014) -- Excited cheers echoed across the 18th fairway of Pebble Beach Golf Links Sunday when a 1954 Ferrari 375 MM Scaglietti Coupe was named Best of Show at the 64th annual Pebble Beach Concours d'Elegance. The car, owned by Jon Shirley of Medina, Washington, was the first postwar car to take the top award at the prestigious event in nearly five decades. It was also the first Ferrari to win. ...[Read more...]
120 years of motor sport at Mercedes-Benz take centre stage at the Goodwood Festival of Speed 2014
'Addicted to Winning': at this year's Goodwood Festival of Speed, Mercedes-Benz looks back on some fascinating racing victories of the last 120 years •The unique motor sport heritage of the Mercedes-Benz brand is being celebrated with an exclusive installation by sculptor Gerry Judah •Mercedes-Benz and Gran Turismo®6 jointly celebrate '120 years of motor sport' Stuttgart. – The thrilling victories of the Mercedes-Benz Silver Arrows mark the peaks of the history of motor sport for...[Read more...]
Techno Classica 2014: more than 30 racing cars to celebrate 120 years of Mercedes-Benz motor racing history
•Cars that were the heroes of magical moments put their stamp on this high-powered, most comprehensive show presentation •With more than 30 vehicles, Mercedes-Benz Classic presents motor racing history in all its unique breadth and depth •120 years of Mercedes-Benz motor sport in the focus of the leading international classic motor show 120 years of Mercedes-Benz motor racing history have produced a timeline of extraordinary victories which since 1894 also stand for outstanding innovations ...[Read more...]
Barrett-Jackson Generates Nearly $109 Million In Sales
• Sets Record Attendance At The 42nd Annual Scottsdale Auction
• Batmobile sells for $4.62 million dollars to a lifelong fan to worldwide audience; marks second-highest single-car sale at Barrett-Jackson
•1,343 cars sold •$108,766,069 gross sales – A 17% increase over 2012 •300,000 in attendance •Charity cars – 21 total for $5,005,000 Scottsdale, Ariz. – Jan. 22, 2013 – Barrett-Jackson Auction Company, The World's Greatest Collector Car Auctions™, generated nearly $1...[Read more...]
Sold! Barrett-Jackson's 5000 Series Generates More Than $29.2 Million In Scottsdale
Original 1966 TV Batmobile Sells for $4.62 Million at The World's Greatest Collector Car Auctions™ and New World Records are Set January 19, 2013 •LOT #5037 The Original Batmobile is the highest selling car at the company's annual Scottsdale Auction •LOT #5019 1947 Talbot-Lago T-26 Grand Sport sets a new world record for the model •LOT #5034 1956 Chrysler Diablo Concept Convertible sets a new world record for Chrysler concept cars Scottsdale, Ariz. (Jan. 20, 2013) – Barr...[Read more...]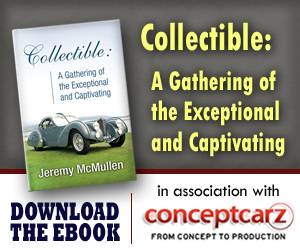 © 1998-2014. All rights reserved. The material may not be published, broadcast, rewritten, or redistributed.