1946 Mercury Series 69M news, pictures, specifications, and information

Tweet
Though the war had ended and automobile production resumed, it would be several years before most automakers introduced a new product. Most just made a few changes to their pre-War line and tried to quickly settle the publics demand for vehicles.

For Mercury, post-War production resumed on November 1st of 1945. This was ten days after Lincoln-Mercury had become a separate division. The face-lifted Mercury was given a new 'high-style' grille design which the public approved. A total of 86,608 examples were sold making them the tenth-highest volume for 1946.

The Mercury's cost around $190 more than the Super DeLuxe Ford V8, and came with a four-inch longer wheelbase, upgraded upholstery, interior trimmings, and exterior trim. The 'flathead' V8 engine provided a hefty 100-horsepower which was controlled by four-wheel hydraulic drum brakes.

Both the Fords and Mercury's rode on a unique front-and-rear transverse leaf spring suspension. They made have been not as modern as some other setups on the road, but they worked really well and provided superior handling.

This 1946 Mercury Convertible is one of the few that has avoided a conversion into a hot rod or drag racer. Instead, it has been recently restored and painted in Moonstone Grey with a deep maroon leather interior, and black power convertible top.

In 2008 it was brought to the Automobiles of Amelia presented by RM Auctions where it was estimated to sell for $50,000-$60,000. It was offered without reserve and sold for the sum of $44,000 including buyer's premium.
By Daniel Vaughan | Apr 2008
| | |
| --- | --- |
| | Sportsman Convertible |
Mercury was added to the Ford Motor line of cars in 1939 and was positioned between the Lincoln and Ford products.

The Sportsman line of Mercury cars were produced in the Iron Mountain factory of Ford for only 6 months in 1946. The Sportman convertible, featuring wood body panels, was new to this year and only 205 such cars were built. To date there are only 5 known to be remaining.

The Sportsman's wood required extensive hand finishing, and that made for a steep price: $2,209, nearly $500 more than Mercury's all-steel ragtop and $200 more than the Ford Sportsman.

It was the first Mercury to feature power windows (they were standard), and like the regular convertible, the Sportsman came equipped with an 'Automatic Hydraulic-Lift Top.' Seats in the convertible and wagon were upholstered in 'tan, red or gray genuine leather.'

This Mercury Sportsman was restored over a 7 year period, using maple from upper Michigan. This car was shown at the V8 Club meet in July, 2008 and the 2008 Meadow Brook Concours d'Elegance was its first appearance at a Concours.
In order to enhance this Mercury's drivability in rough terrain, renowned nature photographer Don Bleitz had it fitted wîth Marmon-Herrington four-wheel drive, creating a 'sports utility vehicle' more than forty years before the term was popularized. To further improve upon its utility, he commissioned Coachcraft of Hollywood to modify the vehicle wîth a built-in icebox for food and film, a fresh-water storage tank wîth a pressure pump, and other comforts to make overnight excursions more enjoyable.

Collection of Dave Holmes
Source - Petersen Museum
For the 1946 model year, the 69M received a new grille. The Liquamatic Drive automatic transmission option was no longer offered. The Sportsman convertible, featuring wood body panels, was new for this year and only 205 were produced during the 1946 model year.

For 1946, Mercury produced 86,603 vehicles, making it the 12th largest automaker during this era.

This 1946 Mercury Sportsman was delivered new to an executive of the Youngstown Sheet and Tube Company in Ohio, one of the largest manufacturers of steel. It was traded in 1949, now showing 20,000 miles on the odometer, to Bartholomew Motors of Warren, Ohio. They sold it to Franklin Ledru Moody of Orwell, Ohio for $1,495.

The car was found in 1974 and later acquired by woodie collector Donald Narus of Parma, Ohio and restored by Don Newby of Bondurant, Indiana. It later joined the collection of Curt Heaton in Corona del Mar, California, before coming into the car of Nick Alexander in 2003.

This Sportsman has a Maple and Mahogany body and deep Navy Blue paint. There is a black canvas top with red piping, lined inside with tan canvas. There are lap belts in the front for two. The trunk floor is black rubber and the dashboard has restored mahogany woodgrain.

Between April and December of 1946, there were just 205 examples of the Mercury Sportman convertibles built. This would be the final year of its production.

In 2009, this 1946 Mercury Sportsman was offered for sale at the Sports & Classics of Monterey auction in Monterey, California presented by RM Auctions. The car was estimated to sell for $275,000-$350,000 and offered without reserve. The lot was sold for the sum of $368,500, including buyer's premium.
By Daniel Vaughan | Dec 2009
ROCKERBOX MOTOFEST MOVES TO ROAD AMERICA DURING AHRMA VINTAGE MOTORCYCLE CLASSIC WEEKEND
ELKHART LAKE, Wis., February 13, 2014 -- Wisconsin's premier motorcycle show, The Rockerbox Motofest, featuring an eclectic mix of Euro, Japanese and American vintage café racers, choppers, sport bikes, racing machines, super motos, scooters, and sidecars is making an official move for the future. Instead of its usual Milwaukee home, the event is making the trek 60 miles North to America's National Park of Speed as part of Road America's American Historic Racing Motorcycle Association (AHRMA) ...[Read more...]
POTEET, CIZEK EARN TOP AWARDS AT GOODGUYS 16TH PPG NATIONALS
Columbus, OH – Tennessee's George Poteet and Nebraska's Ron Cizek collected the top two awards at the Goodguys 16th PPG Nationals in Columbus, Ohio last weekend. Under brilliant sunshine and in front of record crowds, Poteet's vintage NASCAR-inspired '69 Torino won the Goodguys 2013 Optima Batteries Street Machine of the Year while Cizek's popular Ridler award-winning '40 Ford coupe collected the Goodguys 2013 Classic Instruments Street Rod of the Year title. For Cizek, it's the second ma...[Read more...]
Texas-Sized Charlie Thomas Collection Brings $7.4 Million At Dallas Auction
• RM Auctions' sale of the Charlie Thomas Collection generates $7.4 million, with 100 percent of lots sold • Top sellers include a 1946 Chrysler Town & Country Roadster for $143,000 and a 1954 Packard Caribbean Convertible for $132,000 • Sale captures attention of global collector car community with bidders representing eight countries around the world and 31 states across the U.S. • RM wraps up its 2012 calendar with its annual London, England sale, October 31, followed by the John Staluppi ...[Read more...]
Pebble Beach Concours d'Elegance Introduces Its First Sport Customs Class
One-off Sport Customs designed to turn heads while tooling down Main Street USA will roll onto the 18th fairway of Pebble Beach Golf Links for the 2012 Pebble Beach Concours d'Elegance on August 19. This year, for the very first time, the Pebble Beach Concours d'Elegance is hosting an entire class dedicated to Sport Customs. 'These are one-of-a-kind cars built in the US, on modified American production chassis with American engines by individuals, designers and craftsmen,' explains auto...[Read more...]
RM Auctions Lifts Gavel On Charlie Thomas' Texas-Sized Collection of Automobiles
• RM Auctions further expands its 2012 calendar with the addition of 'The Charlie Thomas Collection', a single-day, single-vendor sale to be held in Dallas, Texas, October 20, 2012 • Auction features a superb assortment of more than 150 collector cars, all offered without reserve • Sale further consolidates RM's reputation as the specialist for private and estate collection auctions RM Auctions, the world's largest collector car auction house for investment-quality automobiles, is delighted...[Read more...]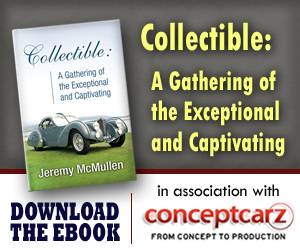 Similarly Priced Vehicles from 1946
Simca 8 1100 ($1,500-$1,700)
Nash Ambassador Series 60 ($1,450-$1,930)
Packard Clipper Deluxe Eight ($1,800-$1,870)
Buick Series 50 Super ($1,740-$4,055)
Ford Super Deluxe ($1,150-$1,980)
Chevrolet Series DK ($1,125-$1,600)

Average Auction Sale: $92,123
© 1998-2014. All rights reserved. The material may not be published, broadcast, rewritten, or redistributed.