1922 Chevrolet Series 490 news, pictures, specifications, and information

Tweet
By 1922, the inexpensive and reliable Chevrolet was becoming a more popular alternative to the ageing Ford Model-T. Its stout 4-cylinder engine, conventional transmission and standard self-starter made the car easier to operate. Few Chevrolet cars from the 1920s survive because they are less well-remembered than the ubiquitous Model-T.

Collection of Petersen Automotive Museum. Gift of Riverside Chevrolet
Source - Petersen Museum
The Chevrolet 490 received its name from its $490 price. The vehicle came as a roadster or touring car and established the marque in the low-priced field. Unlike the Ford Model T, the 490 came with a three-speed selective gear transmission and an overhead-valve engine.

In 1918, Chevrolet began building trucks derived from the 490 passenger car chassis. The light delivery models were rated at half a ton and were powered by the same four-cylinder overhead valve engine which made 26 horsepower from 171 cubic-inches. A heavier, one-ton truck with a worm-drive axle was patterned on the larger FB-series cars. A three-quarter ton Model G was introduced later.

In 2005, this 490 Canopy Truck was purchased from the collection Harold Zulick, a Pennsylvania Chevrolet-Cadillac dealer. At the time, it was in nicely restored condition in green over black. It is fitted with canvas side curtains to completely enclose the cargo area. The enclosed cab is built in unit with the express body.

In 2012, the car was offered for sale at the St. Johns sale presented by RM Auctions. It was estimated to sell for $20,000 to $30,000. As bidding came to a close, the car had been sold for the sum of $19,800 inclusive of buyer's premium.
By Daniel Vaughan | Oct 2012
For more information and related vehicles, click
here
VIDEO REPORT: NISSAN IDX CONCEPT TOUR CONTINUED IN SUNNY SOCAL, AND THE FAN BASE GROWS
LOS ANGELES – After debuting in Tokyo and playing in Detroit, the acclaimed Nissan IDx Freeflow and IDx NISMO concepts held a three-date tour on the West Coast. It was a super-charged string of venues worthy of the world's biggest rock bands, at least in the auto-enthusiast world. Along Abbot Kinney Boulevard in Venice, once described as the 'coolest block in America' by GQ magazine, fans of the concepts were able to get up close and personal with the cars, including speaking with designers a...[Read more...]
NISSAN IDX FREEFLOW AND IDX NISMO CONCEPTS TO STORM WEST COAST THIS WEEKEND
• Cars displayed throughout Southern California; Keep up with hashtag #IDxinSoCal
LOS ANGELES – The acclaimed Nissan IDx Freeflow and IDx NISMO concepts will be on display in Southern California in a whirlwind, three-day tour starting on Friday, Jan. 31 through Sunday, Feb. 2, 2014. The revolutionary concept vehicles, stars of the recent auto shows in Tokyo and Detroit, will be showcased in a variety of classic California locales, from the streets of Venice to Irvine's Cars & C...[Read more...]
'WE CAN BE HEROES AT THE PETERSEN' FAMILY FUN DAY ON DECEMBER 14
A new exhibit at the Petersen will showcase Kia vehicles inspired by DC Entertainment's 'The Justice League.' Launching the exhibit on Dec. 14is 'Heroes Day,' a day filled with activities for the entire family that honors our heroes—active police, firemen and military—with free museum admission. Los Angeles, (Dec. 9, 2013) – 'We can be Heroes at the Petersen,' an entire day of family fun on Dec. 14, will kick off a new exhibit at the Petersen featuring Kia vehicles inspired by the Supe...[Read more...]
PHIL HILL'S SON DRIVES 1952 JAGUAR C-TYPE
- Historic 1952 Jaguar C-Type brings $2,530,000 at RM's Sports & Classics of Monterey sale - Other top sellers - 1955 Aston Martin DB3S for $1,980,000 and 1935 Duesenberg Model SJ Disappearing Top Convertible Coupe for $1,430,000 - Distinguished Nick Alexander Woodie Collection achieves over $7,000,000 The legendary Phil Hill's son, Derek, drove the historic 1952 Jaguar C-Type, s/n XKC-007 to an auction world record last night, selling for $2,530,000 at RM's Sports & Classics of Monterey...[Read more...]
ONE OF THE RAREST AND MOST VALUABLE CONCEPT CARS OF THE 1950s TO DEBUT AT RM's MONTEREY AUCTION EVENT
A one-of-a-kind 1957 Chrysler Diablo will debut at RM Auctions' annual 'Sports & Classics of Monterey' auction event in California, August 15th and 16th. Conceived by Chrysler's design head, Virgil Exner, the Diablo is arguably one of the largest and most impressive concept cars ever built. The ultra-rare Diablo will be joined by several other European styles sports and racing cars and several classic American luxury automobiles at RM's world-renowned Monterey event. A one-of-a-kind ...[Read more...]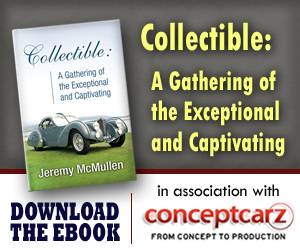 Chevrolet
Monthly Sales Figures
Volume
September 2014
153,873
August 2014
185,930
July 2014
175,155
June 2014
188,567
May 2014
205,010
April 2014
181,648
March 2014
179,681
February 2014
153,913
January 2014
119,089
December 2013
153,493
November 2013
145,089
October 2013
155,214
(More Details)
© 1998-2014. All rights reserved. The material may not be published, broadcast, rewritten, or redistributed.