1922 Chevrolet Series 490 news, pictures, specifications, and information

Tweet
By 1922, the inexpensive and reliable Chevrolet was becoming a more popular alternative to the ageing Ford Model-T. Its stout 4-cylinder engine, conventional transmission and standard self-starter made the car easier to operate. Few Chevrolet cars from the 1920s survive because they are less well-remembered than the ubiquitous Model-T.

Collection of Petersen Automotive Museum. Gift of Riverside Chevrolet
Source - Petersen Museum
The Chevrolet 490 received its name from its $490 price. The vehicle came as a roadster or touring car and established the marque in the low-priced field. Unlike the Ford Model T, the 490 came with a three-speed selective gear transmission and an overhead-valve engine.

In 1918, Chevrolet began building trucks derived from the 490 passenger car chassis. The light delivery models were rated at half a ton and were powered by the same four-cylinder overhead valve engine which made 26 horsepower from 171 cubic-inches. A heavier, one-ton truck with a worm-drive axle was patterned on the larger FB-series cars. A three-quarter ton Model G was introduced later.

In 2005, this 490 Canopy Truck was purchased from the collection Harold Zulick, a Pennsylvania Chevrolet-Cadillac dealer. At the time, it was in nicely restored condition in green over black. It is fitted with canvas side curtains to completely enclose the cargo area. The enclosed cab is built in unit with the express body.

In 2012, the car was offered for sale at the St. Johns sale presented by RM Auctions. It was estimated to sell for $20,000 to $30,000. As bidding came to a close, the car had been sold for the sum of $19,800 inclusive of buyer's premium.
By Daniel Vaughan | Oct 2012
For more information and related vehicles, click
here
2012 Dana Point Concours Celebration to Raise Money for California-Based Charities
The Dana Point Concours d'Elegance is scheduled June 23-24, 2012, at the St. Regis Monarch Beach Fabulous cars will be the vehicle for the public to support critical charities this summer at the 2012 Dana Point Concours d'Elegance, scheduled June 23-24, at the St. Regis Monarch Beach resort in Dana Point, Calif. A celebration of everything automotive, the Dana Point Concours will feature more than 250 collector cars and motorcycles, all competing for Best of Show. Proceeds from the C...[Read more...]
DANA POINT CONCOURS D'ELEGANCE HONORS BRUCE MEYER AS 'AUTOMOTIVE ICON' FOR 30TH ANNIVERSARY EVENT
The Dana Point Concours d'Elegance, is honored to announce Bruce Meyer, founding chairman of the Petersen Automotive Museum and founder of the Checkered Flag 200, as the 30th Annual Dana Point Concours d'Elegance's Automotive Icon. Known as one of the greatest ambassadors to the collector car hobby, Meyer will participate in the many exciting activities scheduled June 23-24, 2012, in celebration of the American and European automotive heritages. 'Bruce is a world class automotive historian...[Read more...]
Edsel Ford's Restored 1934 Model 40 Special Speedster Returns to Amelia Island Concours d'Elegance
It has been 13 years since Edsel Ford's 1934 Model 40 Special Speedster first made headlines when it rolled onto the field at the Amelia Island Concours d'Elegance. The elegant roadster, which was rediscovered in 1999 by the show's founder and Chairman Bill Warner, will return again on Sunday, March 11 to the 17 the annual Concours; this time as part of the collection of the historic Edsel Eleanor Ford House (Ford House) and completely restored to its timeless elegance. The Speedster's ...[Read more...]
PHIL HILL'S SON DRIVES 1952 JAGUAR C-TYPE
- Historic 1952 Jaguar C-Type brings $2,530,000 at RM's Sports & Classics of Monterey sale - Other top sellers - 1955 Aston Martin DB3S for $1,980,000 and 1935 Duesenberg Model SJ Disappearing Top Convertible Coupe for $1,430,000 - Distinguished Nick Alexander Woodie Collection achieves over $7,000,000 The legendary Phil Hill's son, Derek, drove the historic 1952 Jaguar C-Type, s/n XKC-007 to an auction world record last night, selling for $2,530,000 at RM's Sports & Classics of Monterey...[Read more...]
ONE OF THE RAREST AND MOST VALUABLE CONCEPT CARS OF THE 1950s TO DEBUT AT RM's MONTEREY AUCTION EVENT
A one-of-a-kind 1957 Chrysler Diablo will debut at RM Auctions' annual 'Sports & Classics of Monterey' auction event in California, August 15th and 16th. Conceived by Chrysler's design head, Virgil Exner, the Diablo is arguably one of the largest and most impressive concept cars ever built. The ultra-rare Diablo will be joined by several other European styles sports and racing cars and several classic American luxury automobiles at RM's world-renowned Monterey event. A one-of-a-kind ...[Read more...]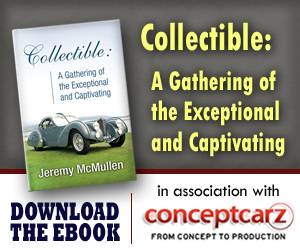 Chevrolet
Monthly Sales Figures
Volume
June 2014
188,567
May 2014
205,010
April 2014
181,648
March 2014
179,681
February 2014
153,913
January 2014
119,089
December 2013
153,493
November 2013
145,089
October 2013
155,214
September 2013
127,785
August 2013
187,740
July 2013
162,670
(More Details)
© 1998-2014. All rights reserved. The material may not be published, broadcast, rewritten, or redistributed.