1916 Pierce-Arrow Model 66 news, pictures, specifications, and information

Tweet
The 825 cubic inch six cylinder in the Pierce-Arrow '66' is the largest stock engine ever designed for a passenger car. It could surpass 80 miles-per-hour and still get 9.20 miles-per-gallon. The body is constructed of 1/8 inch cast aluminum. The running board tool boxes are a rare factory option and incorporate a folding step for access. 13 of these cars are known to exist.

This 1916 Pierce-Arrow 66 is very similar to one used by President Woodrow Wilson from 1913 to 1921. The car he used was a Model A4-66. Wilson left office in a 1921 Packard. Wilson was also the first President to join the AAA and displayed the auto club symbol proudly on his Pierce-Arrow.

Ellen Axon Wilson favored a Baker Electric.
Source - Canton Classic Museum
| | | |
| --- | --- | --- |
| | | 7-Passenger Tourer |
This 1916 Pierce-Arrow Model 66 was built on a 145-inch chassis and is believed to be the only existing Model 66 with a three-seat race-about body. This was a very sporty configuration for this era of car. Its straight six-cylinder engine is a mammoth 825 cubic-inches that dwarfs today's motors. At 1500 rpms it develops an impressive 100 horsepower. The engine has a single updraft carburetor with side valves and a T-head configuration. With a top speed of 80 mph it was a very fast luxury car for its day.
The Pierce-Arrow Company was founded in 1865 in Buffalo, New York. They began manufacturing a variety of items from ice boxes and birdcages to bathtubs and bicycles. The first car was built in 1901 and in 1903 Pierce introduced the Arrow, a bigger car. This led to the Great Arrow with cast aluminum body panels on a 93 inch wheelbase and helped build Pierce's great reputation by winning the first five Glidden Tours.

Beginning in 1909, Pierce-Arrow became known as the car of Presidents when William H. Taft became the first President to use an automobile for official occasions. This practice continued until the last Pierces were ordered in 1935. In 1914, Pierce-Arrow introduced its patented integral fender headlamps as an option which became the most recognized design cue for Pierce-Arrows for the rest of the company's history.

The Pierce-Arrow six cylinders models were first offered in 36, 48 and 60 horsepower versions in 1910. By 1916, the Model 66 was powered by a 825 cubic-inch 6-cylinder engine offering 66 horsepower. The cylinders were cast in pairs and secured to an aluminum crankcase. Pierce-Arrow bodies were made from 1/8 inch thick aluminum panels cast in Pierce's own foundry.

This car was discovered in a Nebraska farmer's backyard by a noted Pierce-Arrow collector and restored. In 1999, it was re-restored and then again before the current owner acquired the car in 2010.
The Pierce-Arrow Model 66 was one of the pinnacles of American design and craftsmanship of the early Twentieth century. Just like all Pierce-Arrows since 1910, they were powered by a six-cylinder engine. Originally they had a bore of 5.25-inches and a stroke of 5.5-inches giving it 714 cubic-inches of displacement. By 1913 it had grown to have a bore of 5-inches and a stroke of 7-inches. The engine displaced 825 cubic-inches and was double the size of many of its competitors. At 1600 RPM's, the engine was capable of producing 60 horsepower. This means the Type 66 was not only an elegant automobile, it was also a very fast machine. It is believed that the Type 66 had the largest displacement engine ever to power a production automobile. It had 44 more cubic-inches than the Bugatti Type 41 Royale. With an engine of this magnitude, it consumed lots of fuel. The miles-per-gallon was around 8.5, meaning the 36 gallon fuel tank was good for nearly 300 miles. This often posed problems for the drivers, as gas stations were not always readily available.

Pierce-Arrow placed this mammoth engine in a chassis that measured 147.5-inches. It was a suitable platform for many coachbuilders to work their trade. Pierce-Arrow was among the first to use cast aluminum panels in their bodywork, reducing the overall weight of the vehicle while maintaining a high degree of structural rigidity and strength.

In 1914 an electric starter was added. A pressurized fuel delivery system using an engine-operated air pump to pressurize the tank appeared in 1915.

In 1916 Pierce-Arrow introduced their final iteration of the Model 66, the Series 4. This would remain in production until 1918.

From 1910 through 1918, there were 1250 examples of the Model 66 produced. It is believed that around fourteen have survived in modern time and only seven are the Model 66 A-4 series.
By Daniel Vaughan | Oct 2007
For more information and related vehicles, click
here
2014 SUBARU MT. WASHINGTON HILLCLIMB COMPETITOR LIST REVEALED
Largest Field of Drivers Ever Assembled In the Event's 110 Year History! Lincoln, New Hampshire (May 14, 2014) -- Officials with the Sports Car Club of New Hampshire and the Mt. Washington Auto Road revealed the competitor list today for the return of the legendary Mt. Washington 'Climb to the Clouds' Automobile Hillclimb which will take place June 27-29, 2014 on the 7.6 mile Mt. Washington Auto Road. The Subaru Mt. Washington Hillclimb, also known as the Climb to the Clouds, was fi...[Read more...]
BECKMAN TOPS TEAM MOPAR EFFORT WITH RUNNER-UP FINISH AT ST. LOUIS
◾'Fast' Jack Beckman races to his third 2013 Funny Car final-round appearance at the NHRA Midwest Nationals and moves his Dodge Charger R/T to third in the Countdown standings ◾Despite a rough weekend for Team Mopar Pro Stockers, JEGS.com/Mopar Dodge Avenger pilot Jeg Coughlin Jr. remains second in the Pro Stock Countdown, just 10 points behind the leader ◾Magneti Marelli Offered by Mopar Dodge Charger R/T driver Matt Hagan exits in the second round at St. Louis but keeps his spot atop the Fun...[Read more...]
Brass and Classic Era Automobiles Set to Shine at RM's Annual Hershey Sale
• RM Auctions returns to Hershey, Pennsylvania, October 10–11, for its well-established Hershey sale • Two-day auction presents more than 100 automobiles, with a focus on exceptional Brass and Classic Era motor cars • Coinciding with the popular AACA Eastern Regional Fall Meet, the sale is a highlight of the meet weekend • Frequently updated list of entries available online at rmauctions.com BLENHEIM, Ontario (July 30, 2013) – RM Auctions, the world's largest collector car auction ...[Read more...]
Mercedes-Benz at Pebble Beach: An Expression of Fascinating Design and Innovation
• Historical Tribute to SL: W194 Chassis No. 2, 7 and 11 among 300SL vehicles on display • The Concept Style Coupé opens a new chapter and generation of Mercedes-Benz vehicles • AMG 45 year anniversary highlights the pinnacle of performance and style A tribute to Mercedes-Benz SL Roadsters is set for Pebble Beach weekend with three 1952 W194 vehicles among a mix of vintage and new vehicles bearing the three-pointed star that express the marque's breadth and depth of fascinating design and ...[Read more...]
Vanderbilt Cup Centennial at the Miller Meet, July 6-7, 2012
2012 Miller Meet to Commemorate 1912 Historic Races In recognition of the International Vanderbilt Cup and Grand Prize Races which were held here in Milwaukee in 1912, Vanderbilt Cup and Grand Prize race cars will be featured at the Millers at Milwaukee Meet July 6-7, 2012. Vanderbilt Cup era cars are invited to participate in the vintage Indy Car event. The history of the famous Vanderbilt Cup races begins on Long Island in 1904 as the 'brainchild' of its major sponsor, William K. ...[Read more...]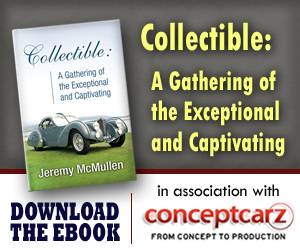 © 1998-2014. All rights reserved. The material may not be published, broadcast, rewritten, or redistributed.