1932 Cadillac 452B V16 news, pictures, specifications, and information

Tweet
Fisher Standard Phaeton
Coachwork: Fisher

Only 296 model 452B Cadillac V-16s were sold in 1932 - a result of both the deepening Depression and probably a bit of market saturation following the remarkable success of the 1930-1931 models. This phaeton, with special coachwork by the GM-owned Fisher Custom Body Division, has rear seat instrumentation and other unique features.
In 1932, Cadillac produced just 296 examples of the V-16. An amazingly low number considering there were 41 bodystyles to select from with coachwork handled by Fisher of Fleetwood. There were three wheelbase sizes as well - 143, 149, and 165 inches. This examples is a Town Sedan with coachwork by Fisher. It has a 149 inch wheelbase and seating for five passengers. It is painted in black with a grey cloth interior. There is a Goddess radiator mascot, wire wheels, side-mounted spares, trunk rack and dual Trippe safety speed-lights.

In 2009, this V-16 452B All-Weather Phaeton was offered for sale at the Gooding & Company auction held in Scottsdale, Arizona where it was estimated to sell for $75,000 - $100,000 and offered without reserve. The lot was sold for the sum of $77,000 including buyer's premium.
By Daniel Vaughan | Apr 2009
It is believed that only 13 chassis were ever produced with the All-Weather Phaeton body designed by Fisher. Only three are known to have survived the test of time. This example is chassis number 1400208 and is finished in deep burgundy with black fenders and door vents with a dark leather interior. There is a tan top and dual enclosed side-mounted spares with mirrors, body-color wire wheels and whitewall tires. There are remote spolights and Trippe headlamps. Inside, there is a roll-up divider between the front and rear compartments and is beautifully presented both inside and out.

In 2009, this V-16 452B All-Weather Phaeton was offered for sale at the Gooding & Company auction held in Scottsdale, Arizona where it was estimated to sell for $250,000 - $350,000. The lot was sold for the sum of $231,000 including buyer's premium.
By Daniel Vaughan | Apr 2009
This spectacular car was built for R.S. McLaughlin, the President of General Motors of Canada. For 1932 the V-16 had minor exterior styling changes and was designated the model 452B, indicating it was the second iteration of the 452-cubic-inch V-16 series. This vehicle is an excellent example of the sophisticated use of color and trim to give a relatively convertible body type the look of a true custom creation.
Owen Nacker, who had worked for Marmon, was the individual who designed the Cadillac V16 engine. It was given overhead-valves, a 45-degree vee, alloy crankcase supporting five main bearings, cast-iron cylinder heads, and nickel-iron cylinders extending into the crankcase. Each bank of cylinder had its own fuel and exhaust system. Displacing 452 cubic-inches, the engine was capable of producing a staggering 175 horsepower at just 3400 RPM.

The V16 Cadillac was introduced in January of 1930. Six months later, a similar V12 unit appeared. Sales for the V16 were initially strong with 1930 seeing 3,251 examples built. As the Great Depression became more prominent sales began to dwindle. In 1932, a mere 300 examples were produced.

The original of this owner was Herbert Hoover, the ex-president of the United States. During the final months of his presidency, Hoover purchased this V16 Imperial Limousine. It features a Fleetwood body of Style 5175. Hoover kept the car for many years, using it often, before selling it to his friend, Gordon Garland. Garland served in the California State Assembly from 1937 to 1942. It remained in Garland's care for several years and used often during the first part of his ownership. It was later put out of service and used very sparingly.

The car is currently in unrestored, yet well preserved condition. The odometer reads a mere 2,000 miles since new. The interior is in great condition, and the chauffeur's compartment is well-preserved leather.

There were a total of 49 examples of the Imperial Limousine sold by Cadillac in 1932.

In 2007 it was brought to Carmel, California where it was offered for sale at Bonhams auction, An Important Sale of Collectors' Motorcars and Automobilia. The lot was sold for $75,000 plus premium and tax.
By Daniel Vaughan | Apr 2008
Special Imperial Limousine
Coachwork: Fleetwood

This one-of-a-kind car was manufactured especially for delivery to the Montreal Auto Show and was specifically painted wîth a light colored chassis and dark body. Other special features were the blackwall tires and painted full wheel discs.
Source - Canton Classic Museum
All-Weather Phaeton
Coachwork: Fisher
Chassis Num: 2458869
Engine Num: 1400092

This All Weather Phaeton is one of just 13 example to have been bodied by Fisher in this design. When new, the car was listed at a high price point of $5,195.

The car was originally bodied with a Seven Passenger Sedan body and delivered to the Detroit, Michigan distribution center on May 23, 1932. Just a few days later, on July 6, the vehicle received a rush order from Kruiedenier Cadillac is Des Moines, Iowa. Before it was sent, the car was rebodied as a Phaeton. Thus, the car was delivered to its first owner in this configuration.

In the early to mid-1950s the Cadillac received a light refreshing of its paint and chrome prior to being purchased by Wilmer L. Hall of Richmond, Virginia in approximately July 1959.

Approximately a decade later it passed to the current ownership. The car has a blue grey leather interior, shop manual, operators manual, and original identification card.
By Daniel Vaughan | Jan 2014
The Cadillac V-16 was available in more than 70 different body styles and became a symbol of status and prestige. The engine was specifically designed and calibrated to produce minimal vibration and noise. It was set at a 45-degree angle between its cylinder banks enabling the engine to slide neatly under the hood.

Over the 11 years of production, Cadillac produced just 4,076 examples, with more than 3,00 built in 1931. The following year, just 300 were built. One of the most exclusive and expensive versions was the 'Madame X,' a four-door, five-passenger divider sedan, named by Cadillac master designer Harley Earl after a 1929 movie by the same name starring actress Ruth Chatterton. The cost exceeded $7,000 when new ($1,000 over the standard 16-cylidner Cadillacs) and was a special body style by Fleetwood featuring slender door and windshield pillars, chrome window-edge moldings, and a raked one-piece windshield.

This 1932 Cadillac V-16 Madame X is one of only four such examples built. It is believed that it was on special display at the 1933 Chicago Auto show and was purchased from the stand by Mr. Rudolf C. Block, son of William H. Block who was the founder of the Block department store in Indianapolis. Rudolf Block gave the car to his mother Amelia as a gift. The car was special ordered with a painted radiator shell, which still graces the car today. It is believed to have been delivered with double-sided green-wall tires.

Mrs. Block used the car regularly, having it chauffeur driven on the streets of Indianapolis.

In the 1940s the car was put into storage at the Block family mansion. It was later gifted to the Indianapolis Motor Speedway Hall of Fame Museum. It is believed that the automobile was renewed to factory condition by Block's grandson prior to it being put on display in the museum. It remained in the museum until being acquired by the current owner in 2011.

This Madame X was on display at the 2002 Pebble Beach Concours d'Elegance.

The car has gold-plated handles and fittings in the rear compartment, German silver pin-striping inlays, and the smokers companion roof vent which draws cigar smoke out of the passenger compartment while in motion. It is finished in green paint with copious chrome trim.

The car has vacuum assisted brakes, whitewall tires, dual metal side mounts with rearview mirrors, and a Cadillac radio and clock fitted in the rear compartment.
Henry Martin Leland and his son Wilfred were partly responsible with making Cadillac one of the finest of all American Automobiles. Henry was renowned for his precision engineering and for standardizing manufacturing. He helped make Cadillac into one of the finest of all American Automobiles. Later, he founded Lincoln. Even after the Leland's departed from Cadillac, the marque remained a top-of-the-line figure.

Cadillac did not rely on four- or six-cylinder power. Every one of the company's cars was fitted with a V engine of 8, 12 or 16 cylinders. They were smooth and powerful.

During the late 1920s, the cylinder race was in full force. Cadillac's engineer Owen Knacker was tasked with developing a V16 engine that would keep Cadillac at the fore-front of the race. Their hopes were to displace Packard at the top of the luxury car market.

From 1930 through 1940 Cadillac produced a monsterous sixteen-cylinder engine. It was first displayed to the automotive community at the Detroit Opera House prior to the Detroit Auto Show. This was the largest number of cylinders to power an automobile of all time. The hood that housed the engine was intimidating, larger and longer than any other vehicle. Up to this point, there were only a few manufacturers that produced a twelve-cylinder engine, mechanical achievements in their own right. The introduction of the sixteen-cylinder engine was historical and seen as revolutionary at the time.

Up to the 1990's there have only been three manufacturers of a sixteen cylinder engine. The Bugatti Type 47 never made series production while the Marmon Corporation offering was short lived. In comparison, the Marmon built V-16 was more powerful. By using aluminum, the 491 cubic-inch engine with its overhead values weighed just over 900 pounds. The engine was formed by merging twin-eight cylinder engines in a 45-degree angle, giving the engine an impressive look and an astonishing 200 horsepower. The use of steel cylinder sleeves added to the longevity and durability of the engine. The V-16 engine earned Howard Marmon the Society of Automotive Engineers annual design award.

The Cadillac V-16 was the first and remained in production for eleven years.

A new sixteen-cylinder engine was introduced by Cadillac in 1938. This was not their first V16 enigne; their first had been designed by engineer, Owen Nacker of Marmon fame. It had an overhead valve design and mounted at a 45-degree to one another. Each back of the sixteen cylinders had their own exhaust and fuel system. The engine featured hydraulic valve adjusters that helped with the silent valve train operation. The exterior of the engine was equally as impressive, with all the wiring and hoses concealed under cover and finished in chrome, polished aluminum, porcelain and baked enamel. The result was a 452 cubic-inch engine that was nearly unmatched in the industry at the time.

A V12 version followed shortly after the introduction of the V16; it displaced 368 cubic-inches and was basically three-quarters of a V16. Both of these engines remained in production through 1937. The V12 did not resume production for 1938. A new engine was introduced in 1938 and that very different than its predecessors. It was an L-head design, cast in a 135-degree vee, and featured a monobloc design. The was easier and more economical to manfacutre and it weighed 250 pounds less, had 21 fewer cubic-inches, but developed the same power.

The V12 engine was used to power the Series 85 for 1937. The Series 75 and Series 85 were the same vehicle, with the exception of the powerplant. The Series 75 used a V8 engine. In 1938 the V12 was discontinued, and the V16 took its place. The sixteen-cylinder cars were shortened to a length similar to the Series 75, and the chassis and bodies were interchangeable.

There were twelve bodystyles available, including coupes, convertible coupes, and sedans, as well as the larger seven-passenger sedans and limousines. These larger vehicles were called Formal Sedans or Imperial sedans depending on whether they had a division partition.

The Series 90 experienced its best year in 1938 with 315 examples built. The five-passenger Touring Sedan was the most popular, with 41 sold.

In 1939, the front of the V8 Cadillacs were midly updated. The grille was raked back and the headlights were now mounted to the nose and flush with the top of the grille. Chrome moldings were added to the running boards and the fender ornamentaion was now fully chromed. The rear license plate was moved from the left fender to the trunk lid.

There were a total of 138 V16 cars produced in 1939. Few changes or modifications to the car followed for 1940. A total of 61 V16 cars were built this would be the final year for their production. A total of 4,400 examples were built over an eleven year period.
By Daniel Vaughan | May 2008
Gooding & Company's 2014 Scottsdale Auctions Bring More Than $49.4 Million
• 11 new auction records set at Gooding & Company's two-day sale in 2014
• Six cars sell above the $2 million mark and 13 cars sell above $1 million
Scottsdale, Ariz. (January 19, 2014) – Gooding & Company, the auction house acclaimed for selling the world's most significant and valuable collector cars, realized more than $49.4 million during its Scottsdale Auctions. The auction house sold 110 of 117 lots, which resulted in a 94% sales rate and an impressive average pric...[Read more...]
Barrett-Jackson generates more than $32 million in sales at 6th annual Las Vegas Auction
The World's Greatest Collector Car Auctions™ Generates Highest Grossing Las Vegas Sale with Largest Number of Cars, Attracting Nearly 70,000 Attendees Las Vegas, NV. – (October 1, 2013) – Barrett-Jackson The World's Greatest Collector Car Auctions™ announced today that it generated more than $32 million in gross sales which is a 41% increase over 2012 during its 6th Annual Las Vegas auction at the Mandalay Bay Resort & Casino on September 26-28, 2013. The event was the largest B...[Read more...]
Corvette Stingray Convertible to Debut at Geneva
Auction of first retail production model to benefit Barbara Ann Karmanos Cancer Institute The 2014 Chevrolet Corvette Stingray convertible will make its world debut on March 5 at the Geneva Motor Show. 'It's fitting to introduce the new Stingray convertible on the global stage at Geneva because Corvette is the face of Chevrolet the world over,' said Susan Docherty, president and managing director of Chevrolet and Cadillac Europe. 'It is an icon that has long been recognized and adm...[Read more...]
Barrett-Jackson Breaks Sales And Attendance Records At Its Spectacular 5th Annual Las Vegas Auction
The World's Greatest Collector Car Auctions™ Brings Together Auto Enthusiasts from Near and Far Barrett-Jackson, The World's Greatest Collector Car Auctions™, announced today that it generated more than $23 million in sales of rare, high-end collectible vehicles, exotics, customs, classics and Shelbys during its 5th annual Las Vegas auction. The auction company increased its overall hammer average from 2011, proving that the car market is stronger than ever. Automobilia sales reached m...[Read more...]
Automotive Hall of Fame Inductees Named
Awards to be Presented in Conjunction with the Concours d'Elegance of America The Automotive Hall of Fame will present its annual induction and awards ceremony on Thursday, July 26, 2012 as one of the week-long Concours d'Elegance of America events. It will be held at The Inn at St. John's in Plymouth, Michigan. Both the Concours d'Elegance of America and the Automotive Hall of Fame celebrate the heritage and history of Detroit. The show highlights the evolution of the automobile's...[Read more...]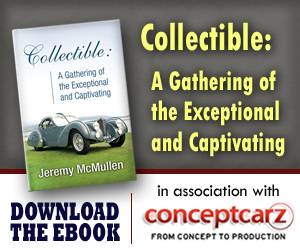 Cadillac
Monthly Sales Figures
Volume
December 2014
16,150
November 2014
13,148
October 2014
13,615
September 2014
13,829
August 2014
16,650
July 2014
15,241
June 2014
13,941
May 2014
14,688
April 2014
13,900
March 2014
14,765
February 2014
13,437
January 2014
11,386
(More Details)
© 1998-2014. All rights reserved. The material may not be published, broadcast, rewritten, or redistributed.