1932 Stutz Model DV-32 news, pictures, specifications, and information

Tweet
Among the prominent pre-WWII American marques, few if any achieved the significant number of victories that Stutz did during its 24 years of existence. The model name alone continues to stir the imagination: Bearcat, Bulldog, Blackhawk Speedster, Speedway, Super Bearcat, and the Stutz slogan, 'The Car That Made Good in a Day' was no idle boast. The mechanically gifted Harry C. Stutz took the first car to bear his name and entered it - untried and untested - in the inaugural Indianapolis 500 race. It finished a quite respectable 11th against some rapid, purpose-built racing cars entered by prosperous firms such as Marmon, Lozier and Simplex.

During the 'teens, Stutz was one of the cars to beat, whether at country fair ovals or at the Brickyard. But during those years and into the early '20s, Stutz also suffered at the hands of stock manipulators and, thanks to their shenanigans, Stutz's stock was de-listed from the New York Stock Exchange. Waiting for Stutz wîth open arms was Bethlehem Steel's Charles Schwab, who added the automaker to his portfolio.

Únfortunately Schwab was ill-suited to auto-making, and through a series of poor marking decisions landed Stutz in the soup again. Stutz's future salvation appeared in the person of Frederick E. Moskovics, a Hungarian-born engineer wîth a background at Daimler, Marmon and Franklin. His first effort was the Vertical Eight, an overhead cam 95 bhp straight eight that powered the radical new 1926 Safety Stutz, a low-slung design featuring hydrostatic brakes, windshield safety glass and worm drive, along wîth spiffy new styling.

Stutz jumped back into competitive racing and record-breaking wîth gusto in 1927, winning every stock-car race they entered that year, emerging as AAA Champion. In 1928 it became America's fastest stock car at 106.53 mph. That year also saw a Stutz finish second to the winning Bentley at the epic 24 Hours of LeMans, breaking the record for under-five liter cars in the process.

By the end of 1929, the Depression was making itself felt nationally, wîth luxury automakers being hit particularly hard. While a number of marques developed multi-cylinder engines to lure their shrinking customer base, Stutz instead performed some serious modifications to the Vertical Eight, adding a hemispherical cylinder head, a second overhead camshaft and sixteen more valves. The result was a high-performance American engine whose specifications could be matched only by its crosstown Indianapolis rival, Duesenberg.

The Stutz DV-32

Considering Stutz's meager budget, their engineers worked a minor miracle in the development of the DV-32 engine. The 322 cid engine easily accepted the power boost from 95 bhp to 156 bhp and remained quite under-stressed.

Like several other quality cars of the early '30s, a 4-speed gearbox was standard along wîth powerful hydraulic brakes. The DV-32 chassis, which debuted at the 1931 New York Auto Show, became the platform for a range of stunning coachwork by LeBaron, Weymann and Fleetwood, as well as one-off designs by various quality coachbuilders.

This Car


Although there are no builder's plates to confirm it, the body on this car was built under contract for Stutz by LeBaron according to several expert Stutz sources, as were other 'stock' Stutz bodies of the time.
Source - Gooding & Company
Harry Stutz built his reputation on speed. The first Bearcats, built in 1914, were the reigning champion of the American sports car scene. It was a lightweight, low slung raucous monster using a large slow revving 4-cylinder engine, producing 60 horsepower.

Lacking the financial resources of its competitors, Cadillac, Packard and Lincoln, who were building V-12 and V-16 engines, Stutz had its eight-cylinder DV-32. It featured twin overhead camshafts, four valves per cylinder, and hemispherical combustion chambers, boasted 156 horsepower and an astounding 300 lb-ft of torque - good for a guaranteed 100 mph. While it could not match the Cadillac and Marmon 16-cylinder cars or the Duesenberg J in raw power, at nearly half a horsepower per cubic inch it surpassed all but the Duesenberg in efficiency.

Stutz built 10 Super Bearcats, beginning in 1932. Eight still exist. The Super Bearcat sports a dual overhead cam 8-cylinder motor (known as the DV32), displacing 322 cubic-inches and producing 156 horsepower. This combined with a shortened chassis and lightweight coachwork allowed the Super Bearcat to exceed 90 MPH.

The DV-32 was a conundrum for Stutz; it was the company's greatest achievement and also its swan song. By the time it was introduced, Stutz's day was nearing its sunset. Between 1932 and 1934, fewer than 200 DV-32s were built. This is one of approximately eight Super Bearcats known to have survived.

This car was restored by Fran Roxas in 2000, and subsequently took Best in Class at Pebble Beach that year.
When Harry Stutz left the Stutz Motor Car Company, it came under the direction of Hungarian-born engineer Fredrick Moskovics. Under his leadership, the Stutz car was completely redesigned, with a new six-cylinder overhead cam engine, a double-drop chassis frame and worm gear rear axle. The cars rode several inches lower than their competitors, had four-wheel hydraulic brakes, had safety glass, and where somewhat boxy in shape. These new vehicles became known as the 'Safety Stutz' with the 'Vertical 8' engine.

In the mid-1920s, Stutz returned to racing with their new engine. Their first competition was the Stevens Challenge Trophy race of 1927 for closed-body production cars. The Stutz averaged 68.44 miles per hour during the 24 hour race at the Indianapolis Motor Speedway, earning the Stevens Trophy. This was an amazing accomplishment, considering its heavy, steel-body construction. Stutz soon added an aluminum-bodied, two-passenger speedster known as the Black Hawk to their model lineup. This model would win the AAA Stock Car Championship of 1927, winning every race in which it was entered.

Racing for Stutz soon ended after driver Frank Lockhart was killed at Daytona while driving a Black Hawk Special race car. Privateers, such as Charles Weymann, inventor of the Weymann fabric body construction, continued to use Stutz cars in racing, having entered one in the LeMans race. Edouard Brisson, a veteran LeMans contestant, was tasked with driving the Stutz for the Weymann racing team.

The Stutz gained the lead at the sixth hour and would hold onto the position into the night. Eventually, a Bentley passed the Stutz, leaving it in second place. Both the Bentley and the Stutz had set records for 24 hours on a closed circuit course.

In 1931, Stutz introduced a new dual valve engine. The DV-32, meaning 'Dual Valve', was the old Vertical Eight updated with twin overhead cams. Power was impressive, rated at 156 brake horsepower, it was a very efficient engine in terms of horsepower per cubic inch.

With the introduction of this new powerplant, Stutz returned to their roots and revived the Bearcat name. What had been the MA-28 Torpedo Speedster became the 'DV-28' Bearcat in mid-1931. It was given a 134.5-inch wheelbase and had seating for two. This new model was soon joined by an even faster Super Bearcat with ultra-light Weymann fabric body. This new vehicle had a wheelbase of just 116-inches with a convertible body and roll-up windows. Where the Bearcat had few creature comforts, the Super Bearcat was given all the amenities available.

For 1931, in the midst of the Great Depression, only 384 Stutz models were produced. 1932 would see production fall even further, to just 120 units. Similar production figures followed for 1933, and a mere 6 were created in 1934. The end was near, even though the company was announcing the availability of cars in 1936.

This very rare and special DV-32 Super Bearcat was owned in the 1950s by Joe Streeter of Oklahoma. Around 1974, it was acquired by the Harrah collection. In September of 1984, it was purchased by Dr. Atwood and sent to John Sanders' Antique Auto Restoration in Rockford for a complete restoration. Upon completion, in 1988, it earned an AACA National Junior and Senior First awards, and the AACA President's Cup at year's end.

For 1989, the awards continued with an AACA Grand National First at Sheridan, New York and Preservation status. In August of that year, it earned Third in Class at the Pebble Beach Concours d'Elegance.

The interior is brown leather and there is matching brown carpet. There is a small luggage compartment behind the seat. The odometer shows 26,673 miles.

Most historians agree that there were fewer than 125 Stutz cars produced in 1932. Some believe as many as 206 and others as few as 105. It is believed that fewer than ten DV 32 Super Bearcats exist.

In 2009, this Super Bearcat was offered for sale at the Automobiles of Arizona auction presented by RM Auctions. The lot was estimated to sell for $300,000 - $400,000 and offered without reserve. As bidding came to a close, the lot had been sold for the sum of $594,000, including buyer's premium.
By Daniel Vaughan | Apr 2009
Boattail Speedster
Coachwork: LeBaron

This vehicle on loan courtesy the Lemay Collection, Tacoma, WA. Stutz Motorcar Co. manufactured automobiles from 1911 to 1935. This 1932 vehicle is designated a 'Boattail Speedster' because the curvaceous tapering rear body design is reminiscent of the bow of a sleek speedboat. This auto also features two front driving lights that turn left or right when the front wheels are steered.
Source - Canton Classic Museum
| | | |
| --- | --- | --- |
| | | Chassis |
This chassis shows what made the Stutz DV-32 magnificent. In addition to engine advancements, the DV-32 offered power-assisted braking, a Bijur automatic chassis lubrication system, the low profile worm drive rear end assembly, and a host of other cutting edge improvements. Coachwork for these chassis was supplied by a 'Who's Who' of coachbuilders in the United States and abroad.
Boattail Speedster
Coachwork: LeBaron

Between 1924 and 1930, the 'Bearcat' name had disappeared. However, in 1931 Stutz reintroduced its famed model to showcase their new eight-cylinder, dual overhead cam four-valve per cylinder, 165 horsepower 'DV32' engine. It was an all-aluminum body light roadster by Lebaron (Stutz called their roadsters 'Speedsters') with a rakish dip in the doors, a folding front windshield, dual side mount tires and a powerful engine. With the new engine, the car proved to be a real performer. Each new car owner was provided with a notarized affidavit attesting the car had been race track test driven in excess of 100 mph, presumably at Indianapolis Motor Speedway, as Stutz's factory was practically across the street. As with all Stutz automobiles the Bearcat was fitted with power assisted hydraulic drum brakes.

1933 was the last year of production for the Bearcat and the Super Bearcat was introduced in 1932. The Super Bearcat did not handle as well because of its short wheelbase (only 115 inches), but with the same engine its speed performance was about equal. It is believed Stutz ceased production altogether at the end of 1934.

This Torpedo Speedster with coachwork by LeBaron was the ultimate boulevard sports car of the 1930s and a fitting successor to the earlier Bearcats. With a light two-passenger body the spirited new multi-valve engine gave more than lively performance to the lucky owner. It is reported that only four of this style were built on the DV-32 chassis. It is believed that this example is one of four remaining today.
This Stutz, built long after most manufacturers had gone to the convertible coupe style in lieu of the open roadster, found its way into the ownership of a gentleman named A.K. Miller, who came from some means and was Ivy League educated, yet lived a life of privacy and austerity. This car and tens more were hidden in sheds on his farm in New Hampshire until his death in 1997.
Quite a lot has happened in the world since 1939, and this Stutz DV32 Sedan with LeBaron coachwork has not experienced any of it because its owner put it away in his garage in Chicago and left it there until his daughter sold it in 2012, releasing it from its slumbers. This Stutz is exactly as it was when it last saw daylight over seven decades ago. This is an incredible time-warp example of the DV-32 chassis, which debuted at the 1931 New York Auto Show and was the platform for a range of stunning coachwork by LeBaron, Weymann, Fleetwood and others.
Harry Stutz began producing cars in 1911 under the name, Ideal Motor Car Company. He entered one of his cars in the 1911 Indianapolis 500 and came in 11th. From this, the company adopted the slogan, 'the car that made good in a day.' Unfortunately, the finances of the company were not good and it changed ownership three times by 1922. While known primarily as a sports car, Stutz also offered safety features such as safety glass and a low center of gravity. The DV-32 engine was introduced in 1931. The designation referred to the dual overhead cam which supported four valves per cylinder. In the early 1930s, only two companies produced dual overhead cam engines, Stutz and Duesenberg. Five Stutz Victorias were built to design number 159. This car, body number 507, is believed to be the first Rollston DV-32 built. Rudy Creteur, who created the design, stated that in his estimation it was 'the most beautiful of all the Rollston creations he had ever seen.
This LeBaron-bodied Convertible Sedan was originally owned by Chicago-based Arthur Powers until the late 1940s, when it was sold to an individual living in Phoenix, Arizona. It later made its way to Odessa, Texas, where it was spotted a decade later by Arthur 'Archie' Kracow. The car would remain in the Kracow family for six decades.

The car is in its original condition and wears its factory-applied paint and upholstery. The original wood and top fabric remains, although the bows underneath are largely gone.
By Daniel Vaughan | Jan 2014
In 1876, Harry C. Stutz was born. He grew up on the family farm where he often helped repair their farm equipment. This led to a fascination with engines and in 1897 he built his first car; soon after he began designing and creating engines. The Stutz Company, based in Indianapolis, Indiana, introduced its first production vehicle in 1911. The vehicle, after only five months of design and build, was immediately entered in the inaugural Indianapolis 500 mile race where it captured an 11th place finish. Not bad for its first vehicle and first race. Throughout the company's life span, it would endure good and bad times. The Stutz Company was in production during World War I and the Great Depression, both responsible for negatively affecting Industry.

Stutz will be forever remembered for their Bearcat model, a vehicle produced until 1925. This pure-bred race car had an aggressive and masculine stance; the interior was void of luxury and amenities. With its high revving straight 8-cylinder overhead camshaft engine and lightweight construction, the vehicle was poised to compete in national and international competition.

In 1919, Harry Stutz was forced by stock holders to leave his company. In 1922, Charles Schwab was given control of the company. In 1925, Schwab gave control of the company to Frederick Moskovics. Moskovic planed to revitalize the company by shifting the priorities from racing to producing luxurious automobiles. This did not mean that the company was to abandon its racing heritage, rather Moskovics wanted to expand its racing prowess by entering it in International competition. The 24 Hours of Le Mans is a grueling endurance battle that tests stamina, speed, and durability. In 1928 a Stutz Series BB Black Hawk Speedster, driven by Edouard Brisson and Robert Bloch, was entered in the French LeMans race. The vehicle did well, leading for most of the race. Half way through the 22nd hour, the gearbox broke on the Stutz and a Bentley 4.5-liter was able secure a first place finish. The Stutz was second, the best an American car had ever placed in this prestigious race.

In 1929, the Stutz Company decided to increase their chances of victory by entering more than one vehicle into the Le Mans race. The vehicles were designed and prepared especially for the race. Gordon Buehrig was tasked with designing the bodies for the 2-seater sportscars. A modified 5.5-liter straight 8-cylinder with a supercharger were placed in the front and powered the rear wheels. Three vehicles entered by Stutz Paris, Colonel Warwick Wright, and Charles Weymann were anxiously anticipating a repeat of the prior years success or possibly an overall victory. Sadly, only one vehicle would finish. Behind a fleet of Bentley's was the Stutz followed by a Chrysler 75. With a fifth place finish, the Stutz cars were no match for the powerful and agile Bentley Speed Six models.

In the early part of 1929, Moskovics resigned and Edgar Gorrell assumed the duties of president. Many manufacturers were developing multi-cylinder cars which attracted a larger market share of the already small luxury car market. The Stutz Company was not in a financial position to develop an engine of this caliber. Instead, Stutz embarked on developing an inline eight cylinder engine with single overhead cams. The result was the SV16, representing the side-valve 16 meaning that one exhaust and one intake valve per cylinder was allocated for the eight cylinders. By using the name SV16, it gave the vehicle an allure of equal capacity to other nameplates such as the Cadillac and Marmon V16. The SV-16 came equipped with a windshield safety glass and hydrostatic brakes. The chassis sat lower than most of the competition giving it an advantage through turns. During its production run, around 100 examples were produced.

Following on the heals of the SV16 was the DV-32. The engine featured updraft Schebler carburetors and four valves per cylinder equaling 32 valves and dual overhead camshafts. The power-plant was capable of producing 156 horsepower. The vehicle sat atop of a 145 inch wheelbase and outfitted with Stutz 8 hubcaps. At $6,400 these vehicles were extremely expensive at the time.

The Stutz 8 was produced from 1926 through 1935. The engine produced just over 90 horsepower. Within a few years, horsepower had been incrased to over 115.

In 1928, the Blackhawk series was introduced. These sports cars were affordable, competitive, and compact; outfitted with a powerful engines.

During the close of the 1920's, the Stutz company was riddled with lawsuits, including 'breach-of-contract' over engine building. James Scripps-Booth entered a lawsuit about the low-slung worm drive design Stutz had been using. The Stutz Company was beginning to fall on hard times.

The demise on the race track would slowly transcend to the market place. For all of 1930, there were less than 1500 cars produced. Sales declined even more in the following years and in 1934, after only six Stutz cars produced, the factory closed its doors. This is not to suggest the racing results were solely responsible for the company's woes. The Great Depression crippled and destroyed many auto manufacturers at this time. Competition in design and technology was ever present and the dependable, mass-produced, low-cost automobile manufacturers were in the best positions to come out on top. The Stutz Company had an impressive racing heritage and its automobiles are legendary. The Stutz name is respected by many including those overseas.

In 1968 a New York banker named James O'Donnell incorporated Stutz Motor Car of America. Ghia was commissioned to create a design for the Stutz Blackhawk, which was shown to the public in 1970. Sales continued for more than a decade selling very strongly until 1987. Production slowed from 1987 until 1995 when production ceased.
By Daniel Vaughan | Aug 2007
For more information and related vehicles, click
here
120 years of motor sport at Mercedes-Benz take centre stage at the Goodwood Festival of Speed 2014
'Addicted to Winning': at this year's Goodwood Festival of Speed, Mercedes-Benz looks back on some fascinating racing victories of the last 120 years •The unique motor sport heritage of the Mercedes-Benz brand is being celebrated with an exclusive installation by sculptor Gerry Judah •Mercedes-Benz and Gran Turismo®6 jointly celebrate '120 years of motor sport' Stuttgart. – The thrilling victories of the Mercedes-Benz Silver Arrows mark the peaks of the history of motor sport for...[Read more...]
The Snake and Mongoose Cars Appearing at Pinehurst Concours
VILLAGE OF PINEHURST, N.C. (April 24, 2014) – Hot Wheels kids who have grown into nostalgic adults are in for a treat at the 2014 Pinehurst Concours d'Elegance. The Hot Wheels-branded Snake and Mongoose Funny Cars, purchased in January by legendary NASCAR car owner Rick Hendrick, will be a part of the Race Cars class presented by Virginia International Raceway at the second annual vintage auto showcase at Pinehurst Resort on Sunday, May 4. The yellow Snake (1972 Plymouth Barracuda) ...[Read more...]
Techno Classica 2014: more than 30 racing cars to celebrate 120 years of Mercedes-Benz motor racing history
•Cars that were the heroes of magical moments put their stamp on this high-powered, most comprehensive show presentation •With more than 30 vehicles, Mercedes-Benz Classic presents motor racing history in all its unique breadth and depth •120 years of Mercedes-Benz motor sport in the focus of the leading international classic motor show 120 years of Mercedes-Benz motor racing history have produced a timeline of extraordinary victories which since 1894 also stand for outstanding innovations ...[Read more...]
Horch 853 And Scarab Win The 19Th Annual Amelia Island Concours D'Elegance
Nearly 29,000 Automotive Enthusiasts and More Than 325 Automobiles Attend The World's Most Innovative Concours Weekend Jacksonville, FL (March 11, 2014) – A 1937 Horch 853 and 1958 Scarab won the Best In Show honors on Sunday, March 9, at the 19th annual Amelia Island Concours d'Elegance, which attracted approximately 29,000 spectators throughout the weekend. The Horch 853, owned by Bob and Anne Brockinton Lee of Sparks, Nevada, took home one of the most sought-after trophies...[Read more...]
Sonoma Historic Motorsports Festival Celebrates Corvette'S 60 Years At Sonoma Raceway
• Fast cars, fine food and wine highlight May 18-19 weekend
• Paul Reinhart is honored guest, popular racing seminar scheduled for second year
SONOMA, Calif. (April 27, 2013) - The Sonoma Historic Motorsports Festival returns to Sonoma Raceway on May 18-19 for the fourth straight year under that title. The program for the 27th annual historic-car event organized by General Racing Ltd. in Sonoma will celebrate the 60th Anniversary of the popular Corvette, created by the ...[Read more...]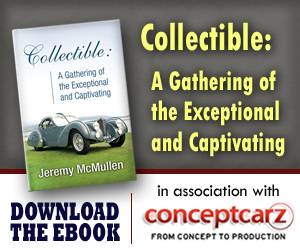 © 1998-2014. All rights reserved. The material may not be published, broadcast, rewritten, or redistributed.