1938 Cadillac Series 90 news, pictures, specifications, and information

Tweet
Cadillac unveiled their overhead valve V16 engine in 1930 which solidified the slogan, 'The Standard of the World.' When introduced it was a marvel; but by 1938 it had become too expensive to produce and far too bulky to remain in production. So Cadillac engineers came up with a solution; they created a new flathead engine with a much lower profile based on the original V16 unit. It cost less to produce, displaced 431 cubic-inches and produced 185 horsepower. It was basically a twin-eight engine with dual carburetors, manifolds, distributors, coils, fuel pumps and water pumps as well as dual oil bath air cleaners.

In 2008 it was brought to the Automobiles of Amelia presented by RM Auctions where it was estimated to sell for $250,000 - $350,000. It was not surprising to see the winning bid far exceed the estimates, settling at $412,500 including buyer's premium. It is a gorgeous car that is a top contender at nearly every event it attends.

Ninety-five customers chose the Imperial Seven-passenger sedan as their choice of bodystyle for the V16 Cadillac. They rode on a wheelbase that measured 141.3-inches and had a three-speed column-shifted manual gearbox and duo-servo Bendix four-wheel hydraulic brakes.

This example has never been restored, just carefully maintained throughout its life. The original black paint has been touched-up where needed. Chrome has been replaced in certain places. It retains its wide whitewall tires and dual sidemount spares. The interior features wood trim, tan broadcloth material in the passenger compartment, and black leather in the driver's area.

The engine was rebuilt by RM Auto Restorations.

One of Canada's wealthiest families, the Billes of Canadian Tire fame, once owned this Imperial Sedan. Subsequent owners have preserved the cars patina and kept it in mostly-original condition, a rarity as moth have been restored at least once during their lifetime.

In 2008 it was brought to the Automobiles of Amelia presented by RM Auctions where it was estimated to sell for $60,000 - $80,000. It was offered without reserve which worked well for the buyer who purchased this magnificent car for the sum of $46,750 including buyer's premium.
By Daniel Vaughan | Aug 2010
This Fleetwood bodied car was one of the first designed by Bill Mitchell at age 23, when he was promoted by Harley Earl to Chief Stylist for the Cadillac Division.

The car was one of the first with the steering column mounted transmission shifter. This car is number 10 of 13, series 9029, built and sold in 1938. It is equipped with a V-16 flathead L-Head engine of unique design with a 135-degree angle between cylinders. It has nine main bearings and was very strong and many were adapted for stationary use such as pumps in the petroleum industry.
By Daniel Vaughan | Aug 2010
This 1938 Cadillac V-16 Divider Window Convertible Sedan by Fleetwood was offered for sale at the 2007 Sports and Classic Car Auction presented by The Worldwide Group, in Hilton Head Island, SC where it was estimated to sell for $225,000 - $275,000. It is one of thirteen build and one of only eight known to exist in modern times. Of the thirteen created, three were extended wheelbase models used for Government use. The other ten were identical, with five being accounted for in modern times. The first owner was MGM, and they ordered it with an additional divider window from the factory, making this unique.

This car has been treated to a frame-off restoration. It is finished in Ox Blood Maroon with a matching maroon interior and tan top. It has been owned by three owners since new, with the original owner (MGM) owning the car until 1970. While in MGM's care, it is reported that several famous fil stars of the day used this car for various types of transportation.

Unique options to this car include the divider window, two-zone heater including a rear floor heater, factory spot lights on both sides of the automobile, factory Master AM radio, and Trippe driving lights.

At auction the bidding surpassed the estimated value, selling for $286,000 including buyer's premium. It is a car packed with potential for both concours events and driving tours. It is a very unique vehicle with a wonderful history and powered by a sixteen cylinder power-plant. The coachwork is exquisite and truly a testament to the craftsmanship of the Fleetwood Company.
By Daniel Vaughan | Nov 2007
There were more than 50 body styles offered on the V16 with the majority being cataloged bodies created by Fleetwood. Many were variations on the basic designs.

The V16 shrunk from 452 cubic-inches to 431 cubic-inches in 1938. It lost its overhead valves in favor of a flat-head configuration. It was a short-stroke 135-degree motor that was lighter and more powerful than its predecessor.

This 1938 Cadillac Series 90 V16 Imperial Town Sedan is one of just 20 produced and only one of eight known to have survived in modern times. It is believed that its original owner was the Governor of Texas. It remains in mostly original condition. It still retains its original body and hood paint. The bumpers and hood side panels have been re-chromed and the front fenders have been re-sprayed.

In 2007 it was brought to Carmel, California where it was offered for sale at Bonhams auction, An Important Sale of Collectors' Motorcars and Automobilia. The lot was sold for $55,000 plus premium and tax.
By Daniel Vaughan | Apr 2008
Cadillac only produced a total of 315 V-16 vehicles in 1938. The convertible sedan cost an even $6000 and weighed 5350 pounds. Nicholas Dreystadt was the Cadillac General Manager that year.
Source - Canton Classic Car Museum
Fleetwood Fastback Limousine
Coachwork: Fleetwood

This one-off special-bodied V-16 limousine was created by GM Styling for the personal use of GM executive William Knudsen, then President of the Cadillac Division of General Motors. It shows styling cues from the new 60 Special model but is a unique fastback sedan style without sidemounts and is especially clean of line. Very few late V-16s were custom built. Production of V-16s continued virtually unchanged for two more years with 136 cars built during 1939 and just 61 in the final model year of 1940.
For 1938 Cadillac introduced an all-new 135-degree V-16 engine and more contemporary styling. This is one of just 13 Fleetwood convertible sedans built on the 311 V-16s produced for 1938. This new series of V-16s shared both wheelbase (141.5 inches) and body design with their V8 cousins and represented a radical change from earlier offerings. The new engine was of flathead design, the gearshift moved to the column, and the car had a much more modern feel.
This Cadillac Series 38-90 is one of only about 311 V16 Cadillacs for 1938. The car has an older restoration that was performed by Robert Aubin. It became part of the current collection in 2006 and has never been judged in competition.

In 2010, this V16 Convertible Coupe was offered for sale at the Vintage Motor Cars of Meadow Brook event presented by RM Auctions. The car was estimated to sell for $180,000 - $240,000. As bidding came to a close, the car had been sold for the sum of $165,000, including buyer's premium.
By Daniel Vaughan | Aug 2010
The first six years of Franklin D. Roosevelt's presidential administration was focused on his New Deal recovery programs following the Great Depression. Halfway through his second of four presidential terms, his focus shifted to the increasing turmoil in continental Europe.

It was during this two difficult times in history (the Great Depression and World War II), that Cadillac and its coachworks Fleetwood were tasked with special order 9006 - two virtually identical 16-cylinder open limousines to be constructed on a 165-inch wheelbase platform. The vehicles were 11-inches longer than a standard V-16 Cadillac. Powering the cars were Cadillac's 135-degree, L-head V16 engine offering 135 horsepower from 431 cubic-inches. Each bank had its own distributor, carburetor and manifolds. The engine was six inches shorter, 13 inches lower and 250 pounds lighter than its overhead valve predecessor and had significantly fewer parts. It had a smaller displacement but still produced the same power.

Both of the special order 9006 cars were used by the White House. The two examples were chassis number 5270064 and 5270075 (this cars). The cars reportedly were built with armor-plating, helping the car tip the scales at 8,000 lbs. They were given special running boards, grab handles, communication equipment, special compartments for firearm storage, sirens and lights.

The cars were leased by Cadillac to the United States government and both were used through 1956 as part of the White House fleet to carry Secret Service agents or directly chauffeur the President. One was nicknamed the 'Queen Mary' (this car, chassis 5720075) and the other 'Queen Elizabeth,' a reference to the large cruise ships of the same name.

After FDR's death, the two cars were enlisted for use by the Harry Truman and Dwight Eisenhower administration. In 1950, Truman took delivery of two Lincoln 'Bubbletop' limousines, but both Cadillacs remained in the official fleet. Unlike in modern times, the cars were not flown to their destinations, but were driven across the country to meet the President as he arrived by airplane.

During the time the Cadillacs were in service for the president, they were often updated and rebuilt by Cadillac as necessary. Both cars had their bodies removed from the chassis, and every component were examined, including the running gear. After World War II, the V-16 engines were replaced with L-head V8s, which in turn were replaced by 331 cubic-inch OHV V8s in 1952. Currently, both cars still retain their OHV V8s that were installed in the early 1950s.

After the presidential duties were served, the 'Queen Mary' was purchased directly from Cadillac by Mr. Jack Tallman, a third-generation Cadillac dealer from Decatur, Illinois. Prior to the purchase, the car was used through the re-election in November 1956 of President Eisenhower.

The Tallman family has owned the car for over four decades, during which time they have added around 30,000 to 40,000 miles to the odometer.

In May of 1999, Mr. Tallman sold the car at auction to Mr. Al Wiseman. In 2002 it was shown at the Amelia Island Concours d'Elegance, where it received an award for the best original and unrestored automobile. Years later, the car joined the John O'Quinn collection.

The car has replica pistols and rifles, as well as two telephones, gun holsters, fender-mounted red siren, step plates, and grab-handles. The 331 CID engine offers 210 horsepower and is mated to a three-speed manual transmission. There is a coil spring independent front suspension and four-wheel hydraulic drum brakes.

In 2012, the car was offered for sale at RM Auction's Scottsdale, Arizona auction. It was estimated to sell for $300,000 - $400,000. As bidding came to a close, the car had been sold for the sum of $269,500 inclusive of buyer's premium.
By Daniel Vaughan | Feb 2012
From 1930 through 1940 Cadillac produced a monsterous sixteen-cylinder engine. It was first displayed to the automotive community at the Detroit Opera House prior to the Detroit Auto Show. This was the largest number of cylinders to power an automobile of all time. The hood that housed the engine was intimidating, larger and longer than any other vehicle. Up to this point, there were only a few manufacturers that produced a twelve-cylinder engine, mechanical achievements in their own right. The introduction of the sixteen-cylinder engine was historical and seen as revolutionary at the time.

Up to the 1990's there have only been three manufacturers of a sixteen cylinder engine. The Bugatti Type 47 never made series production while the Marmon Corporation offering was short lived. In comparison, the Marmon built V-16 was more powerful. By using aluminum, the 491 cubic-inch engine with its overhead values weighed just over 900 pounds. The engine was formed by merging twin-eight cylinder engines in a 45-degree angle, giving the engine an impressive look and an astonishing 200 horsepower. The use of steel cylinder sleeves added to the longevity and durability of the engine. The V-16 engine earned Howard Marmon the Society of Automotive Engineers annual design award.

The Cadillac V-16 was the first and remained in production for eleven years.

A new sixteen-cylinder engine was introduced by Cadillac in 1938. This was not their first V16 enigne; their first had been designed by engineer, Owen Nacker of Marmon fame. It had an overhead valve design and mounted at a 45-degree to one another. Each back of the sixteen cylinders had their own exhaust and fuel system. The engine featured hydraulic valve adjusters that helped with the silent valve train operation. The exterior of the engine was equally as impressive, with all the wiring and hoses concealed under cover and finished in chrome, polished aluminum, porcelain and baked enamel. The result was a 452 cubic-inch engine that was nearly unmatched in the industry at the time.

A V12 version followed shortly after the introduction of the V16; it displaced 368 cubic-inches and was basically three-quarters of a V16. Both of these engines remained in production through 1937. The V12 did not resume production for 1938. A new engine was introduced in 1938 and that very different than its predecessors. It was an L-head design, cast in a 135-degree vee, and featured a monobloc design. The was easier and more economical to manfacutre and it weighed 250 pounds less, had 21 fewer cubic-inches, but developed the same power.

The V12 engine was used to power the Series 85 for 1937. The Series 75 and Series 85 were the same vehicle, with the exception of the powerplant. The Series 75 used a V8 engine. In 1938 the V12 was discontinued, and the V16 took its place. The sixteen-cylinder cars were shortened to a length similar to the Series 75, and the chassis and bodies were interchangeable.

There were twelve bodystyles available, including coupes, convertible coupes, and sedans, as well as the larger seven-passenger sedans and limousines. These larger vehicles were called Formal Sedans or Imperial sedans depending on whether they had a division partition.

The Series 90 experienced its best year in 1938 with 315 examples built. The five-passenger Touring Sedan was the most popular, with 41 sold.

In 1939, the front of the V8 Cadillacs were midly updated. The grille was raked back and the headlights were now mounted to the nose and flush with the top of the grille. Chrome moldings were added to the running boards and the fender ornamentaion was now fully chromed. The rear license plate was moved from the left fender to the trunk lid.

There were a total of 138 V16 cars produced in 1939. Few changes or modifications to the car followed for 1940. A total of 61 V16 cars were built this would be the final year for their production. A total of 4,400 examples were built over an eleven year period.
By Daniel Vaughan | Apr 2008
For more information and related vehicles, click
here
Gooding & Company's 2014 Scottsdale Auctions Bring More Than $49.4 Million
• 11 new auction records set at Gooding & Company's two-day sale in 2014
• Six cars sell above the $2 million mark and 13 cars sell above $1 million
Scottsdale, Ariz. (January 19, 2014) – Gooding & Company, the auction house acclaimed for selling the world's most significant and valuable collector cars, realized more than $49.4 million during its Scottsdale Auctions. The auction house sold 110 of 117 lots, which resulted in a 94% sales rate and an impressive average pric...[Read more...]
POTEET, CIZEK EARN TOP AWARDS AT GOODGUYS 16TH PPG NATIONALS
Columbus, OH – Tennessee's George Poteet and Nebraska's Ron Cizek collected the top two awards at the Goodguys 16th PPG Nationals in Columbus, Ohio last weekend. Under brilliant sunshine and in front of record crowds, Poteet's vintage NASCAR-inspired '69 Torino won the Goodguys 2013 Optima Batteries Street Machine of the Year while Cizek's popular Ridler award-winning '40 Ford coupe collected the Goodguys 2013 Classic Instruments Street Rod of the Year title. For Cizek, it's the second ma...[Read more...]
CADILLAC CONCEPT CARS STAR at AMELIA CONCOURS d'ELEGANCE
There are limited production cars, there are rare cars and there are concept cars that never find their way to the showroom. A fleet of Cadillac's rare and mythic Motorama and Detroit Auto Show Concept Cars will take to the field at the 18th Annual Amelia Island Concours d'Elegance on Sunday March 10, 2013. Created under the supervision of GM's legendary styling chief, Harley Earl, the Cadillac Concept cars of the 'Fifties were created as the stars of GM's Motorama shows. All are blood anc...[Read more...]
Up 44%, Gooding & Company reports more than $189 million and 45 world records from its 2012 automotive auction sales
Gooding & Company, the auction house acclaimed for selling the world's most significant and valuable collector cars, is pleased to report its 2012 year-end sales of more than $189.6 million for 296 lots sold, averaging $640,635 per car. The 2012 year-end total is 44% higher than last year's results for the same number of cars sold, a significant increase that demonstrates the rising demand for extraordinary cars as well as the quality presented by the auction house. 'Our 2012 auctions attract...[Read more...]
Automotive Hall of Fame Inductees Named
Awards to be Presented in Conjunction with the Concours d'Elegance of America The Automotive Hall of Fame will present its annual induction and awards ceremony on Thursday, July 26, 2012 as one of the week-long Concours d'Elegance of America events. It will be held at The Inn at St. John's in Plymouth, Michigan. Both the Concours d'Elegance of America and the Automotive Hall of Fame celebrate the heritage and history of Detroit. The show highlights the evolution of the automobile's...[Read more...]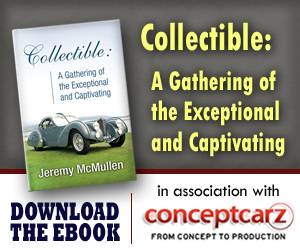 Similarly Priced Vehicles from 1938
Lincoln Model K ($2,200-$7,000)
Packard 1604 Super Eight ($2,900-$5,800)
Packard 1605 Super Eight ($3,165-$7,500)
Packard Super Eight ($2,800-$7,500)
Packard 1608 Twelve ($4,370-$9,500)
Packard 1607 Twelve ($4,100-$6,700)

Average Auction Sale: $152,188
Cadillac
Monthly Sales Figures
Volume
December 2014
16,150
November 2014
13,148
October 2014
13,615
September 2014
13,829
August 2014
16,650
July 2014
15,241
June 2014
13,941
May 2014
14,688
April 2014
13,900
March 2014
14,765
February 2014
13,437
January 2014
11,386
(More Details)
© 1998-2014. All rights reserved. The material may not be published, broadcast, rewritten, or redistributed.