1949 Cadillac Series 62 news, pictures, specifications, and information

Tweet
A styling tour de force of General Motors Design, the Model 62 Club Coupe handsomely predated the Bentley continental 'R' Fastback Coupe. More importantly, it introduced Cadillac's new modern lightweight OHV 160-bhp V8, which amazingly would serve the company well for a further 18 years, by which time the basic engine had grown into a 427 CID unit making 340 bhp! This quite original 26,900-mile Club Coupe retains all of its Cadillac quality exterior and interior features - aspects which inspire 'The Motor,' a respected UK publication, to write, 'It offers astonishing value for the money, a performance which few makes rival, a silence of running which we consider unbeaten and an ease of operation which must be a great asset when long mileages are attempted.'
Cadillac introduced a new overhead valve V8 engine in 1949 which offered an impressive 160 horsepower. This would become the basis for many generations of Cadillac's to follow. It would also be used successfully by many legendary racers such as Allard and Cunningham. The V8 'valve-in-head' engine was light, smooth, economical to maintain, and offered much performance potential.

The Series 62 Cadillac was distinguished from its siblings by its trim. The front fender stone shields and rocker panel moldings were grooved and the front had a very distinctive Cadillac grille. It was low and had a wide stance. The interior was completely revamped and featured a new instrumentation panel, door moldings, trim and a stylish line of fabrics.

This car was purchased in 2005 by its previous owner and then entered in the Palos Verdes Concours d'Elegance the following September. It was purchased in early 2008 by its present owner and commissioned RM classic Cars for a total mechanical and safety check. It has just over 20,000 original miles.

In 2008, this car was brought to the 2nd Annual Vintage Motor Cars of Hershey presented by RM Auctions where it was estimated to sell for $55,000-$70,000. The lot was offered without reserve. A high bid of $39,600 including buyer's premium was enough to secure new ownership.
By Daniel Vaughan | Oct 2008
In 1949, Cadillac introduced its new overhead valve V8 engine that was more compact and lighter than its predecessor. This basic engine would power Cadillac models through the late 1970s.

There were four Cadillac series offered in 1949 with the most popular being the Series 62, available in Sedan, Coupe, Coupe DeVille and Convertible Coupe form. The Convertible Coupe came standard with power-operated windows and an upgraded interior.

This example is finished in black and has a period-style spotlight, whitewall tires, and 'sombrero' wheel covers. The interior is red leather upholstery with matching wool carpets. There is an AM radio and a heater. Power is from the V8 engine mated to a Hydra-Matic transmission.

In 2009, this Convertible Coupe was offered for sale at the Automobiles of Amelia Island auction presented by RM Auctions. The car was estimated to sell for $80,000 - $100,000. The lot was sold for a high bid of $75,900, including buyer's premium.
By Daniel Vaughan | Apr 2009
The overhead valve V8 engine displaces 331 cubic-inches and produces 160 horsepower. This Convertible Coupe has won a first place award at the Greenwich Concours. This award was bestowed upon this car thanks, in part, to its body-off restoration which was completed in 2004. It is painted in light blue and has a dark blue convertible top. There are fender skirts, whitewall tires, and steel wheels with sombrero wheel covers. The interior is blue leather upholstery and there are power seats, power windows, and a Hydra-Matic transmission.

In 2009, this Convertible Coupe was offered for sale at the Automobiles of Amelia Island auction presented by RM Auctions. The car was estimated to sell for $80,000 - $110,000. The lot was sold for $99,000, including buyer's premium.
The Cadillac Series 62 was built on General Motors 'C' Body platform which had a wheelbase that measured 129-inchs and an overall length of 214 inches. 1948 was the first year for the P38 aircraft-inspired tailfins which first appeared on Cadillac and began a trend that continue to escalate during the 1950s. The 1949 model Cadillac is significant since it featured the new Cadillac overhead valve V8 engine that displaced 331 cubic-inches and produced 160 horsepower.
This Cadillac Series 62 features elegant details such a chrome wheel discs, kickplates, and spear trim that adorns the fenders. This Convertible Coupe came standard with power windows, a power top, an all-leather interior, and a color-matched painted dashboard. It was further optioned with a radio, heater, and the Hydra-Matic transmission.

1949 marked the first appearance of Cadillac's long-running overhead valve V8, a powerplant that lasted for 30 years.

It is believed this car was first sold in Colorado where it would spend much of its life. It was purchased in 1990 by its current owner in freshly restored condition.

In 2013, the car was offered for sale at the Gooding & Company Auction held in Scottsdale, Arizona. It was estimated to sell for $90,000 - $120,000 and offered without reserve. As bidding came to a close, the car had been sold for the sum of $112,750 inclusive of buyer's premium.
By Daniel Vaughan | Feb 2013
Cadillac replaced their flathead with a brand-new 331 CID overhead valve V-8 for 1949. The new 'valve-in-head' V8 was smoother, quieter, better performing, more economical, and offered 160 horsepower. It had 10-percent higher displacement and nearly 15-percent more horsepower, plus it weighed less than the 1948 powerplant.

The 1949 Series 62 Cadillac featured front fender stone shields and rocker panel moldings that were grooved. It had an extended hood line, which provided an even longer, sleeker look. They had a new grille treatment that spanned the width of the front end from fender to fender, giving the vehicle a lower and wider appearing stance. The interior was given modern upgrades with a new instrument panel layout, door top moldings, and a stylish array of materials.

This 1949 Cadillac is finished in Alpine White with tan interior and a tan top. It came equipped standard with power windows, a power top, an all-leather interior, and color-matched, painted dashboard. It rode on chrome wheel discs and had fender spear trim. It was given a restoration that was completed in 2005.
By Daniel Vaughan | May 2013
The early history of this Cadillac Series 62 Convertible Coupe is not known. By the 1970s, it had come into the possession of a Hollywood, California, Cadillac enthusiast. In 1978 it was acquired by Southern California collector Myron Reichert and driven to his home near San Diego. By the late 1980s, after having spent some time in storage, Mr. Reichert treated the car to a concours-level restoration.

The nut-and-bolt restoration was performed by Grand Touring Garage of Anaheim, California which totaled almost $200,000 which included installing a proper 1949 Cadillac engine, as the original motor had previously been replaced. The car was refinished in the authentic Cadillac color of Madeira Maroon. The work was completed in 1989 and then displayed at several events. It earned a First Junior Award at the AACA's Western Fall Meet in Palm Springs, California. In 1991, the car claimed a Senior Award at the AACA's Western Spring Meet in Carlsbad, California. More recently, the car won in the Special Interest Class at the 2004 Amelia Island Concours d'Elegance. It also won a Best in Class award at the 2008 Newport Beach Concours d'Elegance.

The current owner acquired this car in 2011. Over the past 25 years, the car has accrued less than 1,000 miles.

This Series 62 Cadillac rides on whitewall tires, has a door-mounted safety spotlight, radio, and antenna. There is an original jack and tool kit, and original owner's manual.
By Daniel Vaughan | Apr 2014
The Harley Earl designed Cadillac Series 62 De Ville was a very large vehicle that featured a large, 6,390 cc (390 cubic inch) V-8 engine. The back had large fins that did little for performance and handling but was all about the style of the vehicle. The design of the vehicle was inspired by the space program and the era of jet engines. The large, 4400 lb car was fitted with drum brakes. These often wore out quickly. If a U-turn needed to be made, the driver would need a parking lot. The turning radius was 24 feet.

The car was a luxury vehicle that could carry six individuals comfortably. The car was a convertible with the top being raised and lowered automatically. The interior had electrical gauges. The head lights would turn on at dusk and were also capable of switching from high beam to low beam when they sensed oncoming traffic. In total, there were eight lights on the front of the vehicle. The four on the top were the driving lights while the lights mounted on the bumper were the parking lamps. To add to the driving comfort, air suspension was used. This aided in providing a very soft ride but there was significant body roll when cornering. With the V8, it was capable of creeping to sixty in 11 seconds. This reinforced the notion that this Cadillac was built for comfort and not for speed. The drivers enjoyed the ride and they looked good cruising along, enjoying the large open road.
By Daniel Vaughan | Sep 2011
For more information and related vehicles, click
here
BARRETT-JACKSON'S SCOTTSDALE 2014 SALON COLLECTION TO OFFER DIVERSE DOCKET OF WORLD'S MOST SOUGHT-AFTER COLLECTIBLES
Rare and Desirable Vehicles Plus One Fully-Operational Carousel Will Cross the Auction Block at Company's Monumental Scottsdale Auction, Jan. 12-19, 2014 SCOTTSDALE, ARIZ. (Dec. 18, 2013) – Barrett-Jackson, The World's Greatest Collector Car Auctions™, announced today a group of exceptional vehicles representing 85 years of automotive history will cross the auction block as part of the world-renowned Salon Collection. The collection will be offered during the company's 43rd Ann...[Read more...]
MERCEDES-BENZ 2014 G63 AMG: THE ULTIMATE G-CLASS
The latest technology for the AMG off-road icon: the new 2014 G63 AMG impresses with a state-of-the-art powertrain, expressive new design and improved efficiency. All this is largely attributable to the AMG 5.5-liter V8 biturbo engine delivering 536 hp and the AMG SPEEDSHIFT PLUS 7-speed automatic transmission. Every new AMG high-performance vehicle offers an outstanding mix of 'more power from less fuel' – and the G63 AMG is no exception. The 'strong man' in the AMG model range has been furt...[Read more...]
POTEET, CIZEK EARN TOP AWARDS AT GOODGUYS 16TH PPG NATIONALS
Columbus, OH – Tennessee's George Poteet and Nebraska's Ron Cizek collected the top two awards at the Goodguys 16th PPG Nationals in Columbus, Ohio last weekend. Under brilliant sunshine and in front of record crowds, Poteet's vintage NASCAR-inspired '69 Torino won the Goodguys 2013 Optima Batteries Street Machine of the Year while Cizek's popular Ridler award-winning '40 Ford coupe collected the Goodguys 2013 Classic Instruments Street Rod of the Year title. For Cizek, it's the second ma...[Read more...]
One of the Three Final Cars Built by Famed Italian Engineer Giotto Bizzarrini To Be Offered at Russo and Steele's Highly Anticipated Monterey Auction
Monterey, California – As the engineer responsible for the design and development of some of the most successful and innovative racing and GT cars ever conceived, Giotto Bizzarrini remains one of the most revered names in motorsport history. Hailing from Livorno, Italy and eventually leaving Alfa Romeo for Ferrari where he began as a test driver and quickly rose to Chief Engineer, Bizzarrini collaborated with Carlo Chiti on the 250 Testa Rossa's V-12 engine and the 250 SWB, with his caree...[Read more...]
Scottsdale Mayor Declares Barrett-Jackson Week As The World's Greatest Collector Car Auction Returns Home Jan. 13-20, 2013
In honor of the World's Greatest Collector Car Auctions™, Scottsdale Mayor W. J. Lane has officially declared January 13 – 20, 2013, 'Barrett-Jackson Week' to commemorate the company's 42nd annual auction in its hometown. Barrett-Jackson has become an honored tradition and point of pride in Scottsdale over the past four decades, attracting more than 250,000 visitors annually, hundreds of hours of worldwide television coverage, nearly $100 million impact on the local economy (not including au...[Read more...]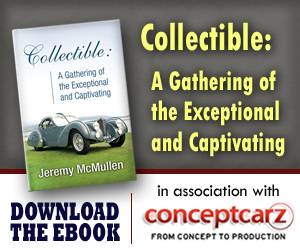 Similarly Priced Vehicles from 1949
Lincoln Cosmopolitan ($3,185-$3,945)
Dodge Coronet ($1,913-$3,675)
Oldsmobile Rocket 88 ($2,045-$3,105)
Hudson Commodore Custom ($2,350-$3,045)
Packard Super Eight ($2,600-$4,123)
Buick Series 70 Roadmaster ($2,616-$3,732)
Packard Eight Series ($2,225-$3,450)
Kaiser Virginian ($3,000-$3,000)
Buick Series 50 Super ($2,060-$3,180)
Triumph 2000 ($3,000-$3,000)
DeSoto Custom Series ($2,040-$3,180)

Average Auction Sale: $55,901
Cadillac
Monthly Sales Figures
Volume
December 2014
16,150
November 2014
13,148
October 2014
13,615
September 2014
13,829
August 2014
16,650
July 2014
15,241
June 2014
13,941
May 2014
14,688
April 2014
13,900
March 2014
14,765
February 2014
13,437
January 2014
11,386
(More Details)
© 1998-2014. All rights reserved. The material may not be published, broadcast, rewritten, or redistributed.