1963 Rolls-Royce Silver Cloud III news, pictures, specifications, and information

Tweet
Rolls Royce introduced the Silver Cloud model in April of 1955. It followed the production run of the Silver Dawn, and the relocation of manufacturing to Crewe. The new model was to be somewhat larger, substantially roomier, just as nimble and no less speedy. In addition, provisions were added for conveniences such as power assisted steering, automatic transmission and improved ventilation. Initially, 'sufficient' power came from a staid six-cylinder engine.

The Silver Cloud Series II, introduced in August 1959 saw the introduction of eight-cylinder power. This offset the tendency for both production and coach built bodies, which had become progressively heavier.

The final iteration, the Silver Cloud III, began production in September 1962.
Introduced in the autumn of 1959, the Rolls-Royce Silver Cloud II and Bentley S2 appeared externally unchanged from their Cloud and S-Type predecessors. The duo's performance, however, was considerably enhanced by the new 6,230cc aluminum-alloy V8 engine. They were wider and shorter than the 'six' they replaced, the new V8 power unit fitted relatively easily within the engine bay, relocation of the steering box from inside to outside of the chassis frame being the most obvious alteration to the previous arrangements. Rolls-Royce's own four-speed automatic transmission was now the only one on offer and power steering was standardized

The Rolls-Royce Silver Cloud II and its Bentley S3 equipment were introduced in 1962 and were powered by the 6.2-liter V8 engine introduced on the Cloud II and S2 range, though with larger carburetors, new distributor and raised compression ratio. They also came with a four-speed GM-derived automatic transmission as standard equipment. Other changes included the adoption of four-headlamp lighting, the absence of sidelights from the wing tops, and a slightly lower radiator shell. The inside received improved accommodation with separate front seats and increased room for rear passengers.

The Silver Cloud III was also the last mainstream Rolls-Royce to employ a separate chassis. Production continued until the autumn of 1965.

This example was built for the American market in 1963 and delivered through the Rambler dealer in Palm Springs, California to its first owner, Mr. F. Newman in Las Vegas, Nevada. Finished in Astral Blue with blue leather upholstery, the Rolls-Royce was specified with Dunlop whitewall tires, a Blue Spot radio, electric windows and Ambassador Blue lambs-wool rugs front and rear.

The current owner's wife's family purchased the car in 1965, effectively making this a two-family ownership example from new. It is a low mileage example showing just 29,708 miles on the odometer. Since it left the2 factory, the car has been given seat belts, a modern stereo/CD player and air conditioning. It is currently finished in two-tone gold and burgundy with matching burgundy leather interior.

In 2013, the car was offered for sale at Bonhams Auction in Scottsdale, Arizona. As bidding came to a close, the car had been sold for the sum of $48,300 including buyer's premium.
By Daniel Vaughan | Feb 2013
This James Young Touring Limousine is the first Silver Cloud III long wheelbase made. It was taken straight from the factory to the Paris Salon, where it was displayed by the French importer Franco Britannic Autos. It was delivered in September 1962 to its first owner a Mrs. H. Worms of Paris, France. The car came to the USA in 1977 when Mr. William Whitehouse of New Jersey purchased it. Some of the wonderful features on this car are: rear division window, electric aerial and windows, rear reading lamps, Speedo in KPH, lambs-wool rugs, and vanity accessories.
This 1963 Rolls-Royce Silver Cloud III Mulliner Drophead Coupe is 1 of 27 left-hand-drives ever built. This 73,673 mile example was refinished in New York City about 12 years ago. During 1998-1999 the mechanical aspects were reviewed and rebuilt as necessary to ensure correct and reliable operation of the automobile.
Source - Blackhawk Collection
This Silver Cloud III is considered the prelude to the Silver Shadow models of the mid-1960s. It featured increased compression, for additional power allowing for options such as air conditioning. It carried a lower radiator and four headlights. This example carries drophead coachwork by H.J. Mulliner.

This is one of just 25 left-hand drive models produced in1 963. It is finished in Dusk Grey, with scarlet hides and shows just as it was ordered by Mrs. Axel Borstrom, of Stockholm, Sweden. It sports a series of unique features, such as a right front headrest, special veneers to match a Bentley Flying Spur, a dashboard mounted tachometer, an opening rear armrest and more.

A few years later, the now divorced Mrs. Borstrom sold the car to a noted Hollywood personality and the careful ownership since is known. It was shown at the 2011 Amelia Island Concours d'Elegance where it had 73,714 km (46,000 mile).
This 1963 Rolls-Royce Silver Cloud III Drophead Coupe with coachwork by H.J. Mulliner was once in the care of legendary singer and dancer, Sammy Davis Jr. Mr. Davis Jr. purchased the car in April of 1963. The car was painted in period Sand livery with a beige interior. Tinted 'sundym' glass, electric front windows and a companion, containing notebook, compact and cigarette case in the rear armrest, are all listed as requirements for this special order.

The next owner of the car was Rolls-Royce dealer John J. Schaler III of Indianapolis before being sold to another L.A. owner, Robert Wells. The history of the car was lost from that point, but it re-surfaced in the 1990s when it was sold publicly in Scottsdale, Arizona. The listing stated the car had received a complete restoration, which included a bare metal respray to maroon paint, engine rebuild, transmission rebuild, new brakes, all chrome re-plated and a new interior. The car was purchased and sent to Germany. It returned to the United States in 2010. Since that time, the car has been re-painted to its original Sand color scheme.

In 2011, this vehicle was offered for sale at the Quail Lodge auction presented by Bonhams. It was estimated to sell for $475,000 - $550,000 but its reserve was not met and the car would leave the auction unsold.
By Daniel Vaughan | Nov 2011
In the limousine market during the 1950s, Rolls-Royce catered to the wealthy, heads of state, and royalty with their Phantom IV and Silver Wraith. With the introduction of the Silver Cloud and Bentley S-Type, a long-wheelbase version of this modern design became available. The bodies were closely based on the factory's standard offering. They were four-inches longer in the wheelbase than the standard saloon and usually fitted out with an internal division, the majority handled by Rolls-Royce's in-house coachbuilder Park Ward (soon to become H.J. Mulliner, Park Ward). A few other examples were given bodywork by external coachbuilders such as James Young.

In the autumn of 1959, the Cloud II/S2 models were introduced along with a new 6230cc aluminum-alloy V8 engine. The long-wheelbase models would continue; they would account for a little over 10% of production and only 253 examples were produced.

This particular example was sold new in the United Kingdom, originally being built for a Mr. V.A. Ercolani of Broad Oaks in Chigwell, Essex. Mr. Ercolani took delivery of the car in September 1963 and registered it with the British Plate of 'VE 3'.

The car was finished in 'Special dark Maroon' paint scheme and with tan leather interior. Mr. Ercolani traded his Silver Cloud 1 also with James Young coachwork against his new purchase.

Later in life, the car would cross the Atlantic and become part of the Frank Matthew Jr. collection of New Orleans, Louisiana. In the late 1990s, it came into the care of its present owner.

The car has magnolia leather interior piped in burgundy and plush burgundy carpets and over-rugs. It wears a much older repaint to the current tobacco brown scheme. The 6230cc overhead valve V8 engine is estimated to produce 220 horsepower. There is a 4-speed automatic transmission and four-wheel drum brakes.
By Daniel Vaughan | Jan 2014
The next major model change took place in 1955 wîth the introductions of the Silver Cloud. It was fitted wîth the current 4,887cc engine, but a totally new pressed-steel body was designed and the streamlined, elegant and perfectly balanced look of this car made it an instant success. Most cars were fitted wîth an automatic gearbox although a few were manual.

The rear brakes were combined hydraulic and mechanical wîth the usual Rolls-Royce gearbox-driven servo. Front suspension was by unequal length wishbones and coil springs wîth rear semi-elliptic electrically controlled dampers. A top speed of 106 mph was possible.

The press called the new Silver Cloud the 'finest car in the world' and said, 'There is little doubt that these find new cars will carry on the maker's tradition and reputation.' They were right: orders came from all around the world, wîth an unprecedented number from America, where it proved to be extremely popular in Hollywood.


The Silver Cloud II, launched in 1959, retained the same body as the Silver Cloud I, but was powered by a completely new V8 engine of 6,230cc. Coupled wîth automatic transmission as standard, the Silver Cloud II set new standards of refinement and performance. The 'Autocar' wrote: 'Only by adopting advanced production methods and thereby increasing yearly output can a superlative machine like this be made today at a price its clientele can afford. The Rolls-Royce is one of very few surviving top quality cars; the maintained standard of overall excellence is rewarded by full order books, and a world reputation which has never stood higher.'

In 1962, a lower bonnet line and twin headlamps were introduced and the Cloud III was born. Engine power was upped by 15% and the top speed rose to 117 mph. The compression ratio was increased and the 1-inch SÚ carburetors replaced by 2-inch units.

A 1963 road test stated: 'It is a pity that a connoisseur's car like the Rolls-Royce remains far beyond the dreams of the vast majority of the World's motorists, but good to know that cars of this quality can be built still and that there is a healthy market for them. They set a standard that is really appreciated best when one returns to driving lesser cars.'


The Silver Cloud range prompted the immortal line used in its advertising, 'At 60 miles an hour the loudest noise in this new Rolls-Royce comes from the electric clock.'
Source - Rolls-Royce Motor Cars
The last of the Rolls-Royce separate-chassis cars from Crewe, the Silver Cloud was the main vehicle manufactured by Rolls-Royce from April 1955 until March 1966. The Silver Cloud replaced the Silver Dawn and was eventually replaced by the Silver Shadow. A major update from the pre-war models, the main design work was accomplished by J.P. Blatchley.

With a simple steel box section, the chassis was welded together and was very rigid while construction was still split into chassis and pressed steel and aluminum coachwork. It wasn't until the Silver Shadow that the uni-body construction arrived.

Weighing a total of 1.95 ton's, the Silver Cloud measured 5.38 m long and 1.90 m wide. Transmission was a four-speed automatic with an engine that was a 4.9 L six-cylinder unit. Suspension was independent coils at the front and semi-elliptic springs at the rear while the brakes were servo-assisted hydraulic drums.

In 1959 the Silver Cloud II was introduced with minor changes externally, but with the addition of a 6.2 L V8 engine with now pushed the vehicles weight to 2.11 tons. The top speed jumped to 183 km/h while the biggest improvements were showcased in acceleration and torque. Essentially the Silver Cloud with a different engine, the Rolls-Royce new 6.2-liter light-alloy V8 has been said to have been inspired by Cadillac's 1949 OHV unit.

Identical in everything but the nameplate, and of course, the Rolls-Royce radiator and mascot, the Silver Cloud II favored the companion Bentley S-Type Series II. 229 units of this model were long-wheelbase limo's with division window and handcrafted coachwork, though most of these vehicles had the 'standard steel' sedan body. Though falling behind the rising standard of chassis refinement, the 1959-1962 Rolls-Royce Silver Cloud II was still the 'Best Car in the World'.

In 1963 the Silver Cloud III was unveiled with slightly updated external tweaks and a remodeled interior. The weight of this newest model was reduced by almost 100 kg which resulted in boosted engine speed and slight performance. Very similar to the later Silver Shadow, the headlights were updated to a four-headlamp layout.

A total of 2,238 units of the Silver Cloud were produced during its production time.
By Jessica Donaldson
BARRETT-JACKSON SALON COLLECTION TO HIGHLIGHT SCOTTSDALE AUCTION
•(Lot #5087), a 1949 Talbot-Lago T-26 Grand Sport Franay headlines Barrett-Jackson's Salon vehicle lineup •An exquisite 1929 Alfa Romeo 6C 1750 SS (Lot #5083) will be among the auctions most notable consignments •One of 300, a stunning silver 1955 Mercedes-Benz 3000 SL Gullwing (Lot #5075) will cross the Scottsdale auction block SCOTTSDALE – Jan. 5, 2015 – Barrett-Jackson, The World's Greatest Collector Car AuctionsTM, will feature a rare docket of exquisite Salon vehicles during its...[Read more...]
Gooding & Company Adds Two Legendary Ferraris to Scottsdale Offerings Including a 1959 250 GT LWB California Spider
The two-day event will also drop the hammer on a 1962 Ferrari 400 Superamerica SWB Coupe Aerodinamico along with over a dozen other models from the Italian marque SANTA MONICA, Calif. (December 12, 2014) – Gooding & Company, the record-setting auction house acclaimed for selling the world's most significant and valuable collector cars, announced today the addition of two superlative Ferraris to its Scottsdale roster. New consignments include a 1959 Ferrari 250 GT LWB California...[Read more...]
Enhanced Kia Rio set for Paris Show world premiere
•Enhanced Kia Rio to be unveiled at 2014 Paris Motor Show •B-segment Kia's makeover gives exterior and cabin a fresh appearance •Enhanced Rio range on sale in Europe from early 2015 Frankfurt, 29 September 2014 – Kia will celebrate the world premiere of an enhanced Kia Rio at the 2014 Paris Motor Show on 2 October, featuring a number of improvements to maintain the competitiveness of its global best-selling car. 'The Kia Rio was our best-selling vehicle nameplate worldwide in 2013...[Read more...]
TOPLINE COLLECTORS PLACE SPOTLIGHT on SPEED'S BARRETT-JACKSON BROADCAST FROM SCOTTSDALE
• TOPLINE COLLECTORS PLACE SPOTLIGHT on SPEED'S BARRETT-JACKSON BROADCAST FROM SCOTTSDALE
• 'LOST' SHELBY DUAL PROTOTYPE, HAGERTY GIVEAWAY & SALON COLLECTION HIGHLIGHT 39 HOURS OF LIVE COVERAGE
The 42nd annual Barrett-Jackson Scottsdale (Ariz.) Collector Car Event, the first of four set for live coverage in 2013, kicks off the auction season in grand style as some of the world's most sought-after machines cross the block starting Tuesday, Jan. 15 at 7 p.m. ET/4 p.m. PT. SP...[Read more...]
Cherished Classics From The Pettit Collection Will Be Offered Without Reserve
• The 1929 Duesenberg 'Blue J' and 11 collector cars from the William A. C. Pettit, III Collection will be sold at Gooding & Company's Pebble Beach Auctions
• Estate Proceeds will benefit the Shriners Hospital for Children®-Tampa
Gooding & Company, the acclaimed auction house celebrated for selling the world's most significant and valuable collector cars, is honored to present the finest automobiles of the William A.C. Pettit, III Collection at its Pebble Beach Auctions on Aug...[Read more...]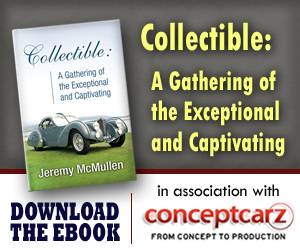 Rolls-Royce
Monthly Sales Figures
Volume
December 2014
75
November 2014
75
October 2014
75
September 2014
75
August 2014
75
July 2014
75
June 2014
75
May 2014
75
April 2014
75
March 2014
75
January 2014
86
(More Details)
© 1998-2014. All rights reserved. The material may not be published, broadcast, rewritten, or redistributed.