1956 Ford Fairlane news, pictures, specifications, and information

Tweet
| | | | |
| --- | --- | --- | --- |
| | | | V-8 Convertible Coupe Sunliner |
The 1956 Ford was quite similar to its 1955 counterpart. There were some subtle exterior changes, including larger tail lights. The interior, however, was completely restyled for 1956. The instrument panel was completely redesigned and, in a nod to safety, padding was optional. Offered for the first time were seat belts.

The Ford Fairlane Sunliner was near the top of Ford's offering for 1956. Its base price was $2,459. Power was supplied by the optional Thunderbird 312 cubic-inch V8 motor that developed 225 horsepower. A unique feature on this car is its early production air-cooled transmission.

This car is the recipient of a total restoration and has earned numerous awards including AACA Grand National champion and Best of Show at the Ford Crown Victoria national event.
| | | | |
| --- | --- | --- | --- |
| | | | Six Series Sunliner Convertible |
Ford's top-of-the-line Fairlane Sunliner, with an amazing production run of 58,147 units, was America's best-selling convertible in 1956. Part of its appeal was its affordable price, just $2,459 without options. Although the basic styling was similar to the 1955 model, the 1956 Ford received wide publicity for a new Lifeguard Safety package, which included double-grip door latches, an energy-absorbing steering wheel with a deeply recessed hub, plus optional front seat belts, padded dash and padded sun visors. Motor Trend Magazine recognized the Lifeguard Package as the year's 'most significant advancement.' Other enhancements for 1956 included the adoption of a 12-volt electrical system and bolder 'Fairlane stripe' side trim.

This Fairlane Sunliner Convertible is finished in 'Fiesta Red and White,' one of '25 body-color-upholstery ensembles,' according to Ford literature. Options include a 292 cubic-inch 'Thunderbird' V8 rated at 202 horsepower, Ford-o-Matic automatic transmission, power steering, power brakes and a nine-tube 'Town and Country' signal-seeking pushbutton radio.
The Ford Fairlane Crown Victoria is easily recognizable by its distinguished chrome trim that crosses the roof and door pillar. This Crown Victoria features the optional 312 cubic-inch (5.1 L) 214/225 horsepower overhead valve engine which came out in 1956 and was again used in high-end Ford and Mercury cars, including the Thunderbird.

The owner purchased this automobile in 1997 in completely dismantled condition. He and his friends have completed the restoration in 2001. An interesting story: this automobile was delivered to the owner on the day his grandson Dylan was born and Dylan will become the future caretaker of this automobile.
For 1955, the Ford models were completely redesigned with longer, lower and wider bodies and offered with a broad range of V8 engines as well as distinctive brightwork and elegant interior treatments. The Fords were mildly restyled for 1956 including Ford's new 'lifeguard design' safety features, which comprised dished steering wheels, improved door latches and breakaway rear-view mirrors, while a padded dash and seat belts remained extra-cost options.

This 1956 Ford Fairlane Sunliner Convertible is painted in Wisteria and Colonial white. Even though the Wisteria was a Lincoln-only color in 1956, Ford did built one car for show duty with this color combination. This car has been given a body-off, 18-month restoration and has only logged test miles since completion. There is a white convertible top and a custom-dyed Wisteria and white interior by LeBaron Bonney, as well as gleaming brightwork, skirted rear fenders, full wheel covers, wide whitewall tires and a Town & Country radio.

In 2009, it was offered for sale at the Vintage Motor Cars of Meadow Brook presented by RM Auctions. It was estimated to sell for $55,000 - $75,000 and offered without reserve. The lot was sold for the sum of $33,000 including buyer's premium.
By Daniel Vaughan | Sep 2009
This 1956 Ford Fairlane is of exceptional quality from the body, to the paint and chrome. Replication of the Original Interior. The car has the original engine, transmission and suspension. Restoration of the exterior and interior took 1 1/2 years.
Ford 1956, Ford emphasized passenger safety and all their cars had deep-dish steering wheels, and seat belts and padded dashboards were optional equipment.

Ford's most powerful factory engine was the 215 horsepower, 312-cubic-inch 'Thunderbird Special' fitted with Holley four-barrel carburetor. Ford also had a performance kit for both the 312 and smaller 292 Y-Block engines, comprising of an aluminum twin-four-barrel manifold and carburetors and Purolator dry-type air filters. The carburetors were specially prepared and calibrated Holley 'teapot' units that came with linkage, brackets, hardware and gaskets. Also included with the kit were special ECZ-C cylinder heads, valve lifters and springs, a performance camshaft and recalibration for the distributor.

In 1957, the twin-four-barrel setup was a factory-installed option as the 'E-Code' 312, offering 270 or 285 bhp, depending on compression. The heads and manifold were redesigned to allow more air to circulate through and to the engine. In this form, it was nearly as powerful as the top-of-the-line 'F-Code' supercharged 312.

This 1956 Sunliner was purchased by the current owner in 1982 and given a complete restoration in 1993. It is painted black and white and has an accessory Continental kit and white and black interior. There are 85,000 miles. The car is equipped with a push-button radio, heater and fender skirts. There is a Purolator air cleaner, a 292 cubic-inch OHV V-8, and a three-speed Fordomatic transmission.

In 2011, this vehicle was offered for sale at the St John's Auction presented by RM Auctions. It was estimated to sell for $35,000 - $45,000 and offered without reserve. As bidding came to a close, the car had been sold for the sum of $42,900, including buyer's premium.
By Daniel Vaughan | Oct 2011
This 1956 Ford Crown Victoria is one of only 603 produced by Ford in the last year of the glass top. The V8 engine displaces 292 cubic-inches and offers 202 horsepower. It has an automatic gearbox, zip-out headliner, power steering, power brakes, and fender skirts. The car is pained Peacock Blue and White with Peacock Blue and White interior.
By Daniel Vaughan | Oct 2012
| | | |
| --- | --- | --- |
| | | V-8 Club Victoria |
This Ford Fairlane Victoria Hardtop is finished in Peacock Blue and Colonial White and has been given a rotisserie restoration. It is powered by a Thunderbird 312 cubic-inch V-8 with a 3-speed manual transmission. It is nicely optioned inside and out to include fender skirts, and wide whitewall tires.

In 2012, this car was offered for sale at the Glenmoor Gathering Auction presented by Classic Motorcar Auctions. It was estimated to sell for $25,000 - $30,000.
By Daniel Vaughan | Nov 2012
This Ford Fairlane Sunliner Convertible is finished in Mandarin Orange and Raven Black and is one of 58,147 produced for 1956. It was purchased new by a lady in Zila, Washington. The next owner would put the car into storage for a decade until it was purchased by the current owners in early 2003. It was then given an exhaustive, no-expense-spared, body-off restoration which was completed by the summer of 2004. The engine has been upgraded to 1957 312-cubic inch V8 standards, including the crank and rods. A modern Holley carburetor is fitted to the upgraded intake manifold, and the valve covers are cast iron Thunderbird units.
By Daniel Vaughan | Sep 2013
The name Fairlane came from Henry Ford's Fair Lane mansion location in Dearborn, Michigan. The Ford Fairlane was introduced in 1955 as Ford's full-size model and was available in six different body styles. The vehicle could be assembled as a 2 door club sedan, a 4 door town sedan, a Victoria 2 door hardtop, a Sunliner convertible, a Crown Victoria, or a Crown Victoria with a plastic top.

There were wide assortments of engines to select from. The base 223 cubic-inch, Inline-six cylinder engine produced 120 horsepower. A modified version of the engine produced 137 horsepower. The 272 cubic inch, V8 engine produced 162 horsepower with the modified version producing 182 horsepower. In

1956, two new V8 engines were introduced. The 292 cubic-inch engine produced 200 horsepower. The 312 cubic-inch produced 215 horsepower with the modified version producing 225 horsepower.

In 1956 a four door Victoria hard-top was added to the line up.

In 1957, the height of the vehicle was reduced by two inches. The suspension received improvements via swept back front lower control arms and longer rear leaf springs. The engines remained the same but with modifications, the horsepower ratings increased. A new top trim was added to the line up, the 500. This introduction was significant because it was the world's first power retractable hardtop.

With its convenience, it also brought problems. The system was expensive, complicated, and riddled with mechanical defects.

In 1958, the front bumper and grille was redesigned. Quad headlamps were used in the front and rear of the vehicle, replacing the previous single headlamp design. Other exterior changes included updates to the side and top of the vehicle. A new 'big Block', 332/352 cubic-inch V8 replaced the 292 and 312 cubic-inch V8's.

1959 was the final year for the Skyliner Hardtop Convertible. The remaining Fairlanes received styling and mechanical changes. The size of the windshields increased; the headlamps and rear of the vehicle received modifications as well. Due to fuel economy, the V8 engines were de-tuned. The suspension continued to receive improvements, increasing ride-quality. Part-way through the year, Ford introduced another body style, the Galaxie.

The 1960 Fairlanes were six inches longer, five inches wider and about 200 pounds heavier. The Sunliner returned to the line-up. The square-roof Starliner of 1959 was replaced by a pillarless, two-door hardtop version. The rest of the body styles received updates that included straight A-pillars and horizontal tailfins.

In 1961, a 390 cubic-inch V8 engine was introduced, capable of producing 375 horsepower. The modified version of the engine produced over 400 horsepower. The Fairlane was once again redesigned and contrary to the prior year, became lighter and shorter. The hood of the vehicle was reshaped, the grille was re-worked, and the taillights, once again, were changed.

In 1962, a new, light weight 221 cubic-inch V8 was built using a process called thin-wall casting. The 221 was referred at to as the 'worlds first economy eight'. Later, the engine was increased to 260 cubic inches and then 289 cu in. Half-way through the year, Ford introduced the Fairlane 500 Sports Coupe. The vehicle featured bucket seats and an option for a 260 cubic-inch V8, which was actually a modified version of the light-weight V8. The vehicles could be assembled in either three speed manual or 'Fordomatic Drive' automtaic transmission.

In 1963 another new engine appeared on the scene. This was a 289 cubic-inch engine that produced 270 horsepower in modified form. The exterior received minor improvements. The front grill was new for 1963 which required modifications to the hood, bumper, and fenders.

In 1964 there were eight body styles to select from; none were convertibles.

The rear of the vehicle was restyled. The tailfins were removed. The suspension was modified which improved ride-quality. The interior received minor enhancments. Full carpeting for the floors was available. Turn signals would shut off after a slight turn of the steering wheel.

Ford produced 57 special Fairlane's that were comprised of a highly modified engine and a 3200 pound lightweight package. The purpose was for drag racing. The weight of the vehicle was reduced by incorporating fiberglass fenders, Plexiglas windows, light weight bucket seats, and other weight saving measures. The engine was a modified 427 big block that produced around 500 horsepower. The transmission and suspension was modified to accommodate these special drag racing vehicles. Commonly referred to as 'Thunderbolt' or 'T-bolts', the success on the race track increased the demand for these vehicles and 54 additional vehicles were produced, bringing the total to 111 examples.

In 1965, Ford moved the Fairlane out of the mid-size market. The base engine was the 200 cubic inch V6 that produced 120 horsepower. The 289 cubic-inch V8 replaced the 260 cu.in. engine.

In 1966 the GT and GTA packages were introduced. A new convertible option was added to the line-up as well. Due to the size of the big block V8, the Fairlane needed to be redesigned to accommodate. The GTA series came equipped with SportShift Cruise-O-Matic automatic gearboxes and the 390 cubic-inch V8.

The GT series featured the 390 cubic-inch V8 as standard equipment. Other equipment for these series included suspension modifications, disc brakes, special hoods, paint and body striping, badges, and special steering wheels.

In 1967 only minor aesthetic changes were done to the vehicle. The GT and GTA series received front disc brakes, vinyl interiors, and bucket seat as standard equipment. The disc brakes were a major improvement from the prior drum-brake system. The 289 cubic inch V8 produced 200 horsepower, the 390 cubic inch V8 produced 275 horsepower and a modified version of the 390 cubic-inch produced 320 horsepower. A 427 cubic-inch 'side oiler' was available, although about 200 were produced. The 427 cubic-inch engine was capable of producing between 410 and 425 horsepower.

Additional modifications to the engine would bring about even more horsepower.

In 1968, the Fairlane was redesigned and was once again moved into the full-size car class. A 'Sportsroof' fastback and Torino series were added to the line-up. The vehicles were either called a Fairlane or a Torino. The lower through mid range vehiciles were Fairlanes. The GT and higher-end versions were called Torino models. The Torino featured a 320 cubic-inch V8 engine, bucket seats, badges, striping, light package, and wheel covers. The engine options for this year included a 302, 390, and 427 cubic inch. A Super Cobra Jet version of 427 cubic inch horsepower provided the most horsepower out of the list of available engines.

In 1969, more modifications to the vehicle occurred making it better suited for the road and the race track. Mechanical enhancements increased the overall horsepower output of all the engines, the suspension was modified, four-speed manual transmission, and wider tires were offered.

The Torino Talladega series, named after a 2.66 mile track in Alabama, was designed for the NASCAR circuit. The vehicle featured aerodynamic enhancements that included a sloped nose and reworked rocker panels. The big block 428 cubic-inch V8 was used, supplying 335 horsepower. In total, 754 examples were produced.

In 1970, the Fairlane was once again restyled. All dimensions, except for the height, increased in size. The Falcon was added to the Torino series. A wide variety of engines and modifications existed this year for the Fairlane family. They included a 302, 351, and 429 cubic-inch engines. The 302, on the low end, produced 220 bhp and 250 bhp after modifications. The 351 produced between 285-300 horsepower, while the 429 produced 360 bhp on the low end and 375 horsepower after modifications.

In 1971, the engines were detuned or replaced with six-cylinder engines, due to rising fuel concerns and strict emission regulations. The 250 cubic inch six-cylinder produced 145 horsepower, the 302 cubic inch V8 produced 220-250 horsepower. A 351 and 429 cubic-inch engine were still available with horsepower ratings ranging from 285 bhp through 375 bhp. The styling for the Torino's remained virtually unmodified.

In 1972, the Torino's continued to grow in all dimensions, even weight. The convertible and Cobra options were removed from the line up.

Ford had used the Torino model-line to phase out the Fairlane models. The Fairlanes were offered from 1955 though 1971.
By Daniel Vaughan | Nov 2013
For more information and related vehicles, click
here
New York's 'Taxi Of Tomorrow' Moves Closer To The 'Taxi Of Today' As Nissan Begins Production
The 'Taxi of Tomorrow,' specifically designed to suit the needs of taxi drivers and users, will hit New York City streets this fall IRVINE, Calif. – Production of the Nissan NV200 Taxi – New York's 'Taxi of Tomorrow' – is now underway at the company's assembly plant in Cuernavaca, Mexico. Nissan developed the new taxi, which is based on the NV200 compact cargo vehicle, to suit the specific demands of the more than 600,000 people who ride in New York City taxicabs every day. In 20...[Read more...]
2014 Honda Odyssey Arrives At Dealers July 2 Delivering More Value To Customers With Refreshed Styling
06/25/2013 - TORRANCE, Calif. The 2014 Honda Odyssey minivan arrives at Honda dealerships nationwide on July 2, refreshed with a host of powertrain, styling, interior, feature and safety upgrades, all designed to meet the needs of today's family. Key changes to the 2014 Odyssey minivan include the addition of a standard 6-speed automatic transmission on all trims resulting in class-leading fuel-economy ratings, enhanced safety equipment, cleaner front and rear exterior styling, plus revis...[Read more...]
Lincoln at Los Angeles Auto Show Press Days: Celebration of Its Past and Future As Brand Rolls Out Its Reinvention
> The brand pays tribute to its heritage today, displaying seven of the most influential Lincoln designs > Thursday sees a display full of the all-new MKZ premium midsize sedan and MKZ Hybrid, the future of Lincoln, on the Lincoln stand > Lincoln launches on Tumblr http://lincolnnow.tumblr.com beginning with the visually stunning classic Lincolns shown on the stand and select images from archives. Continues with an all-new collection of photographs by photographers Jamie Beck and Kevin Burg ...[Read more...]
Pair Of Majestic Duesenbergs Top RM's $10.7 Million Hershey Sale
• RM Auctions generates $10.7 million in sales with 95 percent of all lots sold at its Hershey, Pennsylvania auction • Top sales honors go to a pair of historic Duesenbergs from the distinguished Ray Bowersox Collection • Pair of Packards – one magnificently restored and one in unmolested, original condition – also attract significant interest, well-exceeding pre-sale estimates • Auction draws international audience, with bidders representing 17 countries around the world • RM continues it...[Read more...]
RM Readies For Highly Anticipated Hershey Sale
• Final countdown underway to RM Auctions' annual Hershey, Pennsylvania sale, October 11–12 • Auction features approximately 120 historic automobiles joined by a select series of vintage motorcycles and an assortment of memorabilia • Automobile offering led by famous 1931 Duesenberg Model J Dual Windshield 'Barrelside' Phaeton, winner of the epic 1932 race at Lake Muroc in California • Duesenberg headlines select group of 10 automobiles from the distinguished Ray Bowersox Collection; sale als...[Read more...]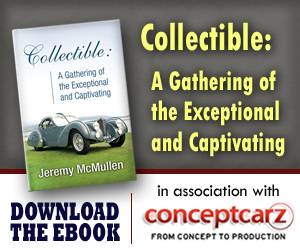 Ford
Monthly Sales Figures
Volume
September 2014
172,261
August 2014
214,028
July 2014
204,373
June 2014
214,793
May 2014
244,501
April 2014
203,552
March 2014
235,198
February 2014
177,286
January 2014
148,671
December 2013
210,074
November 2013
183,722
October 2013
184,854
(More Details)
© 1998-2014. All rights reserved. The material may not be published, broadcast, rewritten, or redistributed.