1968 Plymouth Road Runner news, pictures, specifications, and information

Tweet
Plymouth introduced the Road Runner concept in 1967 as a low cost muscle car intended for younger buyers. The car was based on the lightweight Belvedere body, and further stripping of non-essentials made the vehicle event lighter. In the bonnet was a highly modified 383 cubic-inch V8 engine tuned to produce 335 horsepower. The car could run from zero-to-sixty in under 7.5 seconds and even came with a horn that mimicked the Road Runner cartoon character's distinctive 'beep-beep.' The price tag for the Road Runner car was under $3,000 and was a huge success with over 200,000 units sold from 1968 to 1974.

The owner's father of this car purchased this car new, in the hardtop body style along with the decor package, two-tone interior and carpet. It was raced regularly at Detroit Dragway, accumulating many trophies. By 1971, the car had evolved into a full race car with Lexan windows and fiberglass body panels. The owner's brother restored the car to numbers matching factory condition in 2004.
By Daniel Vaughan | Aug 2010
This Road Runner is powered by a 426 cubic-inch Hemi V8 engine delivering 425 horsepower. It is equipped with a Torqueflite automatic transmission.
By Daniel Vaughan | Aug 2010
The Plymouth RoadRunner was developed as a mid-priced car and was placed between the Satellie and Belvedere model line up. It was built on the B-body platform. The RoadRunner was light and featured few amenities. This not only drove the price of the vehicle into territory that most could afford, but it gave an advantage over heavier vehicles. The front and back seats were both bench. There was no radio, no air conditioning, no cruise control, no trim, and very few color options. Most of the options available favored speed and acceleration.

It was a solid car and a favorite among moonshiners. It was faster than most police vehicles and due to its sturdy construction, was very reliable.

The RoadRunner came equipped with a 383 cubic-inch V8 engine capable of producing 335 horsepower. A four-speed manual transmission was standard equipment. For about $715 dollars, a 426 Hemi could be added making it the fastest vehicle on the road.

Plymouth paid Warner Brothers $50,000 to use the Road Runner cartoon image. Due to short production time, the decals were grey. Along with the image, the horn went 'beep-beep'.

In 1968, Plymouth sold 45,000 examples.

In 1969, bucket seats became available. The decals were now in color. A convertible option joined the line-up. An inexpensive engine, when compared to the Hemi, became available. This was a three-two barrel carbureted, 440 cubic-inch V8, dubbed the 440 Six Pack. Nearly 90,000 RoadRunners were sold during 1969.

In 1970, an Air Grabber hood was added. Operated by remote control from the passenger compartment, this would open and close a vent in the hood, creating a hood scope. The three-speed manual gearbox became standard while the 4-speed was now offered as optional equipment.

Due to increasing government safety regulations and emission controls, the engines began to decrease in size during the 1971 model year. Fuel prices and insurance costs also contributed to the demise of the horsepower. The four-barrel 440 cubic-inch engine was no longer offered. The horsepower ratings for all engines decreased. The wheelbase of the vehicle decreased from 116 inches to 115. The convertible was no longer offered. A little over 14,000 examples were sold in 1971.

In 1972, 340 cubic-inch V8 engine was now available. This engine was powerful and light. Less than 7,630 Road Runners were sold during the 1972 model year.

In 1973, a 318 cubic-inch engine was standard, producing 170 horsepower. The 440 and 400 cubic-inch engines were still offered as optional equipment. The vehicle received styling updates.

In 1974, the 360 cubic-inch engine replaced the 340 V8. The 318, two-barrel engine now produced a miserable 150 horsepower.

In 1975, the RoadRunner was changed to the Fury body.

In 1976, the RoadRunner was changed to the Volare body. The standard engine was the 318 cubic-inch engine offering 150 horsepower. The 360 cubic-inch engine produced 170 horsepower. The RoadRunner package included a three-speed floor shifter, interior trim, and an improved suspension.

In 1977, an on-board engine computer, called the Lean Burn system, adorned the interior of the RoadRunner. Spoilers, stripes, and Ralley wheels, and window louvers became part of the RoadRunner package.

In 1979, production was just over 1000 units.

The 1980 model year was the last one for the Volare and Road Runner.
By Daniel Vaughan | Aug 2010
BEACH CARS STORM THE 2014 AMELIA CONCOURS d'ELEGANCE
'For an event like 'The Amelia' a class of beach cars is appropriate and ideal,' said Warner. 'After all, when you take a break from the concours field and sit on the veranda at the Ritz-Carlton with a cool drink in front of you, you stare at the ocean and the beach. I just wish we could find a way to make the beach part of the concours field just this once.' During the La Dolce Vita epoch, the ultimate European playboy's car was neither a Maserati nor a Ferrari. It arrived on sun splashed ...[Read more...]
1964 Nurburgring 1000 Kilometers: Survive for One Last Victory
During the late 1950s, Richie Ginther would begin a relationship with John von Neumann and this partnership would result in one of the most dominant periods of American sportscar racing in which Ginther and Porsche would be virtually unbeatable. Nearly a decade later, that same combination would again join forces to provide one more moment of glory. By the mid-1950s Porsche had developed its 550. This was a small car more than capable of dominating its class and consistently able to challenge...[Read more...]
Raw Power Has a Stamp of Its Own Muscle Cars Roar at Spring Classic Auction
What do you get when you bring the U.S. Postal Service and Dana Mecum's Original Spring Classic Auction together at the State Fairgrounds — a Muscle Car Extravaganza! Since it began 26 years ago, Mecum's Spring Classic auction in Indianapolis has featured the largest auction of muscle cars in the world. This year, the Postal Service will celebrate the raw power of the performance vehicle at the Spring Classic event by dedicating five, limited edition stamps featuring iconic muscle cars...[Read more...]
Final Countdown Underway To South Florida's Premier Collector Car Auction
• Auctions America kicks off its 2013 auction season, March 22-24 with its highly anticipated Fort Lauderdale Collector Car Auction • Celebrating its 11th year, the multi-day auction features more than 550 quality collector cars • Latest feature attractions include an outstanding 1963 Shelby Cobra and a 1974 Ferrari Dino 246 GTS • Digital catalog now available for download at auctionsamerica.com AUBURN, Indiana (February 27, 2013) – With the final countdown underway to its highly an...[Read more...]
1967 Can-Am Road America: The Beginning of the 'Bruce and Denny Show'
While Formula One will be forever considered the pinnacle of motorsport, from a period between 1966 and 1986 there existed a series that would likely be the closest to 'anything goes' as any motor racing series could truly get. Based upon the FIA Group 7 cars but allowed to showcase unlimited engine sizes and unfettered aerodynamics, the Can-Am cars would have to be considered the pinnacle of motorsport technology and power of their era. And for more than a couple of years there would be one tea...[Read more...]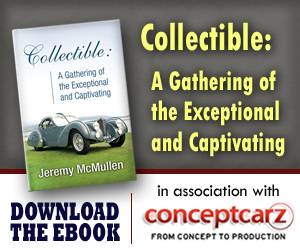 Similarly Priced Vehicles from 1968
Dodge Charger ($3,015-$3,475)
Pontiac Firebird ($2,785-$3,000)
Chevrolet Chevelle Series ($2,340-$3,100)
Chevrolet Impala Series ($2,660-$3,355)
Mercury Cougar ($2,930-$3,230)
Dodge Coronet ($2,460-$3,610)

Average Auction Sale: $52,089
© 1998-2014. All rights reserved. The material may not be published, broadcast, rewritten, or redistributed.