1949 Healey Silverstone news, pictures, specifications, and information

Tweet
Roadster
Chassis Num: D13
Engine Num: 83698

Sold for $134,250 at 2012 Bonhams.

In 1945, Donald Healey Motor Company Ltd completed its first car. A year later they entered into full-time production with a 2.4-liter Riley-powered sports saloon with welded-up chassis and Healey's trailing arm independent front suspension. The Silverstone model was suitable for both Road and Track. Designed by Len Hodges, the lightweight two-seater body was crafted in aluminum. The saloon's engine and basic underpinnings were used, though it was given a shorter frame, stiffer springing and a front anti-roll bar. Another feature was the spare wheel positioned in the tail, thus doubling as a bumper.

The Silverstone model proved itself in competition; Donald himself, together with co-driver Ian Appleyard, secured a class win in the 1949 Alpine Rally. Other international successes include Peter Riley and Bill Lamb's class win the 1951 Liege-Rome-Liege Rally; Peter Simpson's 6th place overall in the 1951 Isle of Man Manx Cup Races; and Edgar Wadsworth and Cyril Corbishley's victory in the 1951 Coupe des Alpes.

Famous American millionaire racing driver, Briggs Cunningham, purchased two Silverstones. One example was standard and the other was a rolling chassis. After modifying the chassis the car was fitted with a Cadillac overhead-valve V8 engine and raced successfully in the USA for several years. In total, 104 Healey Silverstones were built between 1949 and 1951.

The first owner of this particular Silverston was Mr. G. Weldon who purchased the car in 1950. it was first registered as KOE 451. Mr. Lewis is believed to have raced this car at the Sivlerstone circuit in a National race on June 27th of 1953, finishing fifth overall. It is believed he may have raced the car on several other occasions.

The ownership history from 1953 to 1970 is not fully known. The next recorded owner was a Mr. Timothy J. Laughton of Stratford-Upon-Avon. In 1985 the car passed to well-known collector and dealer Nigel Dawes of Birtsmorton Court, Worcestershire and thereafter into the current ownership in the United States.

The car is painted in dark blue and is generally in good order.

In 2012, this car was offered for sale at the Quail Lodge Sale presented by Bonhams. As bidding came to a close, the car had been sold for the sum of $134,250 including buyer's premium.
By Daniel Vaughan | Oct 2012
The Healey Silverstone was produced from 1949 through 1950, during that time, 105 examples were produced. These cars were built before the 'Nash-Healey' and 'Austin-Healey' by a number of years.

These hand built, two-seater, machines were designed to be light, quick, and agile. The vehicle featured a twin high-camshaft Riley 2.5-litre engine, capable of producing 104 horsepower.
Riley transmission and rear axle also accompanied the 'sporty' little British vehicle.

The spare tire was mounted horizontally in the rear of the vehicle. It served a duel purpose; it was the bumper for the vehicle. The front of the vehicle was void of a bumper.

The Silverstone's were a two-seater with little luggage space. Since they were hand-built, they were expensive. This made the vehicle suitable for only one purpose: motor-sports. The vehicle weight 2,050 pounds thanks to its aluminum body. The chassis was a simple, box-section, design featuring an independent front suspension and beam-axle in the rear. The Silverstone could achieve a top speed of around 105 miles-per-hour.

Due to their limited production these vehicles are very rare and desirable.
By Daniel Vaughan | Sep 2008
DODGE BRAND OFFERS 'DOUBLE-UP' PROGRAM ON 2014 DODGE CHARGER AND CHALLENGER
◾Get a 2014 Charger or Challenger now; trade to a 2015 Charger or Challenger and keep the same payment ◾Innovative, industry-exclusive lease program offered through end of August 2014 ◾No additional down payment required on eligible 2015 models ◾Flexibility to choose a Charger or Challenger now and switch to the other model later ◾Augmented reality App coming in May; experience 2015 Charger and Challenger on tablets and mobile devices April 14, 2014 , Auburn Hills, Mich. - New 201...[Read more...]
A WHOLE NEW BALL GAME (TECHNICAL CHANGES)
MILTON KEYNES, UK – New season, new rules, new cars – so what's new about that? Every year the technical regulations governing F1 are rewritten, and every year the cars produced to those regulations are different to the cars that have gone before – so why the hulabaloo about 2014? Simply put, the changes between the 2013 and 2014 specifications are massive. It's not just a tweak to the regs; it's the start of an entirely new era. Of the thousands of parts that go into making a Formula ...[Read more...]
POPULAR JEEP® ALTITUDE MODELS RETURN FOR 2014
◾2014 Jeep Cherokee, Grand Cherokee and Wrangler debut special-edition Altitude models ◾New Jeep Altitude models feature unique 'blacked out' exteriors with distinct, aggressive flair ◾Available for first time on Cherokee, and returning for Grand Cherokee and Wrangler, the new models join the 2014 Jeep Compass and Patriot Altitude models that are in dealerships now ◾New special-edition Altitude models to arrive in Jeep showrooms this spring January 22, 2014 , Houston - New special-e...[Read more...]
2014 MITSUBISHI LANCER: OUTSTANDING COMPACT SPORTS SEDAN VALUE
Looking for a compact sports sedan that's easy on the wallet? Want an affordably-priced 4-door offering high-performance, a turbocharged engine and all-wheel drive? Mitsubishi Motors has the answer with a choice of four unique 2014 Lancer models to choose from. What's more, each of these available 2014 Lancer models – from the well-equipped entry-level Lancer ES, to the bargain-priced Lancer SE AWC with the company's famed electronically-controlled All-Wheel Control all-wheel drive system, to...[Read more...]
2014 MITSUBISHI LANCER SPORTBACK: NUMEROUS NEW FEATURES/UPGRADES FOR THIS UNIQUE AND SPORTY 5-DOOR
Mitsubishi Motors' utterly unique Lancer Sportback rings in the new model year with a plethora of new features and upgrades for this roomy (up to 52.7 cubic feet of available cargo space) and fun-to-drive diamond star-badged 5-door. New features and upgrades for the 2014 Mitsubishi Lancer Sportback include: ◾New audio system (Sportback ES) ◾New 6.1-in. touchscreen display audio system (Sportback GT) ◾New HD Radio® (Sportback GT) ◾New SIRIUSXM® satellite radio with 3-month pre-paid subscrip...[Read more...]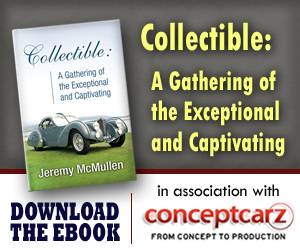 © 1998-2014. All rights reserved. The material may not be published, broadcast, rewritten, or redistributed.