1949 Healey Silverstone news, pictures, specifications, and information

Tweet
Roadster
Chassis Num: D13
Engine Num: 83698

Sold for $134,250 at 2012 Bonhams.

In 1945, Donald Healey Motor Company Ltd completed its first car. A year later they entered into full-time production with a 2.4-liter Riley-powered sports saloon with welded-up chassis and Healey's trailing arm independent front suspension. The Silverstone model was suitable for both Road and Track. Designed by Len Hodges, the lightweight two-seater body was crafted in aluminum. The saloon's engine and basic underpinnings were used, though it was given a shorter frame, stiffer springing and a front anti-roll bar. Another feature was the spare wheel positioned in the tail, thus doubling as a bumper.

The Silverstone model proved itself in competition; Donald himself, together with co-driver Ian Appleyard, secured a class win in the 1949 Alpine Rally. Other international successes include Peter Riley and Bill Lamb's class win the 1951 Liege-Rome-Liege Rally; Peter Simpson's 6th place overall in the 1951 Isle of Man Manx Cup Races; and Edgar Wadsworth and Cyril Corbishley's victory in the 1951 Coupe des Alpes.

Famous American millionaire racing driver, Briggs Cunningham, purchased two Silverstones. One example was standard and the other was a rolling chassis. After modifying the chassis the car was fitted with a Cadillac overhead-valve V8 engine and raced successfully in the USA for several years. In total, 104 Healey Silverstones were built between 1949 and 1951.

The first owner of this particular Silverston was Mr. G. Weldon who purchased the car in 1950. it was first registered as KOE 451. Mr. Lewis is believed to have raced this car at the Sivlerstone circuit in a National race on June 27th of 1953, finishing fifth overall. It is believed he may have raced the car on several other occasions.

The ownership history from 1953 to 1970 is not fully known. The next recorded owner was a Mr. Timothy J. Laughton of Stratford-Upon-Avon. In 1985 the car passed to well-known collector and dealer Nigel Dawes of Birtsmorton Court, Worcestershire and thereafter into the current ownership in the United States.

The car is painted in dark blue and is generally in good order.

In 2012, this car was offered for sale at the Quail Lodge Sale presented by Bonhams. As bidding came to a close, the car had been sold for the sum of $134,250 including buyer's premium.
By Daniel Vaughan | Oct 2012
In the 1930s, Donald Healey was technical director at Triumph. Following World War II, he set-up a new company in Warwick, England bearing his name. The Silverstone, named after the famed racing circuit, was a dual-purpose road and race car. Powered by a 2443cc / 104 horsepower Riley four-cylinder engine, it weighs less than 2,000 pounds, making it an excellent and reliable performer with a top speed in excess of 100 mph. Production ended when the chassis became the basis for the Nash-Healey.

This example is the third of 105 produced between 1949 and 1951 and was first sold to Captain Francis Robinson of Newport, Rhode Island. It was purchased from his estate by Ernie Moore, of Fall River, Massachusetts, who then owned the car for 36 years. The current owner is just the third owner with the car remaining in its original unrestored condition. Bearing chassis number D-3, the Healey has just 28,000 miles from new. Interestingly, it is signed by both Donald Healey and Gerry Coker, the designers of the car.
The Healey Silverstone was produced from 1949 through 1950, during that time, 105 examples were produced. These cars were built before the 'Nash-Healey' and 'Austin-Healey' by a number of years.

These hand built, two-seater, machines were designed to be light, quick, and agile. The vehicle featured a twin high-camshaft Riley 2.5-litre engine, capable of producing 104 horsepower.
Riley transmission and rear axle also accompanied the 'sporty' little British vehicle.

The spare tire was mounted horizontally in the rear of the vehicle. It served a duel purpose; it was the bumper for the vehicle. The front of the vehicle was void of a bumper.

The Silverstone's were a two-seater with little luggage space. Since they were hand-built, they were expensive. This made the vehicle suitable for only one purpose: motor-sports. The vehicle weight 2,050 pounds thanks to its aluminum body. The chassis was a simple, box-section, design featuring an independent front suspension and beam-axle in the rear. The Silverstone could achieve a top speed of around 105 miles-per-hour.

Due to their limited production these vehicles are very rare and desirable.
By Daniel Vaughan | Sep 2008
2014 Mitsubishi Outlander Named to Kelley Blue Book's KBB.com '10 Most Affordable 3-Row Vehicles' List
7-passenger SUV/crossover has a starting MSRP of $22,995 Cypress, California, May 27, 2014 – Mitsubishi Motors North America, Inc. (MMNA) has announced that its stylish and fuel-efficient all-new 2014 Outlander 7-passenger crossover/SUV was named to Kelley Blue Book's KBB.com'10 Most Affordable 3-Row Vehicles' list. 'Outlander is full of safety and convenience features not normally associated with a vehicle at this price point,' states Don Swearingen, executive vice president M...[Read more...]
2015 ACURA TLX TO DEBUT AT THE 2014 NEW YORK INTERNATIONAL AUTO SHOW
TORRANCE, Calif. 03/19/2014 -- The production Acura TLX performance-luxury sedan will make its world debut at the 2014 New York International Auto Show. Designed to compete in the midsize luxury segment, the 2015 Acura TLX will deliver higher levels of luxury refinement and sports-sedan athleticism with exhilarating performance enhanced by next-generation Acura powertrain and dynamic-handling technologies. The 2015 TLX will offer two advanced new powertrains – a 2.4-liter 16-valve, dir...[Read more...]
CHRYSLER GROUP CONFIRMS INVESTMENTS TOTALING $1.249 BILLION IN TWO SALTILLO, MEXICO, FACILITIES
◾President Peña joins Chrysler Group CEO for plant dedication event ◾New plant constructed to assemble Ram ProMaster with investment of $1.085 billion ◾More than 1,100 employed at new plant ◾Promaster only truck of its kind to be produced in Mexico ◾Company to invest $164 million to add production of Tigershark engine at North Engine Plant ◾Engine investment will create 470 new jobs October 10, 2013 , Saltillo, Coahuila - Chrysler Group Chairman and CEO Sergio Marchionne confirmed...[Read more...]
2013 HYUNDAI SANTA FE SPORT NAMED ONE OF WARD'S 10 BEST INTERIORS
The all-new 2013 Hyundai Santa Fe Sport's upscale and highly-functional interior was acknowledged by the editors of WardsAuto, which named it to this year's Ward's 10 Best Interiors list. This recognition follows the 2012 Accent and 2012 Azera being named to the list last year. 'The latest version of the Hyundai Santa Fe Sport is the essence of a midsize family CUV: well-crafted, tastefully appointed and affordable, despite a decidedly upscale look and feel,' said Tom Murphy, executive editor...[Read more...]
World's Rarest Muscle Car to Join a Spectacular Show Field at the 2nd Annual Concours d'Elegance of Texas
Houston, Texas. April 1, 2012. Organizers of the 2nd annual Concours d'Elegance of Texas have confirmed that the world's rarest muscle car, the only big block GT convertible ever built by Shelby American Inc., will be part of this year's spectacular show field on Sunday, May 5 at La Torretta Lake Resort & Spa. The 1967 Shelby GT500 Convertible was originally assigned to Carroll Shelby, the most expensive GT500 in Shelby American's company car inventory and the only Shelby GT Convertible f...[Read more...]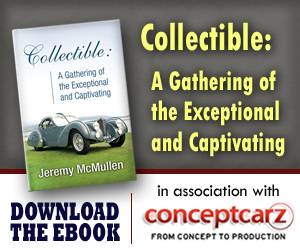 © 1998-2014. All rights reserved. The material may not be published, broadcast, rewritten, or redistributed.