1954 Austin-Healey 100-4 BN1 news, pictures, specifications, and information

Tweet
| | |
| --- | --- |
| | Sport Roadster |
The Austin-Healey marque was the combination of Donald Healey and Austin Motorworks. Designed by Gerry Coker, the 100 was first introduced in 1952 at the Earls Court Motor Show.

Production of the BN-1 began in 1953. The 100 series included the BN-1, BN-2, 100-M and 100-S, and finally the 100-6. They were built through 1956 and were named 100s because that was their top speed. The difference between the BN-1 and the BN-2 was a four-speed/overdrive gearbox in lieu of the three-speed/overdrive on the earlier cars. Both were equipped with a 2.6-liter four-cylinder engine. The list price for the 1954 Austin-Healey was $2,995 and proved so popular that 10,000 BN-1 units were produced while on 4,500 BN-2 units were developed.

This BN-1 was largely intact prior to restoration and features the original convertible top, window plastic, Lucas electronics, tools and books.
Leonard Lord, head of the mighty BMC, needed a new car to compete with Triumph and Jaguars for a slice of the American economic pie. When the star of the show aired it carried a nameplate of 'Healey Hundred.' Less than 24 hours later it was called 'Austin-Healey'.

The base car, without accessories cost $2,990 in 1953. It has a 2.5 liter four-cylinder engine using dual carburetors and overdrive transmission, delivering 100 MPH and 30 MPG of gasoline.

Rare factory options include: folding windscreen, 140 MPH speedometer, oil temperature gauge, 3.667 axle ratio for high speed courses of LeMans, and a hardtop.
| | |
| --- | --- |
| | Sport Roadster |
A stock model of this English car, taken directly from a showroom and unmodified, set numerous speed and endurance records at the Bonneville Salt Flats in 1953. This was an achievement for this smaller car of streamlined design.
Sport Roadster
Chassis Num: BNW-L/228083
Engine Num: 1B/228083

The Healey 100 was introduced at the 1953 International Motor Sports Show in New York. It was built at Austin's factory and soon became the Austin-Healey BN1. It had an aggressively styled silhouette, tilt-back windshield, and knock-off wire wheels. The Healey 100/4 weighed 2,015 lbs and sold for $2,995. Between 1953 and 1955, the company produced 10,688 examples, with more than half being sent to the United States.

Powering the Healey 100/4 was the 2660cc, four-cylinder engine from the Austin Atlantic. The powerplant produced 90 horsepower and gave the Austin-Healey a top speed of 110 mph, and a zero-to-sixty time of just 10.5 seconds. The BN1 had a three-speed gearbox with overdrive on the top two gears, which was replaced by a four-speed gearbox in 1955's BN2.

In late 1955, the factory introduced its 100 M model, with an additional 20 horsepower. The zero-to-sixty time now took just 9.6 seconds and the top speed rose to 120 mph. Performance was boosted by a higher 8:1 compression ratio, bigger SU carburetors, improved manifolds, and high-lift camshafts. The front springs were stiffer and an anti-roll bar was added. The louvered hood was given leather straps, completing its signature and sporty appearance.

A total of 1,159 examples of the 100 Ms are estimated to have been built, with 640 being factory built, all of them BN2 models. Other 100/4 BN2s were equipped with the dealer-installed Le Mans package which had a 100 horsepower engine, and contained exactly the same equipment as the factory cars except for the factory high-compression pistons.

This 100/4 BN2 Le Mans model was built on August 23rd of 1955. It was shipped from Longbridge, England, to the Hambro Trading Company, which managed US Austin distribution through selected dealerships. The car has had just a few owners, two of those being long-term owners. The original buyer in Minnesota kept the care for 3 decades before selling it to Thomas Bunch in 1987. Mr Bunch retained the car for 25 years, repainting it in its original Carmine red, and changing the interior from black to tan.

This BN2 Le Mans was purchased by BMC Classics in New Smyrna Beach, Florida in 2012, and the company undertook an 18-month, frame-up restoration. During which the BN2 was acquired by the current caretaker. The restoration was completed in January of 214 and has covered less than 300 miles since that time.
By Daniel Vaughan | Apr 2014
The Austin Healey 100 was introduced in October of 1952 at the Earls Court Motor Show. The first Austin Healey 100's were known as 100-4 or BN1. The name 100 came-about by being able to break the 100 mph barrier. The BN also had meaning. The B represented the engine class which meant it had between 2000 and 3000 cc. The N represented the body-style configuration, two-seat and open-top. The 100 was powered by a A90, 2660 cc, four-cylinder engine capable of producing 94 horsepower. The manual three-speed transmission was also borrowed from the A90. However, the first gear was blocked off and was fitted with overdrive on the second and third gears to provide extra power.
The name 'Austin Healey' was formed by a partnership comprising of the designer, Donald Mitchell Healey, and the manufacturer, Austin.

During its total production cycle, 10,688 examples of the BN1 were produced.

In October of 1955, the BN2 was introduced. The BN2 was similar to the BN1 in design but now featured larger drum brakes and a new four-speed transmission with overdrive.

During its production run, 3,924 examples of the BN2 were produced.

The Austin Healey 100S was produced in limited numbers, only 55. Their primary purpose was for competing in racing and rally events as well as for development and marketing purposes. They were entered into races such as Sebring, Mille Miglia, and Le Mans. They were copies of special factory test car that Stirling Moss raced in the 1954 12-hour Sebring race where he placed third. The 100S's were produced at the Healey Warwick factory and most were decorated with the American racing colors, white and blue. Of the 55 that were built, only 10 remain unaccounted for. The 100S, when compared with the 100, featured Dunlop disc brakes on all four wheels, different cylinder head and internal engine modifications, four-speed gearbox without overdrive, and a light-alloy body shell.

The 100S was followed by the 100M. The 100M was a Le Mans variation of the BN2 with an increased horsepower rating of 100-110. It featured bigger carburetors and modified distributor. Valve springs and anti-roll bars were added to the suspension. During its production run, 1100 of the Le Mans BN2's were produced.

Over time, about 100 BN2 were later modified but in order to qualify for the Le Mans configuration the vehicles needed to meet specific standards. These standards included a 1.75 inch H6, SU carburetors, cold air box and air tube, Le Mans regulation strap and a factory style louvered hood.

The four cylinder engine was used from 1952 through 1956, after which a BMC six-cylinder engine was used. The car was dubbed the '100 Six'. Three years and a few engine modifications later, the car was named the '3000' and today is known as the 'Big Healey'. Over the production lifespan of the 3000, it could be assembled with multiple options such as a two-seater or 2+2, hard-tops, single or duo-tone paint schemes, overdrive, and more.

In 1962 the body was redesigned with a curved screen and wind up windows. The interior of the vehicle was revamped in 1964 and also received more ground clearance.

The 3000 was produced from 1959 through 1968. The original engine produced 124 horsepower and was capable of about 114 mph. Modifications to the engine throughout the years increased the horsepower to around 148 and the top speed to 121 mph. The size of the car, the power of the engine, and weighing in at around 2400 lbs made this car responsive, competitive and fun to drive.

In all, there were around 73,000 100's and 3000's produced with 58,000 featuring the six-cylinder engine.
By Daniel Vaughan | Mar 2006
For more information and related vehicles, click
here
OLSBERGS MSE FIGHTS HARD IN CANADA; WORLD RX MAKES FIRST VISIT TO NORTH AMERICA
TROIS-RIVIÈRES, Canada (August 9, 2014) - The Olsbergs MSE Ford Fiesta ST rallycross cars earned a host of new fans this weekend as the team joined World RX for its first-ever North American stop at the Grand Prix of Trois-Rivières in Quebec. Olsbergs MSE fielded three Ford Supercars at the race on Friday, with World RX drivers Reinis Nitiss and Andreas Bakkerud joined in competition by guest driver Joni Wiman in his Red Bull/Bluebeam Ford Fiesta ST. It was the World RX debut for the F...[Read more...]
Automobiles with Exceptional Provenance Highlight Gooding & Company's Pebble Beach Auctions
SANTA MONICA, Calif. (July 10, 2014) – Gooding & Company, celebrated for its world-class automotive auctions and record-breaking results, will begin its second decade as the official auction house of the Pebble Beach Concours d'Elegance® on August 17 and 18. Gooding & Company is pleased to share a hand selected group of consignments from our Pebble Beach Auctions with exceptional provenance. Exciting entries include an extremely rare 1939 Alfa Romeo Tipo 256 Cabriolet with spectacular one...[Read more...]
Historic Horsepower Reigns at The Elegance at Hershey
Hershey, PA (April 16, 2014) – The Elegance at Hershey, known for its garden-party setting showcasing some of the world's rarest and most beautiful cars ever produced, will once again feature a stunning array of vintage high-performance and highly-collectible automobiles. These machines, ranging from a 1907 Renault Runabout to late 1960s Ferraris as well as other exotica, will be displayed on the manicured lawn of the majestic Hotel Hershey on June 15. While the Indiana-based car compa...[Read more...]
Chevy Performance Rolls with Hot Rod Magazine Power Tour
Weeklong drive kicks off with unprecedented access to GM's Milford Proving Ground Road trip! It's that time of year again for the annual automotive pilgrimage known as the Hot Rod Magazine Power Tour® and Chevrolet Performance helps get it started on Saturday, June 2, at General Motors' Milford Proving Ground. The Power Tour winds up in Arlington, Texas, on June 9. With more than 3,000 hot rods, muscle cars, classic trucks and late-model performance vehicles and approximately 12,00...[Read more...]
Auctions America By RM's 2012 Auburn Spring Auction
'Variety' is the buzzword for this year's Auctions America by RM June 1-3 Auburn Spring auction, which will offer a huge range of collector vehicles and an enormous private collection of automotive memorabilia. More than 600 American muscle cars, Classics, foreign sports cars and hot rods will cross the block at the historic Auburn Auction Park, the company's national headquarters in Auburn, Indiana. 'Last year was our first spring event at the park,' said Auctions America by RM's President ...[Read more...]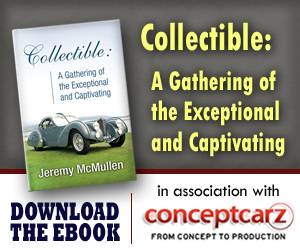 © 1998-2014. All rights reserved. The material may not be published, broadcast, rewritten, or redistributed.