1954 Austin-Healey 100-4 BN1 news, pictures, specifications, and information

Tweet
| | |
| --- | --- |
| | Sport Roadster |
The Austin-Healey marque was the combination of Donald Healey and Austin Motorworks. Designed by Gerry Coker, the 100 was first introduced in 1952 at the Earls Court Motor Show.

Production of the BN-1 began in 1953. The 100 series included the BN-1, BN-2, 100-M and 100-S, and finally the 100-6. They were built through 1956 and were named 100s because that was their top speed. The difference between the BN-1 and the BN-2 was a four-speed/overdrive gearbox in lieu of the three-speed/overdrive on the earlier cars. Both were equipped with a 2.6-liter four-cylinder engine. The list price for the 1954 Austin-Healey was $2,995 and proved so popular that 10,000 BN-1 units were produced while on 4,500 BN-2 units were developed.

This BN-1 was largely intact prior to restoration and features the original convertible top, window plastic, Lucas electronics, tools and books.
Leonard Lord, head of the mighty BMC, needed a new car to compete with Triumph and Jaguars for a slice of the American economic pie. When the star of the show aired it carried a nameplate of 'Healey Hundred.' Less than 24 hours later it was called 'Austin-Healey'.

The base car, without accessories cost $2,990 in 1953. It has a 2.5 liter four-cylinder engine using dual carburetors and overdrive transmission, delivering 100 MPH and 30 MPG of gasoline.

Rare factory options include: folding windscreen, 140 MPH speedometer, oil temperature gauge, 3.667 axle ratio for high speed courses of LeMans, and a hardtop.
| | |
| --- | --- |
| | Sport Roadster |
A stock model of this English car, taken directly from a showroom and unmodified, set numerous speed and endurance records at the Bonneville Salt Flats in 1953. This was an achievement for this smaller car of streamlined design.
The Austin Healey 100 was introduced in October of 1952 at the Earls Court Motor Show. The first Austin Healey 100's were known as 100-4 or BN1. The name 100 came-about by being able to break the 100 mph barrier. The BN also had meaning. The B represented the engine class which meant it had between 2000 and 3000 cc. The N represented the body-style configuration, two-seat and open-top. The 100 was powered by a A90, 2660 cc, four-cylinder engine capable of producing 94 horsepower. The manual three-speed transmission was also borrowed from the A90. However, the first gear was blocked off and was fitted with overdrive on the second and third gears to provide extra power.
The name 'Austin Healey' was formed by a partnership comprising of the designer, Donald Mitchell Healey, and the manufacturer, Austin.

During its total production cycle, 10,688 examples of the BN1 were produced.

In October of 1955, the BN2 was introduced. The BN2 was similar to the BN1 in design but now featured larger drum brakes and a new four-speed transmission with overdrive.

During its production run, 3,924 examples of the BN2 were produced.

The Austin Healey 100S was produced in limited numbers, only 55. Their primary purpose was for competing in racing and rally events as well as for development and marketing purposes. They were entered into races such as Sebring, Mille Miglia, and Le Mans. They were copies of special factory test car that Stirling Moss raced in the 1954 12-hour Sebring race where he placed third. The 100S's were produced at the Healey Warwick factory and most were decorated with the American racing colors, white and blue. Of the 55 that were built, only 10 remain unaccounted for. The 100S, when compared with the 100, featured Dunlop disc brakes on all four wheels, different cylinder head and internal engine modifications, four-speed gearbox without overdrive, and a light-alloy body shell.

The 100S was followed by the 100M. The 100M was a Le Mans variation of the BN2 with an increased horsepower rating of 100-110. It featured bigger carburetors and modified distributor. Valve springs and anti-roll bars were added to the suspension. During its production run, 1100 of the Le Mans BN2's were produced.

Over time, about 100 BN2 were later modified but in order to qualify for the Le Mans configuration the vehicles needed to meet specific standards. These standards included a 1.75 inch H6, SU carburetors, cold air box and air tube, Le Mans regulation strap and a factory style louvered hood.

The four cylinder engine was used from 1952 through 1956, after which a BMC six-cylinder engine was used. The car was dubbed the '100 Six'. Three years and a few engine modifications later, the car was named the '3000' and today is known as the 'Big Healey'. Over the production lifespan of the 3000, it could be assembled with multiple options such as a two-seater or 2+2, hard-tops, single or duo-tone paint schemes, overdrive, and more.

In 1962 the body was redesigned with a curved screen and wind up windows. The interior of the vehicle was revamped in 1964 and also received more ground clearance.

The 3000 was produced from 1959 through 1968. The original engine produced 124 horsepower and was capable of about 114 mph. Modifications to the engine throughout the years increased the horsepower to around 148 and the top speed to 121 mph. The size of the car, the power of the engine, and weighing in at around 2400 lbs made this car responsive, competitive and fun to drive.

In all, there were around 73,000 100's and 3000's produced with 58,000 featuring the six-cylinder engine.
By Daniel Vaughan | Mar 2006
For more information and related vehicles, click
here
Aston Martin Celebrates Its Centenary At The Goodwood Revival
Aston Martin continues its year-long centenary party in the appropriately historic surroundings of The Goodwood Revival this weekend. The luxury British sports car maker is a main sponsor of this year's meeting at the famous old English race circuit where examples of some of Aston Martin's rarest and most highly-prized sports cars of the revival period – 1948-1966 – will be on show, and in action. Among the cars set to do battle on the West Sussex track include a brace of DBR1s, numerous...[Read more...]
BRITAIN'S RACING LORD AIMS TO RAISE SUB-1000 KG ELECTRIC CAR WORLD LAND SPEED RECORD AT BONNEVILLE SPEED SHOOTOUT
10 September 2013 : Technology entrepreneur, former UK science minister and racing driver Lord (Paul) Drayson is bringing his spectacular Drayson B12 69/EV electric Le Mans Prototype racing car to the Bonneville Salt Flats in Utah in an attempt to raise the sub-1000kg electric car world land speed record. Drayson Racing achieved a 204.2mph average speed (subject to FIA homologation) over the measured mile earlier this summer at Elvington Airfield in Yorkshire, UK, and is aiming to go e...[Read more...]
Bonhams smashes multiple world records at $32.7 million Quail Lodge motorcar auction
Bonhams 16th annual Carmel automotive auction – the longest running sale during the Monterey Peninsula Car Week – was a resounding success with a nearly 90 per cent sale-through rate and nearly $33 million realized. The Bonhams pavilion, situated on the spacious western lawns of Quail Lodge in sunny Carmel Valley, hosted an incredibly busy viewing in a lovely garden party atmosphere. Buyers from around the world came to view some of the rarest and most important cars ever offered, which resul...[Read more...]
VOLKSWAGEN DELIVERS OVER 41,000 VEHICLES IN AUGUST, REPORTS A 62.5% SALES INCREASE VS. PRIOR YEAR
•Sales momentum supported by improved Total Quality rankings and continued U.S. investments •62.5 percent increase marks the best August since 1973 with 41,011 units sold •Best year-to-date sales since 1973, a 37.6 percent increase •Best August ever for Passat and Tiguan with 10,090 and 2,746 units sold respectively •Jetta Sedan achieved sales of 13,377 units, best August since 2002 •High-mileage, clean diesel TDI models account for 21.4 percent of sales in August. Herndon, VA (S...[Read more...]
Auctions America By RM's 2012 Auburn Spring Auction
'Variety' is the buzzword for this year's Auctions America by RM June 1-3 Auburn Spring auction, which will offer a huge range of collector vehicles and an enormous private collection of automotive memorabilia. More than 600 American muscle cars, Classics, foreign sports cars and hot rods will cross the block at the historic Auburn Auction Park, the company's national headquarters in Auburn, Indiana. 'Last year was our first spring event at the park,' said Auctions America by RM's President ...[Read more...]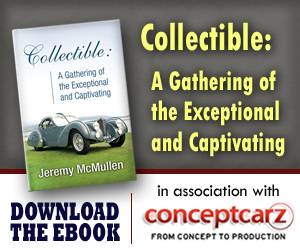 © 1998-2014. All rights reserved. The material may not be published, broadcast, rewritten, or redistributed.