1959 Austin-Healey 100-6 news, pictures, specifications, and information

Tweet
It is believed that just 329 examples of the 100-Six two-seater BN6 produced in 1959. This vehicle was given a cosmetic restoration in 1989 that included a paint re-spray, new correct Connolly leather upholstery, fresh carpeting and a new convertible top and tonneau. It is one of the later variants equipped with the more powerful six-port engine head. It includes a number of authentic accessories, including its original side curtains and their stowage bag, rare original AMCO white rubber floor mats and a factory hardtop. The car is finished in its original color scheme of Healey Blue over Ivory White.

In 2011, the car was offered for sale at the Gooding & Company auction in Scottsdale, Arizona. It was expected to sell for $75,000 - $90,000. As bidding came to a close, the car was sold for the sum of $46,200 inclusive of buyer's premium.
By Daniel Vaughan | Feb 2011
The Austin Healey 100 was introduced in October of 1952 at the Earls Court Motor Show. The first Austin Healey 100's were known as 100-4 or BN1. The name 100 came-about by being able to break the 100 mph barrier. The BN also had meaning. The B represented the engine class which meant it had between 2000 and 3000 cc. The N represented the body-style configuration, two-seat and open-top. The 100 was powered by a A90, 2660 cc, four-cylinder engine capable of producing 94 horsepower. The manual three-speed transmission was also borrowed from the A90. However, the first gear was blocked off and was fitted with overdrive on the second and third gears to provide extra power.
The name 'Austin Healey' was formed by a partnership comprising of the designer, Donald Mitchell Healey, and the manufacturer, Austin.

During its total production cycle, 10,688 examples of the BN1 were produced.

In October of 1955, the BN2 was introduced. The BN2 was similar to the BN1 in design but now featured larger drum brakes and a new four-speed transmission with overdrive.

During its production run, 3,924 examples of the BN2 were produced.

The Austin Healey 100S was produced in limited numbers, only 55. Their primary purpose was for competing in racing and rally events as well as for development and marketing purposes. They were entered into races such as Sebring, Mille Miglia, and Le Mans. They were copies of special factory test car that Stirling Moss raced in the 1954 12-hour Sebring race where he placed third. The 100S's were produced at the Healey Warwick factory and most were decorated with the American racing colors, white and blue. Of the 55 that were built, only 10 remain unaccounted for. The 100S, when compared with the 100, featured Dunlop disc brakes on all four wheels, different cylinder head and internal engine modifications, four-speed gearbox without overdrive, and a light-alloy body shell.

The 100S was followed by the 100M. The 100M was a Le Mans variation of the BN2 with an increased horsepower rating of 100-110. It featured bigger carburetors and modified distributor. Valve springs and anti-roll bars were added to the suspension. During its production run, 1100 of the Le Mans BN2's were produced.

Over time, about 100 BN2 were later modified but in order to qualify for the Le Mans configuration the vehicles needed to meet specific standards. These standards included a 1.75 inch H6, SU carburetors, cold air box and air tube, Le Mans regulation strap and a factory style louvered hood.

The four cylinder engine was used from 1952 through 1956, after which a BMC six-cylinder engine was used. The car was dubbed the '100 Six'. Three years and a few engine modifications later, the car was named the '3000' and today is known as the 'Big Healey'. Over the production lifespan of the 3000, it could be assembled with multiple options such as a two-seater or 2+2, hard-tops, single or duo-tone paint schemes, overdrive, and more.

In 1962 the body was redesigned with a curved screen and wind up windows. The interior of the vehicle was revamped in 1964 and also received more ground clearance.

The 3000 was produced from 1959 through 1968. The original engine produced 124 horsepower and was capable of about 114 mph. Modifications to the engine throughout the years increased the horsepower to around 148 and the top speed to 121 mph. The size of the car, the power of the engine, and weighing in at around 2400 lbs made this car responsive, competitive and fun to drive.

In all, there were around 73,000 100's and 3000's produced with 58,000 featuring the six-cylinder engine.
By Daniel Vaughan | Mar 2006
FIRST RETAIL UNIT 2015 FORD MUSTANG GT FASTBACK SELLS FOR $300,000 AT BARRETT-JACKSON AUCTION IN SCOTTSDALE
◾The first retail unit 2015 Ford Mustang GT Fastback sold for $300,000 with proceeds benefiting JDRF, the leading diabetes research organization ◾With this sale, Ford has increased its JDRF charity car vehicle sales to more than $3.5 million ◾The winning bidder will personalize their new car with available 2015 Mustang GT options ◾Shelby GT500-inspired, 1956 Ford F-100 pulled in $450,000 for the Children's Hospital of Saskatchewan in Canada. KISS bassist and Rock and Roll Hall of Fame inducte...[Read more...]
Car Expert Hans Wurl Joins Gooding & Company's Team of Classic Automobile Specialists
SANTA MONICA, Calif. (December 9, 2013) – Gooding & Company, the official auction house of the Pebble Beach Concours d'Elegance®, is expanding its existing team with the addition of Hans Wurl, a well-known classic car specialist with a strong technical background. Wurl has served as advisor to noted collectors and participated in some of the best collector car events around the world. Based in Seattle, Wurl joins Gooding & Company's team of respected automotive specialists David Brynan,...[Read more...]
Barrett-Jackson Generates More Than $21 Million In Sales At 11th Annual Palm Beach Auction
The World's Greatest Collector Car Auctions™ Attracts Nearly 55,000 Attendees Despite Weather Concerns, Reports Strong Sales Signifying that Collector Car Market is on Steady Incline •More than $21 million in gross sales – An increase over 2012 sales •Nearly 55,000 car fans in attendance •More than $1.8 million raised for charity Scottsdale, Ariz. – (April 9, 2013) – Barrett-Jackson, The World's Greatest Collector Car Auctions™, announced today that it generated more than $21 millio...[Read more...]
Akerson's 1958 Vette Going On Block For Habitat For Humanity
A new home for a classic American car will soon help pave the way for several new homes for families throughout metro Detroit. General Motors Chairman and CEO Dan Akerson's personal 1958 Chevrolet Corvette will be auctioned off on Friday, Jan. 18, 2013 at 7:30 p.m. EST, by the famed Barrett-Jackson Auction Company in Scottsdale, Ariz. All proceeds will be donated by Akerson to Habitat for Humanity Detroit and its efforts to rebuild the Morningside Commons neighborhood located just east of G...[Read more...]
Ferrari Financial Services Signs on for Three Years as the Exclusive Financial Services Provider for Gooding & Company
Gooding & Company, the acclaimed auction house celebrated for selling the world's most significant and valuable collector cars, is pleased to announce that it has just signed an exclusive, three-year agreement with Ferrari Financial Services, the iconic brand's captive finance company. Ferrari Financial Services offers a personalized finance program designed to purchase or lease all types of Ferraris. The new agreement is an official continuation of Ferrari Financial Services' presence at Good...[Read more...]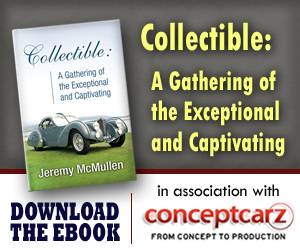 © 1998-2014. All rights reserved. The material may not be published, broadcast, rewritten, or redistributed.