1962 Volvo P1800 news, pictures, specifications, and information

Tweet
Volvo had established a reputation for building sturdy sedans by the early 1960's. They had been building such cars for many years, and they had proven themselves more than capable of surviving the rigorous Scandinavian climate of their Swedish hometown. Volvo had become known for building reliable, robust, and practical transportation. But, during an exciting era of car design, they were left without an arousing design to arrest public attention. No sports car. No grand tourer. Volvo had no model in their line-up to excite buyers.

All this changed in 1961 with the introduction of the P1800. Combining a sophisticated Italian design with tough Swedish mechanicals, this new Volvo revitalized the company's image. With reliability, comfort, and practicality, the P1800 was a Volvo through and through. It managed to have a personality all its own, though, and a character much more engaging than its drab siblings.

The P1800 was a 2+2 with two seats up front for adults and a couple of chairs for the kids in back. The Volvo had a fairly large trunk, which supplemented its additional seats and made the car surprisingly useable for an attractive sports car.

Mechanically, the P1800 was as staid as the other members of its family. Initially offered with a simple 1,778cc four cylinder with an average 100hp, it was no road burner. The engine did at least have the dual SU carbs obligatory in a European sports car. The motor was later enlarged to 1985cc, and fuel injection was added later in the model run.

The 'P1800' designation was only used on the first batch of Volvo's sports cars, which had their bodies produced by Jensen of England. After quality problems with Jensen, Volvo moved all P1800 production to Sweden and renamed the car the '1800S,' with the new letter standing for 'Sweden.' When fuel injection was added, the 'S' suffix was dropped in favor of an 'E,' and when a shooting brake variant was created for 1972 it was called the '1800ES.'

Though it was as quick as an MG or a Triumph in a straight line, the P1800 was more of a boulevard cruiser than a backroad hunter. Its rear drum brakes and live rear axle meant that the car handled and stopped more like a conventional sedan than a sports car.

The Volvo's size, though, suggested that it wasn't really a sports car at all. Instead, the P1800 was intended to be a grand touring machine: an automobile with style and panache capable of moving down the highway at a quick enough clip of speed, traveling toward some fashionable destination with a roomy trunk capable of swallowing a comfortable shopping spree. Looking at the car in that context, its no surprise that the Volvo was able to accomplish its mission and end up a strong seller.

As a stylish grand touring car, the Volvo proved its worth. It was supremely comfortable, with the pleasant interior and excellent seats found in so many Swedish cars, and it had a great design that was distinct and modern. The P1800's styling is often attributed to Pietro Frua of Italy, but in reality it was the young Pelle Petterson of Sweden who designed the car while working under Frua. The Volvo's combination of good looks and well-built mechanicals was a great combination that found many satisfied owners.

The car's only real downfall was no fault of its own. For as good of a vehicle as it was, the Volvo had some serious competition that it just couldn't match. Introduced the same year as the fabled Jaguar E-Type, the P1800 struggled in the shadow of the glitzy Jag that was only marginally more expensive. It enjoyed decent sales during its long production run, but was eventually outshone by more impressive competition and discontinued.

Sources Used:

Wilson, Quentin. The Ultimate Classic Car Book. First. London: Dorling Kindersley Limited, 1995.
By Evan Acuña
The Volvo P1800 is probably best remembered and known for the television show, 'The Saint' staring Roger Moore. During the entire production of the show, the Volvo Car Corporation supplied a total of five P1800 models. One of the vehicles was split apart so better interior shots could be ascertained. One of the P1800's was wrecked on accident in 1967. Some of the parts were salvaged by the production company and used to update one of the older P1800s.

Originally, a Jaguar XK-E was going to accompany Roger Moore on his adventures but when Jaguar did not respond to the production company requests for vehicles, Volvo gladly handed over their P1800's. A decision Jaguar would quickly regret due to the shows popularity. However, in 1970 'The Return of The Saint' featured a white Jaguar XJ-S.

The P1800 is a departure from the vehicles Volvo is known for making. The company reputation boasts safety, reliability, and large and boxy vehicle. The P1800, on the other hand, was a stylish, responsive, sports coupe.

Volvo had attempted a sports car model which they dubbed the P1900. It was short lived. After less than 70 examples were produced, production ceased due to financial decisions. Volvo then tasked Helmer Patterson to acquire designs from Italian firms. Four designs came from Italian firms and one from his son Pelle. The design that was chosen by Volvo was Pelle's design. Frua was tasked at building a prototype while Pelle assisted in the development.

The production of the vehicle was complicated. Volvo did not have the space required to manufacturer the vehicle so they contracted a British company named Pressed Steel Company to fabricate the bodies. Jensen, a factory located in England, was used to assemble the P1800's.

Fueled by the popularity of The Saint, the P1800 became widely successful. It carried a rather inexpensive price tag when compared with other sports cars. The interior provided leg room for larger individuals; the weight of the vehicle and the size of the engine made it quick and agile.

The design was timeless - during its twelve years in production, only minor aesthetic changes were made. Mechanically, the biggest change for the vehicle was electronic fuel injection.

The P1800 is a true sixties car that proved to be an excellent companion for Roger Moore and 'The Saint'.
By Daniel Vaughan | Jan 2010
For more information and related vehicles, click
here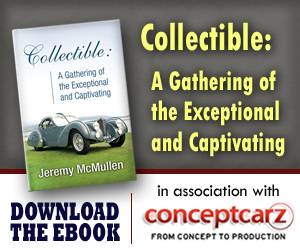 Similarly Priced Vehicles from 1962
Chevrolet Corvette C1 ($4,000-$4,000)
Porsche 356B ($3,600-$7,700)
Lancia Appia Series III ($3,000-$4,000)
Alfa Romeo Giulia ($4,000-$4,000)
Huffaker BMC MK2 ($3,995-$3,995)
Lancia Flaminia ($2,940-$4,050)
Alfa Romeo 2000 ($3,990-$3,990)

Average Auction Sale: $14,750
Volvo
Monthly Sales Figures
Volume
December 2014
4,920
November 2014
3,623
October 2014
3,972
September 2014
4,667
August 2014
4,960
July 2014
4,894
June 2014
5,983
May 2014
5,014
April 2014
4,635
March 2014
5,915
February 2014
4,867
January 2014
3,792
(More Details)
© 1998-2014. All rights reserved. The material may not be published, broadcast, rewritten, or redistributed.