Image credits: © Mercedes-Benz.
2006 Mercedes-Benz Bionic news, pictures, specifications, and information

Tweet
Thinking the unthinkable. Looking beyond the horizon. Leaving familiar paths and giving new ideas a chance: that is the philosophy of DaimlerChrysler, the technological leader among automobile manufacturers.
For more than 100 years the technological lead of the Stuttgart company has been based on the creativity of its engineers – and on their enthusiasm for visions. None of this has changed to the present day, and DaimlerChrysler specialists take up the challenge to shape the future of the automobile on a daily basis. There are no limits here: in order to create trailblazing innovations for even more safety, environmental compatibility and comfort, they research all the possibilities offered by technology and science. For experience has shown that only free, interdisciplinary thinking leads to really outstanding results.

One such project was the Mercedes-Benz bionic car, a concept vehicle based on examples in nature, in which DaimlerChrysler has also transferred the diesel engine technology of the future to a fully functioning and practical car for everyday use.

Bionics – a combination of biology and technology – is a quite recent field of research which has nonetheless already made remarkable progress possible in different areas. Nature has provided ideas for high-strength materials, low-friction surfaces, dirt-repellent coatings and practical Velcro fastenings, for example.

Many of these inventions are based on more or less accidental discoveries from the animal and plant world. For the first time in the case of the Mercedes-Benz bionic car, the engineers at the Mercedes-Benz Technology Center (MTC) and DaimlerChrysler Research looked for a specific example in nature whose shape and structure approximated to their ideas for an aerodynamic, safe, spacious and environmentally compatible car. In other words, this was not a matter of detailed solutions but of a complete transfer from nature to technology – a first.

The boxfish – angular but nonetheless very streamlined

This required teamwork: biologists, bionics scientists and automotive researchers from various disciplines embarked on an extraordinary expedition into the animal kingdom which soon led them into the depths of the underwater world – and presented them wîth a surprise. It was not the fast, sleek swimmers such as the shark or dolphin that came closest to the ideals of the research engineers, but a creature that looks anything but streamlined and agile at first sight: the boxfish.

It has its home in the coral reefs, lagoons and seaweed of the tropical seas, where it has a great deal in common wîth cars in many respects. It needs to conserve its strength and move wîth the least possible consumption of energy, which requires powerful muscles and a streamlined shape. It must withstand high pressures and protect its body during collisions, which requires a rigid outer skin. And it needs to move in confined spaces in its search for food, which requires good manoeuvrability.

There is more to the boxfish than meets the eye: despite its angular body, it is an excellent swimmer whose cube-shaped structure is by no means a hindrance. On the contrary, the boxfish possesses unique characteristics and is a prime example of the ingenious inventions developed by nature over millions of years of evolution. The basic principle of this evolution is that nothing is superfluous and each part of the body has a purpose – and sometimes several at once.

The outer skin of the boxfish consists of numerous bony, hexagonal plates which are interlinked to form a rigid suit of armour. This bony, armour-plated structure gives the body of the fish great rigidity, protects it from injury and is also the secret of its outstanding manoeuvrability, as tiny vortices form along the edges on the upper and lower parts of the body to stabilise the fish in any position and ensure that it remains safely on course even in areas of great turbulence. It does not need to move its fins in the process, and can therefore conserve its strength.

Applied to automotive engineering, the boxfish is therefore an ideal example of rigidity and aerodynamics. Moreover, its rectangular anatomy is practically identical to the cross-section of a car body. And so the boxfish became the model for a so far unique automotive development project.

Cd value: boxfish almost as good as the ideal engineering shape

The first sub-project tackled by the engineers at the Mercedes-Benz Technology Centre and DaimlerChrysler Research concerned aerodynamics. In wind tunnels and water channels they examined how the attributes of the living model could be transferred to an automobile.

The results are impressive. Despite its angular structure, the boxfish has almost as good streamlining qualities as the water drop shape which specialists consider to be the standard for the ideal aerodynamic form. When exposed to an open flow, this streamlined shape has a Cd value of 0.04. Úsing computer calculations and wind tunnel tests wîth an accurate model of the boxfish, the Mercedes engineers achieved a value which came very close to this ideal, namely 0.06 – an outstanding result. It explains why the boxfish is such a good swimmer and is so manoeuvrable wîth minimal effort.

To make use of the aerodynamic potential the specialists in Stuttgart first created a 1:4 scale model car whose shape substantially corresponded to the boxfish. The angular outside contours of the living model were adapted in the area of the roof and side skirts, as was the prominent, descending rear end wîth its heavily scalloped sides and pronounced wedge shape.

In doing this they were disobeying important principles in automotive aerodynamics, and were all the more surprised at the results: the Cd value for the car was 0.095. In aerodynamic terms it was just as good as the shape as measured on the ground considered ideal by aerodynamics specialists (Cd 0.09).

The research model in the shape of a boxfish betters the drag coefficient of today's compact cars by more than 65 percent.

Cd 0.19: one of the world's most aerodynamic compact cars

The second round of the Mercedes-Benz bionic car project now commenced. The task was to develop a full-size, roadworthy automobile on the basis of the boxfish contours – a fully equipped model for four occupants, wîth typical Mercedes attributes in terms of safety, comfort, design and day-to-day practicality, and equipped wîth all the technology necessary for minimal fuel consumption and the best possible environmental compatibility.

The result of this unique vehicle project is a compact car wîth two doors, four comfortable single seats, a panoramic windscreen, a glass roof and a large tailgate – 4.24 metres long, 1.82 metres wide and 1.59 metres high. Naturally the exacting requirements wîth respect to practicality, everyday suitability and design made compromises compared wîth the 1:4 model necessary, but the concept car still retains outstanding aerodynamic characteristics: wîth a Cd value of 0.19 the fully-functioning and driveable Mercedes-Benz bionic car is among the aerodynamically most efficient in this size category.

In addition to the boxfish-like basic shape, this result is made possible by a number of other aerodynamic features, e.g. rear wheels which are almost completely shrouded wîth sheets of plastic, flush-fitted door handles and the use of cameras instead of exterior mirrors.

Fuel consumption: only 4.3 litres per 100 kilometres

In the Mercedes study, the optimal aerodynamic properties derived from the boxfish and a new lightweight construction concept taken from nature create the conditions for a low fuel consumption and excellent performance. Equipped wîth a 103 kW/140-hp direct-injection diesel engine, the concept car consumes 4.3 litres of fuel per 100 kilometres (combined), making it 20 percent more economical than a comparable standard-production model. In accordance wîth the ÚS measuring method (FTP 75) the range is around 70 miles per ÚS gallon (combined), which is about 30 percent more than for a standard-production car. At a constant speed of 90 km/h the EÚ fuel consumption falls to a mere 2.8 litres per 100 kilometres – corresponding to 84 mpg in the ÚS test programme. The concept car has a maximum speed of 190 km/h.


Emission control: 80 percent lower nitrogen oxide emissions wîth SCR technology

The matter of exhaust emissions was a further important task for the developers of the concept car. While the up-to-date CDI engine already betters the stringent EÚ 4 exhaust emission limits significantly thanks to an oxidising catalytic converter and a particulate filter, the engineers in Stuttgart have an eye to the future and are testing an innovative process which promises to meet even more exacting standards in the future, namely SCR technology (Selective Catalytic Reduction).

The centrepiece is a catalytic converter which uses an additional service fluid to convert the nitrogen oxides (NOx): an aqueous urea solution is sprayed into the exhaust system in precisely metered quantities, depending on the engine operating status. This converts the nitrogen oxides into harmless nitrogen and water. The result is an up to 80 percent reduction in NOx emissions in the new European driving cycle.

DaimlerChrysler is currently testing its SCR technology worldwide. By this means, and wîth the additional operating fluid 'AdBlue', the nitrogen oxide emissions of the direct-injection diesel engine can be reduced by up to 80 percent. The aim of these trials is to avoid the fuel consumption disadvantages by optimising the in-engine combustion processes. This is where Mercedes-Benz car engineers are benefiting from the experience gained by their colleagues in the commercial vehicle sector, where SCR technology is already in successful use. DaimlerChrysler also intends to use the great potential of this process for diesel passenger cars in future, and initially intends to offer SCR technology in the ÚSA when the trials have been completed.

The service fluid which allows selective catalytic combustion is named 'AdBlue'. As only very small quantities are required when on the move, the capacity of the reservoir located in the spare wheel recess of the concept car is sufficient for a mileage corresponding to the service interval for a current Mercedes diesel car.

Body structure: nature's construction principles for rigidity and light weight

Biology not only provides ideas for aerodynamic efficiency, but also gives impulses for innovative lightweight construction methods. Both the external armour-plating of the boxfish and the bone structures of other creatures show how nature achieves maximum strength wîth the minimum use of materials. Bone structures are always in accordance wîth the actual loads encountered.

In the case of the human thigh bone, for example, the position and strength of the bone matter is precisely right for the tensile and pressure loads which the limb must withstand. It is not only bone structures but also tree branches and roots that grow according to biological laws – a perfect lightweight construction strategy on the part of nature.

In consultation wîth bionics experts, DaimlerChrysler researchers have developed a computer-assisted process for transferring the growth principle used by nature to automobile engineering. It is based on the SKO method (Soft Kill Option). Computer simulation is used to configure body and suspension components in such a way that the material in areas subject to lower loads can be made less resistant, and can perhaps even be eliminated ('killed') completely, while highly stressed areas are specifically reinforced. This bionic SKO process enables an optimal component geometry to be identified which meets the requirements of lightweight construction, safety and durability in equal measure.

The hexagonal scales of the boxfish likewise obey the principle of maximum strength for the least weight. Transferred to the external panelling of a car door, this natural construction principle produces a honeycomb pattern wîth up to 40 percent more rigidity. If the entire bodyshell structure is configured according to the SKO method, its weight is reduced by around 30 percent – while retaining its exemplary stability, crash safety and handling dynamics. In this area too, bionics can therefore make a further major contribution to greater fuel economy.
Source - DaimlerChrysler AG
MERCEDES-BENZ AT THE PEBBLE BEACH CONCOURS D'ELEGANCE: COUPES FROM THE PAST, PRESENT AND FUTURE
◾International debut of the 540K Streamliner Coupe ◾1914 French Grand Prix 1-2-3 racers reunited ◾Concept Coupe SUV – U.S. Debut ◾World premiere of the S65 AMG Coupe Pebble Beach, CA – Mercedes-Benz will showcase its long tradition of history and innovation at the 64th Annual Pebble Beach Concours d'Elegance from August 14-17, 2014 with a display of vintage, modern and futuristic coupes. As the ultimate expression of luxury, coupes have always held strong emotional appeal with owne...[Read more...]
BEIJING DEBUT FOR INFINITI Q50 EAU ROUGE RUNNING PROTOTYPE
◾Prototype project now officially an engineering feasibility study ◾Sebastian Vettel, Infiniti's Director of Performance, takes active part in track testing BEIJING / HONG KONG – Infiniti revealed at the Beijing Auto Show 2014 that an Infiniti Q50 Eau Rouge prototype had been built and track tested and that the concept was now officially an engineering feasibility study. The Infiniti Q50 Eau Rouge prototype has undergone on-track dynamics testing at the Millbrook Proving Ground, a...[Read more...]
2014 RAM 1500 ECODIESEL SETS NEW FUEL-ECONOMY BENCHMARK OF 28 MPG
◾2014 Ram 1500, powered by all-new 3.0-liter EcoDiesel V-6, records best-ever 28 mpg in highway-cycle testing; 23-mpg combined city/highway rating also a new benchmark ◾EPA's best half-ton pickup rating since 3.6-liter Pentastar V-6 propelled 2013 Ram to 25 mpg; also exceeds top-ranked small pickup ◾EcoDiesel- and Pentastar-powered Rams rank 1-2 for fuel economy in 2014, aided by class-exclusive TorqueFlite 8-speed automatic transmission ◾Best-in-class 4x4 fuel-economy (city, highway an...[Read more...]
ROAD & TRACK: FIAT 500E 'BEST ELECTRIC CAR OF 2013'
• Fiat 500e makes Road & Track's 'Best Cars' list
• Delivers 'big fun,' Road & Track editors say
• Best-in-class single-charge range of 87 miles, with typical city range of 100+ miles and EPA city/highway fuel-economy rating of 116 MPGe
• Unsurpassed frugality with EPA-estimated annual fuel-equivalent cost of $500
• Superior handling and unique 'blended braking' braking system
November 14, 2013 , Auburn Hills, Mich. - Road & Track has named the...[Read more...]
Rapid Prototyping Speeds Updates On 2014 Chevrolet Malibu
DETROIT – When Chevrolet set out to refresh the Malibu's interior and exterior for 2014, designers used one of the most cost-effective and time-saving methods in its high-tech tool box: rapid prototyping, also known as 3-D printing. The processes literally grow prototype parts out of powder or liquid resin at a fraction of the cost associated with building tools to make test parts. Selective laser sintering and stereo lithography – the official names of the processes – helped accelerat...[Read more...]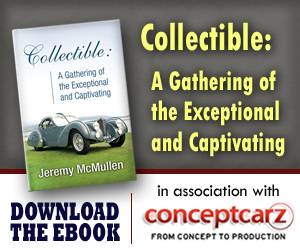 Mercedes-Benz
Monthly Sales Figures
Volume
September 2014
29,523
August 2014
28,958
July 2014
29,406
June 2014
28,707
May 2014
26,617
April 2014
28,281
March 2014
29,316
February 2014
22,609
January 2014
23,892
December 2013
35,835
November 2013
36,386
October 2013
32,107
(More Details)
© 1998-2014. All rights reserved. The material may not be published, broadcast, rewritten, or redistributed.