1966 Plymouth Satellite news, pictures, specifications, and information

Tweet
Plymouth introduced the up-market versions of the Belvedere in 1965. Base power was a 318 cubic-inch, 230 horsepower V8. Optional engines began with the 361-CID V8 and rose to 426-CID Hemi V8.

The Plymouth Satellite, part of the Belvedere line, was given a major restyling in 1966. The body was square - earning a much sharper profile - and the front wheel openings curved upward into the rectangle shape. The sedans had a square-angular roof with thick rear pillars while the hardtops had the cantilevered roof treatment with a wider base.

The Satellite was available as a Hardtop Coupe or a Convertible. 35,399 examples of the hardtop were sold while 2,759 were convertibles. The Satellite models were distinguished from the Belvedere Series with less side trim, a fancy trunk treatment, rocker panel moldings, vinyl trims, wheel covers, bucket seats and console.

Pricing began at $2,695 for the hardtop coupe while the convertible sold for $2,900.

An optional 'street' version of the 426 cubic-inch HEMI engine delivered 425 horsepower. This newly introduced 'Street Hemi' was installed into 817 Satellite hardtops (503 of those with four-speeds) and 27 into the Satellite Convertible. The following year, just two Street Hemi Hardtops were sold and only one a Satellite Convertible.
By Daniel Vaughan | Nov 2013
Introduced in 1965 as the top model in Plymouth's mid-size Belvedere line, the Plymouth Satellite used Chrysler's mid-size B platform.

The Satellite was available with the newly optional 'Street Hemi' engine in 1966. This engine came compete with the two 4-barrel carburetors and 10.25:1 compression. This body style remained for the following year with only minor trim changes.

All mid-sized Plymouths carried the Satellite name from 1971 to 1974. Hardtop coupe models had the 'Sebring' suffix.

The Satellite name disappeared when the Fury name was given to Plymouth's mid-size models for 1975.
In 1965 a larger more updated Plymouth Fury was presented to the public on Chrysler's full-size C platform. The Plymouth Belvedere title was switched to Plymouth's mid-size line, really a continuation of the full-size 1962 to 1964 models. The top trim model of the series with the Belvedere Satellite, available as a two-door hardtop or convertible with bucket seats.

Similar to the Fury, the simple front end carried a single headlight on each side and had a grille that was divided into 4 thin rectangles laid horizontally.

1968 brought a higher trim Sport Satellite model at the same time the Belvedere name was downgraded to low-trim base models. Continuing on this body, only minor rear and front restyling was done in 1970. The Belvedere discontinued this year.

The Satellite adopted a new 'fuselage' styled body that had different wheelbases, sheetmetal for two and four door models as significant updating and restyling was accomplished for the 1971 model.

Two door models, base coupe with non-roll-down rear windows were called Satellite. In 1973 the two-door models received a conventional front end, along with squared up sheetmetal and rear side windows.

Satellite Sebring, Satellite Sebring Plus came in base, Custom or wood-trimed Regent models, and Sedans were available in base, Custom and Brougham trim. 1974 Sedans and wagon models had large 5mph bumpers.
The Satellite continued on steadfast until 1974 where the nameplate was retired.
By Jessica Donaldson
For more information and related vehicles, click
here
Mecum Marathon – Results From Kissimmee 2014
Walworth, WI - January 31, 2014 -- The largest collector car auction in the world lived up to its moniker once again with Mecum's Kissimmee, Fla., event, held Jan. 17-26, offering a grand total of 2,750 cars and more than 3,000 items of Road Art throughout the 10 days of heated bidding and hard-hammering sales. Auction sales reached a hefty $63,435,490 in total with 1,759 of the vehicles exchanging hands for a sell-through rate of 64 percent. Despite nationwide weather conundrums resul...[Read more...]
RARE CHRYSLER LA COMTESSE CONCEPT APPEARS AT AMELIA 2014
After decades in obscurity Chrysler's La Comtesse Concept Car will re-debut at the 19th annual Amelia Island Concours d'Elegance on March 9, 2014. The Fifties introduced new automotive chemical and paint technologies that helped summon a sea change in the way cars were purchased. It was a subtle component of Detroit's marketing equation, but color had risen near the top of the car buyer's priority list. The important fact was that women invariably chose the color of the new family car....[Read more...]
Steve McQueen Chevrolet Styleline Leads Exciting List of Celebrity Rides At Auctions America's Ford Lauderdale Sale
• Auctions America kicks off its 2013 calendar, March 22 – 24, 2013 in Fort Lauderdale, Florida • Regarded as South Florida's premier collector car auction, multi-day sale expected to feature more than 550 quality collector cars • Star attraction: 1951 Chevrolet Styleline DeLuxe Convertible formerly owned by Steve McQueen to be offered at no reserve • Additional highlights include a diverse assortment of 1950s convertibles from 'The Gauthier Collection', 1967 Dodge Coronet WO23 Hemi Super Sto...[Read more...]
Sold! Barrett-Jackson's 5000 Series Generates More Than $29.2 Million In Scottsdale
Original 1966 TV Batmobile Sells for $4.62 Million at The World's Greatest Collector Car Auctions™ and New World Records are Set January 19, 2013 •LOT #5037 The Original Batmobile is the highest selling car at the company's annual Scottsdale Auction •LOT #5019 1947 Talbot-Lago T-26 Grand Sport sets a new world record for the model •LOT #5034 1956 Chrysler Diablo Concept Convertible sets a new world record for Chrysler concept cars Scottsdale, Ariz. (Jan. 20, 2013) – Barr...[Read more...]
Barrett-Jackson Breaks Sales And Attendance Records At Its Spectacular 5th Annual Las Vegas Auction
The World's Greatest Collector Car Auctions™ Brings Together Auto Enthusiasts from Near and Far Barrett-Jackson, The World's Greatest Collector Car Auctions™, announced today that it generated more than $23 million in sales of rare, high-end collectible vehicles, exotics, customs, classics and Shelbys during its 5th annual Las Vegas auction. The auction company increased its overall hammer average from 2011, proving that the car market is stronger than ever. Automobilia sales reached m...[Read more...]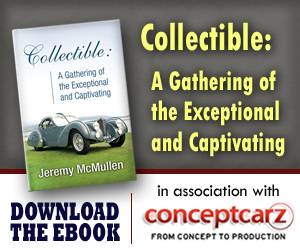 Similarly Priced Vehicles from 1966
Chevrolet Corvair Series ($2,100-$2,700)
Pontiac GTO ($2,780-$3,080)
Pontiac Catalina ($2,760-$3,600)
Ford Fairlane ($2,238-$3,066)
Chevrolet Impala Series ($2,700-$3,200)
Dodge Coronet ($2,265-$2,925)

Average Auction Sale: $56,194
© 1998-2014. All rights reserved. The material may not be published, broadcast, rewritten, or redistributed.