1966 Plymouth Satellite news, pictures, specifications, and information

Tweet
Plymouth introduced the up-market versions of the Belvedere in 1965. Base power was a 318 cubic-inch, 230 horsepower V8. Optional engines began with the 361-CID V8 and rose to 426-CID Hemi V8.

The Plymouth Satellite, part of the Belvedere line, was given a major restyling in 1966. The body was square - earning a much sharper profile - and the front wheel openings curved upward into the rectangle shape. The sedans had a square-angular roof with thick rear pillars while the hardtops had the cantilevered roof treatment with a wider base.

The Satellite was available as a Hardtop Coupe or a Convertible. 35,399 examples of the hardtop were sold while 2,759 were convertibles. The Satellite models were distinguished from the Belvedere Series with less side trim, a fancy trunk treatment, rocker panel moldings, vinyl trims, wheel covers, bucket seats and console.

Pricing began at $2,695 for the hardtop coupe while the convertible sold for $2,900.

An optional 'street' version of the 426 cubic-inch HEMI engine delivered 425 horsepower. This newly introduced 'Street Hemi' was installed into 817 Satellite hardtops (503 of those with four-speeds) and 27 into the Satellite Convertible. The following year, just two Street Hemi Hardtops were sold and only one a Satellite Convertible.
By Daniel Vaughan | Nov 2013
Introduced in 1965 as the top model in Plymouth's mid-size Belvedere line, the Plymouth Satellite used Chrysler's mid-size B platform.

The Satellite was available with the newly optional 'Street Hemi' engine in 1966. This engine came compete with the two 4-barrel carburetors and 10.25:1 compression. This body style remained for the following year with only minor trim changes.

All mid-sized Plymouths carried the Satellite name from 1971 to 1974. Hardtop coupe models had the 'Sebring' suffix.

The Satellite name disappeared when the Fury name was given to Plymouth's mid-size models for 1975.
In 1965 a larger more updated Plymouth Fury was presented to the public on Chrysler's full-size C platform. The Plymouth Belvedere title was switched to Plymouth's mid-size line, really a continuation of the full-size 1962 to 1964 models. The top trim model of the series with the Belvedere Satellite, available as a two-door hardtop or convertible with bucket seats.

Similar to the Fury, the simple front end carried a single headlight on each side and had a grille that was divided into 4 thin rectangles laid horizontally.

1968 brought a higher trim Sport Satellite model at the same time the Belvedere name was downgraded to low-trim base models. Continuing on this body, only minor rear and front restyling was done in 1970. The Belvedere discontinued this year.

The Satellite adopted a new 'fuselage' styled body that had different wheelbases, sheetmetal for two and four door models as significant updating and restyling was accomplished for the 1971 model.

Two door models, base coupe with non-roll-down rear windows were called Satellite. In 1973 the two-door models received a conventional front end, along with squared up sheetmetal and rear side windows.

Satellite Sebring, Satellite Sebring Plus came in base, Custom or wood-trimed Regent models, and Sedans were available in base, Custom and Brougham trim. 1974 Sedans and wagon models had large 5mph bumpers.
The Satellite continued on steadfast until 1974 where the nameplate was retired.
By Jessica Donaldson
For more information and related vehicles, click
here
FORD ECOBOOST POLICE INTERCEPTORS OUTRUN CHEVROLET CAPRICE V8, HEMI DODGE CHARGER IN MICHIGAN STATE POLICE TESTING
◾Ford EcoBoost® Police Interceptor sedan repeats top performance and retains its title as best-in-class overall acceleration pursuit vehicle ◾New Ford EcoBoost Police Interceptor utility vehicle acceleration faster than Chevrolet Tahoe and all base V6 competitors ◾Ford Police Interceptors maintain segment sales leadership for 16 years straight Ford, manufacturer of the best-selling police vehicles since 1996, trumped Chevrolet and Dodge in recent instrumented acceleration testing by the Mic...[Read more...]
MECUM TOPS $18.6 MILLION IN CHICAGO
Walworth, WI - October 15, 2013 -- The windy city welcomed Mecum Auctions with an exceptional sale and enormous crowds at the Schaumburg Convention Center in Schaumburg, Ill., this past weekend. With 965 cars crossing the block throughout the three-day event, 615 hammered sold for a 64 percent sell-through rate and $18,634,223 in sales. The one-of-a-kind personal driver of Corvette's original designer Harley J. Earl led auction sales with a hammer price of $1.5 million. Chicagoland was...[Read more...]
RON BURGUNDY ANCHORS NEW 2014 DODGE DURANGO ADVERTISING CAMPAIGN
◾Co-branded advertising campaign combines power of Detroit automaker, major Hollywood studio and Will Ferrell (as Ron Burgundy) in biggest ever original content promo ◾Campaign launches new 2014 Dodge Durango featuring 'Anchorman 2: The Legend Continues' character Ron Burgundy as its new pitchman ◾Multimedia campaign spans television, digital, social and print ◾Television spots debuted on television and online on Saturday, October 5 ◾Campaign champions holiday release of Paramount Pictures' ...[Read more...]
Crowd Shakers And History Makers At Mecum's Chicago Auction Oct. 10-12
• Hemi Under Glass Collection and Harley J. Earl Corvette Part of 1,000-Car Lineup
Walworth, WI - September 16, 2013 -- Mecum Auctions is taking the gavel to Chicagoland this Oct. 10-12 with 1,000 vehicles expected to cross the block at the breathtaking Schaumburg Convention Center. The lineup is already fraught with headline-worthy consignments including the most famous wheel-standers in drag racing history– the Hurst Hemi Under Glass Collection – as well as the one-of-a-kind,...[Read more...]
CONSUMER REPORTS: CHEVROLET SILVERADO IS TOP TRUCK, BUT RAM 1500 MAKES FOR A BETTER DAILY DRIVER
• Showdown between the Silverado 1500 & Ram 1500 was neck-and-neck
YONKERS, N.Y., Sept. 17, 2013 - In a heavy-metal duel between two top pickup trucks, the Chevrolet Silverado 1500's 'Excellent' road-test score makes it Consumer Reports' top-rated truck. But testers point out that the second-place Ram 1500 may be a better daily driver. Each model won skirmishes along the way, and they finished one-two in a competitive pickup truck category— separated by only three points. Bot...[Read more...]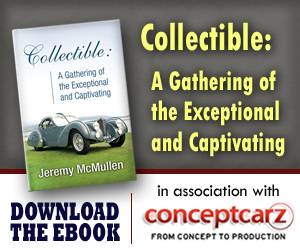 Similarly Priced Vehicles from 1966
Chevrolet Corvair Series ($2,100-$2,700)
Pontiac GTO ($2,780-$3,080)
Pontiac Catalina ($2,760-$3,600)
Ford Fairlane ($2,238-$3,066)
Chevrolet Impala Series ($2,700-$3,200)
Dodge Coronet ($2,265-$2,925)

Average Auction Sale: $57,434
© 1998-2014. All rights reserved. The material may not be published, broadcast, rewritten, or redistributed.