1940 Lincoln Continental news, pictures, specifications, and information

Tweet
1940 was the first year for the Continental. There were 351 Lincoln Continental Cabriolets produced in 1940 and this vehicle is the 305th example constructed. It was completed on May 6th of 1940 and sent to St. Louis, Missouri on May 19th of 1940. In 1995, the current owner began a restoration that would last 12 years. It has a new Haartz canvas top and tonneau cover and a complete mechanical rebuilt. It is painted in the 1940 Zephyr color of Capri Blue Metallic.

There is a 292 cubic-inch L-head engine that offers 120 horsepower. Upgrades include a cast-iron cylinder head to help prevent overheating, overdrive added to the three-speed transmission. It was added to all three gears, essentially giving the car six forward speeds. There is a modern 6-volt Optima battery built into the original Zephyr battery case.

It is believed that 60 cabriolets exist in modern times and half of those are in restored condition. This car is a full CCCA Classic.

In 2007 it was brought to the Gooding & Company auction held in Pebble Beach, California and estimated to sell for $100,000 - $125,000 and offered without reserve. Those estimates proved accurate, as the lot was sold for $110,000 including buyer's premium.
By Daniel Vaughan | Apr 2008
This 1940 Lincoln Continental Convertible was offered for sale at the 2007 RM Auctions held at Meadow Brook where it was offered without reserve and estimated to sell between $70,000 - $85,000. The car is powered by a twelve-cylinder L-head engine with Holly downdraft two-barrel carburetors with the engine displacing 292 cubic-inches and capable of producing 120 horsepower. There is a three-speed sliding gearbox and four-wheel Bendix hydraulic internal expanding brakes.

This is one of the earlier hand-built models and sits on chassis number 81. The car was originally purchased with a radio, clock, power top, and the heater delete. This Continental Convertible has retained its original black exterior color with burgundy interior and black convertible top. It has been treated to a partial restoration that included some of its components, including a rebuilt engine brakes, fuel system, and re-wiring.

It has never been judged or shown but it is considered by the Classic Car Club of America as a Full Classic. At auction the car was sold for a high bid of $66,000.
By Daniel Vaughan | Aug 2011
The Lincoln Motor Company was founded in 1917 by Henry Leland. Leland was the same individual who had started the Cadillac Motor Car Company in 1903 from the remains of Henry Ford's second failed attempt to start an auto company (Henry's third attempt was the Ford Motor Company). The Lincoln automobiles were very expensive, well-built, yet had rather dull styling. When the company was acquired by the Ford Motor Company in 1922, Henry Ford's son Edsel Ford used his natural design instincts to lead Lincoln to memorable and beautiful designs.

The Lincoln Continental was developed as Edsel Ford's personal one-off vehicle. Eugene T. 'Bob' Gregorie, the companies' chief stylist, was tasked with creating a custom design. It is believed that the design was created in an hour by Gregorie working from the Lincoln Zephyr. The car was elegant and had a long hood to cover the Lincoln V12 engine. There was a short trunk with what became the Continental series' trademark, the externally-mounted covered spare tire. The custom car was well received by Edsel's friends which lead to essentially hand-built production in 1939 and continuing until 1948.

This car is one of just 404 Continentals built in 1940, including 354 Cabriolets. This car was purchased by its owner at an estate sale in 2002. When purchased, it was in very poor condition. The restoration work was completed in the spring of 2008.
While this may look like a post-war automobile, it is not. It was built in 1940 for Edsel and Eleanor Ford. Brunn & Company built a town car body for the modified Lincoln-Zephyr chassis. The body design was so attractive that several additional automobiles were built for friends of Edsel and Eleanor Ford.

Edsel died in May 1943. After his death, Mrs. Ford continued to use the car. Following World War Two the car received a complete exterior restyling.

This car has not been restored. Over the years it has been maintained, to preserve as many original features as possible.
The beautiful lines of the Lincoln-Zephyr made the transformation into the Continental design an easy one. All Continentals were essentially hand built and, naturally, production was limited.

The Continental was three inches lower than the Zephyr and its hood was seven inches longer. The earliest Continentals did not have a spare tire cover; that came later along with rear fender gravel shields and rear bumper splash shields. Power was supplied by the Lincoln-Zephyr 12-cylinder motor.

Continental interiors featured an instrument panel used in the Lincoln-Zephyr limousines that used a gold (macoid) trim that was also used on the car's interior hardware.

This car is number 111 and was finished on February 12th of 1940. It has been restored to the exact specification of the original build sheet. Restoration was completed in 2008 and has since been recognized as an excellent example by many car organizations.
When the Continental went into limited production in 1940 it was still known as a Lincoln-Zephyr - essentially a customized Lincoln-Zephyr. The cars were basically hand built.

Two body styles were available - a convertible cabriolet (shown here) and a club coupe. Production was low; 350 cabriolets were built that year and only 54 club coupes. Factory price was $2,783 for the coupe and $2,916 for the cabriolet.

The Continentals were produced by the same V-12 motor that was used in the Lincoln-Zephyrs with the exception of polished aluminum cylinder heads and manifolds and chromed acorn cylinder head nuts.
The Continental was an outgrowth of the Lincoln Zephyr series. It began life as personal transportation for Edsel Ford, but was so well received among his friends, that it found its way into production.

Bob Gregorie completed the design in November 1938. It features long low styling courtesy of a four inch section removed from the doors and body. The car appears lower, but maintains standard ground clearance to ensure drivability. The car was completed the following March, and shipped to the Ford compound in Florida where it was declared an immediate and sensational success.

In October of 1939, the car was introduced as a Lincoln Continental Zephyr. A coupe model debuted in May of 1940 and the Zephyr named was dropped in September.
In 1938, Edsel Ford requested a special convertible coupe that was 'long, low and rakish.' His designer, E.T. Gregorie, used the Zephyr chassis as the basis for the special, and sketched the outline for a two-door, four-seat body over the outline of a Zephyr sedan. Edsel was enthusiastic, and work rushed ahead to complete the one-off in time for his vacation at his home in Hobe sound, Florida. It was the hit of the Florida social scene and Edsel phoned Gregorie to say, 'I've driven this car around Palm Beach, and I could sell a thousand of them right away.' The car went into production in 1939, but it was very expensive and just over 400 were produced.

This is one of two pre-production cars. It is completely original and has been cared for by its current owner since the early 2000s.
The name 'Continental' was inspired by the 1940's Lincoln Continental powered by a large 12-cylinder engine. Bentley had used the name Continental on their model line, adding to the ambiance and prestige. In 1956 the Ford Motor Company formed the Continental Division for the production of the Mark II. Its general manager was William Clay 'Bill' Ford, son of Edsel Ford and grandson of Henry Ford. Many people associated the Continental as a Lincoln because it featured the trademark Lincoln spare-tire hump in the trunk lid and it was sold and serviced at Lincoln dealerships. Many of the mechanical components were courtesy of Lincoln such as the drivetrain. The Continental Division lasted until 1957 when it was merged with Lincoln and the Continental Mark II was added as Lincoln's flagship model. The name 'Continental' would stay with the Mark line until the introduction of the Mark VII in 1984.

There never was a model designated as a Lincoln or Continental Mark I.

The Continental Mark II had an understated beauty; it was elegant without the need to be flamboyant. Unlike the flashy American style of the time, it was very tasteful in its design. It did not use chrome, two-tone paint, or sharp styling cues to accentuate its beauty. At the front was an egg-crate style grille and straight fenders. The hood was long and curvy, perfect for concealing the 6-liter engine. Mounted on the hood and in the back was the four-pointed star that later became Lincoln's emblem. The Lincoln 368 cubic-inch V8 was matted to a Lincoln three-speed automatic transmission. The back had the signature Lincoln spare-tire hidden in the trunk lid. Though sharing many similarities with the Thunderbird, these were completely different machines. The Continentals were mostly hand made; the paint was applied multiple times and then sanded, double-lacquered, and polished.

These rolling works of art were very costly. The $10,000 sticker price was equivalent to a Rolls-Royce. Top-of-the-line American luxury brands, such as Cadillac, were selling for around $5000. Even at these high prices, Ford still lost an estimated $1,000 per car. At the time Ford was a private company and was willing to incur these losses but when Ford became a public company, losses were not permitted. A stock Mark II was $10,000 in 1956. Derham and Hess & Eisenhardt both estimated a convertible conversion to cost $18,000 to custom build. That's why there were so few Mark II convertibles.

The Continental was sold to the rich and famous. Anyone who could afford the cost was welcome. Famous buyers included Elvis Presley, Frank Sinatra, Louie Prima, Dwight Eisenhower, Barry Goldwater, Spike Jones, Nelson Rockefeller, Henry J. Kaiser, Howard Johnson, the Shah of Iran, and many other celebrities owned them.

The Continental Mark II was debuted to the public at the Paris Motor Show in 1955. During the close of 1955, around 1300 Mark II's were sold. For the entire 1956 model year, another 1300 were sold. In 1957, around 450 were produced for a total of just over 3000. Around 1500 still exist in modern time. Only three convertibles were created.

Mark III
The Lincoln Continental Mark III was produced from 1969 through 1971. Actually, in 1958 the Continental Division of Ford tried to produce the Continental Mark III but sales and production never really materialized. The onset of the 1958 recession accelerated the demise of the Continental Division.

The 1969 Mark III was introduced in 1968 as a 1969 Model year. It was positioned to compete with Cadillac's Eldorado. The Mark III was, in many ways, a luxury version of the Ford Thunderbird. The Mark III and Thunderbird shared many mechanical components; their styling was similar and both were built at Ford's Wixom, Michigan plant. The engine was a Ford 429 enlarged to 460 cubic-inches.

In the back was the signature spare-tire bulge, though no spare-tire was housed in this enclosure. The design was rectangular and smooth. It was taller, larger, 300 pounds heavier, more powerful and luxurious than the Thunderbird. Power brakes, steering, windows, headlamps and front seats were all standard. Vinyl with cloth inserts was standard with leather being optional. The door trim panels and instrument panels were either rosewood or oak, depending on the interior color chosen.

The vinyl roof was popular, even though it was optional. Other options included a variety of radios, 8-track tape players, and air conditioning. Both front seats were power adjustable, but for an additional cost additional power adjustments could be installed. An automatic headlamp dimmer could be ordered, meaning that it would dim automatically for oncoming cars. Anti-lock brakes, cruise control, and a limited slip differential were available for an additional cost.

In its introductory year, nearly 31,000 examples were produced. Though the Eldorado had better slightly stronger sales, this was still a very respectable start for a long and successful series.

In 1970, 21,432 examples were sold. The following year, 27,091 were sold. Even though the best year was in 1968, sales had begun in 1968. Meaning that the sales sold in 1968 and 1969 were counted together.

In 1970 the vinyl roof became standard and the windshield wipers were made recessed. The interior trim was now real wood. A locking steering column was introduced. Radial tires were standard equipment.

1971 was the final production year for the Mark III. Tinted glass, SureTrak anti-lock brakes, and automatic climate-controlled air-conditioning became standard.

Mark IV

In 1972, the Lincoln Continental Mark IV was introduced and would stay in production until 1976. It was similar to its predecessor but grew in both length and width. It still shared a platform with the Thunderbird and in many respects, were similar.

There were few differences of the Mark III and the Mark IV. The Mark IV was slightly rounder, the wheel openings were a little different, and optional opera windows were installed. The grille was longer and a new bumper adorned the front of the vehicle. The popular vinyl roof was now standard. In 1973, a new federally mandated 5 mph bumper was installed.

Under the hood was a 460 cubic-inch Ford 385 Series V8 capable of producing just over 210 SAE horsepower. Power was sent to the wheels courtesy of a C6 3-speed automatic transmission.

Sales were strong for the Mark IV with the lowest production year being in 1975 with 47,145 units sold. 1973 was the strongest year for sales with 69,437. With total sales amounting to 278,559 for the five years of production, the average total sales per year was 55719.

1976 had strong sales partly because of the newly introduced Designer Series. These were special edition Mark IV that were given color, trim and interior choices by famous designers. The designers' signature was placed on the opera windows and a 22 karat gold plated plaque could be found on the instrument panel. The gold plaque could be engraved with the original owners' name.

There were four designer editions offered: Bill Blass Edition, Cartier Edition, Givenchy Edition, and Pucci Edition. The Bill Blass Edition was dark blue with cream accents; the Cartier Edition was dove grey; The Givenchy Edition was aqua blue; and the Pucci Edition was in red and silver.

Mark V
In 1977, In Lincoln Continental Mark V replaced the Mark IV, and would stay in production for only three years, ending in 1979.

In comparison to its predecessor, it was rounder, longer and wider and no longer built on a Ford Thunderbird platform. The engine was downgraded to a Ford 400 cubic-inch small-block engine. The Ford 385 460 cubic-inch was available, except in California, as optional equipment until 1978.

The Continental Mark V was a big and heavy car. It averaged 7 mpg under normal driving conditions and 3.5 mpg under full acceleration. Ford was close to violating the Corporate Average Fuel Economy law so in 1980, a smaller Continental was introduced.

Mark VI
The Lincoln Mark VI was introduced in 1980 and stayed in production until 1983. It was smaller version of its predecessor with minor design revisions. The headlight covers and steering wheel were new. Under the hood was a 5-liter eight-cylinder engine. With the reduced weight and a smaller engine, fuel economy improved.

Mark VII
The Lincoln Continental Mark VII, later just called the Mark VII, was introduced in 1984 and produced until 1991. The Mark VII sat atop the Ford Fox platform, had originally been used for the Ford Fairmont and Mercury Zephyr.

From 1984 through 1985, a special edition Versace Designer Edition could be ordered. A Bill Blass Designer Edition was produced from 1984 through 1992. The Luxury Sport Coupe was produced from 1984 through 1992 while the LSC SE was produced from 1990 through 1992.

The Mark VII continued the ambiance set-forth by its predecessors. Leather seating and all-power options were standard. This included a computer message center, digital instruments, keyless entry and more. The luxury sport coupe (LSC) version after 1986 was did not receive all these amenities.

The ride was smooth thanks in part to a full airbag suspension and electronic ride control system. Power was sent to the wheels courtesy of a four-speed automatic transmission. Under the hood was a 5-liter High Output SEFI or throttle body fuel injected V8 capable of producing nearly 230 horsepower. In 1998 the horsepower was further increased after the throttle body was enlarged and better flowing cylinder heads were adapted.

The Mark VII had electronic 4-channel antilock brakes and composite headlights; the first American vehicle to use these features.

Mark VIII
The Mark VIII was the next iteration in the long line of the Mark Series. It was produced from 1993 through 1998. The base 2-door coupe was powered by a 4.6 liter DOHC V8 producing 280 horsepower while the LSC models produced 290 horsepower. The LSC model versions, produced from 1995 to 1996 was the first American vehicle to be equipped with HID headlights. The 1997 through 1998 LSC models continued the HID headlights but with larger housings.

Slow sales resulted in the cancellation of this luxury car series. A Lincoln MK9 Concept was introduced in the early 2000's, but plans of production seem doubtful.
By Daniel Vaughan | Sep 2008
For more information and related vehicles, click
here
HILTON HEAD ISLAND MOTORING FESTIVAL TO FEATURE CARS OF THE RICH & FAMOUS
This year's 'Life' exhibit puts the spotlight on cars with headline heritage HILTON HEAD ISLAND, S.C. – The Hilton Head Island Motoring Festival & Concours d'Elegance, one of the nation's largest and fastest-growing automotive and motorsports enthusiast event weeks, takes a more glamorous approach with its annual 'Life' exhibit and presents Life of the Rich & Famous sponsored by Marriott Vacation Club. Life of the Rich & Famous is the sixth annual 'Life'-themed exhibit on the Fe...[Read more...]
FORD FUND ANNOUNCES $1 MILLION WILLIAM CLAY FORD AUTOMOTIVE DESIGN SCHOLARSHIP
◾Scholarship commemorates the design legacy of William Clay Ford, former chairman of Ford Motor Company's design committee ◾Ford Fund commits $50,000 per year during the next 20 years, giving five automotive design students each $10,000 per year ◾Mr. Ford oversaw design of the iconic Lincoln Continental Mark II, considered by many one of the greatest cars ever built Ford Motor Company Fund will award $1 million in automotive design scholarships during the next 20 years to commemorate the la...[Read more...]
150TH ANNIVERSARY OF HENRY FORD'S BIRTH DECLARED 'HENRY FORD DAY' BY MICHIGAN LEGISLATURE
◾The 150th birthday of Henry Ford – July 30, 2013 – is declared 'Henry Ford Day' in the state of Michigan ◾Celebration honoring Henry Ford's 150th birthday to be held on Saturday, July 27, at Henry and Clara Ford's historic home, Henry Ford Estate/Fair Lane in Dearborn, Mich. ◾Henry Ford Estate Inc., a nonprofit that shares governance with Edsel & Eleanor Ford House, takes ownership of the Dearborn estate DEARBORN, Mich., July 25, 2013 – The enduring impact of Henry Ford and the 150t...[Read more...]
Edsel Ford's Speedster Stars at 'The Amelia'
Edsel Ford's 'continental car', a custom boattail speedster, will take its rightful place in the Sports Car Class of the 18th annual Amelia Island Concours d'Elegance. In the shape of Edsel's seminal speedster is the genesis of Ford's legendary design department. Edsel Ford was hardly 'a chip off the old block'. The acorn fell well away from the mighty oak that was Henry Ford, founder of the Ford Motor Company. Edsel was not just the President of Ford, he was a car guy to his core. His ta...[Read more...]
Lincoln at Los Angeles Auto Show Press Days: Celebration of Its Past and Future As Brand Rolls Out Its Reinvention
> The brand pays tribute to its heritage today, displaying seven of the most influential Lincoln designs > Thursday sees a display full of the all-new MKZ premium midsize sedan and MKZ Hybrid, the future of Lincoln, on the Lincoln stand > Lincoln launches on Tumblr http://lincolnnow.tumblr.com beginning with the visually stunning classic Lincolns shown on the stand and select images from archives. Continues with an all-new collection of photographs by photographers Jamie Beck and Kevin Burg ...[Read more...]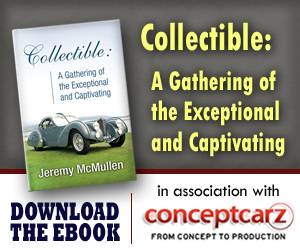 Lincoln
Monthly Sales Figures
Volume
December 2014
9,690
November 2014
8,113
October 2014
8,883
September 2014
7,257
August 2014
8,146
July 2014
7,863
June 2014
7,271
May 2014
8,845
April 2014
6,803
March 2014
8,969
February 2014
6,661
January 2014
5,973
(More Details)
© 1998-2014. All rights reserved. The material may not be published, broadcast, rewritten, or redistributed.