1933 Pierce-Arrow Model 836 news, pictures, specifications, and information

Tweet
In 1865 the company bearing his name was founded by George N. Pierce in Buffalo, NY. The company's first automobile, the Pierce Motorette, was produced in 1901 for the Pan-American Exposition. A new modern factory was completed in 1906 and the name changed to the Pierce-Arrow Motor Car Company.

Like many of his contemporaries in the early years, George N Pierce built bicycles. That was after an earlier stint making wire bird cages. Although the bicycle business was profitable, Pierce recognized that profits would increase directly with the number of wheels employed. Early efforts included six steam vehicles, under license from Overman. The steamers ran poorly and were quickly abandoned. In 1901, Pierce entered the internal combustion business.

Known for its uncompromising quality, reliability and powerful motors, Pierce was one of America's finest motor cars. Pierce pioneered many innovations, one of which was integrating the headlights into the fenders.

LeBaron worked with Pierce in the design of several different body styles in the early 1930's. The 1933 Club Sedan was a LeBaron body design and was the beginning of the 'sport sedan,' to be owner driven vs. chauffeur driven.

This Model 836 Club Sedan was built for the 1933 Chicago World's Fair. It features a full leather interior, Stewart Warner mechanical power brakes, Startix automatic starting, and an automatic choke. It was restored by its current owner and completed in 2006. Chalk notifications under the body reinforcement plate indicate that the car was produced for a major automobile show, and with no trunk rack.

There was evident the car left the factory with an all-leather interior. Removal of the door plate established the original color to be satin silver. The darker color is Chateau Gray with Eulan Gray striping. This was the first year Pierce used tinted glass.

It is the first car to have hydraulic valve lifters, full flow oil filtration and oil temperature control. It also sports ball bearing spring shackles and a five-foot-long muffler, ensuring near silent operation. The owner restored the car, completing it in January, 2006.
The Pierce Silver Arrow was an immediate hit when it was introduced at the 1933 New York Automobile Show and later at the 1933 Chicago World's Fair. With a streamlined design created by Phillip Wright, the Silver Arrows were radical designs and received rave reviews. Lost, to some degree however, were the other cars in the Pierce line. Pierce, in fact, had begun producing cars around the turn of the century.

The Pierce was a status symbol - owned by movie stars and other notable individuals. Their advertisements were notably understated and different. While the company declared insolvency in the late 1930s, it was these early cars as well as the Silver Arrow that put Pierce on a perch equal to and above many of the other manufacturers of the day.

Pierce-Arrow was out of business by May, 1938, but many of the innovations on the Arrow were standard styling features by 1940 on many of its competitors.
This 1933 Pierce-Arrow Series 836 Limousine rides on an extended 139-inch wheelbase. There were 2,152 Pierce-Arrows built for 1933, and this example was built near the close of 1933, as it was the 12 from the last created for that year. It is fitted with a 135-horsepower straight eight-cylinder engine that features hydraulic valve tappets, the first of its type in the industry, which promoted quiet operation and reduced maintenance.

In 2008, this elegant Limousine was offered for sale at the 'Quail Lodge, A Sale of Exceptional Motorcars and Automobilia' where it was estimated to sell for $90,000 - $125,000. A buyer willing to satisfy the cars reserve was not found, and the lot was left unsold.

This very late 1933 car, having been produced only 12 units before the end of Pierce-Arrow production for 1933, was delivered new to a Korean Prince during Japanese colonial rule. The car later accompanied him to Japan, where it was reportedly used until 1945 and then hidden away in a garage. This Formal Limousine remained in storage until 1980, when it was discovered and subsequently obtained by one of Japan's most prestigious private automotive museums. Later, the car went to New Zealand, where its paint, chrome and interior were renewed while its mechanics and chassis were overhauled.

After being away for nearly 75 years, the car returned to the United States. Following acquisition by the current owner, the car was thoroughly inspected and the repairs were made where needed. The electrical system was renewed, the various switches repaired or replaced, and a new battery was installed, spark plugs and an ignition cut-off switch were added. Other updates were done as needed.

In 2010, this Model 836 was offered for sale at the Vintage Motor Cars of Meadow Brook event presented by RM Auctions. The car was estimated to sell for $75,000 - $100,000. Bidding reached $50,000 but was not enough to satisfy the car's reserve. It would remain unsold.
By Daniel Vaughan | Aug 2010
The Pierce Company was founded by George N. Pierce. The company began by producing household items such as birdcages and iceboxes, and by the 1870s, had ventured into the world of bicycles. As the 1900s came into sight, Pierce began exploring the possibilities of motor carriages.

The first automobile produced by Pierce was in 1901. It was a 600lb Pierce 'Motorette' that was powered by a single-cylinder engine. In 1907, they were powered by large six-cylinder engines and called the Great Arrow. In 1908, the company was renamed the Pierce-Arrow Motorcar Company.

By the early 1910s, Pierce-Arrow had their Model 66, which was a large and stately vehicle driven by a 824 cubic-inch T-head six-cylinder engine and rode atop a large 147-inch chassis. By 1913, Pierce-Arrow patented fender-mounted headlamps, a design that would become a powerful brand signature for every subsequent Pierce-Arrow model produced during the remainder of the firm's existence.

The 1910s and early 1920s were a prosperous time for the Pierce-Arrow company. As the 1920s continued, the company began loosing its footing as they continued to use their six-cylinder engines. Most of their competitors had moved on, now powering their cars with eight-cylinder engines. Pierce-Arrow was also hesitant to embrace the art deco flamboyance of the time, and their style was quickly becoming outdated.

In 1928, the Pierce-Arrow company was merged with the Studebaker Corporation. This made available an eight-cylinder powerplant. For 1929, Pierce-Arrow was finally able to offer an eight-cylinder model that was stylish and fast. Sales were strong and plans continued for the years to come.

The 1931 Pierce-Arrows were given a longer wheelbase than earlier models. The following year, two new 80-degree V-12 engines were announced. This bold move was to help keep pace with the vicious cylinder wars being fought by their rivals such as Marmon, Cadillac, Packard, and Lincoln.

For 1933, Pierce-Arrow introduced the Silver Arrow prototype car. It was a statement of the direction the Pierce-Arrow intended to take. It was bold and elegant that had poise and power. Meanwhile, the 1933 Pierce-Arrow production cars were given valanced fenders which was the only major visual change distinguishing them from their 1932 counterparts.

The eight-cylinder Pierce-Arrow Series 836 was available in both a regular and extended wheelbase size. There was a wide range of body styles available on the 136-inch platform, while the extended 139-inch wheelbase was reserved for special sedan and limousine styles.

The Studebaker and Pierce-Arrow was a financial nightmare from the start, and by 1933, the Studebaker management ha brought the company to bankruptcy and into receivership. A group of Buffalo businessmen returned ownership of Pierce-Arrow to its hometown, paying $1,000,000 for the privilege.

For the years that followed 1933, the company continued to modify and refine their eight- and twelve-cylinder lines, though their future was coming to an end. For the 1937 model year, only 200 cars were built. 1938 would be the final year and only a few cars were built before the company closed its doors.
By Daniel Vaughan | Oct 2014
The Pierce-Arrow company was founded in Buffalo, New York in 1865 manufacturing everything from ice boxes and birdcages to bathtubs and bicycles. They built their first car in 1901 and in 1903 introduced the Arrow. The Arrow was followed by the Great Arrow which had cast aluminum body panels and a 93-inch wheelbase. This car, along with winning the first five Glidden Tours, helped secure the company's great reputation.

In 1909, the Pierce-Arrow became known as the car of Presidents when William H. Taft became the first president to use an automobile for official occasions. This tradition would continue until 1935.

This 1933 Pierce-Arrow Model 836 Limousine rides on an extended 139-inch wheelbase and was one of the last produced by Pierce in 1933. The car was delivered to a Korean prince who later lived in Japan and was used there until 1945 when it was put into storage. It was put into a private museum in Japan in 1980. The current owner acquired the car after it had been restored in New Zealand.
In 1933, the Pierce-Arrow automobile company became independent again, ending its brief merger with the Studebaker Company that had taken place in 1929.

For 1933, Pierce-Arrow offered eight and twelve-cylinder automobiles. However, sales continued to decline. Only 2,152 cars were sold in 1933. By 1938 the company was gone.

The eight cylinder automobiles were built on a 136-inch wheelbase chassis and were powered by a Pierce-Arrow inline eight that developed 135 horsepower.

This Pierce-Arrow was purchased new in 1933 by a New York City physician. It was restored from a 'basket case' in 1991.
Pierce-Arrow's acute need for financial stability led to their controversial merger of 1928 with Studebaker. This influx of cash funded the development of new models, provided the resources for a new eight-cylinder engine in 1929, which broke the company's long-standing reliance on six-cylinder power.

During the Great Depression, the company was unwavering in its quest to provide luxury, exclusive automobiles to their discerning clientele.

This 1933 Pierce-Arrow Sedan is from the Estate of the late Don Riddle, Jr., who purchased the car in Arizona during 2004. It was restored in the late 1990s, which included a new exterior finish, a new vinyl top, new chrome and a new interior. The engine is an L-head, 366 cubic-inch eight-cylinder powerplant offering 135 horsepower. There is a three-speed manual transmission and four-wheel brakes.

In 2011, this car was offered for sale at the Hershey, PA auction presented by RM Auctions. The car was estimated to sell for $40,000 - $60,000 and offered without reserve. As bidding came to a close, the car had been sold for the sum of $34,100 inclusive of buyer's premium.
By Daniel Vaughan | Dec 2011
| | |
| --- | --- |
| | Club Brougham |
This car was designed when Pierce-arrow was still part of Studebaker and shared the body design with the Studebaker St. Regis Brougham. IN 1933, the two companies parted ways when Pierce was sold by Studebaker for $1 million after having been bought in 1928 for 5.7 million.

New features for the 1933 Pierce-Arrow included a down draft carburetor, power assisted brakes, hydraulic lifters and Startix starting system. Startix was a system that automatically restarted the car if it stalled.
120 years of motor sport at Mercedes-Benz take centre stage at the Goodwood Festival of Speed 2014
'Addicted to Winning': at this year's Goodwood Festival of Speed, Mercedes-Benz looks back on some fascinating racing victories of the last 120 years •The unique motor sport heritage of the Mercedes-Benz brand is being celebrated with an exclusive installation by sculptor Gerry Judah •Mercedes-Benz and Gran Turismo®6 jointly celebrate '120 years of motor sport' Stuttgart. – The thrilling victories of the Mercedes-Benz Silver Arrows mark the peaks of the history of motor sport for...[Read more...]
80 years ago: victory by the Mercedes-Benz W 25 in the International Eifel Race gave birth to the legend of the Silver Arrows
•The silver-coloured body of the W 25 gave this nickname to the racing cars from Mercedes-Benz •Successful new development by Mercedes-Benz for the750-kilogram racing formula •Manfred von Brauchitsch drove the W 25 to victory and established a new track record for Nürburgring It was a debut in sparkling silver, and it ended with shining gold: the first race at Nürburgring with the completely newly developed Mercedes-Benz W 25 racing car on 3 June 1934 was won by Manfred von Brauchitsch with...[Read more...]
2014 SPANISH GRAND PRIX - PREVIEW
Round Five of the 2014 Formula One World Championship brings us to Barcelona for the Spanish Grand Prix, held at the Circuit de Barcelona-Catalunya. Contents · Driver / Senior Management Quotes o Lewis Hamilton o Nico Rosberg o Toto Wolff o Paddy Lowe · Circuit de Barcelona-Catalunya: The Inside Line o In the Cockpit o On the Pit Wall · Anniversaries · #GlobalGrandstand Lewis Hamilton It's been good to have a bit of a...[Read more...]
Techno Classica 2014: more than 30 racing cars to celebrate 120 years of Mercedes-Benz motor racing history
•Cars that were the heroes of magical moments put their stamp on this high-powered, most comprehensive show presentation •With more than 30 vehicles, Mercedes-Benz Classic presents motor racing history in all its unique breadth and depth •120 years of Mercedes-Benz motor sport in the focus of the leading international classic motor show 120 years of Mercedes-Benz motor racing history have produced a timeline of extraordinary victories which since 1894 also stand for outstanding innovations ...[Read more...]
Goodwood Festival of Speed 2013: auction of Mercedes-Benz W 196 R one of highlights at world's 'largest motorised garden party'
• Mercedes-Benz Classic presents great moments in motor-racing history at Goodwood • Motorsport festival celebrating its 20th anniversary • Auction of only privately owned post-war Silver Arrow by Bonhams sure to cause a stir Stuttgart – This year's Goodwood Festival of Speed in West Sussex, England, includes the auction of a Mercedes-Benz Type W 196 R Grand Prix racing car on 12 July 2013. The auction will be one of the highlights of a weekend dedicated to motor sport. Mercedes-Benz...[Read more...]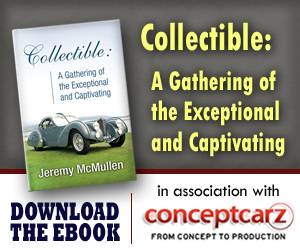 © 1998-2014. All rights reserved. The material may not be published, broadcast, rewritten, or redistributed.