1969 Jaguar XKE E-Type news, pictures, specifications, and information

Tweet
Sir William Lyons presented the E-Type in 1961 as his road-going successor to the racing D-Type. These vehicles had a long bonnet, curvaceous fenders and pouting mouth. The design was the work of Malcolm Sayer, a legendary aerodynamicist, who was one of the first to apply the principles of aerodynamics to mass-production motorcar design.

The E-Type (or XK-E as it would be known in the United States), introduced at the March 1961 Geneva Auto Show, received rave reviews. The 1961 E-Type featured a double overhead cam engine, fully independent rear suspension and four-wheel disc brakes (inboard at the rear, something usually found only on race cars). Clearly, the company's racing pedigree had found its way into a proper GT car.

The first series of the Jaguar XJ-E suffered from early teething problems including brake fade, overheating and restrictive foot space. The 4.2-engined Series I and II cars addressed many of these complaints with larger brakes, improved cooling, and better interior room. The second series (introduced in 1968) also brought important safety improvements which helped them comply with growing U.S. safety rules. They had larger tail lamps and open style headlamps. Emissions were reduced thanks, in part, to two Zenith carburetors replacing the triple-carb arrangement. Externally, the radiator air intake increased substantially in size, and larger, full-width bumpers provided compliance with U.S. low-speed impact requirements.

Braking was improved the deletion of the Kelsey-Hayes bellows-type servo and replaced by a Lockheed vacuum booster. The large Girling disc brakes utilized three-piston calipers at the front and two-piston units at the rear. Another mechanical change was to the well-proven 4.2-liter six-cylinder engine, which received a higher-capacity water pump to help adapt better to warmer climates. The aluminum dash panels and center consoles were now covered in black leather. The seats became more accommodating and comfortable. Reclining seats with adjustable headrests were now standard.

Clearly, there were changes made to the car, all with retaining the style and beauty of the original XK-E. the only external distinguishing feature of the 4.2 E-Type was the badge on the trunk lid.
By Daniel Vaughan | Oct 2011
| | |
| --- | --- |
| | 2+2 Coupe |
This XK-E Fixed Head Coupe is all original. It has been with the current owner for fifty-three years (as of 2012) and remains as a true reference as to how these cars when they left the factory at Coventry.
| | | |
| --- | --- | --- |
| | | Roadster |
The Series II, which debuted in late 1968, was the first major revision of this classic design. Changes were primarily done to meet worldwide safety regulation concerning lighting, bumper heights, etc. The same double overhead cam six continued with some modifications to meet emissions standards. in United States trim, it was still good for 246 horsepower.

This particular example has been resurrected and fully restored from being a 'basket case.' Its timeless beauty is confirmed by the fact that an E-Type is one of the few cars in the collection of New York's Museum of Modern Art.
The Jaguar E type, also known as the XK-E, brought style and performance together to create a mass-produced supercar. The road-going sports car was conceived in 1956 as a replacement for the D-type. In March of 1961 the E-Type was officially introduced to the world at the Geneva, Switzerland Motor show.
It's design was created by an aerodynamic engineer named Malcolm Sayer. The front engine, rear-wheel drive vehicle featured a moncoque body and a tubular front chassis. The six-cylinder double-cam engine had three SU carburetors and produced 265 horsepower. The suspension was independent with disc brakes on all four wheels. It brought together the best or aerodynamics, coupled with the latest technology and propelled by a potent engine. The vehicle was not only fast, it offered excellent performance and handling. Some of the most common complaints it received were the cabin being too cramped and it suffered from poor ventilation.

The E-Type was a popular vehicle. It was fast, performed well, and was competitively priced. Due to the United States safety and emission regulations, some of the horsepower was lost. The headlamp covers were also removed prior to the close of the 1960's.

A 4.2-liter engine and synchromesh gearbox was introduced in 1964. In 1966, the 2+2 coupe was introduced and featured a longer wheelbase. The Series II cars were not as quick as its predecessors. The Series III, however, was a different story. Powered by a V-12 engine they were once again able to propel the E-Type over 145 miles per hour.

Production for the E-Type ceased in 1975, after 72,520 examples being produced. It was replaced by the XJ-S; a vehicle that was larger, heavier, and not as visually appealing.
By Daniel Vaughan | Mar 2006
The Trident is Raised
One of Italy's most famous marks, and perhaps most troubled, the trident-bearing automaker continues to provoke passion through its search of excellence. Five brothers would come together in December of 1914 to found a motor company bearing their name—Maserati. Alfieri, Bindo, Carlo, Ettore and Ernesto had all demonstrated a passion for automobiles, particularly racing, during those early years at the turn of the 20th century. The foundations of the company would actually begin ...[Read more...]
VOLKSWAGEN SUPPORTS THE ROCKAWAY! - ARTS FESTIVAL
Sustainable engagement for culture and environment ◾Free public arts festival with prominent contributors to recognise the ongoing recovery assist in the reconstruction of the Rockaway peninsula after Hurricane Sandy New York, 27th June 2014 –Volkswagen Group of America continues its close partnership with the New York based Museum of Modern Art (MoMA) and MoMA PS1. Ever since the catastrophe of hurricane Sandy in New York Volkswagen Group of America has been very active in supporting...[Read more...]
TWO OF THE ORIGINAL SHELBY GT350 MUSTANG PROTOTYPES TO MEET UP IN TULSA, OKLAHOMA
More than three decades after taping a full-page ad ripped from a 1965 car magazine above his bunk on an Alaskan crab boat, Mark Hovander is touring the country this year with the same Ford Shelby GT350 Mustang pictured on that page. Hovander and his crosstown friend John Atzbach are big fans of the first-generation Shelby Mustang, and between them they own two of the three original prototypes. As Mustang enthusiasts across the country and around the world celebrate 50 years of their favorite...[Read more...]
1963 Andre Simon/Lloyd Casner Maserati Tipo 151/2
At a time when Maserati's financial picture couldn't have looked more bleak, it would be enticed to build what many would end up considering to be one of their finest sportscars ever. It would even be suggested it could have been one of the greatest of all time if Maserati had had the money to develop it. Unfortunately, the Maserati Tipo 151 forever lives in relative obscurity when it truly deserves to be remembered as much more. It is often remarked that for a race team to win a championship...[Read more...]
Auctions America 2012 Auburn Spring Auction Offers Full Range of Convertibles
Just in time for summer fun, Auctions America by RM will offer an array of open-air collector cars during its June 1-3 Auburn Spring auction,including a one-of-a-kind concept car that cost Ford Motor Co. more than a half-million dollars to produce. During the three-day event, more than 600 American muscle cars, Classics, foreign sports cars and hot rods will cross the block at the historic Auburn Auction Park, the company's national headquarters in Auburn, Indiana. 'It's that time of year wh...[Read more...]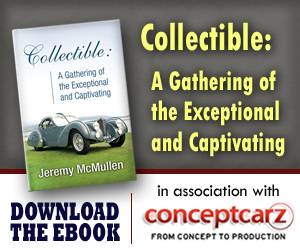 Similarly Priced Vehicles from 1969
Porsche 911 ($5,800-$8,200)
Porsche 911T ($5,800-$5,800)
Porsche 912 ($5,100-$5,600)
Lincoln Continental ($5,810-$6,045)
Cadillac DeVille ($5,720-$5,955)

Average Auction Sale: $44,930
Jaguar
Monthly Sales Figures
Volume
October 2014
1,007
September 2014
1,142
August 2014
1,184
July 2014
1,187
June 2014
1,263
May 2014
1,304
April 2014
1,035
March 2014
1,816
February 2014
1,552
January 2014
1,347
December 2013
1,544
November 2013
1,446
(More Details)
© 1998-2014. All rights reserved. The material may not be published, broadcast, rewritten, or redistributed.