Image credits: © Packard.
1936 Packard Model 1404 Super Eight news, pictures, specifications, and information

Tweet
James Ward Packard was convinced that he could build a better vehicle than the horseless carriage he purchased in 1899. The electrical equipment manufacturer from Warren, Ohio, went on to build some of the most powerful and prestigious automobiles of the period. This four-door Convertible Sedan was a new body style for 1936 and was custom built for the buyer by Dietrich. The long wheelbase chassis wîth its eight cylinder engine made it a comfortable, competent road car. Its elegant styling and proportions make it an American Classic.
Source - AACA Museum
The Packard Super Eight was built atop of the Packard series 15 chassis. Power was courtesy of the inline eight cylinder engine with side-valves that produced an adequate 135 horsepower. With a weight in the 2300 kg neighborhood, the 2+2 convertbile sports car had an top speed of around 135 km/h.

At the beginning of 1936 a Packard was pulled at random from the production line and started running at the Packard proving grounds. For seven days it ran with stops for only gasoline, oil and water. As the show closed in New York, the Model 1404 Super Eight had run over 15,000 miles - a testament to the unique quality of the marque.
By Daniel Vaughan | Apr 2009
Five-Passenger Phaeton
Chassis Num: 757528
Engine Num: 757528

High bid of $200,000 at 2008 RM Auctions. (did not sell)

The Packard Super 8 was produced from 1935 through 1939. There were several new introductions for the 1935 Packard such as to the steering, suspension, and more horsepower. The new bodies offered true envelope styling and for the first time, the cars were designed as a whole, with body, hood, fenders and running boards integrated into a single design.

The 1936 fourteenth series Packard's were largely carried over from the prior year. Several changes were added such as a new radiator which was raked back five degrees. This would be the final year for the 17-inch wire wheels and the traditional double blade bumpers with hydraulic dampers.

This example is an original five-passenger phaeton. It is one of just five or six known to have survived. Its first owner was Robert Woodward, an artist from Greenfield, Massachusetts. The car would stay in his care until his death in 1957. The car was then acquired by Roderic Blood who used the car as his fair-weather daily driver. In 1967 the car was sold to Mr. Sawyer of Gloversville, New York. It was sold shortly thereafter to Mr. Austin of Gouverneur, New York. It would remain in his care until 1982 when it was purchased by Manny Souza, who sold it to Jason Siegel. Mr. Siegel was a past president of the Florida region of the Classic Car Club of America. In 1990, Siegel began a ground-up restoration. The work required more than two years to complete. After completion the car was shown, earning both AACA National Firs Place and CCCA Senior awards.

The car remains in good condition in modern times. It is well-equipped with side curtains, top boot, optional wind-wings, correct Packard spot lamp, original Packard heater, and a Packard Goddess of Speed hood ornament.

In 2008 this 1936 Packard Super Eight Five-Passenger Phaeton was brought to RM Auctions 'Vintage Motor Cars of Meadow Brook' where it was estimated to sell for $225,000-$275,000. Bidding reached $200,000 but was not enough to satisfy the reserve. The lot was left unsold.
By Daniel Vaughan | Sep 2008
The Packard Series 14 Model 1404 Super 8 2/4 Passenger Coupe had a base price of $2,880 in 1936. These hand-built cars were certainly among the finest automobiles produced by the Packard Motor Car Company. The 14th Series had been introduced in 1936 and was mostly a carry-over from the prior years Twelfth Series. It is said that there was no 13th Series due to superstition reasons. There were differences between the 12th and 14th series such as a new radiator that was racked back an additional five degrees, and there were 17-inch wire wheels, and a Bijur chassis lubrication system. The 14th Series was given ride control, a solid front axle, mechanical brakes and a 384 cubic-inch eight-cylinder engine.

This vehicle is a 2/4-Passenger Coupe that is painted in two-tone finish with a cream-colored body with taupe colored beltline rib, rear window surrounds, and fenders. There is red pin-striping, dual driving lights, dual side-mounted spare tires, a covered trunk, rumble seat, dual golf bag doors, wire wheels and whitewall tires. The interior is tan cloth upholstery with dark brown carpeting. It has participated in the 1991 Great American Race and was featured in the 1992 Great American Race calendar, and is a CCCA Full Classic.

For 1936, there were 1,330 Super Eights produced. With around 17 bodystyles to select from, the Super Eights were versatile and catered to nearly every need. The eight-cylinder engine offered 150 horsepower and there were four-wheel vacuum-assisted mechanical brakes.

In 2009, Super Eight Coupe was offered for sale at the Automobiles of Amelia Island auction presented by RM Auctions. The car was estimated to sell for $60,000 - $90,000 and offered without reserve. The lot was sold for a high bid of $66,000, including buyer's premium.
By Daniel Vaughan | Apr 2009
The Packard Motor Company relied on making luxurious cars that were highly refined, fitted with luxurious coachwork, and powered by proven engineering. This belief had placed them among the elite in the auto industry during the early 1900s. As the world entered the Great Depression, the Packard Company was one of the few that managed to survive. In fact, they outsold all of their competitors combined. They had entered the Depression in excellent financial health and they emerged with strong financial footing. But the post depression era had them worried, as the number of potential buyers had dwindled as fortunes were lost. Production had dropped nearly half each year when compared with the previous, from 1929 to 1933. In response to the decline, Packard continued to make improvements each year.

In 1932, Packard introduced their Ninth Series. It featured many improvements which helped segregate it from other automakers in the industry. Improvements included a revised steering geometry which made steering smooth and easy. Braking was equally as easy thanks to the new driver adjustable power assisted braking system. The shifting action and clutch were improved making driving a very enjoyable activity. The drivers workload was eased even further with the spark advance and automatic choke.

By making these changes they attracted a growing segment of buyers and drivers - woman.

The 1933 Packard's were called the Tenth Series cars as the company still refused to adopt the convention of the model year system which called for new cars to be introduced in September or October to coincide with the auto show schedules. The following year, the reluctantly joined with other manufacturers which resulted in a shorted run for the tenth series, lasting just seven months. The new Packard model line was introduced in the fall. Because of the seven month production lifespan of the Tenth Series, very few were produced making them very rare in modern times.

The Tenth Series were given a new X-braced frames, dual coil ignition, and downdraft carburetors. The styling was updated with skirted fenders and a 'V'-shaped radiator shell. The interior featured upgraded trim and a new aircraft inspired dash.

Packard continued to offer three chassis, the Eight, Super Eight, and the Twelve. The Super Eight and Twelve both rested on a wheelbase that measured 142-inches and had a hood that was nearly six-inches longer than the Eight. The fenders were longer as well.

The bodies on the Twelve's and Super Eight were interchangeable, with the Super Eight featuring an eight-cylinder engine while the Twelve featured a twelve cylinder engine. During this time, Packard also produced the Eight, which had a smaller wheelbase size and the eight-cylinder engine. The Super Eight and Twelve differed by interior appointments and engine size. The bodies were constructed of wood and steel.

In 1936 Packard was producing their Fourteenth Series as the number thirteen had been skipped. It is believed that thirteen was not used due to superstitious reasons. The Fourteenth Series was the last year for Bijur lubrication, ride control, a semi-elliptic suspension, mechanical brakes, heavy vibration dampening bumpers and the 384.4 cubic inch straight eight engine. It was also the last year for the option of wire or wood wheels.

In 1936 the fourteenth series received a new radiator which was installed at a five-degree angle. The Super 8 had a new sloped grille with chrome vertical bars which gave the vehicle a unique look and served as thermostatically controlled shutters which opened or closed based on engine heat. The headlight trim, fender styling, and hood vents saw minor changes. A new Delco-Remy ignition system was the new updates for 1936 under the bonnet.

For 1936 there were a total of 1,492 Super Eights constructed.
By Daniel Vaughan | Apr 2008
MERCEDES-BENZ 2014 G63 AMG: THE ULTIMATE G-CLASS
The latest technology for the AMG off-road icon: the new 2014 G63 AMG impresses with a state-of-the-art powertrain, expressive new design and improved efficiency. All this is largely attributable to the AMG 5.5-liter V8 biturbo engine delivering 536 hp and the AMG SPEEDSHIFT PLUS 7-speed automatic transmission. Every new AMG high-performance vehicle offers an outstanding mix of 'more power from less fuel' – and the G63 AMG is no exception. The 'strong man' in the AMG model range has been furt...[Read more...]
BMW ANNOUNCES PRICING FOR ALL-NEW X5 SPORTS ACTIVITY VEHICLE
Woodcliff Lake, NJ – June 24th, 2013 … It isn't often that an automobile manufacturer gets to launch an entirely new vehicle segment, but that's exactly what BMW did in 1999 when it introduced the world's first Sports Activity Vehicle – the BMW X5. Two generations and some 1.3 million vehicles later, the BMW X5 is set to enter its third generation. As its predecessors have done before, the all-new 3rd generation X5 will again set new standards for luxury, versatility and – because it is a BMW f...[Read more...]
Kelley Blue Book Names 2014 Sorento To List Of 10 Best Suv's Under $25,000
◾Sleek and Practical U.S.-Built* Sorento Ranked Fifth Among Top Competitors ◾Redesigned 2014 Sorento is refined, roomy and economically priced ◾Kia's midsize CUV recognized for design and practicality IRVINE, Calif., May 29, 2013 - Kia Motors America's (KMA) top-selling CUV, the redesigned 2014 Sorento, was named to Kelley Blue Book's KBB.com list of the 10 Best SUV's Under $25,000. The list, which was compiled by editors at Kelley Blue Book, features stylish and sensible sport util...[Read more...]
TOYOTA GT86 IS CAR BUYER'S COUPE OF THE YEAR
Announcing the award on Friday (1 March), Steve Fowler, Car Buyer Editor-in-Chief, said: 'The GT86 is a fine example of Toyota doing what it does best: understanding the needs of a target market and delivering – in this case a focused sports car that's all about driving enjoyment, yet at an affordable price.' It's a neat summary of the essential qualities that have made the low, light and lithe GT86 an instant hit with media and motorists alike. Giving the Toyota a 4.8-out-of-five rating...[Read more...]
Legendary Tucker Automobiles on Display at 2012 Glenmoor Gathering
Several 1948 Tucker Automobiles will be part of the show field at the 2012 Glenmoor Gathering, including an unrestored Tucker from the Gilmore Car Museum Collection (above). A total of 51 cars were built before production stopped and most of them survive today. The distinctive car-the brainchild of Preston Tucker-was designed by Alex Tremulis. In all, more than 200 vintage and classic American and European automobiles and motorcycles will be on the show field. The motorcycle class will f...[Read more...]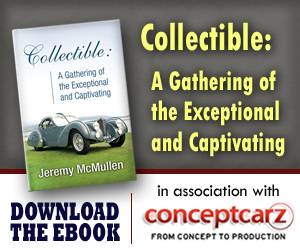 © 1998-2014. All rights reserved. The material may not be published, broadcast, rewritten, or redistributed.