1957 Buick Series 75 Roadmaster news, pictures, specifications, and information

Tweet
For 1954, Buick completely redesigned the Roadmaster and shared its new C-Body platform with the Super Line. In 1957, it was given a new body, 10 extra inches to its length, and a rakishly lower roofline. The Series 70 Roadmaster came in two- and four-door hardtop and convertible models. It was given sweepspear side accents, front-fender 'ventiports,' 'Dagmar' bumpers and fully-radiused rear fenders. Inside, there was a padded dashboard, several options of premium upholstery choices and a bright metallic overall dash motif. The 76C Convertible Coupe models were even more luxurious, with rich leather upholstery.

Benefitting from their involvement in NASCAR competition, Buick introduced the 322 cubic-inch 'Nailhead' v-8 in 1953. This evolved into a 364 cubic-inch, 300 bhp powerplant for 1957. This engine was shared with the Century line and featured a 10.0:1 compression ratio, and fitted with either a Carter or a Rochester four-barrel carburetor.

For 1957, there were just 4,364 examples of the Roadmaster Convertible produced, and each carried a base price of $4,066. This example has been given a nut-and-bolt, body-off restoration and finished in two-tone black and red. It has a black Everflex top with a red top boot, a red leather interior and 40-spoke chrome wire wheels with whitewall tires. There are power brakes, power steering, power windows, Wonder Bar pushbutton AM radio and power antenna, a heater/defroster and a clock.

In 2011, the car was offered for sale at the RM Auction in Scottsdale, Arizona. It was estimated to sell for $125,000 - $150,000. As bidding came to a close, the car had been sold for the sum of $121,000 including buyer's premium.
By Daniel Vaughan | Feb 2011
| | | |
| --- | --- | --- |
| | | Convertible Coupe |
David Dunbar Buick began experimenting with internal combustion engines during the 1890s. He had made a fortune in the plumbing business with the invention for permanently coating cast iron with enamel which allowed the production of 'white' baths at lower cost still in use today. Like Henry Ford, he started three successive companies to produce cars, only the third of which was successful and became the Buick Motor Company. William C. Durant gained control of the company and used it as the platform to build General Motors.

The Buick Roadmaster was completely redesigned on the C-Body platform for 1954 and received a new body with a rakishly lower roofline in 1957. It was nearly 10 inches longer and featured Buick's now iconic sweepspear side accents, front fender 'ventiports' and 'Dagmar' front bumpers. The interior featured a padded dashboard with a bright metallic dash motif. It was powered by a 365 cubic-inch 'nailhead' V8 engine producing 300 horsepower. The Roadmaster convertible was priced at $4,065 and just 4,364 were built.

This black over red convertible sports chrome wire wheels and full power accessories including brakes, steering, windows, antenna and Wonder Bar pushbutton radio.
This Buick Roadmaster Convertible (of which there were fewer than 4,500 produced) is finished in two-tone Seminole Red and Dove White. It was the subject of a body-off restoration and rewarded with a First National Award at the Louisville AACA Meet and Best of Show at the Hawkeye Buick Show. The interior is upholstered in red leather and the panoramic windscreen, exquisitely trimmed dashboard and delightful 1950s design features combine to create a beautiful interior space.

The Roadmaster was equipped with many standard features, most of which were extra-cost options on other Buick models. It has optional power steering, Sonomatic radio, wheel covers, deluxe steering wheel and factory air-conditioning.

Power is from a 364 cubic-inch overhead valve 'Nailhead' V8 engine with a single 4-barrel carburetor. It produces 300 horsepower and is mated to a Dynaflow automatic transmission. There are four-wheel hydraulic drum brakes and an independent front suspension.

In 2012, the car was offered for sale by Gooding & Company at their Scottsdale, Az. auction. The car was estimated to sell for $110,000 - $140,000 and offered without reserve. The car found new ownership for the sum of $61,600, inclusive of buyer's premium.
By Daniel Vaughan | Feb 2012
The Roadmaster was powered by Buick's 364 cubic-inch V-8 that developed 300 horsepower that was good for zero-to-sixty in under seconds and was capable of 110 miles per hour.

All 1957 Buicks now featured the rear wheelhouse cutout. The Roadmaster also featured four oval ventiports on the front fenders - a Buick styling signature. Standard special equipment included dual horns, map lights, front and rear armrests, directional signals, sliding sunshades, cigarette lighter and glove box light. An added feature on the Roadmaster was a padded dashboard.

Factory price new was $4,066. Total production of 1957 Roadmaster 70 convertibles was 3,826. This Roadmaster is the recipient of a complete restoration.
The Roadmaster named first appeared on Buick automobiles in 1936 as a celebration of their engineering improvements and advancements in design. The Buick Series 80 became known as the Roadmaster. The Roadmasters were built on the longest wheelbase Buick had to offer. From 1946 through 1957 they were the most elegant and prestigious automobiles that Buick sold.

From 1936 through 1948 the Roadmaster appeared in coupe, sedan, convertible and station wagon bodystyles. A hardtop coupe was added in 1949 and dubbed the Riviera.

The Roadmaster named reappeared in 1991 and continued in production until 1996. It served as a replacement for the Electra model line and offered as an Estate Wagon. A sedan was introduced in 1992.

The end of the 1953 Buick Roadmaster station wagon meant the end of the last wood-bodied station wagon to be mass-produced in the United States. In 1996, the end of the Buick Roadmaster Estate Wagon meant the end of the full-size family station wagons.
By Daniel Vaughan | Mar 2006
CHRYSLER GROUP SHINES A LIGHT ON BREAST CANCER AWARENESS
◾Begins a month-long campaign focusing on the importance of early detection, treatment and prevention ◾Campaign includes a series of awareness seminars and screenings conducted by health plan partners ◾Company will illuminate its headquarters tower and Pentastar pink for a month beginning October 1 October 1, 2013 , Auburn Hills, Mich. - Chrysler Group LLC will launch a month-long campaign to add its voice to the nation-wide effort to raise awareness about the importance of early det...[Read more...]
'OPENING THE HIGHWAYS' ARTWORK RESTORED AS FORD BUILDS ON CENTURY-PLUS LEGACY OF MOBILITY LEADERSHIP
◾'Opening the Highways' Ford advertisement first printed in 1925 still used to summarize company's vision for automotive leadership ◾Ford and The Henry Ford work together to restore historic painting used in the ad ◾Restored painting and ad unveiled in Henry Ford Museum's 'Driving America' exhibit DEARBORN, Mich., June 24, 2013 – A nearly 90-year-old advertisement that propelled Ford Motor Company's vision for putting the world on wheels and recently helped transform the company from...[Read more...]
Breaking news from Coys
1966 AC Shelby Cobra - Now selling at No Reserve! Coys are pleased to announce that a 1966 AC Shelby Cobra will now be selling at No Reserve later today at the Autosport International show at the NEC in Birmingham. Featured on the front cover of Classic & Sportscar magazine in September 2012, this Cobra is beautifully presented in Rangoon Red paintwork with black leather upholstery and hood and tan tonneau and sidescreens, and the car still displays a delightful patina. The 427ci b...[Read more...]
Barrett-Jackson Flavors Its January Scottsdale Auction With NASCAR Treats
• RACING HERITAGE, HIGH PERFORMANCE ARE RECIPES FOR CAR-COLLECTING FEAST
• SPEED™ SET FOR 39 HOURS of LIVE COVERAGE STARTING JAN. 15
The great Henry Ford once said, 'Auto racing began five minutes after the second car was built.' And for more than 60 years, there are few entities that better represent auto racing in America than NASCAR. From the hallowed grounds of Daytona International Speedway, to Sonoma, California's intricate and picturesque road course, the sp...[Read more...]
Unique Ford Shelby GT500 To Be Auctioned Saturday
On Saturday, Sept. 22, Ford Motor Company and Henry Ford Health System will auction a fabulous, one-of-a-kind 2013 Ford Shelby GT500. As part of its 2012 'Get Your Heart Racing' event and charity auction, Henry Ford Health System has once again called on the creative talents of Ford designer Melvin Betancourt. To thank the dedicated team at Henry Ford Health System that Betancourt credits with saving his life when he was treated for a serious heart condition, the designer has focused all of h...[Read more...]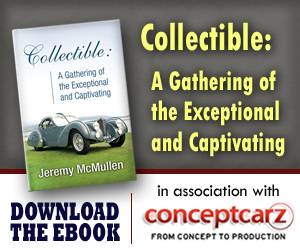 Similarly Priced Vehicles from 1957
DeSoto Fireflite ($3,485-$4,120)
Jaguar XK-140 ($3,665-$4,400)
Alfa Romeo Giulietta Veloce ($3,686-$4,195)
Mercedes-Benz 190 SL ($3,999-$4,290)
DeSoto Adventurer ($4,000-$4,270)
Mercury Turnpike Cruiser ($3,755-$4,100)
Chrysler New Yorker ($4,170-$4,745)

Average Auction Sale: $63,847
Buick
Monthly Sales Figures
Volume
August 2014
22,143
July 2014
17,683
June 2014
21,403
May 2014
19,957
April 2014
19,214
March 2014
20,428
February 2014
19,192
January 2014
13,278
December 2013
15,379
November 2013
15,072
October 2013
17,555
September 2013
15,623
(More Details)
© 1998-2014. All rights reserved. The material may not be published, broadcast, rewritten, or redistributed.