1941 Packard 120 news, pictures, specifications, and information

Tweet
Series production for the 1941 Packard's peaked at 17,100, with 358 of those being wooden station wagons. There is no further breakdown on the 110- and 120-based cars.

The 1941 Packard 120 Woodie Wagon was built by Hercules. They had a reputation for building dramatic bodies framed in light colored white ash with panels in dark mahogany.

This example was found in poor condition. A full restoration brought the car back to its original grandeur. The work took four years to complete and used both new old stock and restored original parts from other Packards.

The car is finished in light green/mint green. Power is from an L-head straight eight, five main bearing engine capable of producing 120 horsepower. There is a three-speed Selective Synchromesh transmission with overdrive and hydraulic brakes on all four wheels.

In 2010, this car was offered for sale at RM Auctions 'Automobiles of Amelia Island' event, where it was estimated to sell for $100,000 - $150,000 and offered without reserve. As bidding came to a close, the car had been sold for the sum of $159,500, inclusive of buyer's premium.
By Daniel Vaughan | Feb 2011
As the 1940s came into view, Packard found itself producing models for a wider market. In 1937, they introduced the 'One-Twenty' Series as their attempt to break into the mid-priced eight-cylinder demographic. The 120 rested on a 127 inch wheelbase and, for 1941, was available in eight body styles. The One-Twenty offered buyers the company's patented 'Safe-T-Flex' double-A-arm independent front suspension, a 282 cubic-inch L-head inline eight-cylinder engine, and a three-speed-plus Aeroshift overdrive transmission with column control. The Model 1499 Convertible Coupe had a mildly updated body with headlamps now largely enclosed in the front fenders and a single glass panel to replace the two-piece rear window. The car carried a list price of $1,407 FOB Detroit, and 1,700 examples were sold.

This particular One-Twenty Convertible Coupe is finished in Grove Green Metallic. In 2002, it was acquired by Packard collector Tim Dudley from the Tom Mix Collection in Boston. An ambitious restoration soon followed. A new interior of gray and green leather, complemented by a tan cloth top, was installed.

The current paint scheme is not original to this car, though it is a correct color for the year and model. The car is fitted with optional Deluxe bumper guards, a factory-optional 'K' deluxe steering wheel, dealer-installed 'Senior' Deluxe hood ornament, a radio with its rare cowl-mounted antenna, heater, and defroster. The running boards were deleted, which was also a factory option.

The current owner acquired the car from Mr. Dudley and has kept the car in a climate-controlled garage. Neither he nor the previous owner has ever shown this Packard.
By Daniel Vaughan | Apr 2014
DeLuxe Woodie Station Wagon
Designer: Hercules

The original owners of this car were the McCormick family of Scottsdale, AR.

The woodie wagon was offered in both the 110 series and the 120 series with the only differences being the wheelbase and the engine. This 120 series has a 127-inch wheelbase and weighs 3,730 pounds. It is powered by an inline, eight-cylinder, 282 cubic-inch engine developing 120 horsepower.

The body was by the Hercules Body Company. The door frames are made of Mahogany and the panels are made of Ash.
Changes to the 1941 Packard included having the headlamps moved into the fenders. When customers ordered side-mounts, these were sunk deeper into the fenders. The company continued to use what was called a 'caravan' style top without rear quarter windows and an all-leather interior.

This particular example was sold new in Hartford, Connecticut, to an attorney who later sold the car to a collector in New Hampshire. It was later sold to another collector and remained unused and in long-term storage. It was recently re-discovered, having been last registered in 1984.

When new, this car came equipped with the $48.50 radio and the Goddess of Speed hood ornament with the glass wing. The car rides on wide whitewall tires, and its exterior is painted in black with an ivory convertible top and contrasting red interior.
By Daniel Vaughan | Oct 2014
The Packard One-Twenty was produced from 1935 through 1937 and again from 1939 through 1941. The One-Twenty signified Packard's move into the mid-priced eight cylinder market; a highly competitive segment that was filled with many marques with numerous offerings, options and price ranges. The move had been made due to financial reasons and the need to stay competitive; the Great Depression was taking its tool on the entire automotive industry but mostly on the high priced manufactures. The lower cost marques also had a tough time but a few were still able to move a considerable amounts of products and wade out this terrible time in history.

The One-Twenty was quickly designed, created, and made ready for sale. First offered in 1935, it could be purchased in numerous body styles that included coupes, convertibles, and two- and four-door configurations. Under the hood lurked an L-Head eight cylinder engine capable of producing 110 horsepower. The price range was competitive, with prices ranging from the mid $900's to the low-$1000's. This combination of mid-cost and adorned with the Packard nameplate proved to be the right combination and in its first year nearly 25,000 examples were created. The rest of the Packard model lines only accumulated to around 7000 examples being sold.

For 1936 Packard increased the displacement of the engine and horsepower rose to 120 and gave the One-Twenty a top speed of 85 mph. A convertible four-door sedan was added to the line-up with a $1395 price tag, making it the most expensive One-Twenty body style. Sales continued to be strong and more than doubled over the prior year. This would be the best sales year for the Packard One-Twenty.

Packard introduced the Six in 1937. This was the first time in ten years that a six-cylinder engine could be found in a Packard. The reasoning was again economics and the constant struggle to stay in business by offering a quality product at a reasonable price. The Packard Six meant that the One-Twenty was to move higher up the market, being offered with more amenities and options. Two of these options were the 'C' and 'CD' trim levels. A wood-bodied station wagon and Touring Sedan were added to the line-up. A limousine body style, sitting atop a 138 inch wheelbase was also available for the first time, setting the buyer back a hefty $2000. There were 50,100 examples of all One-Twenty body styles producing during this year.

To conform to Packard's standard naming conventions, the One-Twenty was known as the Packard Eight for 1938. A year later, it was back to being called the One-Twenty. There were still a slew of body styles to choose from, able to satisfy all of their customer's desires and needs. The price range was competitive, costing from around $1100 to $1856. Though the product and the price were good, sales were slow with only 17,647 units being produced. The recession was taking its toll. Packard had even introduced many new mechanical improvements such as placing the shifter on the column rather than on the floor. For the following years, sales began to rise again, now amassing to 28,138 examples being produced. The name One-Twenty was now hyphenated.

For 1941 Packard offered the One-Twenty in eight body styles. The styling had been modified from the prior years, with the headlamps now residing in and on the fenders.

The One-Ten and One-Twenty were both dropped in 1942 and their names were merged with the Packard Six and Packard Eight lines. The One-Twenty had in production for seven years and 175,027 examples were produced.
By Daniel Vaughan | Sep 2010
For more information and related vehicles, click
here
BARRETT-JACKSON SALON COLLECTION TO HIGHLIGHT SCOTTSDALE AUCTION
•(Lot #5087), a 1949 Talbot-Lago T-26 Grand Sport Franay headlines Barrett-Jackson's Salon vehicle lineup •An exquisite 1929 Alfa Romeo 6C 1750 SS (Lot #5083) will be among the auctions most notable consignments •One of 300, a stunning silver 1955 Mercedes-Benz 3000 SL Gullwing (Lot #5075) will cross the Scottsdale auction block SCOTTSDALE – Jan. 5, 2015 – Barrett-Jackson, The World's Greatest Collector Car AuctionsTM, will feature a rare docket of exquisite Salon vehicles during its...[Read more...]
BONHAMS 3RD ANNUAL SCOTTSDALE AUCTION THE BEST YET, WITH MULTIPLE RECORDS MADE, STRONG SELL-THROUGH RATE AND NEARLY $25-MILLION ACHIEVED
Bonhams' third annual auction during the Scottsdale Car Week was a smashing success, nearly doubling last year's total and quadrupling that of the first year. Held on Thursday, January 16th under warm and clear desert skies at the beautiful Westin Kierland Resort & Spa, the anticipated auction exceeded pre-sale expectations. Buyers from around the world filled the sales tent to capacity with many more bidders participating online and by telephone. The viewing atmosphere on the lawns was re...[Read more...]
MERCEDES-BENZ 2014 G63 AMG: THE ULTIMATE G-CLASS
The latest technology for the AMG off-road icon: the new 2014 G63 AMG impresses with a state-of-the-art powertrain, expressive new design and improved efficiency. All this is largely attributable to the AMG 5.5-liter V8 biturbo engine delivering 536 hp and the AMG SPEEDSHIFT PLUS 7-speed automatic transmission. Every new AMG high-performance vehicle offers an outstanding mix of 'more power from less fuel' – and the G63 AMG is no exception. The 'strong man' in the AMG model range has been furt...[Read more...]
POTEET, CIZEK EARN TOP AWARDS AT GOODGUYS 16TH PPG NATIONALS
Columbus, OH – Tennessee's George Poteet and Nebraska's Ron Cizek collected the top two awards at the Goodguys 16th PPG Nationals in Columbus, Ohio last weekend. Under brilliant sunshine and in front of record crowds, Poteet's vintage NASCAR-inspired '69 Torino won the Goodguys 2013 Optima Batteries Street Machine of the Year while Cizek's popular Ridler award-winning '40 Ford coupe collected the Goodguys 2013 Classic Instruments Street Rod of the Year title. For Cizek, it's the second ma...[Read more...]
BUICK TURNS 110: MOST SIGNIFICANT BUICK OF EACH DECADE
DETROIT – Remaining in business for 11 decades requires constant innovation, so choosing one model to represent a decade of significance can be a catalyst for debate. Among the hundreds of models designed and engineered for Buick, the 11 below stand out as the most significant for their respective decades since May 17, 1903. Let the debate begin. ◾1903-1912: The first Buick ever is quite significant, so Buick's first decade honor goes to the 1904 Model B. The first one of the line was so...[Read more...]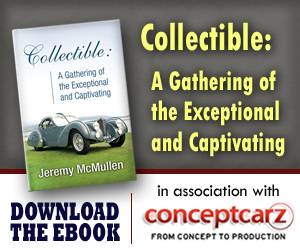 Similarly Priced Vehicles from 1941
Studebaker Commander ($11-$1,250)
Packard Clipper ($1,400-$1,400)
Plymouth P12 Special DeLuxe ($765-$1,125)
Packard 110 Series 1900 ($1,000-$1,325)
Cadillac Series 62 ($1,425-$1,970)
Cadillac Series 61 ($1,350-$1,540)

Average Auction Sale: $69,829
© 1998-2014. All rights reserved. The material may not be published, broadcast, rewritten, or redistributed.