1942 Packard Super-8 One-Eighty news, pictures, specifications, and information

Tweet
Convertible Coupe
Coachwork: Darrin

The last Packard Darrin built, this car was originally owned by Gene Autry. It was used by the popular star of over 90 movies and the hit radio show, 'Melody Ranch,' until 1951. It is the fifteenth of fifteen examples constructed in the 1942 model year. It is handsomely liveried in medium blue with blue interior, brown carpets and blue top. It is fitted with a three-speed transmission with overdrive, radio and heater.
Howard 'Dutch' Darrin was a flamboyant designer, based in Hollywood. In 1939, after having successfully sold a handful of custom Darrin Packard's to celebrities such as Clark Gable, he proposed marketing his custom convertible as a glamour leader for the Packard brand.

Unfortunately production never achieved the numbers Darrin or Packard had hoped for. They were originally offered on the 120 and 180 chassis. Bodies were initially built by the Auburn Central Company, former manufacturer of Auburn cars. However, by 1941 they had a huge contract to build Jeep bodies for the military and couldn't built the low-volume Darrin bodies. Picking up the contract was Sayer and Scoville, of Cincinnati, a builder of professional cars and limousines. By 1942, they had become Hess and Eisenhardt and had instituted some small design changes to the cars.

The ultra-exclusive 1942 Darrin was based on a One-Eighty series, Model 2006 Special, 127-inch wheelbase chassis. It was powered by the 356 cubic-inch Packard Super 8 engine, rated at 160 horsepower. The 1942 Darrin weighed 3,920 lbs and listed for $4,595. The 1942 model was the last Darrin built before all civilian car production was halted for the duration. This particular car was number 9 of only 15 built for 1942. These were the last of the Packard Darrins.
The Packard 180 made its debut in 1941 in New York and was to be a replacement for the legendary Packard Twelve. The Packard 180, along with the companion 160 Series, had a modern design with headlights integrated into the fenders for the first time. The interior was equally as modern, with a dash fascia molded almost entirely in plastic.

World War II would halt production and after the war, the company sold its tooling to the Russians. This left the mid-priced Clipper as the company's sole offering after the war. The art of coachbuilding was also coming to a close, as new construction methods all but did away with this craft. Howard 'Dutch' Darrin was one of the few coachbuilders that survived past the late thirties. Darrin had relocated to California and opened a shop in Hollywood where his work catered to the stars.

Near the close of the 1930s, Darrin created a series of special-bodied Convertible Victorias atop the Packard chassis. They were distinguished by their 'vee' windshields, long hoods, and the famous 'Darrin dip' in the beltline near the rear of the doors. The popularity for these cars quickly rose and in response, Darrin set up production in Connersville, Indiana. They carried a relatively high price tag of $4,595 but they had the style to match. All of the circa 50 examples produced were sold. 15 were assembled for 1942 before WWII put a halt to production.

This example was one of the 15 produced in 1942 and was used in the filming of the 1970s television detective series Banacek, starring George Peppard. During the 1990s, the car was treated to a restoration by Packard collector Ralph Marano.

This Packard One-Eighty is the only Convertible Victoria to feature a three-position convertible top - meaning the top can be either closed, completely open, or partially open.

Mounted under the bonnet is a L-head eight-cylinder engine that displaces 356 cubic-inches and produced 165 horsepower. There is a three-speed transmission and four-wheel hydraulic brakes.

In 2008 this Darrin-bodied car was brought to RM Auctions 'Vintage Motor Cars of Meadow Brook' where it was estimated to sell for $225,000 - $275,000. Bidding exceeded those expectations as the lot was sold for $330,000 including buyer's premium.
By Daniel Vaughan | Sep 2008
Convertible Coupe
Coachwork: Darrin

Only about 100 Packard-Darrin Convertible Victorias were built over a three-year period from 1940-1942. This sporty and luxurious Packard Convertible Victoria was based on a customized Packard made for actor-singer Dick Powell by automobile stylist Howard 'Dutch' Darrin. The sleek Victoria had a cut-down windshield and a gently sloping door line - the 'Darrin' dip - that kicked up toward the rear.

The Custom Super 8 One Eighty Convertible Victoria came standard with a 356 cubic-inch engine that produced 160 horsepower. The engine was coupled to a 3-speed manual transmission and had a top speed of 85 mph. This 4,040 pound car sold for $4,595, which was quite expensive for that era, but Packard was able to sell every one.

For 1942, production of the Victoria was turned over to Sayers and Scoville, a firm that built ambulances and hearses. They produced about 35 Victorias.
Convertible Coupe
Coachwork: Darrin

The Darrin bodied Packards Model 180 rode on a 127 inch wheelbase and were powered by a 356 cubic-inch straight-8 engine offering 165 horsepower. They had a three-speed transmission with overdrive. The bodies were modified by coachbuilder Hess & Eisenhart in Cincinnati, Ohio.

This example was originally owned by the singing cowboy, Gene Autry and he drove the car until 1951. It is the last of only 15 Packard Darrins built to special order at a price of $4,595.
By Daniel Vaughan | Aug 2010
Convertible Victoria
Coachwork: Darrin

This 1942 Packard Custom Eight Convertible Victoria with coachwork by Darrin was once owned by motion picture actor George Raft. These Darrin built cars were essentially one-off, custom built cars. The first versions were built in Hollywood, California before production moved to Connersville, Indiana, where the rest of the Darrin-designed Packards were built.
When the Packard Company began automobile production in 1899, it was known as Ohio Automobile Company. In 1903 the name was changed to the Packard Motor Car Company when it moved from Warren, Ohio to Detroit, Michigan. The move was the result of a majority stock purchase made by investors in the Detroit area.
Packard had sustained a Great Depression and a World War and was still at the fore-front of vehicle production. Advances in automotive technology and design were making vehicles more and more exciting each day. During the early forties Packard decided to compete in a broader market by introducing the Clipper, a vehicle aimed at higher production but lower cost.

The Briggs Manufacturing Company was tasked with building the Clipper bodies. This conclusion was made after the Briggs Manufacturing Company had stated and proven to the Packard Company that they could produce the bodies cheaper than Packard. Production of the bodies began and the price Briggs Manufacturing Company had quoted Packard proved to be too low, so the price was raised leaving Packard with the extra cost. It would have been cheaper for Packard to produce the bodies themselves.

The sales of the Clipper series were very successful, outselling Cadillac and LaSalle. The vehicles were stylish, durable, and elegant. The body of the vehicle had been designed by the legendary Howard 'Dutch' Darrin. The Packard 120 was the company's first sub-$1000 car. It was aimed at stimulating sales and increasing production.

The sixteen valve eight-cylinder engine powering the Clipper was capable of producing 125 horsepower, a rather high figure at the time. The modern body, stylish interior, excellent performance, and Packard quality made the Clipper Series very desirable.

In February of 1942 the United States Government ordered all manufacturers to cease production of automobiles and shift their priorities to war related efforts. Packard began the production of aircrafts and marine engines, ambulance and military vehicles. More than 60,000 combined engines were produced by the Packard factory during the war.

In 1945 the war had ended and Packard went back to automobile production. They had made $33 million through their engine and military vehicle sales, $2 million was used to renovate and update their facilities. Packard was in excellent financial condition. Most of the automobile parts that had been created prior to the war were in bad shape. They had been put in storage in order to make space for equipment that was needed to design and build military vehicles. The storage was often subject to the weather and the elements. As a result much of the equipment and supplies needed to be replaced.

When automobile production began, Packard decided to only produce the Clipper Series and abandon the other model lines. For 1946 Packard produced the Clipper Six 2100 and 2103, Super Clipper 2103, and the Custom Super Clipper 2106. The Super Eight and Custom convertibles were added in 1947. In 1949 Packard introduced the 23rd Series Eight and Deluxe Eight.

The Clippers were very unique and innovative for their time. They featured an alarm on the gas tank that would whistled as the fuel was pumped, stopping only when the tank was full. The running boards and door hinges were concealed adding to the smooth appearance of the body. The Clipper Series were also very wide. This not only gave passengers extra interior room but it gave the vehicle stability at speed around the corners. The width was a foot wider than it was tall making it the widest vehicle in production at the time.

The sales of luxury vehicles began to decline near the end of the 1940's and continued into the 1950's. This hurt Packard production and sales for their high-end luxury vehicles declined considerably. Packard's were built so well that they lasted for a very long time. So Packard did not have very many repeat customers because their customers did not need to purchase another vehicle. The president of Nash Motors, Mr. George Mason, had approached Packard about a merger during the early 1950s. He believed that the days of independent car manufacturers were soon to be gone. Packard was reluctant and thought otherwise. 1954 was another bad industry for the luxury car market and Nash Motors merged with the Hudson Motor Car, forming American Motors. In 1952 James Nance was elected president and general manager of Packard. In 1954, Nance merged Packard with Studebaker in an effort to diverse their product line and stimulate sales for both struggling companies. Studebaker had a larger network of dealers, a potential benefit for Packard. Unfortunately, Studebaker sales dipped dramatically and this ultimately hurt Packard more than it helped.

World War II and the Korean War had come and gone. This meant their entire defense contracts had ceased, ending nearly half a billion dollars in income.

In 1953 Chrysler bought Briggs Manufacturing, the producer of Packard bodies. Packard was forced to find another company to produce their bodies. None was found and Packard formed a temporary deal in 1955 with Chrysler to have them produce their bodies.

By June of 1956, production of Packard automobiles ceased. Production of the Packard model names continued for a few years but was adorned with Studebaker nameplates. By 1959 this style had ended and only the Studebaker name prevailed. In the early 1960's the Avanti and Lark were able to make a small profit for the Studebaker-Packard Company. In 1962 the decision was name to drop the Packard name from the Studebaker-Packard Corporation. In 1966 Studebaker was out of business.
By Daniel Vaughan | Apr 2009
For more information and related vehicles, click
here
Magic moments: 120 years of Mercedes-Benz motor sport: history at the Retro Classics show from 13 to 16 March 2014
•Mercedes-Benz Classic presents highlights in the history of the DTM in hall 7 at the show in Stuttgart •Strong presence by the company and the brand clubs at southern Germany's leading show for automotive classics •Fascinating dialogue between competition models and the top-of-the-line C-Class models from Mercedes-AMG 120 years of motor sport history at Mercedes-Benz also stand for twelve decades in a culture of ongoing innovation for series production cars which is fuelled by strong impul...[Read more...]
The Most Valuable Road-Going Car in Auction History Sells at RM Auctions' Historic $125,000,000 Monterey Sale
• During a weekend sale that will surely go down in collector car auction history, RM grosses in excess of $125,000,000 as a total of 120 vehicles cross the podium on the Monterey Peninsula, breaking the world record for the highest sales total for a collector car auction • 1967 Ferrari 275 GTB/4*S N.A.R.T. Spider sells for an astounding $27,500,000 making it the most valuable road-going car ever sold at public auction and the second most expensive car in auction history • Additionally, 26 lot...[Read more...]
Magnificent Series of Coachbuilt Classics To Grace RM's Amelia Island Concours D'Elegance Sale
• RM Auctions returns as the official auction house of the Amelia Island Concours d'Elegance, March 9, 2013 • Single-day sale features breathtaking roster of more than 80 investment-quality collector cars • Notable highlights include an outstanding series of coachbuilt classics headlined by a multi-million-dollar 1935 Duesenberg Model SJ Walker-LaGrande Convertible Coupe and a trio of Cords from the personal collection of Jim Fasnacht • Frequently updated list of entries available online at r...[Read more...]
The Champion in Touring Car Racing : The BMW M3
In August 1985, a rumour surfaced in motor magazine Auto-Deutschland which emanated from a new sports car. An A Group Car from BMW that was a thoroughbred racing car according to the rules but was also to be produced in a version licensed to drive on open roads for everyday use. Speculation about this dream car that could take to normal roads and was intended for the 'Most dynamic among BMW 3 Series drivers' was right on target. But the pundits missed the mark about the motor-sport car by a mile...[Read more...]
Consignments now invited for RM St. John's
RM Auctions, the official auction house of the Concours d'Elegance of America, returns to the Inn at St. John's, July 28, 2012 for its firmly rooted Michigan sale. A featured attraction of the Concours weekend and a longstanding summer tradition for collectors, the single-day sale has established a reputation for offering outstanding American classics. In 2011, the sale enjoyed a very positive response to its new venue at The Inn at St. John's, realizing more than $7.6 million in sales with ...[Read more...]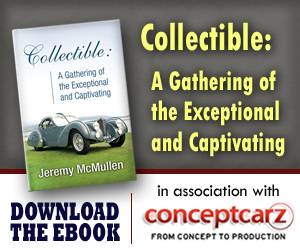 Similarly Priced Vehicles from 1942
Lincoln Continental ($3,175-$3,175)
Cadillac Series 75 ($3,150-$36,305)
Packard Super-8 One-Sixty ($1,600-$2,205)
Lincoln Custom ($3,115-$3,250)
Cadillac Series 60 ($2,435-$2,590)

Average Auction Sale: $267,210
© 1998-2014. All rights reserved. The material may not be published, broadcast, rewritten, or redistributed.