1954 Packard Caribbean Custom news, pictures, specifications, and information

Tweet
The Packard Caribbean was the production version of the Packard Pan American dream cars and appeared in 1953. Packard contracted with the Mitchell-Bentley Company of Ionia, Michigan to convert 750 standard Packard Convertibles. The following year, the Caribbean became even more luxurious coming equipped with dual heaters and defrosters, leather interior, three-way radio with a power antenna, continental spare tire, power steering, power windows, power seats, and power brakes.

The two-tone red and white Packard Caribbean Convertible shown was offered for sale at the 2006 RM Auction in Monterey, CA. It was expected to sell for $75,000-$125,000 and offered without reserve. It is number 392 out of 400 and has recently undergone a complete restoration. It is powered by a 359 cubic-inch L-head eight-cylinder engine that produces just over 200 horsepower.

At the auction there was lots of interest in the vehicle as bidding quickly rose above the estimated value. The new owner purchased the vehicle for $165,000.
By Daniel Vaughan | Dec 2006
| | | |
| --- | --- | --- |
| | | Custom Convertible |
With a 359 cubic-inch engine that features a 4-barrel carburetor and aluminum HC head, this car is the last of the Packard straight eights.

Only 836 convertibles were produced in the 1954 model year, this being the last run of the famous Packard Straight 8. This car has the driver advantages of a 3-speed overdrive transmission and roll-up windows.

The 1953 and 1954 versions had a conventional spare wheel fixed atop the rear bumper pan. A hood scoop gave the vehicle a sporty persona, while wire-spoke wheels gave it a hint of European styling.

Weighing in at 4,290 lbs and with a wheelbase of 122-inches, the 1954 Packard convertible was an imposing motorcar. Evolved from the 1951 models, the 1954 cars could be distinguished from the 1953 cars by the adoption of new 'horn rimmed' headlights and re-designed tail lamps.

The factory price of this car was $3,935.

This car was restored by the current owner and an associate over a five year period.
In 1953, Packard introduced the Caribbean, which would become their flagship car. It was designed by Dick Teague, who applied some of the ideas of the Henney Company's 1953 experimental Pan American car. The design used a conventional Packard 250 convertible with the addition of a hood scoop, continental spare tire, a custom interior and chrome wire wheels with full radiused wheel openings. The 1954 Caribbean was powered by a 359 cubic-inch V8 engine offering 212 horsepower. Rear wheel openings were lowered and chrome molding was added to the rear fenders as a two-tone paint demarcation line. With the price increased from $5,200 to $6,100 for 1954, sales fell from 750 to 400.

This 1954 Packard Caribbean Convertible was given a full restoration that was completed in February of 2009.
The Great Depression and World War II had not been kind to the automobile industry and few were able to survive their devastation. The Packard Motor Car Company was a survivor but were in need of an automobile that would re-establish its once-prestigious perch atop the American luxury car market. For 1953, Mitchell-Bentley of Ionia, Michigan, was sent 750 standard Packard convertibles, which they customized into a new, limited edition ragtop which was dubbed the Caribbean. The cars had a distinguished design, standard power everything, full rich leather interior, three-way radio with power antenna five Kelsey-Hayes chrome wire wheels, and fitted with many luxurious appointments.

The Caribbean would continue into 1954 with newly restyled headlamp rims, chrome trim added to the hood scoop, and lowered rear wheel housings, as well as two-tone paint. 'Caribbean' script was added to the rear fenders, and side moldings that/ swept off the beltline and dipped below the crest of the rear fenders into the taillight treatment.

For 1954, around 400 examples of the Caribbean were produced making them one of the hardest to find of the first generation Caribbeans.

This example was part of the long-term collection of the late Eugene Beardslee. It was given a frame-off restoration by the late Packard expert Robert Turnquist's Hibernia Restoration. It is finished in Gulf Green and Sahara Sand and is equipped with both available options - power windows and seats. The car has been driven fewer than 50 miles since the restoration.
By Daniel Vaughan | Jun 2013
One of the signature cars of the 1950s, the Caribbean was built on the Packard 400 chassis. It featured Packard's own overhead valve V8 engine with displacement of 375 cubic inches producing 310 horsepower. An exclusive limited-production automobile, the regal Packard Caribbean was manufactured from 1953 until 1956. Offered in either convertible or hardtop form, the sleek Caribbean came with many lux options and features. The Caribbean was marketed by the Packard Motor Car Company as a 'halo' vehicle to promote sales for the entire brand. The styling of the Caribbean was inspired from the Pan American Packard show car of the previous year. From 1953 until 1955 the model was available only as a convertible with a hardtop model being added in 1956, the final year.

With it full cutout rear wheel housing and glam side trim, the 1953 Caribbean was a truly eye catching sight. As part of the Packard Cavalier model range, the model featured a chrome band outline that stretched along the whole length of the vehicle that also helped to define the car's wheel openings. The wheelbase measured at 127 inches, with an overall length of 218.5 inches and width of 78 inches. Standard on the Caribbean was a sporty steel continental spare tire. A distinctive, low leaded-in hood scoop was featured on the hood.

On the inside of the Caribbean was standard power-assisted steering, which was incredibly rare at this time. The interior of this model featured rich leather upholstery, dual heaters and defrosters, power brakes, power windows and seats and three-way radio with an electric antenna. Mitchell-Bentley Corporation of Ionia, Michigan was responsible for the elegant styling of the Caribbean body. Owners could choose from limited colors Maroon Metallic, Sahara Sand, Polaris Blue and Gulf Green Metallic. A small variety of special-ordered automobiles were built in Black or Ivory.

Optional on the first year model was the Ultramatic transmission and power windows. For the first year on the market a total of 750 models were produced. Today these are highly collectible and restored models can go as high as six-figure amounts.

In 1954 the Caribbean rose to senior Packard level. It continued to feature plenty of its own distinctive styling features though the full rear-wheel cut outs were removed. Chrome and stainless trim became a lot more generous and now allowed for two-tone paint combinations. New this year was a four-way power seat. The Caribbean received heavier 'finned' headlight housings, much like the Patrician. This was one of the styling cues that set these senior Packard's from their lower priced siblings. This year the Caribbean featured the 359 cubic-inch straight eight senior engine used in the last manifestation of Packard's straight eight engine. Four hundred of these 1954 models were produced, making this the most rare year for the Caribbean.

For 1955 the Caribbean line received the V8 engine and implemented the Senior Packard line styling completely. The Caribbean was offered in either two or three-tone paint patterns. The old Packard Senior body was transformed into a suave, contemporary design by designer Richard Teague. Packard's torsions level suspension went to the Caribbean and the single hood scoop was split into two units. For this year a total of 500 units were produced.

The final full-sized Packard built, the 1956 Packard Caribbean was built as well as the most lush and modern car in the 1956 lineup. The final year for the Caribbean, 1956 brought about the model being broken into its very own luxury series. A hardtop model was added to the lineup. Only slight updates were made between the two model years to differentiate the models and they included trim updates and grille texture changes. The grille now matched the one found on the concurrent Patricians while the rear treatment that featured Packard's cathedral style taillights resumed.

New this year, the headlights adopted much more exaggerated hoods. For 1956 a total of 263 hardtops and 276 convertibles were produced. Only 10 exclusive convertible models were equipped with air conditioning from the factory. The 1956 model sold new for $5,995, which was the most expensive model Packard produced this year. It was available in original colors of Dover White, Maltese Gray and Scottish Heather. New features this year included twin traction differential with limited slip designed for all weather conditions. Additional new safety features included wrap around parking and taillights, side marker lights, and automatic torsion leveling system for optimal nighttime visibility.

The 1956 model featured a huge 374-cubic inch V8 engine with an impressive 310 horsepower rating. Extravagant standard features included gold-ton 'Caribbean' scripts, power windows, Ultra-matic automatic transmission with push-button controls and a Wonderbar radio. Additional features included novel reversible seat cushions with brocade on one side and leather on the other.

Unfortunately Packard was facing deep financial troubles with drowning sales. Packard's Detroit assembly and engineering operations production ended and the Caribbean model was discontinued. Despite all of the financial troubles surrounding the Packard line, the exquisite Caribbean Convertible has remained the unblemished queen of the marques line.


Sources:
http://en.wikipedia.org/wiki/Packard_Caribbean
By Jessica Donaldson
The Packard Caribbean was a limited-production automobile produced from 1953 through 1956. It was inspired by the Pan American concept car that Packard had displayed at the 1952 New York Auto Show. It was available in convertible and hardtop form. Originally, only the convertible was offered but in 1956 the hardtop was introduced. The vehicle was outfitted with as many amenities available at the time and overseen by Packards stylist, Dick Teague. The interior was adorned in leather trim and was equipped with dual heaters and defrosters, three-way radio with electric antenna, power brakes, windows and seats. Even power-assisted steering was standard, a rarity at the time.

Under the hood lurked an outdated Packard 327 cubic-inch inline eight-cylinder side-valve engine capable of producing 180 horsepower. In 1954, the horsepower rating was increased to 212. A new V8 engine was introduced in 1955 and the horsepower rating skyrocketed to over 300. The 'Twin-Ultramatic' transmission was controlled through push-buttons in the middle of the dash and the Suspension was torsion bars inter-connected from the front to the rear.

The 1953 and 1954 version had a continental spare wheel fixed atop the rear bumper pan. A hood scoop gave the vehicle a sporty persona while the wire-spoke wheels gave it a hint of European styling. Two-tone paint schemes and chrome accent strips gave the vehicle a distinct appearance.

In 1954 Packard merged with Studebaker to try to compete, (stay in business), against the large mass-production automobile giants. By 1956, their body supplier, Brigg, sold out to the Chrysler Corporation. Packard moved the body manufacturing to a Detroit factory where it struggled with supply and quality issues. Chrysler had their C-300 and Cadillac their Eldorado, both were moving in on Packard's territory.

The Caribbean exclusivity was guaranteed by their steep sticker prices. 400 examples were sold in 1954, and between 1955 through 1956, 500 examples were sold. This exquisite vehicle made it into production just before the Packard name became part of the past.
By Daniel Vaughan | Aug 2013
For more information and related vehicles, click
here
All-New Ford Mustang Offers High Performance with Sleek New Design and Innovative Tech
•All-new sophisticated design clearly inspired by 50 years of Mustang heritage evolved to attract wider array of customers and expand global market availability •The new Mustang is the first car to offer four-, six- and eight-cylinder engines that each produce at least 300 horsepower – a 300-horsepower 3.7-liter V6, a more powerful 435-horsepower 5.0-liter V8, and an all-new 310-horsepower* 2.3-liter EcoBoost® engine •Mustang sets new performance and dynamics benchmarks for the brand with worl...[Read more...]
120 years of motor sport at Mercedes-Benz take centre stage at the Goodwood Festival of Speed 2014
'Addicted to Winning': at this year's Goodwood Festival of Speed, Mercedes-Benz looks back on some fascinating racing victories of the last 120 years •The unique motor sport heritage of the Mercedes-Benz brand is being celebrated with an exclusive installation by sculptor Gerry Judah •Mercedes-Benz and Gran Turismo®6 jointly celebrate '120 years of motor sport' Stuttgart. – The thrilling victories of the Mercedes-Benz Silver Arrows mark the peaks of the history of motor sport for...[Read more...]
Techno Classica 2014: more than 30 racing cars to celebrate 120 years of Mercedes-Benz motor racing history
•Cars that were the heroes of magical moments put their stamp on this high-powered, most comprehensive show presentation •With more than 30 vehicles, Mercedes-Benz Classic presents motor racing history in all its unique breadth and depth •120 years of Mercedes-Benz motor sport in the focus of the leading international classic motor show 120 years of Mercedes-Benz motor racing history have produced a timeline of extraordinary victories which since 1894 also stand for outstanding innovations ...[Read more...]
Auctions America Continues Successful 2013 Season with its Annual Fall Carlisle Sale
• Auctions America rounds out its 2013 auction season in Carlisle, Pennsylvania, October 3-4 • Two-day Fall Carlisle sale, held in conjunction with the Carlisle Events Collector Car Swap Meet & Corral, features a diverse roster of 300 classics, exotics, muscle cars, hot rods, and customs • Auction highlights include a desirable 1967 Chevrolet Corvette 427/435 Roadster, a 1969 Chevrolet Camaro Z-28 RS Sport Coupe, and a 1960 Mercedes-Benz 190SL Roadster • Full event details and a frequentl...[Read more...]
The Champion in Touring Car Racing : The BMW M3
In August 1985, a rumour surfaced in motor magazine Auto-Deutschland which emanated from a new sports car. An A Group Car from BMW that was a thoroughbred racing car according to the rules but was also to be produced in a version licensed to drive on open roads for everyday use. Speculation about this dream car that could take to normal roads and was intended for the 'Most dynamic among BMW 3 Series drivers' was right on target. But the pundits missed the mark about the motor-sport car by a mile...[Read more...]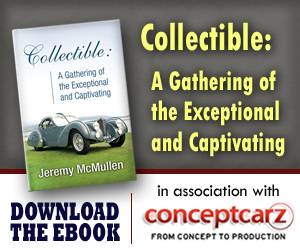 © 1998-2014. All rights reserved. The material may not be published, broadcast, rewritten, or redistributed.