1955 Cadillac Series 62 news, pictures, specifications, and information

Tweet
Styling and performance excellence of the 1955 Cadillac Coupe extended the margin of Cadillac's dominance as the world's best-selling luxury car. The body style of this particular model was introduced in 1954. It features wrap-around panoramic windshield, a flowing Florentine curve roof line, a weather seal 'slipper above each door glass and higher tail fins. The fuel filler cap continues to be concealed beneath the left tail lamp. The dual exhaust system exits through the rear bumper ends. Chrome-plated aluminum 'saber spoke' wheels were available.
| | | | |
| --- | --- | --- | --- |
| | | | Eldorado Special Sport Convertible Coupe |
This 1955 Cadillac was purchased by the fourth and current owner in January of 2004. The odometer records 84,000 original miles.

The car is powered by a 331 cubic-inch V8 engine developing 250 horsepower. It rides on a 129-inch wheelbase, weighs 4,627 pounds and the new cost was $4,4448.

This car received a complete nut-and-bolt restoration at the Beverly Hills Garage in April 2005. The vehicle has received numerous awards since restoration.
This 1955 Cadillac Series 62 Convertible was offered for sale at the 2007 RM Auctions held in Amelia Island, Florida where it was estimated to sell between $80,000 - $100,000. It is powered by a 331 cubic-inch overhead valve V8 engine capable of producing 250 horsepower. There is a three-speed Hydra-Matic automatic transmission and a four-wheel hydraulic drum brakes. This car was treated to a restoration in the early 2000s and finished in black with a new red and white two-tone interior.

At auction, this car was sold, selling for $70,000. A few months later it was brought up to Meadow Brook where RM Auction was again tasked with selling the vehicle. This time the estimated value was set at $70,000 - $90,000. As the bidding concluded, a new owner was found. The car had been sold for $66,000.

The 1955 Cadillac Series 62 Convertible was an exciting vehicle that was flashy and eye-catching. Harley Earl's tailfin styled rear end was now incorporated into the Cadillac's. They complimented the vehicles front-end which featured a massive bumper with an egg crate grille and Dagmar bullets. There were simulated air intakes reminiscent of a P-38 Lightning fighter. Chrome could be found throughout the vehicle, not in excess, but rather as a complimentary design piece that flowed nicely with the rest of the vehicle and accented the curves and straight lines. The windshield was a wraparound design.

The Hydramtic automatic gearbox was now offered as standard equipment, along with an assortment of other items. They truly were a symbol of success and achievement.
By Daniel Vaughan | Aug 2007
This 1955 Cadillac Series 62 Coupe DeVille was offered for sale at the 2007 Sports and Classic Car Auction presented by The Worldwide Group, in Hilton Head Island, SC where it was estimated to sell for $38,000 - $48,000. Its odometer reads just 22,000 miles since new, making it one of the most original and lowest mileage examples in existence.

The first owner cared for this car from 1955 through 1999. The second owner has owned the car from the time, bringing it to auction in 2007.

Considering the age, the chrome and trim are in excellent condition. The hub caps are the upgraded Eldorado wheel covers from the factory. It is rust free with only minor touch-up work to the lower portion of the body. The interior features the upgraded leather and all components and gauges are in working condition.

It is outfitted with every conceivable option including the AM radio, clock, power windows, power seat, power brakes, power steering, autronic eye, and more.

On auction day, this car found its next owner and one who was willing to pay $36,300 including buyer's premium to own this low-mileage example.
By Daniel Vaughan | Nov 2007
The Harley Earl designed Cadillac Series 62 De Ville was a very large vehicle that featured a large, 6,390 cc (390 cubic inch) V-8 engine. The back had large fins that did little for performance and handling but was all about the style of the vehicle. The design of the vehicle was inspired by the space program and the era of jet engines. The large, 4400 lb car was fitted with drum brakes. These often wore out quickly. If a U-turn needed to be made, the driver would need a parking lot. The turning radius was 24 feet.

The car was a luxury vehicle that could carry six individuals comfortably. The car was a convertible with the top being raised and lowered automatically. The interior had electrical gauges. The head lights would turn on at dusk and were also capable of switching from high beam to low beam when they sensed oncoming traffic. In total, there were eight lights on the front of the vehicle. The four on the top were the driving lights while the lights mounted on the bumper were the parking lamps. To add to the driving comfort, air suspension was used. This aided in providing a very soft ride but there was significant body roll when cornering. With the V8, it was capable of creeping to sixty in 11 seconds. This reinforced the notion that this Cadillac was built for comfort and not for speed. The drivers enjoyed the ride and they looked good cruising along, enjoying the large open road.
By Daniel Vaughan | Aug 2010
For more information and related vehicles, click
here
TRAX RIGHT-SIZED VEHICLE FOR CONSUMERS AROUND THE WORLD
• Growing consumer demand for small SUVs sets stage
DETROIT – Demand for the flexibility of an SUV in a small package could grow by 2 million units in the next few years. Chevrolet is getting ready by introducing the Trax small-SUV in its two largest markets – the U.S. and China. 'The Trax truly rounds out Chevrolet's already very-strong small car portfolio,' said Alan Batey, General Motors senior vice president, Global Chevrolet. 'Demand for a vehicle with huge capability i...[Read more...]
CRAFTSMANSHIP DEFINES ALL-NEW 2015 CADILLAC ESCALADE
◾Precisely crafted interior with more technology ◾Emotional design evolution complemented by quieter cabin, smoother performance and more efficient powertrain ◾Higher levels of luxury, with sophisticated new technology for safety and connectivity DETROIT – From its introduction in 1999, the Cadillac Escalade quickly became the standard among luxury SUVs with a formula of bold design, powerful capability and luxurious accommodations. The all-new 2015 Escalade takes design and technic...[Read more...]
STATEMENT ON PASSING OF ROAD AMERICA BOARD MEMBER AND LEGENDARY RACER JIM JEFFORDS
ELKHART LAKE, Wis., March 25, 2014 - A statement from Road America President and General Manager, George Bruggenthies, about the death of long time Road America board member and racer, Jim Jeffords: 'Jim Jeffords was the definitive example of a gentlemen racer with a heart of gold. He loved racing for the thrill of competition, not for the money. Jim will be best remembered for how his passion for racing carried over into many successful years behind the wheel and many more beyond tha...[Read more...]
GM DESIGN'S TOM PETERS EARNS LIFETIME ACHIEVEMENT AWARD
PASADENA, Calif. – In addition to more than 30 years of designing some of General Motors' most memorable vehicles, Tom Peters led the exterior studio teams that produced two of GM's most important product introductions this year – the 2014 Chevrolet Corvette Stingray and 2014 Chevrolet Silverado full-size pickup. On Sunday, Peters received a lifetime achievement award for his work from his alma mater, Art Center College of Design, which has been at the forefront of art and design educ...[Read more...]
DUKE AND DUCHESS OF WINDSOR'S 1941 CADILLAC TO BE AUCTIONED IN NEW YORK CITY
• RM Auctions and Sotheby's offer one-of-one Cadillac custom built for the Duke and Duchess of Windsor, without reserve, November 21, in New York City • Delivered to the royal couple at the Waldorf, the Cadillac — long thought to be destroyed —has been missing from the public eye since 1952 • Known affectionately as 'The Duchess,' this bespoke limousine is an important piece of automotive and society history • Full sale details now available online at www.rmauctions.com NEW YORK...[Read more...]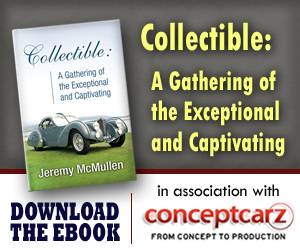 Similarly Priced Vehicles from 1955
Austin-Healey 100S ($5,000-$5,000)
Porsche 356 ($3,455-$4,580)
Chrysler New Yorker ($3,492-$4,210)
Packard Series 400 ($4,085-$4,085)
Mercedes-Benz 190 SL ($3,998-$3,998)
Cadillac Eldorado ($6,285-$6,285)
Chrysler C300 ($4,110-$4,110)
Lincoln Capri ($3,750-$4,070)
Cadillac Sixty Special Fleetwood ($4,730-$4,730)
Moretti 1200 ($4,500-$4,500)
Austin-Healey 100 ($2,984-$5,000)

Average Auction Sale: $33,335
Cadillac
Monthly Sales Figures
Volume
August 2014
16,650
July 2014
15,241
June 2014
13,941
May 2014
14,688
April 2014
13,900
March 2014
14,765
February 2014
13,437
January 2014
11,386
December 2013
18,165
November 2013
16,172
October 2013
14,792
September 2013
13,828
(More Details)
© 1998-2014. All rights reserved. The material may not be published, broadcast, rewritten, or redistributed.