1956 Jaguar XK-140 news, pictures, specifications, and information

Tweet
The Jaguar XK-140 was introduced in 1954 and produced for a short time, ending in 1956. As such, these vehicles are very rare. The Xk-140MC are an even rarer breed. The 'M' represented 'Modified' while the 'C' was for the C-Type racing head. The very sporty XK-140MC produced 210 and could race from zero-to-sixty in less than 8.5 seconds. Top speed was over 120 mph.

The dark black example shown with chassis number 5811778 was auctioned at the 2006 Worldwide Group Auction held on the Hilton Head Island. It was expected to fetch between $120,000-$130,000. At the conclusion of the auction, the vehicle had been left unsold.
By Daniel Vaughan | Nov 2006
Founded as the Swallow Sidecar Company in 1922, by two English motorcycle enthusiasts, William Lyons and William Walmsley, the SS Jaguar name first appeared on a 2.5-litre saloon in 1935. The Jaguar name was given to the entire company in 1945.

The Jaguar XK140 was a sports car manufactured between 1954 and 1957. Upgrades over its predecessor, the XK120, included better brakes, rack-and-pinion steering, and modern tube type shock absorbers instead of the older lever arm design. The primary visual change of the XK140 over the previous XK120 was the more substantial front and rear bumpers and chrome accent trim on hood and trunk. The center of the trunk lid has a red shield celebrating 'Winner LeMans 1951-3' inscribed in gold. The XK140 features a 3.4-liter straight six, dual overhead cams, factory experimental heads and twin 2-inch SU carburetors, delivering 210 horsepower at 5750 rpm.

This Roadster has a canvas top that when lowered fits behind the seats and completely disappears inside the body. The interior was restored to original specifications. This XK140 Roadster has aluminum hood, trunk, and doors to save weight. The owner completed a 6-year restoration in 1996 and this sports cars is reported to provide fast and smooth driving. It has been driven in rallies and on vacations all over the USA and Canada.
This car was originally sold in Hollywood California. It came supplied with the desirable 'MC' options consisting of Lucas driving lights, Laycock de Normanville electronic overdrive and a high compression cylinder head. Equipped with this package, the XK 140 MC would deliver an incredible 210 bhp. It recently won 'Best of Show' at the British Invasion in Stowe, Vermont.
This 1954 Jaguar XK140 Roadster was offered for sale at the 2007 Christies auction of 'Exceptional Motor Cars at the Monterey Jet Center.' It is white with red leather interior, white piping and sand top. It is powered by a six-cylinder engine with twin overhead camshafts and capable of producing 190 horsepower. There is a four-speed manual gearbox and four-wheel drum brakes.

The XK120 was produced for six years and followed by the XK140 which was introduced in October of 1954. It had the same XK shape but brought many new changes such as stronger bumpers and turn signal indicators set into the front fenders. The engine was moved three inches forward in the engine bay allowing more interior room for the driver and passenger. handling was also improved by this three-inch difference.

The engine was given steel, rather than cast-iron, main bearings which helped in coping with the increase in horsepower. The transmission was given closer gear ratios which made significant benefits for the driver. An eight blade fan and larger radiator were adapted to help keep the engine cool.

Exteriorly, a chrome strip could now be found on the vehicles hood and trunk. The vehicles were still available in coupe, roadster and drophead coupe configurations. Top speed was achieved at around 121 mph.

The 'SE', the Special Equipment models, were given wire wheels an Lucas FT 576 fog lamps positioned above the front bumper. Numerous other small changes to the body and a different 1.75-inch SU carburetor added to the changes. In the European market, the SE cars included a C-Type head.

This example was first owned by an individual from East Overland, Ohio and was delivered in a black paint scheme with red interior and a sand top. The history of the vehicle is lost to time until 2003, when it came into the present ownership. At that time it was treated to a restoration and then shown with great success at various events and doing rather well in JCNA events. It has been awarded the 2003 JCNA Regional Concours Champion Class D-01 Driven Division, and 2004 and 2005 JCNA Overall North American Concours Champion Class D-10 Driven division.

At auction this car was estimated to sell for $80,000 - $100,000. It is complete with side curtains, color matching bag, and a replacement tool kit from Welsh Enterprises. The estimated value proved to be accurate, as a high bid of $93,500 was enough to secure this vehicle.
By Daniel Vaughan | Oct 2007
This car has been certified by Jaguar that it is a replica of the record breaking car which achieved the speed of 141.51 M.P.H at Jabbeke, Belgium. It has been certified by Jaguars Chief Engineer.
There were 12,000 examples of the Xk120 built from 1948 to 1954, in various iterations. Over the years, the design was improved with both enhanced performance and passenger comfort, enhancing the sports cars appeal. In late 1954, the XK 140 was introduced. It came with a comprehensive list of improvements such as precise rack-and-pinion steering, improved cooling and stopping power, and more cabin comfort and legroom. The wheelbase remained unchanged and the bodywork was subtly updated though retaining the classical styling elements of the original design. Less than 9,000 examples of the XK 140s were produced over the three-year production run.

This 1956 Jaguar XK 140MC Roadster has been given a complete concours-level restoration that was completed in late 2003. It is painted in Indigo Blue with a red leather interior. It has been judged 99-plus points, winning no fewer than three awards under JCNA scrutiny. It was equipped from the factory with optional Laycock de Normanville overdrive and today it is equipped with the 'MC' Package that includes a C-Type cylinder head, dual exhaust, fog lamps and wire wheels, among other features.

This car was formerly owned by Hollywood star Michael Douglas. In 2009, it was offered for sale at the Vintage Motor Cars of Meadow Brook presented by RM Auctions. It was estimated to sell for $150,000 - $200,000. The lot was sold for the sum of $187,000 including buyer's premium.
By Daniel Vaughan | Sep 2009
The rare special equipment 'MC' package was installed on this Jaguar before it left the factory. The 'M' includes a crankshaft damper, wire wheels, dual exhaust pipes, and twin fog lamps. The 'C' represents the high-compression C-type cylinder head that raised brake horsepower by 20, to 210 BHP. This roadster is capable of reaching 130 mph due to its rare factory-installed Laycock de Normanville overdrive which was featured in only approximately 550 of the 9,000 XK140 examples produced over the model's three-year lifespan.

This example has had only three owners since new. A full restoration was completed in early 2009 and since then, it has been successfully exhibited at two JCNA meets where it averaged a score of 99.8%, placing First in Class at the Dallas Jaguar Concours d'Elegance in September 2009 and winning Peoples' Choice at the San Antonio Jaguar Concours d'Elegance in October 2009. It won Best of Show at the Annual McPherson College car show held in McPherson, Kansas, in May 2009.

In 2010, this Jaguar Xk140 was offered for sale at the Gooding & Company Auction in Scottsdale, Arizona. The car was estimated to sell for $100,000 - $130,000 and offered without reserve. As bidding came to a close, the lot had been sold for the sum of $104,500, inclusive of buyer's premium.
By Daniel Vaughan | Feb 2010
This Jaguar XK140 finished assembly on April 18th of 1956. It left the factory finished in Pastel Blue paint over a red leather interior. Dispatched to the United States on May 11th, it was distributed to Charles Hornburg's dealership in Los Angeles. Power was from the more powerful version of the XK120's 3.4-liter dual overhead cam engine, and offered improved cabin space and amenities, particularly with the Special Equipment versions. This particular Roadster is one of those SE (Special Equipment) cars.

Besides being an SE car, this was once owned by Roy Rogers, the television cowboy. Original ownership history is not known, though some believe it was owned originally by Mr. Rogers. The second owner was Robert Robeson of Arden, North Carolina who states he purchased the car directly from Mr. Rogers in 1958.

Mr. Robeson owned the car as early as 1965 and retained it for over four decades. The car is believed to be original, other than an older repaint, and still retains its factory-fitted upholstery, trim, rubber seals, glass, and brightwork.

The current owner recently acquired the car from Mr. Robeson's son.

The car has its original toolkit, owner's manual, wire wheels, twin fog lamps, dual exhausts, a crankshaft damper, and the C-Type cylinder head.
By Daniel Vaughan | Feb 2014
In 1954 Jaguar introduced the XK140 as a replacement for the highly successful Jaguar XK120 that had first appeared in 1948. The XK Series was conceived by William Lyons as a sleek automobile that sat atop a short wheelbase in two-seat roadster configuration powered by a twin-cam engine. The XK120, named because of its 120 mph top speed, was powered by an engine that produced 160 horsepower. The 'X' represented the 'experimental' engine type while the letter 'K' was the sequence. The XK140 received a larger 190 horsepower engine, rack-and-pinion steering, and more interior space. Interior space was gained by the repositioning of the engine and firewall, thus keeping the dimensions of the chassis identical to the XK120. Minor improvements were done to the aesthetics of the vehicle. A Special Equipment package was available that included Dayton wire wheels and a 210 horsepower engine, the result of C-Type heads and dual exhaust.
The XK legacy continued with outright victories at LeMans in 1953, 1955, 1956 and 1957. This 24 hour grueling marathon is a true test of speed and endurance. The XK-Series proved to be the best.

Production continued through 1957 when it was replaced by the XK150. The XK140 carried on the success started by the XK120. The OTS version proved again to be the most popular with sales for the DHC and Fixed versions still respectable. In Jaguar lingo, 'OTS' refers to 'open two-seater' or 'roadster' while 'DHC' represents 'drophead coupe'. The roadster versions often featured removable side curtains instead of windows. The top could be folded behind the seats and conveniently hidden by the rear shroud. The DHC body has roll-up windows, wood interior, and an attached top that, when folded, would stick-up above the body.
By Daniel Vaughan | Mar 2006
For more information and related vehicles, click
here
Dream Car Saturday Ready to Launch at Russo and Steele's 15th Anniversary Scottsdale Auction Event!
Scottsdale, Arizona (January 17, 2015) – Following 2 great days of record attendance, stratospheric sell through and a world class seminar moderated by SEMA Hall of Fame member Wade Kawasaki and featuring an all-star panel of guest experts which included such noted personalities as Wayne Carini from TV's Chasing Classic Cars, McKeel Hagerty of Hagerty Insurance, Jim Menneto from Hemmings Motor News, and Oscar Pereda from Michelin North America, we prepare to enter our exclusive gladiator...[Read more...]
Russo and Steele Collector Automobile Auctions Kicks Off 15th Anniversary with Eight Initial Offerings to Watch
Scottsdale, Arizona (December 1st, 2014) – For Enthusiasts – By Enthusiasts. ™ This is far more than a tagline at Russo and Steele Collector Automobile Auctions. It's a lifestyle, and we are gearing up to deliver that singular passion to the High Desert of sunny Scottsdale, Arizona for our annual flagship event during the world renowned collector car week. Additionally, Scottsdale marks the kick-off of the year-long celebration of our 15th anniversary. Held over five thrilling a...[Read more...]
Barrett-Jackson Flavors Its January Scottsdale Auction With NASCAR Treats
• RACING HERITAGE, HIGH PERFORMANCE ARE RECIPES FOR CAR-COLLECTING FEAST
• SPEED™ SET FOR 39 HOURS of LIVE COVERAGE STARTING JAN. 15
The great Henry Ford once said, 'Auto racing began five minutes after the second car was built.' And for more than 60 years, there are few entities that better represent auto racing in America than NASCAR. From the hallowed grounds of Daytona International Speedway, to Sonoma, California's intricate and picturesque road course, the sp...[Read more...]
TOPLINE COLLECTORS PLACE SPOTLIGHT on SPEED'S BARRETT-JACKSON BROADCAST FROM SCOTTSDALE
• TOPLINE COLLECTORS PLACE SPOTLIGHT on SPEED'S BARRETT-JACKSON BROADCAST FROM SCOTTSDALE
• 'LOST' SHELBY DUAL PROTOTYPE, HAGERTY GIVEAWAY & SALON COLLECTION HIGHLIGHT 39 HOURS OF LIVE COVERAGE
The 42nd annual Barrett-Jackson Scottsdale (Ariz.) Collector Car Event, the first of four set for live coverage in 2013, kicks off the auction season in grand style as some of the world's most sought-after machines cross the block starting Tuesday, Jan. 15 at 7 p.m. ET/4 p.m. PT. SP...[Read more...]
Chevy Performance Rolls with Hot Rod Magazine Power Tour
Weeklong drive kicks off with unprecedented access to GM's Milford Proving Ground Road trip! It's that time of year again for the annual automotive pilgrimage known as the Hot Rod Magazine Power Tour® and Chevrolet Performance helps get it started on Saturday, June 2, at General Motors' Milford Proving Ground. The Power Tour winds up in Arlington, Texas, on June 9. With more than 3,000 hot rods, muscle cars, classic trucks and late-model performance vehicles and approximately 12,00...[Read more...]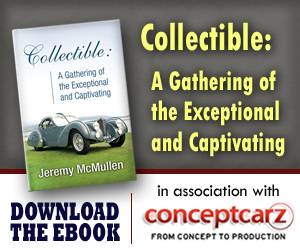 Similarly Priced Vehicles from 1956
Cadillac Series 62 ($4,145-$6,500)
Mercedes-Benz 190 SL ($4,000-$4,300)
Porsche 356A ($3,210-$5,900)
Chrysler New Yorker ($3,770-$4,415)
Buick Series 70 Roadmaster Riviera ($3,500-$3,700)
DeSoto Adventurer ($3,680-$3,680)
Packard Patrician ($4,161-$4,161)

Average Auction Sale: $87,619
Jaguar
Monthly Sales Figures
Volume
December 2014
1,683
November 2014
1,253
October 2014
1,007
September 2014
1,142
August 2014
1,184
July 2014
1,187
June 2014
1,263
May 2014
1,304
April 2014
1,035
March 2014
1,816
February 2014
1,552
January 2014
1,347
(More Details)
© 1998-2014. All rights reserved. The material may not be published, broadcast, rewritten, or redistributed.