1960 Bentley S2 Continental news, pictures, specifications, and information

Tweet
Introduced in 1959 and produced until 1962, the Bentley S2 Continental is considered by many to be the greatest model of the S-series, well-known and appreciated for their ample room for passengers and luggage.

The Bentley S1 looked very similar to the Rolls-Royce Silver Cloud I and the tradition continued with the S2 and Silver Cloud II. Most S2 bodies were constructed by Bentley. However, a few were built by custom coachbuilders including Hooper, Park Ward, H.J. Mulliner and James Young, the latter being the coachbuilder of the S2 shown here.

Powering the Bentley S2 Continental is an all-aluminum 6230cc V-8 engine with dual SU carburetors, which were used by the company until 1998. The car features Servo-assist drum brakes and an independent front suspension with coil springs, while the rear uses semi-elliptical springs. The S2 Continental was imported to the United States in the 1980s.
This 1960 Bentley S2 Continental Saloon 'Flying Spur' was spotlighted in the Paris Show in 1960. This motorcar is one of only fifty-one left-hand drives ever built of this model.

The coachwork is by H.J. Mulliner.
This Bentley S2 Continental features alloy Drophead Coupe coachwork by Park Ward. It is finished in dark blue with white Connolly leather interior. The car features power windows, new power top with new hydraulics and has been treated to an extensive restoration in the early 2010s. The 6.2-liter V8 engine was rebuilt in 2011, along with the shocks and many other mechanical components.

In 2013, the car took First Place in the Collector Foreign 1946-85 Class at the Cincinnati Concours d'Elegance.
By Daniel Vaughan | Jan 2014
The Bentley S2 was introduced in 1959 and produced until 1962. The S2 replaced the S1 and would later be replaced by the S3. The Rolls-Royce Silver Cloud I and the Bentley S1 had been nearly identical. This tradition continued with the Bentley S2 and the Rolls-Royce Silver Cloud II also being nearly identical. Most of the bodies were constructed by Bentley but few custom coachbuilders, such as Hooper, James Young, Park Ward, and H.J. Mulliner were commissioned to body the vehicles.
Under the hood was an all-aluminum 6230 cc V-8 engine with dual SU carburetors that would be used by Bentley until the 1998 Arnage. Servo-assisted drum brakes were used to provide stopping power. The front suspension was independent with coil springs while the rear was semi-elliptic springs.

The S2, by many, were considered to be the greatest of the S-series. These four-door touring automobiles were well known for their ample room for four passengers and their luggage.
By Daniel Vaughan | Mar 2006
A ride oozing pure luxury, the extravagant S2 Continental was a high-performance variant of the Bentley S2, which was produced from 1959 through 1962. The S2 designation stood for the new V8 engine and the designation 'Continental' had been previously used from 1912 by Rolls Royce. Standard on S2 models was power steering, a new dashboard and steering wheel, though some early models came with the earlier S1 dashboard.

The S2 was the replacement for the Bentley S1 and brought with it an all-new aluminum V8 engine that displaced 6.2 L over the previous straight-six engine from the S1. The new engine was a vast improvement over previous models. Fitted with twin carbs with automatic choke, the V8 engine in the S2 had a compression ratio of 8 to 1. Operating the overhead valves were hydraulic tappets while the cylinder blocks and heads were cast in aluminum alloys. To keep up with high speed cruising on modern roads the S2 had a higher rear axle ratio and upgraded brakes.

A total of three hundred and eighty-eight luxurious S2 Continental's were produced during its brief production span. All models were drophead coupes or sports saloons with the exception of the 4-door 'Flying Spur'. Drophead coupes are two-door convertibles while a sports saloon is a high-performance two or four-door enclosed automobile with a front and back seat. The Continental line included the H.J Mulliner Coupé, H.J. Mulliner Flying Spur, the James Young Sports Saloon and Park Ward Drophead Coupé. Original to the Bentley line, the open Drophead Coupé was designed by Vilhelm Koren of Norway for Park Ward and featured an exclusive straight fender line. Out of the 388 S2 Continentals, only 125 models were built with this Drophead Coupé design

The 'Continental' form was the highest trim level available in the lineup and offered a much more luxurious and faster ride than standard production vehicles. Today the Bentley Continental S2 is a highly desirable collectible. Their special coach-built frame and 'higher-than-standard' performance levels thanks to lightweight body construction, robust engines and high gear ratios easily distinguish continental models from 'regular' Bentley models. They included lavish upgrades like press button window lifts, electric rear window demisters, electrically operated ride control, power-assisted steering, updated and more flexible AC and fully automatic transmission.

Famed coachbuilder H.J. Mulliner produced 128 examples of the four-door sport saloon 'Flying Spur'. Of these exclusive 128 models only 52 were left-hand drive models.

Sources:
http://en.wikipedia.org/wiki/Bentley_S2
http://www.rmauctions.com/lots/lot.cfm?lot_id=1064285
http://www.bentleyclassic.com/62bentley.htm
http://www.supercars.net/cars/5933.html

By Jessica Donaldson
Gooding & Company Adds Two Legendary Ferraris to Scottsdale Offerings Including a 1959 250 GT LWB California Spider
The two-day event will also drop the hammer on a 1962 Ferrari 400 Superamerica SWB Coupe Aerodinamico along with over a dozen other models from the Italian marque SANTA MONICA, Calif. (December 12, 2014) – Gooding & Company, the record-setting auction house acclaimed for selling the world's most significant and valuable collector cars, announced today the addition of two superlative Ferraris to its Scottsdale roster. New consignments include a 1959 Ferrari 250 GT LWB California...[Read more...]
63rd Pebble Beach Concours d'Elegance Names 1934 Packard 'Best of Show'
The competition showcased 248 cars, including 48 from abroad PEBBLE BEACH, Calif. (August 18, 2013) -- A 1934 Packard 1108 Twelve Dietrich Convertible Victoria owned by Joseph and Margie Cassini III of West Orange, New Jersey, was named Best of Show at the 63rd Pebble Beach Concours d'Elegance, held Sunday on the 18th fairway of Pebble Beach Golf Links at Pebble Beach Resorts. The event showcased 248 cars from 36 states and 12 countries and raised $1,277,007 for charity. 'This Pack...[Read more...]
RM Auctions' Don Davis Collection Attracts Texas-Size Bids
• RM Auctions posts over $21.2 million at the record-breaking sale of the distinguished Don Davis Collection, April 27 in Fort Worth, Texas • Top seller: a rare 1967 Ferrari 330 GTS sold for $1,936,000, to establish a new auction record • Five lots achieve million-dollar-plus results, with numerous auction records shattered • Toyota 2000GT enters history books with seven-figure sales price • Exceptional collection attracts bidders from 14 countries around the world FORT WORTH, Texas (A...[Read more...]
Famous Bentley 4¼-Litre 'Embiricos' Special Makes Star Appearance At Crewe Factory
One of the rarest and most valuable Bentleys in the world, the 4¼-Litre 'Embiricos' special, is making an historic appearance at the marque's home in Crewe. Fresh from taking part in the Louis Vuitton 'Serenissima Run' in Venice and featuring at the Le Mans Classic as part of the Bentley lineup, this magnificent car takes pride of place in the Lineage Showroom at the firm's Pyms Lane factory until September. Throughout the 1930s Bentley Motors, then owned by Rolls-Royce, was producing fast,...[Read more...]
Cherished Classics From The Pettit Collection Will Be Offered Without Reserve
• The 1929 Duesenberg 'Blue J' and 11 collector cars from the William A. C. Pettit, III Collection will be sold at Gooding & Company's Pebble Beach Auctions
• Estate Proceeds will benefit the Shriners Hospital for Children®-Tampa
Gooding & Company, the acclaimed auction house celebrated for selling the world's most significant and valuable collector cars, is honored to present the finest automobiles of the William A.C. Pettit, III Collection at its Pebble Beach Auctions on Aug...[Read more...]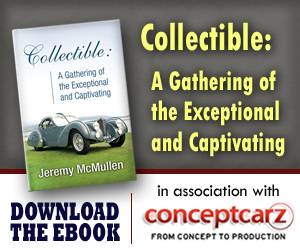 Bentley
Monthly Sales Figures
Volume
December 2014
412
November 2014
323
October 2014
282
September 2014
236
August 2014
241
July 2014
201
June 2014
216
May 2014
233
April 2014
209
March 2014
280
January 2014
192
(More Details)
© 1998-2014. All rights reserved. The material may not be published, broadcast, rewritten, or redistributed.