1986 Chrysler LeBaron news, pictures, specifications, and information

Tweet
In the mid-1970s, the US auto industry discontinued convertible models and many believed this may be the end for the domestically produced bodystyle in the US. In 1982, Chrysler re-introduced North America to the convertible with the retro ragtop Town & Country. The 'K' car platform was modified to accept a convertible bodystyle and Chrysler utilized the services of Cars and Concepts Inc. of Brighton, MI to modified partially finished 'K' cars into convertibles.

These new, smaller convertibles were well received by the public. The Town & Country convertibles were introduced in mid-1983 and they evoked the glamour of the fabled 1946-1948 convertibles of the same name. Nearly 4 decades separated these two nameplates and much had changed; the injection molded plastic imitation wood trim was replaced by hand crafted ash of the original. Inside, the handcraftsmanship became very evident with the Town & Country's Mark Cross leather interior.

Powering this vehicle is a four-cylinder, overhead cam, turbocharged engine offering 146 horsepower. There is a Torqueflite three-speed automatic gearbox with disc brakes in the front and drums in the rear. In 1981, this vehicle had a base price of $6,350.
By Daniel Vaughan | Jan 2011
This 1986 Chrysler LeBaron Convertible was offered for sale at the 2007 Sports and Classic Car Auction presented by The Worldwide Group, in Hilton Head Island, SC where it was estimated to sell for $6,000 - $10,000. It was offered without reserve with all proceeds' going to charity. This car has a wheelbase that measures 105-inches, has a three-speed automatic transmission, and a four-cylinder turbocharged 2.4-liter engine capable of producing 125 horsepower.

In 1982 Chrysler introduced a newly redesigned LeBaron that varied greatly from the previous, M-body style of the first generation. This second version was based on the Chrysler K car platform and available as a sedan, coupe or convertible. On the LeBaron's tenth anniversary, a Town and Country station wagon offered in limited quantities.

Probably one of the modern LeBaron's most famous appearances was on the 'Seinfeld' episode which featured a 1986 LeBaron Town & Country, purchased by George and assumed to have been owned by actor John Voight.

This vehicle is painted in its original white with tan interior and white top. At auction the car was sold $2,475 including buyer's premium.
By Daniel Vaughan | Nov 2007
This vehicle is a 1986 Chrysler LeBaron Town & Country Convertible (Mark Cross Edition). It is one of only 505 ever made! Chrysler is famous for their 'woodies' of the 1950's. They were revived again in 1983. It was a smaller car favoring luxury and reasonable economy.
The LeBaron nameplate is one of the longest running nameplates in Chrysler, if not in all automotive history.

Manufactured more than six decades ago, the original bearer of the LeBaron name is the 1931 Chrysler Custom Imperial Eight. One of the numerous prominent coachbuilders that sprung up in the 1920s, LeBaron was founded in Bridgeport Connecticut in 1920 by Thomas L. Hubbard and Raymond Dietrich, formerly of Brewster. Originally named LeBaron, Carrossiers Inc., the company served as design consultants. The company didn't become body builders in addition to designers until 1924 after merging with the Blue Ribbon and Bridgeport Body companies.

Though neither Hibbard nor Dietrich were French, the named the company LeBaron simply because the name sounded French. The market for custom bodywork in the U.S. largely dissipated by the late 1930's due to the Depression and the efforts of corporate stylists like Ford's Eugene Gregorie and GM's Harley Earl.

The name LeBaron was eventually revived by Chrysler, (though not the company,) for it's top of-of-the-line Imperial in 1957. Offered as either a pillared sedan or four-door Southampton hardtop, the first Imperial LeBaron was offered at a base price of $5,743. The LeBaron nameplate was used to denote the highest model of Imperial. The midrange model was the Imperial Crown, while 'entry' model was the Imperial Custom. Through 1975 the Imperial remained the top-of-the-line model and ended its reign as a separate marque. The final Imperial was a LeBaron hardtop. Imperial ceased to be in 1975.

In 1977 the LeBaron nameplate was again revived for the rear-wheel drive M-body Chrysler that was based on the mechanicals of the corporate A-body (Dodge Aspen/Plymouth Volare). Though the name LeBaron had been used before on Imperials, this was the first time in History that the name was used on its own.

In 1982 the LeBaron model name was transferred to the new front-wheel drive line when Chrysler-branded rear-drive M-body was renamed New Yorker Fifth Avenue for the 1983 model year.

In 1978 the vehicle was available as a wagon, and all had the Town & Country wood paneling until a plain base wagon with featured in 1980 through 1981. The LeBaron was available as a four-door passenger sedan in the early 80's. For 1981 only a Police version was made available. The now-famous K-cars were introduced in 1982, where it became an upscale version of the Dodge Aries and Plymouth Reliant. The LeBaron 'K' was offered as a convertible through 1986, and as a sedan through to 1988. From 1985 through 1989 an 'H' body LeBaron GTS hatchback (Dodge Lancer) was offered. From 1990 through 1994 the 'A' body LeBaron sedan (Dodge Spirit/Plymouth Acclaim was featured. The Town and Country station wagon version was also offered this year as well. From 1983 through 1986, limited quantities of a special Town and Country convertible was made available in simulated wood paneling that closely resembled the original 1940's Town and Country.

Somewhat different than the standard LeBaron, the 1985 LeBaron GTS was based on the Chrysler H platform. Considered to be more of a performance vehicle, the GTS was powered by Chrysler's 2.2 liter inline-4 engine that was later updated with a 2.5 L TBI version that generated 93 hp. For 1989 the GTS moniker was dropped and the K-based LeBaron sedan was discontinued.

Following the discontinuation of the first generation LeBaron coupe and convertible in 1986, a new LeBaron was introduced by Chrysler. Also available as either a coupe or convertible, this newest model was built on the J platform. The 1987 model featured headlights that were hidden behind retractable metal covers, curved (Coke bottle) style rocker panels, and a waterfall grille. These models were called the Chrysler Phantom in Mexico. 1987 LeBarons featured available engines that were the stock 2.21 and 2.51, either naturally aspirated or turbocharged. For the 1990 model year a 3.01 Mitsubishi V6 was featured. Equipped with a trip and fuel economy computer and full instrumentation, in 1990 the instrument panel was totally redesigned.

Considered to be the traditional year, in 1987 the 'J' body LeBaron coupe and convertible was introduced as successors to the 'K' based sedan and convertible. The 'J' was the only modern LeBaron that wasn't carbon copied into a Dodge/Plymouth offering.

Though mechanically similar to the Reliant and Aries the LeBaron resembled the much larger E-body sedans. Discontinued in 1988, this generation of LeBarons featured Chrysler's Electronic Voice Alert, which was a computerized voice that let passengers know that 'A door is ajar', or to 'Please fasten your seat belt'. The Reliant and Aries ceased production in 1988.

Built exclusively for time trials at the Bonneville Salt Flats, the 1992 Chrysler Baron Coupe was powered by a VNT turbocharged 2.0L that was based on the 2.2L/2.5L turbocharged engines that were found on many street LeBarons. The engine produced an amazing 450 hp with an exhaust header, customized intake and an intercooler that still fit into essentially a stock body.

The LeBaron received a slightly restyled exterior for the 1993 model year. The hidden headlamps from earlier models were deleted and replaced with less costly aerodynamic replaceable-bulb headlamps. All models received the amber rear turn signals that were introduced on the deluxe 1992. New wheel styles were also made available. For 1994 the new 'Bright LX' décor package was offered and featured a 'bright' chrome grille, 'bright' chrome badging, and 'bright' chrome molding inserts. Featured engines were naturally-aspirated 2.5L L and turbocharged 2.2 and 2.5L versions of Chrysler's I4 and the 3.0 L Mitsubishi V6.

Until 1993 the LeBaron coupe was offered, and the convertible out-lasting it until the 1995 model year. The Sebring coupe and convertible has since replaced the LeBaron in the Chrysler lineup.

The final LeBaron sedan was built on the front wheel drive AA platform, another K derivative, as an up-market mid-size sedan. After the 1994 model year, the LeBaron sedan was discontinued and replaced in 1995 by the 'Cloud Car' Chrysler Cirrus.
By Jessica Donaldson
For more information and related vehicles, click
here
CHRYSLER GROUP CUSTOMERS ON TRACK TO SAVE $2.5 BILLION, 700+ MILLION GALLONS OF GASOLINE WITH TORQUEFLITE TRANSMISSIONS
TorqueFlite eight-speed automatic transmissions now in more than one million vehicles worldwide Vehicles projected to save more than 700 million gallons of gasoline; worth an estimated $2.5 billion, based on fuel-price forecasts Total estimated reduction in C02 emissions – more than six million metric tonnes TorqueFlite transmissions in model-year 2014 vehicles contribute to 19 fuel-economy/driving-range benchmarks across four vehicle segments TorqueFlite availability expanding to HEMI®-equi...[Read more...]
MOTOR TREND NAMES RAM 1500 AS 2014 TRUCK OF THE YEAR
Ram 1500 Outclasses Competition with the Fuel Economy, Torque, Style and Amenities to Satisfy the Most Demanding Truck Buyers December 4, 2013 , El Segundo, Calif. - Motor Trend has selected the Ram 1500 as its 2014 Truck of the Year®. The announcement was made at the Chrysler Group LLC Warren Truck Assembly Plant in Michigan, the birthplace of Ram Trucks. A full report on Motor Trend's comprehensive Truck of the Year testing will be featured on MotorTrend.com and in the ...[Read more...]
CONSUMERS DIGEST NAMES SEVEN CHRYSLER GROUP VEHICLES 'BEST BUYS' FOR 2014
◾Chrysler 300 and Town & Country earn 'Best Buy' awards ◾Dodge Durango and Grand Caravan honored ◾Jeep® Grand Cherokee named a 'Best Buy' ◾Ram 1500 honored in Full-Size Pickup segment ◾Fiat 500 awarded a 'Best Buy' in Subcompact segment November 1, 2013 , Auburn Hills, Mich. - Seven Chrysler Group vehicles, representing each vehicle brand, have earned a spot on Consumers Digest's list of 2014 Best Buys. Vehicles chosen as 'Best Buys' deliver the most value for the money in thei...[Read more...]
Pair Of Majestic Duesenbergs Top RM's $10.7 Million Hershey Sale
• RM Auctions generates $10.7 million in sales with 95 percent of all lots sold at its Hershey, Pennsylvania auction • Top sales honors go to a pair of historic Duesenbergs from the distinguished Ray Bowersox Collection • Pair of Packards – one magnificently restored and one in unmolested, original condition – also attract significant interest, well-exceeding pre-sale estimates • Auction draws international audience, with bidders representing 17 countries around the world • RM continues it...[Read more...]
RM Readies For Highly Anticipated Hershey Sale
• Final countdown underway to RM Auctions' annual Hershey, Pennsylvania sale, October 11–12 • Auction features approximately 120 historic automobiles joined by a select series of vintage motorcycles and an assortment of memorabilia • Automobile offering led by famous 1931 Duesenberg Model J Dual Windshield 'Barrelside' Phaeton, winner of the epic 1932 race at Lake Muroc in California • Duesenberg headlines select group of 10 automobiles from the distinguished Ray Bowersox Collection; sale als...[Read more...]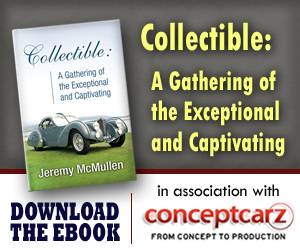 Chrysler
Monthly Sales Figures
Volume
July 2014
23,455
June 2014
24,026
May 2014
22,592
April 2014
21,967
March 2014
26,140
February 2014
25,230
January 2014
21,113
December 2013
20,270
November 2013
21,024
October 2013
23,452
September 2013
25,251
August 2013
28,678
(More Details)
© 1998-2014. All rights reserved. The material may not be published, broadcast, rewritten, or redistributed.