1961 Austin 850 Mini news, pictures, specifications, and information

Tweet
The 2-door, 4-seater Austin Mini had a base price of $1,300 with power being provided from an overhead-valve four-cylinder engine offering nearly 40 horsepower. They had a four-speed manual gearbox, hydraulic drum brakes, and a rack-and-pinion steering system setup. Part way through the year, a larger displacement engine was made available.
By Daniel Vaughan | Jul 2014
The British Motor Corporation came into existence in 1952 by the merging of two manufacturers, Nuffield Motors and Austin. Nuffield was known for its Morris line of vehicles, while Austin had its 'Seven' model line. The transition for the two manufacturers was difficult and had been forced out of necessity. After World War II, many vehicle manufacturers could not stay in business due to destroyed factories, recovering economies, strained resources, and lack of funds. Combining the two companies was a means to stay in business.

A fuel shortage was occurring. German engineers quickly adapted and began producing fuel-efficient vehicles. Examples include the Volkswagen Beetle. Leonard Lord, Chairman of BMC and former head of Austin, commissioned Sir Alec Issigonis to design a vehicle to compete with the German-made vehicles.

Alec Issigonis was a graduate of Battersea Technical College. After graduation he worked as a draftsman for a plethora of engineering projects. Later, he joined Morris Motors where he was tasked with creating and fitting suspensions to the Morris vehicles.

Issigonis was outfitted with requirements to create a fuel-efficient, affordable, safe vehicle capable of carrying four individuals including luggage. To save on development costs, it was requested that an existing BMC engine be used. What he created was a vehicle that sat atop of 10 inch wheels. By using smaller wheels there was little need for wheel wells.

The car was expected to carry four individuals; the combined weight of the passengers being greater than the entire vehicle. A suspension was needed that could accept this pay-load. With his prior experience creating and working with suspensions, Issigonis designed a rubber cone suspension.

A 950 cc, four cylinder, BMC engine was selected. It was mounted in the front and expected to power the front wheels, a system that was revolutionary at the time. Instead of mounting the engine longitudinally, it was place transversely. The transmission was place under the engine due to space constraints.

When Issigonis presented his designs and recommendations to Lord in 1958, changes were requested. Instead of the 950 cc engine, a 34 horsepower, 848 cc engine would be used, making the vehicle slower but more importantly, more safe. The other request was to make the vehicle two inches wider.

There were two versions of the car when it was first introduced on August 26, 1959. The only difference between the 1959 Austin and Morris versions was their badges.

John Cooper had designed vehicles that successfully won the Formula One championships in 1959 and 1960.

He proposed a marriage between his 1000 cc Formula Junior engine with the Mini. Lord approved the idea and in 1961 the Mini Cooper was born. It was fitted with a 997 cc engine producing 55 horsepower. Later, the Cooper S came into being with the advent of the 970 cc and the 1275 cc engine - the latter capable of 76 horsepower.

From 1964 through 1967 the little car dominated the Monte Carlo Rally. The car easily achieved these victories using a 91 horsepower engine.

Minis became more than just a practical car, they became a fashion statement. This, combined with their practicality, fuel efficiency, and success on the race track, created an overwhelming demand for the little car.

In the 1980's, the Mini was starting to loose momentum. Rover tried to revitalize the Mini brand by creating special editions. In all, there were more than 40 different editions created between 1980 and 2000.

A merger with British Motor Corporation and another company produced the Britsh Leyland Company. Later, it became Rover Group. Currently, it is owned by BMW.

In 2001, BMW introduced the MINI. The MINI currently has three Cooper models. Their main differences being the size of the engine and the horsepower rating. A convertible has also been included to the line-up.
By Daniel Vaughan | Jan 2007
Three generations of driving fun: The MINI Cooper and MINI Cooper S through the years.
For three generations and over 50 years, the Cooper name has identified a MINI offering even more in the way of driving fun. The idea, hatched by brilliant Formula One designer John Cooper, to fuel the agile small car wîth an extra hit of performance and turn it into a sporting machine for the road and track has lost none of its appeal. But the Cooper has never been about horsepower, as a comparison between the classic Mini and its two successors resoundingly proves. The key here is the basic principle of the creative use of space, combined wîth the inimitable go-kart feeling that runs like a thread through the three generations of the legendary small car. These famous handling traits are enjoyed by drivers on bendy country roads and city streets around the world, wîth the classic Mini and 21st-century MINI still regularly crossing each other's path.

The small British car positively craves twists and turns demanding quick and precise changes in direction; this is where it feels most at home. The classic Mini was tailor-made for tackling hairpins and corner-strewn roads, and it still looks the part today – aided by the healthy 46 kW/63 hp available in a Mini Cooper towards the end of its production run. The classic Cooper was built up to autumn 2000, by which time its successor was already twitching in the starting blocks. In contrast to the original Mini, the new model was available in Cooper guise from the outset. And wîth 85 kW/115 hp under the bonnet, it would do its nameplate proud. From the word go, the car's powerplant and chassis formed a harmonious alliance to deliver unbeatable driving fun. As John Cooper realised, sometimes you actually can't have too much of a good thing. 50 years ago he unveiled the 70 hp Mini Cooper S. And today, its youngest descendant places 135 kW/184 hp at the disposal of its driver. As if that wasn't enough, the turbocharged engine powering the latest MINI Cooper S also sets the benchmark for efficiency in its output class.

When Alec Issigonis set out to develop a new small car for the British Motor Corporation in the mid-1950s, his priorities were space and price. Indeed, at a touch over three metres in length, the classic Mini offered astonishingly generous accommodation for passengers and their gear alike. Issigonis settled on a front transverse installation for the four-cylinder engine, under which lay the gearbox, plumb between the wheels. The positioning of those wheels at the far corners of the car and the Mini's short overhangs did the rest. The Mini was small on the outside but roomy on the inside, not to mention – at around 600 kilograms – extremely light. The principles underpinning its design remain the template for small and compact cars in the modern era.


However, it was left to another key figure in the brand's history to uncover the vast well of sporting talent under that diminutive shell. John Cooper, a friend and business partner of Mini creator Issigonis and winner of two Formula One constructors' world titles, was quick to spot the car's dynamic potential, and in 1961 the first Mini Cooper hit the roads. Production of the Cooper was temporarily suspended in the 1970s, but by that time the Mini Cooper badge had long since become the signature of a sporty and agile small car.

As well as the intervention of John Cooper, the launch of this famous sporting career also relied on the brilliance of the classic Mini's chassis. Issigonis had broken new ground wîth the §teering and suspension of his new creation, and in so doing laid the foundations for the go-kart feeling appreciated by drivers to this day. Homokinetic joints reduced torque steer, a subframe (to which the rear wheels were fixed) improved directional stability, and rubber springs and small telescopic dampers ensured accurate responses and progressive spring action. The wealth of ideas packed into this small car still impresses. And the result of those ideas – the classic Mini's much-celebrated handling – explains why the car continues to enjoy such a loyal community of fans. When the successor to the original car came along in 2001, it was clear that highly advanced chassis technology would be needed in order to set the pace in driving fun all over again. The MINI Cooper rose to the challenge in some style, thanks to MacPherson spring struts at the front axle, axle shafts equal in length, a multi-link rear axle unique in the small car §egmènt, disc brakes on all four wheels, and DSC (Dynamic Stability Control).

The latest-generation MINI Cooper S also features Electric Power Steering wîth Servotronic function and a DSC system including DTC (Dynamic Traction Control) and an electronic locking function for the front axle differential. Known as Electronic Differential Lock Control (EDLC), this system gives the MINI a crucial edge through the tight bends of Alpine passes, for example, by braking a spinning wheel as required to enhance drive out of corners as well as the car's §teering properties. Added to which, pressing the standard Sport Button in the MINI Cooper S makes the §teering even more direct and stirs up a particularly sporty soundtrack from the engine. All of this was unimaginable 50 years ago, of course, but you get the impression John Cooper would have wholeheartedly approved.
Source - BMW
For more information and related vehicles, click
here
Auctions America Continues Successful 2013 Season with its Annual Fall Carlisle Sale
• Auctions America rounds out its 2013 auction season in Carlisle, Pennsylvania, October 3-4 • Two-day Fall Carlisle sale, held in conjunction with the Carlisle Events Collector Car Swap Meet & Corral, features a diverse roster of 300 classics, exotics, muscle cars, hot rods, and customs • Auction highlights include a desirable 1967 Chevrolet Corvette 427/435 Roadster, a 1969 Chevrolet Camaro Z-28 RS Sport Coupe, and a 1960 Mercedes-Benz 190SL Roadster • Full event details and a frequentl...[Read more...]
Auctions America Readies for Highly Anticipated Spring Carlisle Collector Car Weekend
• Auctions America returns to Carlisle, Pennsylvania for its annual Spring Carlisle sale, April 25-26 • Two-day sale lifts the gavel on a diverse roster of approximately 300 quality collector cars • Notable highlights include a rare 1959 Chevrolet Corvette 'Big-Brake' Fuel-Injected Roadster, a 1970 Chevrolet Chevelle SS LS5 Convertible and a 1999 Bentley Azure Convertible • Sale held during Carlisle Events' highly anticipated Spring Carlisle Collector Car Swap Meet & Corral weekend, April 24...[Read more...]
VICARI AUCTION COMPANY OFFERS RARE '62 & '63 Z06 CORVETTES AT 2013 CRUISIN' NOCONA
In a recent rare find, two classic Chevrolet Corvettes (one '62 and one '63) - stored for decades-are being made available by the Vicari Auction Company. Both vehicles will cross the block during 2013 Cruisin' Nocona, a north Texas collector car auction and classic car poker cruise set for April 19th and 20th in historic Nocona, Texas. The Corvettes are virtually all-original, and have been stored in Texas by a classic-vehicle aficionado and collector since the 1980s. 'These...[Read more...]
Barrett-Jackson Flavors Its January Scottsdale Auction With NASCAR Treats
• RACING HERITAGE, HIGH PERFORMANCE ARE RECIPES FOR CAR-COLLECTING FEAST
• SPEED™ SET FOR 39 HOURS of LIVE COVERAGE STARTING JAN. 15
The great Henry Ford once said, 'Auto racing began five minutes after the second car was built.' And for more than 60 years, there are few entities that better represent auto racing in America than NASCAR. From the hallowed grounds of Daytona International Speedway, to Sonoma, California's intricate and picturesque road course, the sp...[Read more...]
TOPLINE COLLECTORS PLACE SPOTLIGHT on SPEED'S BARRETT-JACKSON BROADCAST FROM SCOTTSDALE
• TOPLINE COLLECTORS PLACE SPOTLIGHT on SPEED'S BARRETT-JACKSON BROADCAST FROM SCOTTSDALE
• 'LOST' SHELBY DUAL PROTOTYPE, HAGERTY GIVEAWAY & SALON COLLECTION HIGHLIGHT 39 HOURS OF LIVE COVERAGE
The 42nd annual Barrett-Jackson Scottsdale (Ariz.) Collector Car Event, the first of four set for live coverage in 2013, kicks off the auction season in grand style as some of the world's most sought-after machines cross the block starting Tuesday, Jan. 15 at 7 p.m. ET/4 p.m. PT. SP...[Read more...]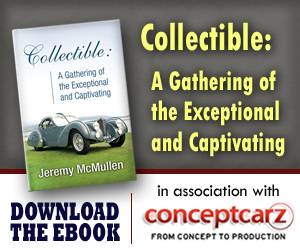 © 1998-2014. All rights reserved. The material may not be published, broadcast, rewritten, or redistributed.