1964 Pontiac Tempest news, pictures, specifications, and information

Tweet
The GTO is credited with starting the Muscle Car Era. 1964 was the first year for the GTO. The offering was repeated in 1965 and in 1966 Tempest GTO became a separate series. There were 6,644 convertibles produced in 1964, with a sticker price between $3,200 and $3,400.

Included with the GTO package were dual exhausts, special GTO nameplates, simulated engine-turned dash panel inserts and dual hood scoops. A heavy-duty three-speed or close-ratio four-speed transmission were optional along with a more powerful Tri-Power engine producing 348 horsepower. The 325 horsepower GTO went from 0-60 mph in 7.8 seconds. Pontiac sold 32,450 Tempests with the GTO package during the 1964 model year.

The name 'GTO' was borrowed from Ferrari who had used the name a few years prior with their legendary Ferrari GTO series. GTO meaning Gran Turismo Omologato. The Pontiac GTO continued the production tradition of the GTO name by becoming what is widely accepted as the first Muscle Car. It was the work of John Z. Deloren who put performance components in a Tempest. The GTO option first offered in October of 1963 set the buyer back an additional $295.90. This package included a 389 cubic-inch V8 engine that produced 325 horsepower. There was dual exhausts, a four-barrel Carter AFB carburetor, three-speed manual transmission, Hurst shifter, heavy-duty clutch and suspension, upgraded tires, twin hood scopes, GTO emblems, and a 3.23:1 rear axle ratio.

The white two-door Pontiac GTO shown with chassis number 824P66350 was drag raced a few times in 1964 and 1965 in NHRA stock class competition. It has been driven sparingly since then, spending most of its time in a garage. The odometer reads just over 17,000 miles. It is equipped with a 389 Tri-power engine with a four-speed transmission and Hurst wheels. It was auctioned at the 2006 Worldwide Group Auction held on Hilton Head Island where it was expected to fetch between $75,000-$100,000. That estimate proved to be very inaccurate as the new owner got a bargain at $53,900.
By Daniel Vaughan | Nov 2010
The 1964 GTO option package for the new intermediate-size Pontiac Tempest LeMans started the muscle-car era in the automobile industry.

This 1964 GTO Convertible is a multi-show winner and freshly restored for the 2008 Amelia Island Concours d'Elegance. It is powered by the original dated, 325 horsepower, 389 cubic-inch, 79J, V8 engine and has all the correct numbers. Options include an automatic transmission, power steering, brakes, windows, seats, wood Custom Sport title wheel, correct 1964 spinner hubcaps and Firestone F70-14 redlines. The car includes full PHS documentation, factory brochure, build sheet, original invoice, shipping records, owner's manual, power top manual, Protect-O-Plate and rubbing of original plate.
1964 was the second year for the LeMans variation of Pontiac's Tempest. As with the Grand Prix and the GTO, the LeMans name reflected the company's efforts to foster a sporting image.

For 1964, the Tempest LeMans cars featured a six-cylinder engine or an optional V-8 and were distinguished by an assortment of specific badges and sporty faux-louvers placed just ahead of the rear wheels.

This convertible was completed on November 6th of 1963. It still retains its original color scheme. It has a Grenadier Red exterior with an ivory top over a red interior. The car features a two-speed automatic transmission, front and rear floor mats, push-button radio, sun visor vanity mirror and custom seat belts. It also has power steering, power brakes and automatically retractable soft top.

The current owner acquired the car in 2004. It is a low mileage car that is powered by a 326 cubic-inch overhead valve V-8 engine with 2-barrel Rochester carburetor and a two-speed automatic gearbox.

In 2011, the car was offered for sale at the Gooding & Company auction held in Scottsdale, Arizona. It was estimated to sell for $25,000 - $40,000 and offered without reserve. As bidding came to a close, the car was sold for the sum of $19,800 including buyer's premium.
By Daniel Vaughan | Feb 2011
| | | |
| --- | --- | --- |
| | | Coupe |
The Trans-Am Series is an automobile racing series created in 1966 by the Sports Car Club of America. Originally known as the Trans-American Sedan Championship it has evolved over time from its original format as a manufacturer's championship for modified racing sedans to its current form as a driver's championship open to GT style cars.

The series was formed at the beginning of the pony car era and came from the SCCA's A & B Sedan amateur Club Racing classes, which were based upon commercially produced cars which had been modified for racing competition. Originally the series was open to FIA Group 2 Touring Cars and it featured two classes, over 2.0 Liter and Under 2.0 Liter, with both classes running together. The series was best known for competition among American V8 sedans such as the Ford Mustang, Chevrolet Camaro, Plymouth Barracuda, Mercury Cougar, AMC Javelin, Pontiac Firebird, and Dodge Challenger in the 1960s and early 1970s.

The first race was in 1966 at Sebring International Raceway. The overall win went to Jochen Rindt driving an Alfa Romeo GTA an Under 2-Liter car, with Bob Tullius driving a Dodge Dart, taking second overall and first in the Over 2-Liter class.

This car is an example of the early period in Trans Am racing.
This 1964 Pontiac GTO is finished in Medium Red with a Black interior and is powered by a 389 cubic-inch V8. It has been upgraded with period correct GTO tri-power induction system and is backed from the factory with the M20 wide ratio 4-speed manual transmission.

In addition to the factory Gran Turismo Omologato package and aforementioned M20 4-speed, this car was extremely well optioned with Air Conditioning, Push Button Radio, Verba-phonic rear speaker, padded instrument panel, power steering, power brakes, all Soft Ray glass, outside rear view mirror, positive crankcase vent, HD springs and shocks, and custom retracting seatbelts.

At some point during the car's history, a previous owner had taken the original air conditioning compressor off and it is since lost, but the factory dash, controls and much of the plumbing remain with the car.

The car was delivered new from Tom Ray Pontiac in Glendale, California, and has been on the West Coast its entire known life. It was given a frame-off restoration that was completed in 1996. Since that time it has been stored, virtually unused, within a large collection in a climate-controlled facility until 2013.
There is no doubt that the Pontiac GTO started an entirely new market for the domestic auto industry. Although there were numerous cars that offered high performance drive-trains, the GTO was the first to put a large cubic-inch engine into a smaller, intermediate sized body.

The story of the GTO is one that is well documented, with an informal meeting taking place at the GM Proving Grounds in Milford, Michigan. John DeLorean, Pontiac's Chief Engineer, along with Assistant Chief Engineers Bill Collins and Russ Gee, were looking at ways to hang a dual exhaust system on a 326 Tempest. Collins suggested dropping in a 389 cubic-inch engine, since all Pontiac V-8 engines at the time shared the same dimensions. DeLorean gave the project the green light and the rest, as they say, is history.

With initial sales for the GTO package topping 32,000 units, it was indeed a smashing success. Offered as a 2-door coupe, a 2-door sedan and a convertible with a wide variety of options, even G.M. brass was pleased with the results.

This Grenadier Red GTO convertible is one of just 6,644 produced. Ordered new by the current (and only) owner, it is a fine example of the Original Muscle Car. Wanting a new convertible, he read about the GTO package with the bigger V-8, dual exhaust, redline tires and more, and he knew he had to have one. Today the car stands as an outstanding example of an unrestored original GTO.
The Pontiac GTO, in all respects a muscle car, debuted in 1964 and continued until 1974. John Zachary DeLorean, best known for the Delorean automobiles, was the individual who forced the development of the legendary GTO. The vehicle was very successful because it was able to capitalize on a segment of the market that had not been fully realized. Most of the muscle cars during this time were full-size cars. They had large engines, but due to the weight they were usually slow to accelerate. Pontiac offered a combination of 389 cubic-inch engines in their mid-size Tempest line and called it a GTO. The name GTO comes from Ferrari. It means Gran Turismo Omolgato.
The GTO package included the V8 engine, premium tires, special hydraulic lifters, dual exhaust, manual three and four-speed transmission with a Hurst shifter, heavy-duty clutch, improved suspension, a 3.23:1 rear axle ration, dual hood scoops, GTO emblems, and bucket seats. The 389 cubic-inch engine was rated at 325-348 horsepower depending on the configuration and modification of the engine. The 428 ft-lbs of torque was even more astonishing. Placing this mammoth engine in a mid-size sedan created a vehicle that was untouchable. It was available in both the coupe or convertible body styles. Pontiac sold nearly 32,500 GTO's during the first year.

For 1965, the Tempest GTO received cosmetic and mechanical updates. The engine was modified and was now producing between 335 and 360 horsepower with a torque rating at 431 ft-lbs. The headlights of the vehicle were modified; they were now in stacked configuration. The dual hood scoop was replaced with a single hood scoop. Over 75,000 examples were sold in the second year.

A dealer cold air induction kit for the Tri-Power cars helped stimulate sales and increased the horsepower of the vehicle. The induction kit made use of the hood scoop and brought about the Ram Air package.

For 1966, the GTO became its own model. There were styling changes mostly concentrating on the roof and the rear lights. The engines were unchanged, however, during the middle of the year the multi-carburetor setup was no longer offered. The GTO was still more popular than ever, selling 96,946 examples during 1966.

In 1967, a new 400 cubic-inch engine was introduced. The horsepower rating was between 255 and 360 horsepower depending on the configuration. The torque rating was between 397 and 438 ft-lbs. Minor styling changes occurred, mainly the grill and the rear of the vehicle. During the 1967 model year, nearly 82,000 GTO's were sold.

In 1968, the wheel base was expanded to 112 inches and now sat atop General Motors split wheelbase A-body. Major styling changes occurred. A rubber bumper, labeled the Endura, adorned the front of the car. Hidden headlights were optional equipment. The engine choices remained the same but the horsepower and torque was increased. The 440 was not producing between 265 and 360 horsepower while the torque ranged from 397 through 445 ft-lbs.

In 1969, the competition was becoming fierce. To compete, Pontiac offered a package on the GTO that included body paint, rear spoiler, decals, and a 366 horsepower, Ram Air III V8. A Ram IV V8 could also be purchased, increasing the horsepower rating to 370. Still a very successful year for Pontiac, there were more than 72,000 GTO's sold.

In 1970, the GTO once again received styling changes. There were now four exposed headlamps. The rear engine was

redesigned and the body received new creases. The base engine was dropped. A 455 cubic-inch engine was introduced. The 400 cubic-inch engine produced between 350 and 370 horsepower. The 455 cubic-inch V8 produced between 360 and 500 horsepower. Sales were still strong, but dropping. A little more than 40,000 GTO's were sold.

In 1971, sales continued to drop. Only about 10,000 were sold. GM announced that due to rising emission and safety regulations, compression ratings would have to be reduced and all engines would need to run on unleaded fuel. The horsepower ratings began to decrease. Due to a heavier chassis, introduced a few year prior, and lower horsepower ratings, the vehicle was losing its ability to be competitive. More bad news for the GTO; this was its last year as an independent model. The front end of the vehicle received minor styling updates.

In 1972, the Judge and convertible options were no longer offered. The horsepower ratings continued to go the same direction as the sales figures: down. A little over 5,800 vehicles were sold. The horsepower output was between 250 and 300. The 400 and 455 cubic inch engines were both offered.

In 1973, only 4806 GTO's were sold. The engine horsepower decreased as well, now 230 through 250. Its muscle car status was officially gone.

The 1974 production year was the last for the GTO. It was now an option on the Ventura model line-up. It came as a coupe or a hatchback. A 350 cubic-inch engine was the only one being offered. With a 200 horsepower rating, the car was dying a slow and very painful death. A little over 7000 vehicles were sold with the GTO option.

There were a few reasons for the GTO's decline. The muscle car era was coming to a close - or just being redefined and awaiting a revitalization. Government and safety regulations were becoming more strict. There were tough fuel regulations which severely limited the output of the engines but promoted better fuel economy. Insurance charges increased making these machines out-of-reach for many consumers. The cars became heavier, and heavier. The engine sizes decreased; The cost of ownership increased. The muscle car era was destroyed.
By Daniel Vaughan | Aug 2006
For more information and related vehicles, click
here
Le Mans Winning Ferrari 275 GTB at The Scottsdale Auction
An historic 1966 Ferrari 275 Gran Turismo Berlinetta Competizione Scaglietti which was class winner at the 1967 Le Man 24 Hours, the 1969 Spa-Francorchamps 1000 Km, and the 1969 Imola 500 Km under the Swiss Scuderia Filipinetti team has joined the impressive early consignments for Bonhams Scottsdale Auction. The auction will take place on 15 January 2015 at the luxurious Westin Kierland Resort & Spa in Scottsdale, Arizona. From the day it was delivered to legendary race-team owner, Georges...[Read more...]
BARRETT-JACKSON GALA KICKS OFF LIFESTYLE EVENT IN DYNAMIC FASHION
Craig Jackson Welcomes Bidders, Consignors, VIPs and Celebrities at 43rd Scottsdale Auction SCOTTSDALE, ARIZ. (Jan. 14, 2014) – Barrett-Jackson, The World's Greatest Collector Car Auctions™, held its opening night gala on Monday night, an event that signifies the beginning of Barrett-Jackson's auction week and kick offs the action. Barrett-Jackson's 43rd annual Scottsdale auction – held Jan. 12-19, 2014 – will be seen on channels including FOX Broadcast, the FOX Business Netw...[Read more...]
BMW AT THE 2013 FRANKFURT INTERNATIONAL MOTOR SHOW (IAA).
Munich. The present and future of driving pleasure converge in the new models presented by the BMW and BMW i brands at the International Motor Show (IAA) 2013 in Frankfurt am Main. One of the highlights of the world's most important car show, which takes place from 12 – 22 September this year, is the premiere of the BMW i3. With its passenger cell made from carbon-fibre-reinforced plastic (CFRP) and BMW eDrive technology designed to deliver zero-emission driving, the first series-produced...[Read more...]
Barrett-Jackson Generates More Than $21 Million In Sales At 11th Annual Palm Beach Auction
The World's Greatest Collector Car Auctions™ Attracts Nearly 55,000 Attendees Despite Weather Concerns, Reports Strong Sales Signifying that Collector Car Market is on Steady Incline •More than $21 million in gross sales – An increase over 2012 sales •Nearly 55,000 car fans in attendance •More than $1.8 million raised for charity Scottsdale, Ariz. – (April 9, 2013) – Barrett-Jackson, The World's Greatest Collector Car Auctions™, announced today that it generated more than $21 millio...[Read more...]
Chevy Performance Rolls with Hot Rod Magazine Power Tour
Weeklong drive kicks off with unprecedented access to GM's Milford Proving Ground Road trip! It's that time of year again for the annual automotive pilgrimage known as the Hot Rod Magazine Power Tour® and Chevrolet Performance helps get it started on Saturday, June 2, at General Motors' Milford Proving Ground. The Power Tour winds up in Arlington, Texas, on June 9. With more than 3,000 hot rods, muscle cars, classic trucks and late-model performance vehicles and approximately 12,00...[Read more...]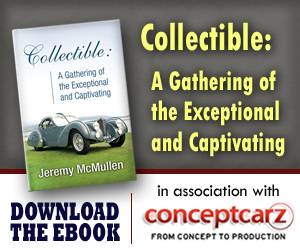 Similarly Priced Vehicles from 1964
Dodge Polara ($2,610-$2,980)
Studebaker Eight ($2,071-$2,960)
Triumph TR4 ($2,850-$3,000)
Chevrolet Impala Series ($2,700-$3,200)
Morgan Plus Four ($2,960-$3,350)
Plymouth Sport Fury ($2,865-$3,100)
Ford Galaxie 500 ($2,611-$3,485)

Average Auction Sale: $43,151
© 1998-2014. All rights reserved. The material may not be published, broadcast, rewritten, or redistributed.