1973 BMW 2002 news, pictures, specifications, and information

Tweet
This is the automobile that put BMW on the map. A heritage of high performance is its legacy. This quality German automobile invented the 'sports sedan' and launched BMW's reputation as it is known for today. Every BMW built since can trace its roots to the famous 2002.

This 2002 has only 21,000 miles on it and is entirely original. The owners purchased the automobile from a lovely lady in Buffalo who drove it sparingly and cared for it tenderly. The current owner does the same.
This 1973 BMW 2002 Tii is powered by a 1990cc inline four-cylinder engine with Kugelfischer mechanical fuel injection. It is capable of producing 130 horsepower and has a five-speed manual gearbox and front disc brakes. It was offered for sale at the 2007 RM Auctions held in Meadow Brook where it was offered without reserve and estimated to sell between $18,000 - $24,000. This car was the first automobile to cross the auction block and bidding quickly escalated. Without reserve, the seller runs the risk of losing the vehicle for a low bid. This was not the case for this vehicle, as a high bid of $25,300 was enough to secure this gorgeous car. This car has been treated to an extensive restoration making it one of the finest examples of the 2002 in existence. This car is finished in red with a black vinyl interior, twin mirrors, 13-inch painted steel wheels, and period-correct tires.

The Tii version of the 2002 was introduced to the North American market in 1971. It sported wider wheels, larger brakes, and a four-speed gearbox as standard equipment. It was reported that after the 4000 RPM mark, the Tii stopped behaving like the standard 2002, and acted like a new vehicle with much more performance than the standard 2002. There was an increase in power thanks to the Kugelfischer mechanical fuel injection system, which added 30 pound feet of torque over the standard carburetor system between 4000 and 4700 rpm. This was done while satisfying all emission regulations, which were very stringent at the time.
By Daniel Vaughan | Aug 2007
| | |
| --- | --- |
| | Sedan |
In 1971, a particularly sporty type joined the ranks of the many variants in the BMW 02 Series. The 130 BHP engine from the four-door BMW 2000 tii was mounted in the two-door 2002 tii - lighter by 160 kg - to achieve tantalizing driving characteristics. Despite a purchase price around DM 2,000 higher, almost 40,000 customers turned to the 'Wolf in the sheep's clothing' with a top speed of 190 km/h, which was also available as a Touring version.

Between 1971 and 1975, 38,703 examples were produced. Power was from a 1990cc four-cylinder engine offering 130 bhp at 5800 RPM. They came equipped with either a four- or five-speed manual gearbox. Disc brakes were in the front with drums in the rear.
Those manufacturers that had found a niche in the market place to survive the Great Depression were forced once again to figure out how to stay in business after World War II. BMW stayed successful with their affordable and efficient bubble car, named the Isetta. They also produced luxury cars such as the 507 and aircraft parts.
In 1959, BMW was on the brink of bankruptcy. Their Isetta vehicle had sold well for a period of time but it was quickly loosing ground to the VW Beetle. A vehicle that had similar features such as excellent fuel economy and practicality, but offered more room for passengers.

Harald and Herbert Quandt provided financial backing to BMW to produce a four-door car which came known to be Neue Klasse or 'New Class'. This happened to be the savior for the struggling company. In 1962 the vehicle was debuted and dubbed the 1500. It featured a four-cylinder engine. In total, 24,000 of the 1500's were produced.

The 1800 was introduced near the end of 1963. It had a four-cylinder, 1773cc engine that was capable of producing 90 horsepower. Variants such as the 1800 Ti and 1800 Ti/SA soon followed.

In 1964 the 1600 replaced the 1500. The 1600 was a responsive, four-door sedan that received excellent reviews from the automotive tests all over the world. The 1600-2 was soon introduced. It was a sportier, two-door version of the four-door 1600 that offered more horsepower and sat atop shorter 98.4 wheelbases, thus decreasing the overall weight of the vehicle and improving performance. The 1600-2 featured a 1573cc (1600) cc engine. The additional '2' represented the number of doors. A 105 horsepower 1600Ti soon followed. BMW was once again inching closer to its sports-car roots; a heritage it had not visited since the 1930's.

Helmut Werner Bonsch and Alex von Falkenhausen, both employee's of BMW's, had independently experimented with a 2.0 liter engine in the 1602 body. The combination was a success.

In 1966, the sale of 1600's in the United States began to escalate. The press had done much to stimulate desire for this small and responsive vehicle. The problem was that the sportier version, the 1600ti, was unable to pass the US Federal exhaust emissions regulations and thus, unable to be sold in that market. This was due to its twin-carburetor engine. The solution was to sell the 2-liter version which was able to pass the emissions regulations. So, in 1966, the 2002 was introduced.

During the life span of the 2002, which ranged from 1968 through 1976, there were three generations. The first generation was from 1968 through 1971. The second generation was built from 1971 through 1973. The third generation was built from 1973 through 1976.

From 1968 through 1976, BMW produced around 80,000 vehicle for the US market.

The vehicle produced from 1968 through 1973 can be identified by their round tail lights. Vehicle built after that and through 1973 had larger bumpers and sat atop a wider trac.

A turbo version of the 2002 was introduced but due to safety concerns, only produced in limited numbers. Less than 2000 were made; all were left-hand drive.
By Daniel Vaughan | Jul 2006
For more information and related vehicles, click
here
DATSUN LAUNCHES GO+ PANCA IN INDONESIA
◾Local production for Indonesian customers starts today at new plant in Purwakarta ◾Bookings for the first 5+2 MPV in the LCGC program open today at a price ranging from 85 to 103 million IDR; deliveries scheduled from June ◾Datsun GO+ receives the local name 'Datsun GO+ Panca' JAKARTA, Indonesia – Datsun, a brand of Nissan Motor Corporation, today launched its first Datsun car for the Indonesian market, the Datsun GO+, at its new plant in Purwakarta, West Java, Indonesia. The new 60...[Read more...]
VOLKSWAGEN CELEBRATES 40 YEARS OF THE GOLF AT THE NEW YORK AUTO SHOW
The most successful European car of all time turns 40 ◾More than 30 million Golf models have been sold worldwide ◾Car went on sale in Europe in May 1974, was sold in the U.S. from December that year as the Rabbit ◾Seventh-generation Golf GTI goes on sale in June in the U.S., with Golf TDI® and TSI® models arriving at dealerships in August Herndon, VA — The most successful European car of all time turns 40 this year. More than 30 million Golf models have been sold since the car went...[Read more...]
FIAT 500 ABARTH AND ABARTH CABRIO OFFER AUTOMATIC TRANSMISSION OPTION FOR 2015
◾Six-speed automatic transmission available as an option to five-speed manual transmission on 2015 Fiat 500 Abarth and Abarth Cabrio ◾Specially tuned automatic transmission maintains high-performance legacy of Abarth models while delivering accessible performance to more customers ◾2015 Fiat 500 Turbo will also offer an optional automatic transmission April 7, 2014 , Auburn Hills, Mich. - The high-performance 2015 Fiat 500 Abarth and Abarth Cabrio, to be showcased at the 2014 New ...[Read more...]
THE NEW FIAT 500 1957 EDITION ARRIVING SOON IN FIAT STUDIOS
◾Order allocations open this week, with the 2014 Fiat 500 1957 Edition arriving in studios in late spring ◾New 2014 Fiat 500 1957 Edition offers vintage Italian styling starting at $20,400 U.S. MSRP ◾Limited-production model builds on the Fiat 500's storied past with unique exterior and interior design elements ◾Novel exterior appearance, three classic exterior colors, 1957-era body color wheel design, Bianco-painted roof and vintage 'FIAT' emblems pay homage to the historic Fiat Nuova 500 [...[Read more...]
The Mercedes Benz S Class: automobile comfort of the highest standard
• S Class: the epitome of automobile comfort • Every generation of vehicles provides ground-breaking solutions to the expectations of customers with regard to comfort The history of the Mercedes Benz S Class shows that automobile comfort is far more than just a luxurious ambiance, size and performance. In fact it is far more the intelligent support of the driver and passengers through innovative technical solutions providing answers to current questions and requirements which contribute to t...[Read more...]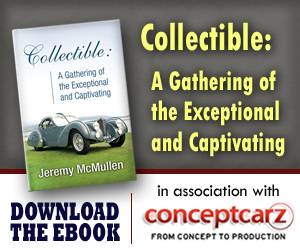 Similarly Priced Vehicles from 1973
Chevrolet Corvette C3 ($5,690-$5,920)
Lotus Europa ($4,500-$7,300)
Triumph Stag ($5,800-$5,800)
Datsun 240Z ($4,690-$4,690)
Porsche 914 ($4,500-$5,000)
Volvo 1800 ES ($5,145-$5,145)
Buick Riviera ($5,220-$5,220)
Pontiac Grand Prix ($4,585-$4,960)
Alfa Romeo Spider Veloce ($5,260-$5,260)
Ford Thunderbird ($5,575-$5,575)
Buick Centurion ($4,330-$4,530)
Buick Estate Wagon ($4,650-$4,790)

Average Auction Sale: $17,547
BMW
Monthly Sales Figures
Volume
November 2014
31,019
October 2014
30,602
September 2014
25,586
August 2014
27,214
July 2014
26,409
June 2014
30,201
May 2014
29,602
April 2014
25,202
March 2014
32,107
February 2014
22,017
January 2014
18,253
December 2013
37,389
(More Details)
© 1998-2014. All rights reserved. The material may not be published, broadcast, rewritten, or redistributed.