1976 Lancia Scorpion news, pictures, specifications, and information

Tweet
Introduced at the 1975 Spring Geneva Show as a Lancia Montecarlo, this Italian vehicle is an attempt to mix the classical Ferrari Dino looks, including sloping buttresses, into a modern design. Although manufactured in 1976 & 1977, all were titled as 1976 models. Since Chevrolet had claimed the Monte Carlo name, those imported to America were re-named 'Scorpion.' This was the first time Pininfarina had undertake the design of a complete vehicle rather than adapting a body to an existing chassis. A total of 1,801 were built for import into this country. It is known as a 'spider' because the canvas top folds and tucks neatly into the roll bar. This is an original automobile except for a re-paint.
This vehicle is number 1158 out of approximately 1800 Scorpions designed and built by Pininfarina in Italy and imported to the US for the 1976-1977 model years. This rust-free California car has had several modifications including the following:

- 1.8-liter DOHC 4-cylinder engine with 40/80 Cams
- Dual Weber 42 DCNF Carbs on Alquati Manifold
- 4-2-1 Header Exhaust system
- Lowered suspension
- A/C removed
- Repainted PPG French Blue
- European bumpers in both front and rear
- Quad headlight conversion
- Momo road wheels with Yoko AVS-Is
- Momo steering wheel and shift knob
- Racing belts & custom harness bar
- Canvas soft top and fiberglass 037 bubble top.
The Lancia Scorpion was sold in 1976 and 1977 in America. Originally sold in Europe as the 'Monte Carlo' the name was changed because the Monte Carlo was already used in America by Chevrolet. The Scorpion differed from the Montecarlo in a number of ways. It had a smaller engine (1756cc) because the 1995cc unit in the Montecarlo did not pass U.S. emissions standards yet. Between the decrease in engine size and the addition of smog equipment, the Scorpion came with 81 horsepower versus 120 in the Montecarlo. The Scorpion had different bumpers to meet American crash tests. The Scorpion had semi pop-up headlights and the 1976s had solid rear buttresses (Montecarlos had glass inserts except for very early models.) All Scorpions featured the convertible top.
The Lancia Scorpion, sold in other parts of the world as the Lancia Montecarlo, was sold in the United States from 1975 through 1981. The Scorpion was the same vehicle as the Montecarlo, except it had a de-tuned engine. The car was based on the Abarth 030 Prototype, which would evolve into the X1/8 and later the X1/20. The design was penned by Pininfarina of Turin, Italy. The design had the engine mounted mid-ship with a rear-wheel drive layout. Two bodystyles were available, a two-door coupe and a convertible. The convertible, known as the Spyder, had a roll-back targa style top that was manually operated.

The name 'Montecarlo' was not used in the United States because Chevrolet had already laid claim to the name. It had a de-tuned engine and other modifications in order to comply with US government regulations and crash test requirements.

The Montecarlo had a 1995cc engine that produced 120 hp while the Scorpion had a 1756cc unit with 80 horsepower.

There was one series of the Scorpion, while the Montecarlo had two, the S1 which lasted from 1975 through 1979, and the S2 which saw production from 1980 through 1981. 1396 Scorpions were sold in 1976 and 405 in 1977.

The Lancia Montecarlo was used successful in racing, though it was given a turbocharged engine. In 1980, Hans Heyer won the Deutsche Rennsport Meisterschaft in Group 5 Competition.
By Daniel Vaughan | Jul 2007
Automobiles with Exceptional Provenance Highlight Gooding & Company's Pebble Beach Auctions
SANTA MONICA, Calif. (July 10, 2014) – Gooding & Company, celebrated for its world-class automotive auctions and record-breaking results, will begin its second decade as the official auction house of the Pebble Beach Concours d'Elegance® on August 17 and 18. Gooding & Company is pleased to share a hand selected group of consignments from our Pebble Beach Auctions with exceptional provenance. Exciting entries include an extremely rare 1939 Alfa Romeo Tipo 256 Cabriolet with spectacular one...[Read more...]
BORGWARNER SUPPLIES ENGINE TIMING TECHNOLOGIES LOCALLY FOR NEW VOLKSWAGEN ENGINES PRODUCED IN MEXICO
• BorgWarner's Engine Timing Chains and Tensioners Help Improve Fuel Economy
AUBURN HILLS, Mich., Jan. 22, 2014 - As a global supply partner, BorgWarner has begun manufacturing its advanced engine timing systems in El Salto, Mexico, providing localized production for Volkswagen's third-generation 2.0- and 1.8-liter DOHC I4 engines built at Volkswagen's new engine plant in Silao, Mexico. Developed by Audi, the fuel-efficient gasoline engines power the Volkswagen Jetta and Beetle ...[Read more...]
FERRUCCIO LAMBORGHINI'S LEGENDARY UNIQUE RIVA AQUARAMA LAMBORGHINI HAS BEEN RESTORED
◾The fastest Riva Aquarama in the world restored to original condition by Dutch specialist Riva-World ◾Twin 350 hp 4.0 V12 Lamborghini engines from the equally legendary 350 GT ◾Collector's item for true connoisseurs Uithoorn, 7 October 2013 – The maritime world is a living legend richer with the launch of the Riva Aquarama Lamborghini, which has been fully restored to its original condition. Built 45 years ago for and commissioned by Ferruccio Lamborghini, founder of the superb Ital...[Read more...]
Shelby Performance Parts Introduces Wide Body Kits For 2005-2009 Mustang
Shelby Performance Parts (SPP), a division of Shelby American, a wholly owned subsidiary of Carroll Shelby International Inc. (CSBI.PK), is now offering the highly sought-after Shelby Wide Body Kit for 2005-2009 Mustang and Shelby models. The Shelby Wide Body package was unveiled on the 2013 Shelby GT500 Super Snake at the North American International Auto Show in Detroit this January, and is now available through SPP, giving customers the option to buy the kit and have it installed by a local s...[Read more...]
Carroll Shelby, Ford Family for More Than Half a Century
Carroll Shelby was a member of the Ford family for the better part of 60 years, producing stunning performance vehicles from concepts to production models. He once said his energy and passion for performance products were always strongest when he was working with Ford. Shelby most recently collaborated with the company on the 2013 Ford Shelby GT500 Mustang, the most powerful production V8 in the world. Working with SVT engineers at Sebring and the Arizona Proving Grounds, at times he drov...[Read more...]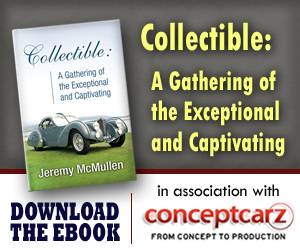 © 1998-2014. All rights reserved. The material may not be published, broadcast, rewritten, or redistributed.