1965 Buick Skylark news, pictures, specifications, and information

Tweet
The Skylark was introduced in 1953 to celebrate the 50th anniversary of the founding by David Dunbar Buick. This was meant to be produced as a limited edition off the Roadmaster line. Its design was courtesy of the legendary Harley Earl and was given both style and performance. The appearance was lower than the standard convertibles, an effect that was made possible by altering the body design. Buick's Ventiports, also known as port holes, were absent from the vehicle's fenders.

Mounted under the hood was a 322 cubic-inch eight-cylinder engine capable of producing nearly 200 horsepower. Zero-to-sixty took about 12 seconds and it had a top speed just over 100 mph. The 1,690 examples produced during its introductory year all had elegant leather seats plus the addition of many standard features. The following year, in 1954, only 836 units were produced. The Skylark name disappeared in 1955 and would not appear again until 1961. When it did return, Buick used the name on their intermediate sport coupe model. The engine was now a 215 cubic-inch eight-cylinder with a four-barrel carburetor and producing 185 horsepower. By 1963, power had risen to 200. 1965 saw the introduction of special full wheel covers, bright rocker an wheelhouse moldings, full taillights, and emblems on the front fenders, deck lid, and roof quarters.

This particular 1965 Skylark is powered by a V8 engine with a two-barrel carburetor and 215 horsepower. It has its original automatic transmission and there are four-wheel drum brakes. It was the recipient of a body-off restoration and is painted in a cream color. It came from the factory equipped with power steering, power brakes, power windows, and factory air conditioning.

The odometer reads just over 40,000 miles which is rather low considering its age. Other options on this Skylark include Sonomatic radio, remote side view mirrors, four-way power seat, factory chrome wheels, and oversize tires.

In 2009, this 1965 Buick Skylark was offered for sale at the Houston Classic Auction in Seabrook, Texas, presented by Worldwide Auctioneers. The car was estimated to sell for $25,000 - $35,000 and offered without reserve. It was sold for the sum of $10,000, plus buyer's premium.
By Daniel Vaughan | May 2009
GM's success with its Pontiac GTO caused executives to quickly scramble to make the same kind of muscle available in the rest of its family of cars. This would help to ensure maximum sales, and therefore, maximum profits.

Prior to 1965, the Skylark, in its first couple of generations, suffered from an identity crisis as it was merely a sub-model. It had many features that were 'firsts', but it never was able to come into its own. After it finally did come into its own, it still shared parts in common with other vehicles of the General Motors family.

Then, in 1965, the same 325 hp, 401 cubic-inch, V-8 engine as in the GTO became available for the Skylark Grand Sport models. This was one component the car didn't mind having to share. While this did not propel the car into the same class of the memorable GTO, it did help to make the Skylark GS a potent, powerful beast.

Motor Trend tested a Skylark GS and it proved to have respectable muscle car numbers. The GS was capable of going 0-60 in just under eight seconds and could do a quarter mile in a little over sixteen seconds, reaching a top-speed in the run of 86 mph. The heavy, but powerful, machine could reach a top-speed of 116 mph.

Offered this year was a 1965 Buick Skylark GS. It featured a two-door, pillar-less hard-top coupe. It came with the 325 hp, 401 cubic-inch, V-8 engine and a four-barrel Carter carburetor. The car also includes dual exhaust and its transmission comprised a two-speed turbine 300 automatic transmission, complete with floor-shift and console.

This Skylark's independent front suspension consisted of wishbones and coil springs with a sway bar. Its rear sported a live axle and coil spring suspension. Each of the car's wheels receives its stopping power through four-wheel hydraulic brakes.

The Skylark's interior was finished out white on black and loaded with options. Those options included air-conditioning, power-steering and windows.

The car had just underwent restoration by an authority in Buick muscle cars, but, had benefited from being a California car. The odometer shows the car had been driven less than 63,000 miles.

Offered from Bill Jacob's collection, this Buick Skylark sported red-line tires and an engine dress-up kit to help accent the brute engine under this car's hood. With the help of some updates, restoration work and the fact it comes with its big engine, this Skylark easily finds an identity of its own and serves as a reminder of Buick's days as a manufacturer of muscle cars.

Sources:

'Buy: View Lots (Lot 221: 1965 Buick Skylark GS)', (http://www.rmauctions.com/FeatureCars.cfm?SaleCode=AZ11&CarID=r240&fc=0). RM Auctions Arizona. http://www.rmauctions.com/FeatureCars.cfm?SaleCode=AZ11&CarID=r240&fc=0. Retrieved 6 January.
Wikipedia contributors, 'Buick Skylark', Wikipedia, The Free Encyclopedia, 18 December 2010, 05:20 UTC, http://en.wikipedia.org/w/index.php?title=Buick_Skylark&oldid=402974838 accessed 6 January 2011
By Jeremy McMullen
In 1953 Buick introduced the Skylark - a vehicle built to celebrate the company's 50th anniversary and intended to be produced as a limited edition off of the Roadmaster line. Designed by the famous Harley Earl, the car had style and performance. The vehicle appeared to be lower than the standard convertibles, this was due to the body design. Ventiports, also known as port holes, were absent from the vehicle. Under the hood was a 322 cubic-inch 8 cylinder engine capable of producing nearly 190 horsepower. Only available as a convertible, this 4300 pound vehicle had a top speed of just over 100 miles-per-hour and a zero-to-sixty time of around 12 seconds. The interior was elegant, with leather seats and many standard features. During the introductory year, 1690 examples were created making it a highly collectable vehicle even by today's standards.

Even fewer examples were produced in 1954, with just 836 examples. The engine was still the 322 cubic-inch eight-cylinder Nailhead except it was now producing 200 horsepower. A chrome tailfin could now be found at the rear of the vehicle, a unique design that was new at the time. The DynaFlow automatic transmission, air conditioning, and Kelse-Hayes 40-spoke rims were just some of the standard equipment. Of the 836 examples produced in 1954, it is believed that less than 50 exist today.

The Skylark was not produced in 1955. This limited production vehicle would not be produced again until 1961. When it did return, Buick had used its name on their intermediate sport-coupe model. Under the hood was a 215 cubic-inch 8-cylinder with a four-barrel carburetor resulting in 185 horsepower. A year later the compression ratio was increased and as a result, so did the horsepower. The Skylark had also gone design changes for 1962, one of them being a Skylark badge now adorning the front fender.

By 1963, the 215 cubic-inch engine had finally been tuned enough to produce 200 horsepower. The Skylark emblems could now be found on the vehicles pillars. The performance increase continued in 1964 with the addition of a four-barrel carburetor attached to the 300 cubic-inch 8-cylinder engine. The result was 250 horsepower.

In 1965 Buick debuted the Gran Sport package which, in the years that followed, would become its own series. The 300 cubic-inch two-barrel option produced just over 200 horsepower while the four-barrel version produced 250 horsepower.

The muscle car era was beginning to heat up. The cars were becoming smaller and the interior were being gutted to take advantage of weight-saving techniques. The engine cubic-capacities continued to climb and the horsepower-to-weight ratio was astonishing. This was true for the Skylark which saw its engine-size and horsepower climb throughout the years.

By 1968 the engine had been enlarged to 350 cubic inch. Depending on the configuration, the horsepower inched towards the 300 mark. The torque was equally as impressive with 375 foot-pounds for the high-performance engine. 1969 was similar and saw little changes in both its mechanics and its aesthetics.

The muscle car era saw its peak in the 1969 and 1970 years. After that the automobile manufacturers were forced to decrease their engine sizes in order to comply with strict government regulations and safety concerns. Insurance premiums were on the rise and it became economically infeasible for many to continue to own these high-performance machines. All this lead to the general public craving alternatives such as luxury and fuel-efficient vehicles.

1970 was a great year for the Skylark which saw its horsepower come closer to 300 horsepower. With the four-barrel 350 cubic-inch eight-cylinder engine, horsepower was rated at 285. In two barrel form the 350 cubic-inch engine produced an impressive 260 horsepower. For 1971 the horsepower began to decline as Buick began complying with the new government regulations. This trend continued in the years to come. By 1973, the production of the Buick Skylark had ceased. It began again in 1976 sitting atop a 111 wheelbase and offered in seven bodystyles including sport coupe, coupe, sedan, and hatchback. Standard was a 231 cubic-inch six-cylinder engine with a 3.8 bore and a 3.4 stroke and produced 11 horsepower. A 260 cubic-inch eight-cylinder was optional but still produced 110 horsepower. The 350 cubic-inch eight-cylinder brought the horsepower up to 165.

Production of the Skylark continued until 1997.
By Daniel Vaughan | Dec 2006
For more information and related vehicles, click
here
Techno Classica 2014: more than 30 racing cars to celebrate 120 years of Mercedes-Benz motor racing history
•Cars that were the heroes of magical moments put their stamp on this high-powered, most comprehensive show presentation •With more than 30 vehicles, Mercedes-Benz Classic presents motor racing history in all its unique breadth and depth •120 years of Mercedes-Benz motor sport in the focus of the leading international classic motor show 120 years of Mercedes-Benz motor racing history have produced a timeline of extraordinary victories which since 1894 also stand for outstanding innovations ...[Read more...]
History Rolls into Hershey for RM's Annual Pennsylvania Sale
• Final countdown underway to RM's annual Hershey, Pennsylvania auction, held October 10 – 11 during the historic AACA Eastern Regional Fall Meet • Two-day sale features 116 vehicles, with an emphasis on Brass and Classic Era motor cars • Sale entries led by a rare, award-winning 1933 Chrysler CL Imperial Convertible Roadster • Auction also features number of vehicles steeped with local Pennsylvania history • Digital catalogue now available online at rmauctions.com BLENHEIM, Ontario (S...[Read more...]
Auctions America Continues Successful 2013 Season with its Annual Fall Carlisle Sale
• Auctions America rounds out its 2013 auction season in Carlisle, Pennsylvania, October 3-4 • Two-day Fall Carlisle sale, held in conjunction with the Carlisle Events Collector Car Swap Meet & Corral, features a diverse roster of 300 classics, exotics, muscle cars, hot rods, and customs • Auction highlights include a desirable 1967 Chevrolet Corvette 427/435 Roadster, a 1969 Chevrolet Camaro Z-28 RS Sport Coupe, and a 1960 Mercedes-Benz 190SL Roadster • Full event details and a frequentl...[Read more...]
BUICK TURNS 110: 11 HIGHLIGHTS OF 11 DECADES
Buick vehicles today are built in state-of-the-art facilities around the world. The Enclave luxury crossover's Lansing Delta Township plant was the industry's first LEED Gold-certified manufacturing facility. The brand has evolved in many ways since 1903, when the first Buick was hand-built in a small barn behind David Dunbar Buick's Detroit home. Here are 11 top highlights from Buick's first 11 decades: • Through the end of 2012, Buick has sold more than 43 million vehicles. That's the equiv...[Read more...]
Auctions America's 2013 Auburn Spring Event Offers Ultimate Collector Car Weekend
• Auctions America presents the first of two annual Auburn sales, May 9 – 11 at historic Auburn Auction Park in Auburn, Indiana • Multi-day sale lifts gavel on 600 quality collector cars and an assortment of memorabilia • Notable early highlights include selection of Hudsons from the respected John Soneff Collection • Weekend also features inaugural Antique Automobile Club of America Central Division National Spring Meet, and an extensive car corral and swap meet presented by Carlisle Events...[Read more...]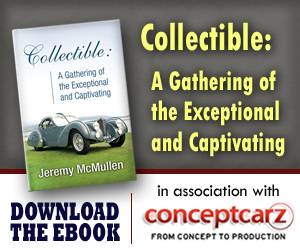 Buick
Monthly Sales Figures
Volume
July 2014
17,683
June 2014
21,403
May 2014
19,957
April 2014
19,214
March 2014
20,428
February 2014
19,192
January 2014
13,278
December 2013
15,379
November 2013
15,072
October 2013
17,555
September 2013
15,623
August 2013
24,650
(More Details)
© 1998-2014. All rights reserved. The material may not be published, broadcast, rewritten, or redistributed.