1969 Volkswagen Beetle 1500 news, pictures, specifications, and information

Tweet
In 1949, soft-top versions of the Beetle were produced by two German coachbuilders, Hebmüller and Karmann. The Hebmuller was produced through 1952 when the company went out of business. Their version was a two-seater with a long engine deck. Karmann had a long association was Volkswagen and worked with other manufacturers, such as Porsche, DKW, BMW, Ford of German and Opel. Perhaps their most memorable work was the Karmann Ghia which were in production from 1955 to 1974.

The Karmann Cabriolets had seating for four occupants which made them much more appealing to motorists seeking an economical, yet stylish means of transportation. The Karmann cabriolet, for the most part, mirrored the development of the Beetle during its lifespan, both mechanically and in body features. The folding top mechanism maintained its distinctive appearance. When in the lowered position, the top sat on the rear deck, covered with a canvas boot.

In 1971, Volkswagen introduced the Super Beetle. This model featured a MacPherson strut suspension in the front and improved luggage space. The Cabriolet adopted its characteristics and retained them even when the Super Beetle sedans were discontinued after 1974. Even after the German Beetle was discontinued after 1977, production continued, coming to an end on January 10th of 1980 after more than 330,000 Karmann Beetle Cabriolets had been produced.

This example is finished in orange with black upholstery. The odometer displays 78,453 miles.

In 2013, the car was offered for sale at the Bonhams Auction in Scottsdale, Arizona. As bidding came to a close, the car had been sold for the sum of $17,250 including buyer's premium.
By Daniel Vaughan | Feb 2013
This Volkswagen Beetle is finished in silver with a black interior. It has been given a ground-up restoration and rides on new polished sport wheels and tires. It has a 4-speed manual transmission and currently has 61,532 miles on the odometer.
By Daniel Vaughan | Dec 2014
The Beetle is perhaps the best-selling car of all-time. Truly, a recognizable shape that has stood the test of time. The vehicle is still being produced in Mexico, continuing the long-time running record.

Adolf Hitler was searching for a people's car that was capable of transporting three children and two adults at speeds of sixty miles-per-hour. The car was to be inexpensive, costing the same as a motorcycle. Ferdinand Porsche was commissioned to produce such a vehicle.

There are many theories as to where the designs originated from. Some believe Hitler designed the vehicle. Some theorize that it was Joseph Ganz's 1920 design that was the true inspiration for the Beetle design. Porsche had created designs for the Mercedes-Benz 170H, which played into the design of the Beetle.

Inspiration for the Beetle had been drawn from the Tatra vehicles, mainly the T97, that had been designed by Hans Ledwinka. Due to the similarities, Tatra launched a lawsuit which never really materialized due to Germany invading Czechoslovakia. The lawsuit was later re-opened after World War II and Volkswagen was forced to pay Tatra 3,000,000 Deutsche Marks. This left Volkswagen with little money for development of new Beetle models.

The Volkswagen Beetle first came on the scene in 1947, but they were known by a different name. KdF, short for Kraft durch Freude meaning 'power by joy', was designated to these small, gas-friendly vehicles. In English, the name Beetle was used. In German, they were known as Kafer, and in French they were called Coccinelle.

These little bundles of joy featured mechanical drum brakes and a gearbox void of synchromesh.

In 1949 the Volkswagen logo was placed on the rims. The engine was expanded to 1131 cc and was capable of producing 25 horsepower. The models that were produced after October of 1949 could be started without a 'starting crank'.

Two convertible options were offered by Volkswagen in 1949. The two-seater design, designated 14A, was penned by Josef Hebmuller. The four-seater Type 15 version was designed and produced by Karmann of Osnabruck. The four-seater was vastly more popular and stayed in production for 30 years.

The 14A was stylish and attractive, with the major shortcoming being a fire that destroyed the factory where they were being produced. The two-seaters featured a rear deck nearly identical to the front hood. The strength of the car, lost by removing the roof, was amplified by a stronger windshield frame and dual Z-section girders located under the floor. In 1953, the last of the Hebmuller rolled off the assembly line, after only 696 examples were produced.

In a time when practicality ruled over style, the four-seater cabriolet was king. The Karmann company had a long history of designing and building cars. In business since 1901, was familiar with assembly line production, benefits and features of different types of metals, and the styles of multiple markets.

The mechanical, cable-driven brakes were replaced with hydraulic brakes in 1950.

During the 1950's the Beetle saw exterior and interior improvements. 1951 saw the addition of arm-rests which were discontinued just a few months later. In 1952, 2nd-4th gears became synchronized. The dashboard was redesigned with a glove compartment. The rear of the Beetle was updated in 1953, receiving a new single oval pane window in place of its original split rear window design. In 1955, the bumper was improved and electrical direction-indicators were installed. A second tail-pipe was added. The front seats became wider and could be moved to three different seat-back adjustable positions.

In 1956, the tires became tubeless. Near the end of '56, side view mirrors became standard on all Beetle models.

In 1957 the front window was increased by 17 percent while the rear window received a 95 percent increase. A new dashboard, rear view mirror, radio, and a speaker appeared. The turn signals would now turn-off automatically.

Up to this point, a roller pedal had been used to initiate acceleration. This was the year that the gas pedal replaced the roller pedal.

In 1958, ivory disc wheels were offered.

In 1960, an engine capable of producing 34 horsepower was offered. The speedometer was increased from 74 mph to 87 mph. A windshield-wiper washer system became available. The front directional light was changed from white to amber.

A gas gauge was added in July of 1961.

In 1963, the seats were changed from wool upholstery to synthetic. The VW emblem located on the hubcap was no longer painted. The safety of the vehicle was once-again enhanced with the enlargement directional lights.

There were minor changes in 1964. The windows did, however, become larger.

In 1965, the front axle was improved. The ongoing saga of incremental improvements received another chapter - A defroster vent was added to the center of the dashboard.

The Beetle continued to be sold in the United States until 1978 with the convertible version was sold until early 1980. Sales continued in Europe until 1985. Developing countries, such as Mexico, have been developing the Beetle since 1964 and the vehicles have remained in production since that time.
By Daniel Vaughan | Jan 2013
For more information and related vehicles, click
here
BARRETT-JACKSON GALA KICKS OFF LIFESTYLE EVENT IN DYNAMIC FASHION
Craig Jackson Welcomes Bidders, Consignors, VIPs and Celebrities at 43rd Scottsdale Auction SCOTTSDALE, ARIZ. (Jan. 14, 2014) – Barrett-Jackson, The World's Greatest Collector Car Auctions™, held its opening night gala on Monday night, an event that signifies the beginning of Barrett-Jackson's auction week and kick offs the action. Barrett-Jackson's 43rd annual Scottsdale auction – held Jan. 12-19, 2014 – will be seen on channels including FOX Broadcast, the FOX Business Netw...[Read more...]
Barrett-Jackson Revs Up For Sixth Annual Las Vegas Auction September 26-28, 2013
• Hundreds of Unique Collectibles Including Three Exceptional Cars from the Coveted William Munday Collection Set to Cross Block in Las Vegas
LAS VEGAS (September 5, 2013) – Barrett-Jackson, The World's Greatest Collector Car Auctions™, is pleased to announce the return of its renowned Las Vegas auction, taking place at Mandalay Bay Resort & Casino, September 26-28, 2013. A strong offering of classics, exotics, muscle cars, hot rods, resto-mods and contemporary collectibles ...[Read more...]
Russo and Steele Collector Automobile Auctions Grows 100% in 2013
Russo and Steele adds Newport Beach and Las Vegas Auctions To Its 2013 Schedule Building upon over 13 years of success Russo and Steele is growing by 100% with the addition of two new auction events in 2013. The expansion to Newport Beach and Las Vegas in 2013 is a critical step for the auction company and its business growth. Drew Alcazar, owner of Russo and Steele, stated 'Both Scottsdale and Monterey have matured to what we feel exemplifies the Russo and Steele experience. Addin...[Read more...]
POW! BAM! ZOOM! The Original 1966 TV Batmobile To Cross Auction Block At Barrett-Jackson Scottsdale
Holy Grail of TV Star Cars to be Sold for First Time January 19, 2013 Barrett-Jackson, the World's Greatest Collector Car Auctions™, announced today that it will offer one of the most recognized and popular pieces of entertainment history worldwide, at its 42nd annual Scottsdale www.barrett-jackson.com/scottsdale/ auction in January – the only 1955 Lincoln Futura concept car which was heavily modified by legendary customizer George Barris to become the original 1966 Batmobile in the l...[Read more...]
George Clooney auctions his 2008 Tesla 'Signature 100' Roadster at Gooding & Company's Pebble Beach Auctions
Gooding & Company, the official auction house of the Pebble Beach Concours d'Elegance, is thrilled to announce that it will present Academy Award-winning actor and philanthropist George Clooney's 2008 Tesla 'Signature 100' Roadster at its Pebble Beach Auction on Sunday, August 19. Mr. Clooney was invited to purchase car number 0008 when Tesla debuted its game-changing Roadster, the world's first high-performance electric sports car. One of the most generous celebrity human rights activists in th...[Read more...]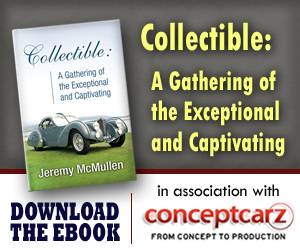 Similarly Priced Vehicles from 1969
Simca 1204 ($1,700-$2,000)
Austin-Healey Sprite ($2,050-$2,050)
Ford Bronco ($2,194-$2,194)
NSU 1200 TT ($2,200-$2,200)
Fiat 850 ($1,470-$2,140)
Toyota Corolla ($1,700-$1,800)
Datsun 510 ($1,895-$2,230)
Fiat 124 ($1,965-$3,240)

Average Auction Sale: $8,278
Volkswagen
Monthly Sales Figures
Volume
December 2014
34,058
November 2014
31,725
October 2014
30,313
September 2014
25,996
August 2014
35,181
July 2014
30,553
June 2014
28,827
May 2014
32,163
April 2014
30,831
March 2014
36,717
February 2014
27,112
January 2014
23,494
(More Details)
© 1998-2014. All rights reserved. The material may not be published, broadcast, rewritten, or redistributed.