1933 MG J2 news, pictures, specifications, and information

Tweet
The MG J2 set the fashion for British sports cars for many years. It was introduced in 1932 and many sports cars of the thirties copied the body style with its cut away doors, cycle type mudguard, fold flat windscreen, and slab gas tank with spare wheel on the back. It remained the basic MG style until 1955, when the TF was replaced by the aerodynamics of the MGA.

The J-Series was available either as a J1, an open four-seater or closed coupe, or the J2, a small two-seater open sports car. The significant change made to the J2 during its production was the switch to swept wings and running boards in 1933. This J2, which was sold new in July 1933, was assembled five cars from the end of cycle wing production.

The J2 has a four-cylinder, single overhead cam engine with a cross flow head and dual SU downdraft carburetors. Its 847cc engine produces 36 horsepower and was rated as an 80 mph car by the Autocar magazine in 1932. The gearbox is a four-speed designed by Wolsley. The car has cable-operated brakes.

There were just over 2,000 J2s produced during the 1932-1934 production run. The cost new in 1932 was 199.10 Pounds Sterling, which was twice the price of the cheapest British car on the market at that time, a Morris.
Morris Garages (MG) was a dealer of Morris cars in England. They began producing their own customized versions using designs created by Cecil Kimber, the general manager. The first cars to wear the MG-badge had custom two-seat touring bodies and appeared in 1923. The Midget was introduced in 1928 and would be the companies breakthrough car for the company. The company would pass through a series of owners over the years including British Motors, Rover, BMW and currently produces cars in China under a Chinese owner.

For many years, the MG J2 set the style for British sports car design. The MG J2 began production in 1932. It was marketed as a simple, low cost sports car with an original price of £199.

The cycle-fender MG J2, designed by Sid Enever and Hubert Charles, began production in July of 1932 with 2,082 examples built. There were less than 1,480 examples with cycle-fenders. Power was from an 847cc four-cylinder overhead cam engine with an 8-port cross-flow head and a slab-tank body with cut-away doors. Top speed was 65 mph though a specially prepared version tested by The Autocar magazine reached 82 mph.

This MG J2 was found in an Indiana barn hayloft in 2003. At the time it was just a bare chassis plus a collection of parts including the original instruments, radiator shell and windshield. Copies of the original factory build records were obtained and the restoration to its original Carmine Red and Saratoga Red two-tone paint scheme with red upholstery was completed in September, 2008.
The MG J Type was manufactured from 1932 to 1933 and it was MG's first successful sports car. About 2,000 J Type MGs were built. The J Types were powered by an 850cc overhead am engine which could propel the car to 80 mph. The success of the J Types as sport and race cars helped build the MG's early reputation as a producer of sporty cars. These cars were the predecessors to the P Type and the later well-known T series MGs. In many ways, the J Types represented the beginning of the popular British sports car movement.

This particular MG J2 has the cycle wings (fenders) characteristic of these cars. It has the added performance option of a front mounted roots-type supercharger, a close ratio ENV transmission and larger 12 inch brakes. It is restored to its original two tone red with red interior.
The MG J Type was a two door sports car produced from 1932 through 1934 and incorporated mechanical components from other marques. The engine was an overhead camshaft unit from the Morris Minor or Wolseley. The chassis was from the D-Type comprised of half elliptic springs and Hartford friction shock absorbers. Both the front and rear axles were rigid.

The J1 was a four-seater version available as a closed salonette and powered by a 36 horsepower engine. The J2 version was the most common of the series. It was a two-seater sports car that had a top speed of about 65 mph. The early versions had cycle wings. The J3 and J4 styles were racing version using a 746 cc engine outfitted with a Powerplus supercharger. The J4 was a light-weight version of the J3.
By Daniel Vaughan | Sep 2006
MG, or Morris Garages has become a name that is synonymous with classic British sports vehicles that are enjoyed throughout the World. Morris Garages began its motoring adventure by tuning Morris cars to higher performance levels. The Morris name was after William Morris, who eventually became Lord Nuffield.
The M-Type Midget was developed from the baby Morris Minor during the 1920's, and resulted in a basic, cheap, fun, two-seater, with sporting pretensions that eventually triggered an entire dynasty of Midgets. The Midget series is responsible for establishing MG as a manufacturer of sports vehicles with an excellent reputation in motor sport.

The MG J has been considered by many enthusiasts as the pinnacle of pre-war MG Midgets as it was the original of the traditional 'square-rigger' style. From 1932 to 1934, a total of 2,463 models were produced in both 2-seater and 4-seater open configurations. The models that followed in later years were updated to offer swept wings as standard.
The J was capable of delivering a 78 MPH top speed, and it carried a 847 cc engine.
Unfortunately, the two-bearing crank was the weak link of the design of the MG J.
The MG J carried an updated version of the crossflow engine and overhead camshaft that was used in 1928 Morris Mino and Wolseley 10, and previously fitted in the MG M type Midget of 1929 to 1932. The 'J' had a chassis from the D-Type with suspension by half elliptic springs along with Hartfor friction shock absorbers all-round, with rigid front and rear axles. The vehicle also had a wheelbase of 86 inches, and a track of 42 inches.
Costing only £199, the adorable little J2 was released in 1932, following a wave of popular success from the 'M' type Midget. The J2 held a 850cc engine, and the instruments inside the little car were responsible for setting MG design for the next 20 years. The unembellished 2 door body came with a slab tank, door cutaways, fold flat windshield and octagonal dash instruments. Eventually the stark and sporting 'cycle' type mudguards were updated to sweeping wings and running boards in 1934. The full length type of wings were typical of all sports MG's up to the 1950's. The J2 was capable of reaching a top speed of 65mph.

The MG J3 was a more supercharged version of the J2 with an updated 750 cc displacement. This open sports 2 seater was designed specifically for the street, and small occasional trials work, only a rare 22 models were produced between 1932 and 1933.

The MG J4 was even rarer still with only a total of 9 models that didn't appear until 1933. The release of the J4 was delayed due to the pre-existing 8 inch brake gear that was considered insufficient for such a speedy car. A new gear was prepared, and a new system was being developed for the 'L' type, which was a larger 6 cylinder MG. The J4 had the capability of reaching 120mph from a 750cc engine. The J4 was of a much superior quality that was intended as a serious contender in all-out racing, and strictly not for the amateur.
In 1933, two other versions of the 'J' type were released, a sliding door salonette, and the J1 four seater.
By Jessica Donaldson
For more information and related vehicles, click
here
Mecum Set To Auction Off Steve Mcqueen's 'Last Ride' 1952 Chevrolet 3800 Series Pickup Truck With Custom Camper
Los Angeles, CA - July 16, 2013 - Mecum Auctions have announced they will be auctioning off the legendary late actor Steve McQueen's last known personal vehicle at the Mecum Celebrity Items Auction: Celebrating the Legendary History of Hollywood at the Barker Hangar in Santa Monica, CA July 26-27, 2013. While much is known of McQueen's antique motorcycle collection, he was also an avid collector of vintage cars and trucks. Throughout his lifetime, he owned more than 60 rare vehicles inclu...[Read more...]
BMW ANNOUNCES PRICING FOR ALL-NEW X5 SPORTS ACTIVITY VEHICLE
Woodcliff Lake, NJ – June 24th, 2013 … It isn't often that an automobile manufacturer gets to launch an entirely new vehicle segment, but that's exactly what BMW did in 1999 when it introduced the world's first Sports Activity Vehicle – the BMW X5. Two generations and some 1.3 million vehicles later, the BMW X5 is set to enter its third generation. As its predecessors have done before, the all-new 3rd generation X5 will again set new standards for luxury, versatility and – because it is a BMW f...[Read more...]
GMC PICKUPS 101: BUSTING MYTHS OF TRUCK AERODYNAMICS
• 2014 Sierra gains fuel economy, quietness from time in wind tunnel
DETROIT – The all-new 2014 Sierra full-size pickup truck spent more development time in a wind tunnel than any GMC pickup before it, resulting in design changes that benefit both fuel efficiency and interior quietness. To achieve improved airflow, aerodynamic engineers like Diane Bloch examined every millimeter of the truck to find areas of improvement, debunking some popular myths along the way. To study...[Read more...]
Edsel Ford's Speedster Stars at 'The Amelia'
Edsel Ford's 'continental car', a custom boattail speedster, will take its rightful place in the Sports Car Class of the 18th annual Amelia Island Concours d'Elegance. In the shape of Edsel's seminal speedster is the genesis of Ford's legendary design department. Edsel Ford was hardly 'a chip off the old block'. The acorn fell well away from the mighty oak that was Henry Ford, founder of the Ford Motor Company. Edsel was not just the President of Ford, he was a car guy to his core. His ta...[Read more...]
CHRYSLER GROUP LLC AND FIAT S.P.A. ANNOUNCE MOST ACCESSORIZED VEHICLES AND TOP-SELLING ACCESSORIES
Mopar Offers More Than 25,000 Accessories Worldwide •Ram 1500, Jeep Wrangler and Dodge Challenger are most accessorized vehicles in North America •Side steps, Jeep Wrangler tops and floor mats are best-selling accessories in North America •Fiat 500, Fiat 500L and Jeep Grand Cherokee among most accessorized vehicles in other global regions •Top-selling accessories announced for Europe, Middle East, Africa, Asia Pacific and Latin America February 11, 2013 , Auburn Hills, Mich....[Read more...]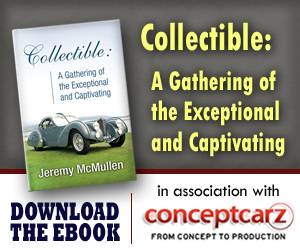 © 1998-2014. All rights reserved. The material may not be published, broadcast, rewritten, or redistributed.