1985 Porsche 944 news, pictures, specifications, and information

Tweet
Porsche replaced the original Bosch LE-Jetronic fuel injection system with a new DME (Digital Motor Electronics) fuel-injection/ignition control system on the 944. The overhead-cam four-cylinder unit offered 143 SAE and displaced 137 lbs-ft of torque. The engine was mated to a five-speed manual gearbox or an optional three-speed automatic. There were disc brakes in both the front and rear and a rack-and-pinion steering setup. Power steering was now standard, as was a power hatch release. New options included electric tiling sunroof and cruise control.

The 2+2 Coupe sold new for $21,400.
By Daniel Vaughan | Dec 2011
In 1981 at the Frankfurt Auto Show, the Porsche 944 was announced to the world. The Porsche 944 was introduced in 1983 as a replacement for the 92 and served as an entry level sports car until it was replaced by the Porsche 968 in 1991. It was based on the 924 and had the same interior instrumentation but had wider wheel arches. During its lifespan the 944 had mechanical and a few aesthetic upgrades, as well as name changes including the 944S, 944 Turbo, and the 944S2.

Powered by 2.5 liter, 4-cylinder engine built at Porsches Zuffenhausen factory, it was capable of producing 174 horsepower. The engine was placed in the front and powered the rear transaxle. In-line 4-cylidner engines were often plagued with vibrations so Porsche negotiated a deal with Mitsubishi for the use of their 2-balance shafts. A 5-speed manual gearbox was mated to the engine and an optional automatic was available. In 1986, Porsche introduced a turbo version of the 944 and improved the aerodynamics of the vehicle. Internally to Porsche, it was known as the Type 951. By turbo charging the engine, the horsepower was increased to 220 horsepower. To add to the performance of the vehicle, the suspension and gearbox were modified, and wider wheels were used.

The 944 was such an amazing package that for 1983 through 1985, Car and Driver rated it in their Ten Best List. The Turbo version was mentioned in the 1986 list.

In 1985, the interior received upgrades including the instrumentation, electrical system, and drivers power seat. The rear suspension was redesigned and new control arms were added.

In 1986 the warranty on the 944 was increased to 10-year no-rust protection and a 5-year or 50,000 mile drivetrain warranty. A sport suspension was optional as was leather interior. A mandatory third brake light was mounted near the top of the rear glass hatch.

In 1987, the 944S was introduced. The 'S' stood for 'Sport' or 'Super' but it was the safety aspects of the vehicle rather than 'sport' aspects that saw improvements. The braking system was improved with the addition of an ABS (Anti-lock brakes) and the interior was given driver and passenger air bags. A sixteen valve engine was now under the hood and the overall horsepower rating increased slightly to around 188.

In 1988 the 944 Turbo S was introduced. This featured a limited slip differential and a turbocharged engine. The horsepower rating was now at 250.

In 1989 the base 944 engine displacement was increased to 2.7 liters. This increase was short lived because of the introduction of the 944S2 which featured a 3.0 liter displacement.

A 944 S3 was planned but after analysis and design, the conclusion was made that a replacement for the 944 was needed. In 1992, the 968 was introduced and sold in parallel with the 928 until the 1995 model year when production of both vehicles ceased.

The Type 945 represents the 944 model but with right-hand drive. The Type 951 designates the 1985-1991 Turbo version and the Type 952 represents the 1988 944 Turbo S right-hand drive.

During a production run that lasted from 1982 through 1989, 113,070 Porsche 944's were produced. 25,107 were Turbos, 12,936 were 944S and 6,439 were S2.
By Daniel Vaughan | Jul 2009
For more information and related vehicles, click
here
KIA NIRO CONCEPT MAKES U.S. DEBUT AT 2014 CHICAGO AUTO SHOW
Cutting-Edge Urban Hybrid Vehicle Shows Off Kia's Ambitious Vision of a Lifestyle City Car •Niro's B-segment design is futuristic, upscale and performance-inspired •Hybrid electric drive intended to give Niro four-wheel drive capabilities when needed CHICAGO, Feb. 6, 2014 – Kia's dramatic and modern Niro urban lifestyle concept vehicle, which was unveiled last September at the Frankfurt Motor Show, today made its U.S. debut at the 2014 Chicago Auto Show. The Niro hints at a ...[Read more...]
BOSCH ANNOUNCES NATIONWIDE DISTRIBUTION PARTNERSHIP WITH MYERS TIRE SUPPLY
◾National distributor to carry full line of Bosch Wheel Service products ◾Balancer Models WBE 4200 and WBE 4400 will be exclusive products available only from Myers Tire Supply Warren, MI., - Bosch Automotive Service Solutions today announced a nationwide distribution partnership with Myers Tire Supply to carry Bosch Wheel Service equipment. Bosch will offer a full line of wheel balancers, tire changers and brake lathes, through Myers' nationwide distribution network of more than 160 ...[Read more...]
Italian Racing Classics Lead Gooding & Company's 10th Anniversary
SANTA MONICA, Calif. (June 4, 2013) – Gooding & Company, the official auction house of the Pebble Beach Concours d'Elegance acclaimed for selling the world's most significant and valuable collector cars, will be hosting the 10th Anniversary sale of the Pebble Beach Auctions on August 17 and 18. This year Gooding & Company offers an early preview of some of the most highly sought after and rapidly amassing value collectible – the distinguished Italian race car. Auction highlights include a...[Read more...]
Lexus Celebrates The International Design Community With 'Design Matters' Event In New York City
Akio Toyoda hosts event showcasing commitment to design NEW YORK (April 19, 2013)—In its ongoing pursuit of innovation, Lexus is pushing the boundaries of technology, craftsmanship and design. This dedication to design was celebrated at an event hosted by global President Akio Toyoda in New York City. The event, called 'Design Matters,' showcased Lexus' commitment to design, both in its new products and in its global brand activities to an audience of established and aspiring me...[Read more...]
1982 Austrian Grand Prix: de Angelis Flying Through the Thin Air
It is almost impossible to predict events and just how momentous they just might be. This would certainly be the case with the 1982 Austrian Grand Prix, a truly special and memorable moment in Formula One history. Heading into the Austrian Grand Prix in 1982 Formula One was in a bit of trouble and desperately needed a lift. All throughout the paddock there were teams that needed some good news. And then there would be others that needed some good news in order to be able to weather a storm co...[Read more...]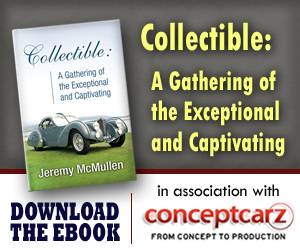 Porsche
Monthly Sales Figures
Volume
December 2014
3,275
December 2014
3,275
November 2014
4,699
October 2014
3,667
September 2014
3,607
August 2014
4,540
July 2014
4,300
June 2014
4,102
May 2014
4,609
April 2014
4,072
March 2014
3,808
February 2014
3,232
(More Details)
© 1998-2014. All rights reserved. The material may not be published, broadcast, rewritten, or redistributed.