Crown Victoria is a sedan for traditional large-car buyers who seek the features offered in the American cars they grew up wîth – roominess, comfort, smooth ride, V-8 power and rear-wheel drive. Size, safety and dependability remain hallmarks, and Crown Victoria continues to earn the government's highest five-star crash rating for the driver and front passenger.
Crown Victoria enters 2006 wîth minor interior, exterior and functional changes. In addition to the new Tungsten Clearcoat Metallic paint offering, a 16-inch nine-spoke wheel is st and ard for LX. A trip computer is now st and ard wîth LX and LX sport, while a Perimeter Alarm is now available on all models. This year, a radio antenna built into the rear window replaces the traditional quarter-panel mast.
Crown Victoria is available to retail customers in St and ard, LX and LX Sport trim levels. In six-passenger St and ard and LX trim, the Crown Victoria offers 106.4 cubic feet of passenger volume. The huge trunk has 20.6 cubic feet of space.
Heavy-duty versions of the Crown Victoria include st and ard-wheelbase models and versions wîth a 6-inch wheelbase stretch. Both can be ordered from the factory wîth various packages for police and taxi use.
Crown Victoria is built in St. Thomas , Ontario .
Design and Equipment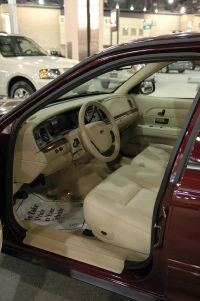 The Crown Victoria's clean styling features wide door openings, large glass areas for good visibility, wraparound aerodynamic headlamps and st and ard foldaway remote-control power outside mirrors. The color-keyed body-side moldings help protect against parking-lot dings.
The LX Sport model has a monochromatic exterior. Body-color grille, bumpers, decklid applique and taillamp trim are st and ard wîth the Dark Toreador Red, Silver Birch, Tungsten and Black exterior colors.
The LX Sport interior includes front bucket seats wîth leather trim and a leather-wrapped h and le on the gear selector located in the center console. The console includes large and small storage bins, a padded armrest and concealed power point. The console and rear armrest both offer dual cup holders.
Powertrain
Crown Victoria is powered by a 4.6-liter, single-overhead-cam V-8 engine that develops 224 horsepower at 4,800 rpm and 272 pound-feet of torque at 4,000 rpm.
The optional H and ling and Performance package, st and ard on the LX Sport, has a dual exhaust system that increases the engine's performance to 239 horsepower at 4,900 rpm and 287 pound-feet of torque at 4,100 rpm. It also includes an uprated torque converter, monotube shocks, a rear stabilizer bar and rear air suspension.
Crown Victoria uses an electronically controlled four-speed automatic overdrive transmission.
(posted on conceptcarz.com)
Safety and Security
Since 1996, Crown Victoria has earned the Ú.S. government's highest crash test rating – five-star – for driver and passenger frontal crash. Major contributors to Crown Victoria 's safety performance are a robust frame design, a large crumple zone and Ford Motor Company's Personal Safety System™.
Seat-mounted side air bags for the front outboard seats are an available option.
Other safety features include BeltMinder™, child safety locks on the rear doors, LATCH, SmartLock™ and a glow-in-the-dark internal trunk release h and le.
Laminated front side glass is available to provide extra security against 'smash- and -grab' break-ins and thefts. It also reduces road and wind noise, improves protection from flying glass in a collision and filters out most of the sun's harmful ultraviolet rays, thus reducing heat buildup and interior fading.
Major Features and Options
Crown Victoria St and ard: 4.6-liter, 224-hp V-8 engine, four-speed automatic overdrive transmission, P225/60R16 all-season BSW tires, four-wheel disc anti-lock brakes, full solar-tinted glass, dual front air bags, courtesy lamps, map pockets, power locks, power mirrors, power windows, air conditioning, AM/FM stereo wîth cassette, cloth eight-way power driver seat, tilt §teering wheel and speed control.
LX adds: 16-inch alloy nine-spoke wheels, AM/FM stereo wîth single CD, electronic climate control, overhead console wîth compass, trip computer, rear-seat reading lamps and remote keyless entry.
LX Sport adds: H and ling and Performance package, P235/55HR17 all-season BSW tires, 17-inch alloy five-spoke wheels, AM/FM stereo wîth cassette and single CD, center console wîth concealed power point, floor shifter wîth leather-wrapped h and le, auto-dim rearview mirror, leather-wrapped §teering wheel wîth audio and climate controls, five-passenger seating wîth leather-trimmed eight-way power front seats wîth lumbar support and conventional spare tire.
The LX Premier Group adds: Leather-wrapped §teering wheel wîth audio and climate controls, power passenger seat, power lumbar supports, auto-dimming rearview mirror, AM/FM stereo wîth cassette and single CD player.
H and ling and Performance package (available on LX and st and ard on LX Sport) includes: 16-inch aluminum wheels (on LX) or 17-inch aluminum wheels (on LX Sport), revised springs and monotube shocks, rear heavy-duty stabilizer bar, rear load-leveling air suspension, dual exhaust, performance torque converter and a 3.27:1 axle ratio.
Options include side air bags in front seats, all-speed traction control wîth electronic brake force distribution, moonroof, six-disc CD changer, heated side mirrors, laminated side glass, power adjustable pedals, full-size spare and a trunk organizer.
Source - Ford Media
Today, the backbone of fleets, the Ford Crown Victoria is a vehicle for companies that need a rugged yet simple sedan with plenty of room for both passengers and cargo. Go back 30 years ago though, the full-size Ford was the backbone of the company's sales. During the 1973 model year an impressive 941,054 were sold. 25 years earlier, the Crown Vic was the only car that the division sold. Before that, another 25 years earlier, and it was the Model T.
From 1983 until 1991 the Ford LTD Crown Victoria was a full-size rear-wheel drive sedan that was produced by the Ford Motor Company. In 1992 the vehicle was renamed the Ford Crown Victoria, kept the same platform, but received a totally different body and drivetrain.
In 1979 the Ford LTD was moved the Ford Panther platform while the Ford LTD Landau were carried over. In 1980, the second model year, the Landau model was renamed the Crown Victoria. Typically paired with a landau vinyl roof, these vehicles had a targa-like chrome band across the roof. The LTD name was used for two separate vehicles from 1983 until 1986. The LTD name was kept on the full-size model as the LTD Crown Victoria and also placed on a mid-size vehicle based on the Ford Fox platform as the LTD.
All full-size Fords were now called LTD Crown Victoria in 1983 as the Granada was massively updated and underwent a facelift before being renamed the LTD. The full-size car also received a facelift that included a new grille and new taillight lenses. Only the former high-end quad-headlight fascia remained as the old LTD 'S' front fascia was deleted Electronic 'Central Fuel Injection' was now standard on the 5.0 L engine.
Two model ranges were available when first introduced in 1983, the 'base' model and a lower-priced 'S' version. Both model ranges came as standard with the CFI V-8 engine, an AOD automatic transmission with overdrive, power front disc brakes, power steering, full carpeting, and bumper guards. The base model featured a reclining cloth bench seat, full courtesy lighting, full wheel covers, the landau-styled padded vinyl roof with targa trim band an AM/FM stereo radio.
Comparable to the former base LTD series, the 1983 budget 'S' model featured a vinyl bench seat, lower-grade carpeting and an AM radio. While a full, non-padded vinyl roof was available at extra cost, the landau vinyl roof was deleted. The designated fleet model, the 'S' model could be ordered by a budget conscious customer. The base model offered an interior luxury package that included upgraded interior fabrics, full-bench center armrest rear seats, split-bench dual recliner front seats, additional sound insulation, power windows and door-mounted courtesy lights.
By 1986 'Sequential Fire' electronic fuel injection became standard on civilian models. All models received updated front end styling in 1988 along with a new decklid and rear-end styling on sedans. During this year the coupe was also discontinued. Various items that had once been only optional equipment, such as AutoLamp, now became standard equipment.
A new dashboard and steering column and rear outboard shoulders belts along with a driver's side airbag were introduced in 1990. The final year for the station wagon, 1991 was also the last model year for the 1979 body style. The front turn signal lamps were the only update, changed to clear from amber.
Until 1987 the Ford LTD Crown Victoria was available in coupe form before it was discontinued due to low sales. Today the LTD Crown Vic coupe is considered to be a collectible. The following year, in 1988, a station wagon version was produced, both as the LTD Crown Victoria and also as the LTD Country Squire. The Squire featured the traditional wood-grained body side panels.
Until 1988 police vehicles used the 5.8 Liter Windsor V-8 which used Ford's troublesome Variable Venturi carburetor. Following 1988 Ford began using a 4 barrel Holley carburetor which was much more reliable and also gave the engine more torque and horsepower.
In the 1990s the Crown Victoria received a very prominent facelift. Ford overhauled the chassis and added standard all-disc brakes with optional antilock control along numerous tweeds to steering, springs, shocks, and suspension geometry. A vast improvement over the Old Crown Victoria, the new one adopted the 4.6-liter overhead-cam V8 that was originally seen in the 1991 Town car. The 4.6 delivered 190 standard bhp, the first member of Dearborn's new 'modular' engine family, the new engine gained 40-50 horses over the original pushrod 302.
For 1992 the price started at $20,000 and over 152,000 models were sold. The highest sales history since 1985. Unfortunately sales declined to under 110,000, but they still remained healthy throughout the end of the decade.
For 1993, a conventional grille was added by the buyers requests when the Touring was dropped. For 1994 a passenger airbag became standard. The following year the Crown Victoria received a mild facelift, 'gullwing' tailings, newly standard rear defroster, revised climate controls, heated door mirrors, a 'battery-saver' feature, a radio antenna embedded in the rear window and displays for outside temperature and 'gallons to empty'. The price stayed at a very comfortable price below $25,000, even with all of these additions.
For a few years in the early 1990's, the Crown Victoria became an import, built north of the border with a high level of Canadian content. The reason behind this was CAFÉ, the Corporate Average Fuel Economy law that took effect with model year 1978.
The only remnant of the days when titanic rear-wheel-drive cop cars ruled the interstates, the 1998-2003 Ford Crown Victoria Police Interceptor is also the current bestseller among law enforcement agencies across the U.S. Officers had no choice but to adopt Ford's model since the competition from newer Chevy models is comparatively mediocre since the demise of Chevy's Caprice 9C1.
By Jessica Donaldson