1964 Chevrolet Impala Series news, pictures, specifications, and information

Tweet
As lesser Chevrolet's were given dual taillights, the Impala had triple taillights. In 1958, Chevy introduced the Impala name as a deluxe trim and appearance package on the Bel Air hardtop and convertible. The following year it became a separate, top-of-the-line series. Chevrolet re-styled their mid-size Chevelle for 1964, but the full-size Chevy remained the sales leader with 1.6 million sold. The larger Chevy's received minor changes with an update on the new-for-1963 body shell, giving it a more rounded look with a flatter grille and redesigned rear panel.

The SS, representing Super Sport, was considered a separate series for the first time rather than an Impala option package. The SS trim included tri-bar wheel covers, rear cove molding, instrument panel and console, SS badges on the exterior and engine-tuned trim on the side moldings.

For 1964, Chevrolet produced nearly 890,000 Impalas, with approximately 185,000 wearing SS badges, and 81,897 were convertibles.

This maroon Impala Super Sport with black vinyl interior is powered by a small-block 327/365-horsepower V8 engine mated to a four-speed manual transmission. It has power steering, AM-FM radio, dash-mounted tachometer, and bucket seats with floor console.

In 2010, this Impala SS was offered for sale at the Vintage Motor Cars of Meadow Brook event presented by RM Auctions. The car was estimated to sell for $30,000 - $50,000. As bidding came to a close, the car had been sold for the sum of $27,500 including buyer's premium.
By Daniel Vaughan | Aug 2010
The 1964 Chevrolet Impala came in two flavors, the base and the Super Sport. The base model came in six bodystyles including a convertible, sedan, hardtop sport sedan, hardtop sport coupe, and two station wagons. The Super Sport was either a convertible or a hardtop sport coupe.

The Impala had most of the features found on the lower-priced Chevy's, plus foam cushion seats, aluminum front seat end panels, electric clock, nameplate molding, parking brake warning light, Impala center emblem on steering wheel, chrome-backed rearview mirror, dual dome lights, paddle-type armrests in front and rear, and an automatic luggage compartment light. They also had interior garnish moldings around the rear window and upper side window. The inside featured cloth and leather grain vinyl with bright-accented all-vinyl door panels. There was Impala lettering and emblem on the rear fenders and bright belt moldings.

Powering the Impala was an overhead valve six-cylinder engine that produced 120 horsepower. A 283 cubic-inch V8 offered nearly 200 horsepower. A 327 and 409 was also available with horsepower ranging from 250 to 425 horsepower.

The Super Sport (SS) model was - as the name implies - a sporty model. They had leather grained vinyl upholster with individual buck seats in the front and a locking compartment in a center console. Exterior features included a wider upper body molding, Impala lettering and SS badge on the rear fenders, and another badge on the deck lid. Full wheel covers of specific Super Sport design was another SS distinction.

For 1964, Chevrolet produced roughly 185,325 Impala Super Sport models. Around 73,600 six-cylinder Impalas were built and 616,000 were Impala V8s.
By Daniel Vaughan | Feb 2012
For more information and related vehicles, click
here
1931 Cadillac 452A Takes Pinehurst Concours d'Elegance Best In Show
VILLAGE OF PINEHURST, N.C. (May 4, 2014) – A striking midnight blue 1931 Cadillac 452A owned by 90-year-old Charles Gillet of Lutherville, Md., was awarded the Best in Show at the 2014 Pinehurst Concours d'Elegance at Pinehurst Resort on Sunday. The car, equipped with a V-16 engine and purchased in 1986 by Gillet and then restored by Pruiett Automotive Restoration, emerged from 119 vintage cars and a strong Class 4 Grand Classics (1925-1948) field to capture the top prize at the second...[Read more...]
LE MANS GREATS HEAD STUNNING ROSTER OF ADDITIONAL ENTRIES FOR RM'S 2014 PARIS SALE DURING RETROMOBILE WEEK
• Anticipation builds ahead of RM's €25 million debut Paris sale on 5 February 2014 • More Le Mans greats join stunning competition car line-up at saleLatest highlights include a 1982 Rondeau M482 Le Mans GTP, a veteran of five Le Mans 24 hours races, and a mighty 2008 Peugeot 908 HDi FAP Le Mans Prototype, which finished 2nd at Le Mans, was driven by Jacques Villeneuve, and has been entrusted to be sold by RM by the Peugeot factory • Other recently secured entries include a Bugatti Type 40 Ro...[Read more...]
TOO MUCH INFORMATION? NOT FROM CORVETTE STINGRAY
• 69 unique sources covered in three advanced cluster display modes
DETROIT – The advanced cluster display in the 2014 Corvette Stingray can provide up to 69 unique sources of information, ranging from an interactive performance timer to a tire tread temperature display. The crisp and bright display features make this information easily accessible via three configurable modes that prioritize information for daily commuting, weekend canyon carving and track events. Flanked by three ...[Read more...]
Brass Era, Corvettes Highlight First Four Classes Of Pinehurst Concours
VILLAGE OF PINEHURST, N.C. (April 24, 2013) – How often do you get an opportunity to see autos more than 100 years old restored to pristine condition, or a series of vintage Corvettes battling it out for 'Best in Class' to celebrate the 60th anniversary of an American sports car classic? It will all unfold for car enthusiasts the weekend of May 3-5 on the emerald green fairways of historic Pinehurst Resort as the inaugural Pinehurst Concours d'Elegance begins a new tradition in a state...[Read more...]
John Staluppi's 'Cars of Dreams' Collection Joins RM's Record 2012 Calendar
• RM Auctions presents the renowned John Staluppi 'Cars of Dreams' Collection, December 1, in West Palm Beach, Florida • Amassed over the past decade, the well-known private museum features a superb collection of nearly 120 automobiles and a diverse selection of memorabilia, from a carousel to a complete drive-in theater, all to be offered without reserve • Sale continues RM Auctions' reputation as the specialist for private and estate collection sales Fresh on the heels of its highly succe...[Read more...]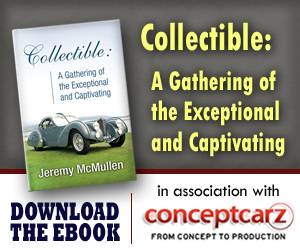 Similarly Priced Vehicles from 1964
Chevrolet Corvair Series ($2,020-$2,800)
Dodge Polara ($2,610-$2,980)
Pontiac Tempest ($2,850-$3,080)
Studebaker Eight ($2,071-$2,960)
Triumph TR4 ($2,850-$3,000)
Morgan Plus Four ($2,960-$3,350)
Plymouth Sport Fury ($2,865-$3,100)

Average Auction Sale: $26,659
Chevrolet
Monthly Sales Figures
Volume
June 2014
188,567
May 2014
205,010
April 2014
181,648
March 2014
179,681
February 2014
153,913
January 2014
119,089
December 2013
153,493
November 2013
145,089
October 2013
155,214
September 2013
127,785
August 2013
187,740
July 2013
162,670
(More Details)
© 1998-2014. All rights reserved. The material may not be published, broadcast, rewritten, or redistributed.