1959 Porsche 718 RSK news, pictures, specifications, and information

Tweet
It is rare to find, or even think of, a more evocative spyder design than that which would be produced by Porsche in the late 1950s. Many would consider the 356 and 550 striking, compact spyder designs. However, the 718, which would come online mid-way through the 1957 season, would be all the more arresting and modern. But the Type 718 wouldn't just look the part. It would more than aptly carry on Porsche's dominance and would greatly influence sports car racing for years to come.

The design of the new car would be just the beginning. Revised suspension would give the new car even greater handling. On top of all this, the car was also much lighter than its predecessor. Therefore, even though it used the same 1.5-liter four-cylinder boxer engine that had been used on the 550, the overall performance of the 718 RSK would be greatly increased. The result would be that the RSK would continue Porsche's class dominance by either winning or ending up on the podium at Sebring, the Targa Florio and Le Mans in 1958. One year later, at the Targa Florio, RSKs would finish one-two-three.


Chassis 718-023 would be completed in March of 1959 by Porsche's racing department. Originally built to the specifications of a 1500 RSK, the car would receive an improved engine, the very same one it retains to this very day.

When completed, 718-023 would end up the property of Miami racer, Roy Schechter. Schechter had been racing Porsches for about a year before he would put up $8,000 for the 718. Receiving the car in September of 1959, Roy would head to Cuba for the 4 Hours of Alamar, an SCCA-sanctioned race held not far from Fidel Castro's home.

Slowed by the rainy conditions and clutch issues, Schechter would finish that first race in 4th place. This would be followed by a 3rd at Napier Field in Dothan, Alabama. Then, some time later, Schechter would head to the Bahamas for what was known as the Nassau Speed Week. Battling against strong competition in the Governor's Trophy race, Roy would finish the main event in 5th place, a rather impressive result against NART Ferraris, Lotus and other RSKs.

Following a 3rd place result in the Riverside Grand Prix in April of 1960, Schechter would retire the car and would actually place an add for the car in Road & Track. Tom Beil of Pennsylvania would buy the Porsche and then would become part of Dr. William Jackson's collection in the late-1960s. Dr. Jackson's Porsche collection would be impressive and extensive, and this fact spoke volumes as to the value he placed on 718-023.

In 1999, after a long spell with Dr. Jackson, Heritage Classics of West Hollywood would purchase the 718-023 along with a number of other cars from his collection. Soon after, E. Kent Rawson, a collector from Florida, would come to own the car. Once again, the Porsche would join a collection filled with remarkable road cars and those created for the track.

The Porsche would undergo a full, concours-detail, restoration. Then, in 2006, the car would be sold again. This time the owner would be Peter Wirichs, another Porsche collector from Germany. Two years later, Jurgen Barth would produce a detailed report of the car's racing history and lineage. Jurgen Barth, the son of former racing driver Edgar Barth, is not only a former racing driver, but also, an authority on Porsche history. Therefore, such documents only add to the story of 023. Because of its history and condition, a prominent collector would become the car's next owner in 2013.

The car's new owner would commission Paul Russell and Company to ensure the Porsche was in full mechanical condition. However, because of its limited racing life and the great care it received over the course of its life, 023 remains a fine example of the 718 RSK.

Though some 55 years on now, the Porsche 718 RSK remains a remarkably modern design and a certain timepiece for the future. And, 718-023 remains one of its most outstanding ambassadors.

Sources:
'1959 Porsche 718 RSK News, Pictures, Specfications and Information', (http://www.conceptcarz.com/vehicle/z9973/Porsche-718-RSK.aspx). Conceptcarz.com: From Concept to Production. http://www.conceptcarz.com/vehicle/z9973/Porsche-718-RSK.aspx. Retrieved 18 February 2014.

'1960 Porsche 718/RS60 News, Pictures, Specifications and Information', (http://www.conceptcarz.com/vehicle/z9972/Porsche-718/RS60.aspx). Conceptcarz.com: From Concept to Production. http://www.conceptcarz.com/vehicle/z9972/Porsche-718/RS60.aspx. Retrieved 18 February 2014.

'1959/60 Porsche 718 RS 60 Spyder', (http://www.porsche.com/uk/motorsportandevents/motorsport/philosophy/history/racingcars/1959-718rs60/). Porsche. http://www.porsche.com/uk/motorsportandevents/motorsport/philosophy/history/racingcars/1959-718rs60/. Retrieved 18 February 2014.

'1959 Porsche 718 RSK', (http://www.goodingco.com/vehicle/1959-porsche-718-rsk-2/#tab2). Gooding & Company. http://www.goodingco.com/vehicle/1959-porsche-718-rsk-2/#tab2. Retrieved 18 February 2014.

Wikipedia contributors, 'Porsche 718', Wikipedia, The Free Encyclopedia, 23 December 2013, 20:14 UTC, http://en.wikipedia.org/w/index.php?title=Porsche_718&oldid=587418975 accessed 18 February 2014
By Jeremy McMullen
This rare Porsche represents one of only six RSK center-seat racing cars ever built. Based on input from factory race car drivers, Porsche made a decision to develop the RSK to compete in both Sports Car and Formula Two racing. To accomplish this, these special RSKs have unique features, and can be quickly converted to a center seat from a two-seat, left-hand drive configuration. 718-030 was delivered to Jean Behra in 1959 for his racing team. Colin Davis drove the car at Reims, followed by Gerard Laurea at Rouen. In late July, Jean Behra drove this car at the Trophees d'Auvergne Sport, finishing second. In 1960, the car was raced at the Grand Prix at Francochamps and entered the Targa Florio and the Avus in 1961. In 1961, Riolo raced the car at the Targa Florio. The car was on display at the Collier Museum in Naples, Florida, from 1981 through 1999.
718.007 was one of the two factory-built center-seat cars. It raced at Spa, the Targa, Nurburgring, Le Mans, Rheims, and Goodwood in 1959. The Type 718 RSK first appeared in 1957 as an extension of the 550. It featured the same form and wheelbase as the 550A but with a lower body.
1959 Porsche RSK Spyder
The RSK, was an updated version of Porsche's first true racecar, the 550A, which had repeatedly won its class at LeMans. While the RSK still used the 550's 1.5-liter engine from the 550A. It employed a revised suspension, which lowered the car's aerodynamic profile. For 1959, engineers replaced the car's swing axles with upper and lower wishbones. This led to Porsche's continuing its class wins at LeMans, as well as the Targa Florio. The current owner has owned the car for 38 years, and has enjoyed it in vintage racing since 1985.
One of the rarest of all racing Porsche cars, this center seat Porsche RSK is one of only SIX known to have been built. This purpose built sports racing car won many races in Europe, and were the predecessor to the venerable RS60, that was the scourge of early sports car racing in this country. Among the earliest racers in this type of car in this country were Roger Penske, Bob Holbert, Jack McAfee and Phil Hill, as well as many more.

The unique feature of this RSK is its convertibility from single seat, center steering car, to a two seat left hand drive sports car, in approximately one hour. Porsche used these cars for both Formula Two and Sports Car races, by moving the seat and steering wheel from the left side to the center.

This car has become one of the most highly visible in American vintage car racing, consistently being a fixture on the front of grids from Laguna Seca in California to Watkins Glen, New York.

This car was purchased in Dayton, Ohio by Rick Grant after over 20 years of trying....the car had been stored in a north Dayton garage the entire time! Campaigned by Grant Motorsports and driven by Daytonian John Higgins.
By Daniel Vaughan | Oct 2006
In 1957, Formula Two was reinstated as the Junior Formula to Formula One. The rules called for unsupercharged 1500cc engines with full envelope or open-wheeled cars eligible. Porsche achieved success with both G50s and RSKs. In 1959, at the request of several customers, Porsche built rear RSKs that could be switched from left-hand drive to center-steer.

RSK number 718-028 was built in April 1959 and sold to Kurt Christian Goethals in Belgium. RSK number 028 was successfully raced by Goethals for one season and then returned to Porsche to be fitted with a 1600cc engine.

The car remained at the Porsche factory, unraced, until it was sold to a U.S. buyer in 1974. The car was raced briefly, resold, and stored until the current owner purchased it in 1990. RSK #028 was restored in the single seat configuration and has been actively vintage raced since 1992.
The Porsche 718 was raced by Porsche between 1957 and 1962. It was a development of the successful 550A with improvements to the bodywork and suspension. It earned the nickname 'RSK' due to its front frame resembling the letter K. It was initially a two-seater 1.5-liter sports car that was later adapted to compete in a number of different formulas. Due to regulation changes throughout the years, the car was updated and changed to comply with the new rules.

In 1957, Formula Two was reinstated as the Junior Formula to Formula One. The rules called for un-supercharged 1500cc engines with full envelope or open-wheeled cars eligible. Porsche achieved success with both G50s and RSKs. In 1959, at the request of several customers, Porsche built rear RSKs that could be switched from left-hand drive to center-steer.

The car had a mid-engine design and was powered by the Type 547/3 1.5-liter quad-cam engine developing 142 horsepower which was first introduced in the 550A. The 570 kg vehicle had a five-speed manual gearbox and a space-frame chassis.

The racing debut for the Porsche 718 was in 1957 at the 24 Hours of LeMans where it was piloted by Umberto Maglioli and Edgar Barth. Unfortunately, the car failed to finish the race due to an accident. It returned to LeMan a year later where it finished third overall and first in class. At the Targa Florio, jean Behra finished second and a year later, it was the overall winner at the race. A 718 also won the European Hill Climb Championship in 1958 and 1959.
By Daniel Vaughan | May 2011
Gooding & Company Amelia Island Auction Preview
Gooding & Company, the auction house acclaimed for selling the world's most significant and valuable collector cars, will hold its annual Amelia Island Auction on Friday, March 7 on the Omni Amelia Island Plantation. David Gooding, President and founder: 'Originality was the driving force behind our Amelia Island Auction. As always, our specialists have a keen eye for effective preservation of blue chip category cars. Many of the outstanding examples we selected for this sale are excellent ...[Read more...]
VIC ELFORD RECEIVES RRDC'S 2015 PHIL HILL AWARD
DAYTONA BEACH, Fla. (Jan. 22, 2015) - Vic Elford, considered one of the fastest race-car drivers of the Sixties and Seventies, was honored by the Road Racing Drivers Club with the 2015 Phil Hill Award. RRDC president Bobby Rahal made the presentation at a dinner prior to the running of the Rolex 24 At Daytona, the season opener of the 2015 TUDOR United SportsCar Championship. The Phil Hill Award has been presented annually since 1993 to the person who the RRDC feels has rendered outsta...[Read more...]
High Efficiency Motors: 1958 Formula One Season
C.T. 'Tommy' Atkins would start out his career as a motorcycle racer riding Douglas motorcycles in the early 1930s. By the time the mid-to-late '50s rolled around, Atkins had moved on from racing, but not very far. Perhaps feeling a need to support up-and-coming drivers, Atkins would turn to providing rides, but in single-seater grand prix cars. Prior to the Second World War, Atkins would be in search of speed records on a motorcycle. Riding motorcycles, Atkins knew very well their ability t...[Read more...]
1959 German Grand Prix: Briton-Italian Dominance Amidst the Darkness
In the pages of Formula One history, the weekend of the 1959 German Grand Prix is usually remembered for a couple of incidents. One of those would see a providential escape. The other, unfortunately, would end in tragedy. Most unfortunate is the fact these two events, though very considerable in the annals of motor racing history, would largely overshadow what would end up being one of the most dominant performances by a Briton in an Italian car. Tony Brooks had proven himself, his talent, wi...[Read more...]
1964 Nurburgring 1000 Kilometers: Survive for One Last Victory
During the late 1950s, Richie Ginther would begin a relationship with John von Neumann and this partnership would result in one of the most dominant periods of American sportscar racing in which Ginther and Porsche would be virtually unbeatable. Nearly a decade later, that same combination would again join forces to provide one more moment of glory. By the mid-1950s Porsche had developed its 550. This was a small car more than capable of dominating its class and consistently able to challenge...[Read more...]
1954 24 Hours of Le Mans: A French Bull Runs to Victory at Le Mans
Everything needs to be right amongst drivers competing for victory in the 24 Hours of Le Mans. Not only do they need to share the car over the course of a whole day but their driving styles must compliment each other. In the case of the 1954 24 Hours of Le Mans there would be no better pairing than a calm, steady Frenchman and a wild Pampas bull from Argentina. Prior to the 22nd running of the 24 Hours of Le Mans, Maurice Trintignant had already achieved a career driving a vast number of diff...[Read more...]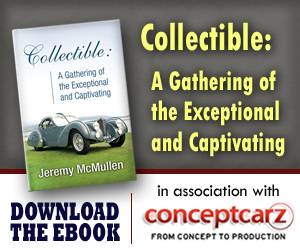 Porsche
Monthly Sales Figures
Volume
December 2014
3,275
December 2014
3,275
November 2014
4,699
October 2014
3,667
September 2014
3,607
August 2014
4,540
July 2014
4,300
June 2014
4,102
May 2014
4,609
April 2014
4,072
March 2014
3,808
February 2014
3,232
(More Details)
© 1998-2014. All rights reserved. The material may not be published, broadcast, rewritten, or redistributed.