1947 Ferrari 166 Spyder Corsa news, pictures, specifications, and information

Tweet
The images shown are of a Ferrari 166 Spyder Corsa, chassis number 004C, only the second Corsa to be constructed. More importantly, it is believed to be the fourth Ferrari ever created. Out of the eight remaining Spyder Corsas that have survived to this date, chassis numbers 004C and 016I are still clothed in their original bodies. Meaning, they have been properly and painstakingly preserved rather then undergoing any restoration. The creation of the engine is believed to have begun in 1946. Since it has retained its original chassis and body, many Historians refer to 004C as the oldest complete Ferrari still in existence.

In the early parts of its life, until the mid 1950's, it was actively campaigned at many sporting events. In modern times it is shown at various shows and events.

The legacy of Ferrari begins with its owner, Enzo Ferrari, a highly competitive individual that began racing in the early 1920s. Near the close of the 1920's he formed his own racing team, 'Scuderia Ferrari'. He had grown in success by assembling some of the greatest engineers and drivers available. Vittorio Jano, an engineering genius, joined Alfa Romeo in 1923 and immediately began a design program which would ultimately lead to the P2 Grand Prix cars. He was also responsible for the use of twin-cam engines in two series of the 6C cars. Vittorio Jano's 1929 6C 1750 had been a mechanical jewel with an enviable sporting record, dominating Sport Category racing until 1931. Then later, to maintain the firm's superiority, an eight-cylinder version of the same car, the 8C 2300 appeared. Tazio Nuvolari, one of the drivers for Scuderia Ferrari, captured many historic victories and propelled the cars he drove into the history books.

In 1937 Enzo Ferrari decided to break his ties with Alfa Romeo and begin his own independent racing program. Since the relationship with Enzo Ferrari and Alfa Romeo were so closely knit, there were still contracts in place. To ensure that no issues would arise, such as stealing customers or using trade secrets, Enzo agreed not to create vehicles under his own name for a period of four years. He formed a company named Auto Avio Construzioni that created vehicles, only two were ever built, using Fiat components and costumed bodied by coachbuilders. The onset of World War II slowed, and ultimately halted, production of automobiles. Instead, the factories and workers focused on creating military items to support the war efforts.

After the war there was still high demand for the items Enzo had been creating during the war. His passion was with racing, and soon a new car was under construction. He began by employing Gioachino Colombo, an individual that would aid in the success of the Ferrari Empire. Colombo began by designing a chassis and drivetrain. The result was a tubular frame with a 12-cylinder 'Vee' type engine. This was not 'ground breaking' but it was a proven design, having been used by Alfa Romeo in the past. The engine design would prove its worth and versatility by lasting until the mid 1960's, powering many road and track vehicles. Enzo had requested that a five-speed manual transaxle be matted to the 1.5-liter engine, a feature that would give his cars an advantage. A supercharger was added to comply with the Grand Prix regulations.

Alfa Romeo saw the genius within Colombo and were able to steal him away from Ferrari. Enzo Ferrari was left with little; he had designs for the engine and chassis but no one to construct them. Aurelio Lampredi joined Ferrari in October of 1946 and began work on creating the engines. The chassis development was sent to Gilco, a company that could perform the work.

By the close of 1946 Ferrari was advertising the sale of his 125, a name created from the unitary displacement of the 1.5 liter engine. By early 1947, the first car was assembled. Within a short period of time, they were being raced.

The racing program fueled the development of even better racing cars. The bore and stroke of the V12 was enlarged to 1908 cc's, and the vehicles that housed these engines were named 159, in accordance with the Ferrari naming standard. Colombo returned to Ferrari and began modifying the 159 resulting in even more power and better performance.

The bore and stroke were enlarged even further resulting in the 166. The first 166 Spyder Corsa sold was actually a 159 that had been raced at the Turin Grand Prix where it had emerged victorious. It was sold at the close of 1947. The following year another seven cars were created. A short time thereafter, a 166 MM won the grueling and prestigious 24 Hours of LeMans. This victory proved the engines endurance and the capabilities of the Ferrari built automobiles.

In a time when advertising of vehicles was rarely done; rather, the success of the manufacturer relied on the outcome of their racing programs. Ferrari, to this day, has proved to be one of the greatest manufacturers of super-cars to this day. His competitive nature and desire to prove his machines have forever cemented his place in history. Chassis 004C is one of the oldest and purest examples to have survived. Enclosed under that long and flowing bonnet is a Colombo designed engine. The entire body is a time capsule that has been delicately preserved and now graciously shown at events for the public to admire.
By Daniel Vaughan | Feb 2006
The 166 Spyder Corsa was the first series of models offered by the newly formed Ferrari marque in 1947. Only eight were built, numbered 002C, 004C, 006C, 008C and the 010I through 016I. The first cars sold to customers were 002C and 004C, which were sold to the Besana brothers, Gabriele and Soave, near the close of 1947.

Chassis 006C, 010I, 0121 and 016I rested on a wheelbase that measured 95 inches. In 1948 two Spyder Corsas were built with a shorter, 88-inch wheelbase and with the frame tubes slung under the rear axle, as opposed to being over the rear axle. It is believed that these two chassis were 008I and 014I.

This new chassis design was used in the 166MM Touring Barchetta that appeared in the fall of 1948 at the Turin Auto Show. These cars would go on to win the Mille Miglia, Le Mans the Spa 24 Hours in 1949.
By Daniel Vaughan | Apr 2008
It was in 1948 when the newly formed Italian automobile company named Ferrari began selling a promising sports car named the 166. The two seater sports car featured a 12-cylinder engine mounted in the front and supplying over 100 horsepower to the rear wheels. The engine was just under two-liters in size and had a unitary displacement of 166 cc, thus, the evolution of the model name. Production would last until 1953 with only 38 examples being produced. Even though production was low, its accomplishments are large, with wins at LeMans, Mille Miglia, and the Targa Florio.

The 166 was a continuation of the 125, introduced a year earlier. The 125's size of 1497 cc was later enlarged to 1902cc, bringing about the Tipo 159. In 1948, it was enlarged to 1995 cc and became the 166.

As was customary at the time, a rolling chassis was supplied to custom coachbuilders to outfit the vehicles according to customer specifications and their intended purposes. The 166 MM was named after its historic victories at the Mille Miglia. The 166 MM versions were given even chassis numbers and built with racing intentions. The 166 Inter, named after victories at the Coppa Intereuropa at Monza, were given odd chassis numbers and became Ferrari's first road car.

The 166 Inter road cars featured a 2 liter, 12-cylinder Colombo engine producing about 115 horsepower. The engines were mounted longitudinally and given one Weber 32 DCF Carburetor. A five-speed manual gearbox provided power to the rear wheels while drum brakes provided the stopping power. Top speed was achieved at just over 105 mph. Zero-to-sixty took about ten seconds. The tubular frame was given a live-rear axle and a front wishbone suspension. When production began, Carrozzeria Touring was the primary coachbuilder, outfitting the cars in both Berlinetta and Coupe bodies. Later, other coachbuilders such as Pinin Farina, Ghia, Vignale, and others, produced bodies for the 166 Inter.

The phenomenal accomplishments achieved on the race track did much to stir enthusiasm for the cars. To generate even more publicity, in November of 1948, Ferrari displayed examples of his 166 MM and 166 Inter Coupe at the Turin Motor Show. Other shows included the Paris salon in October of 1950 and the Geneva Salons in March of 1951.

With just 38 examples created, the 166 Inter was replaced in 1950 by the 195 Inter. The 195 Inter came into existence by the enlargement of the engine to 2.3 liters. A year later the engine was enlarged to 212 cc and the name changed to 212 Inter. In 1952, after 142 examples were created, production ceased.

166 MM

The 166 MM was a competition version of the 166 Inter. It featured the same 12-cylinder engine, but modified to produce 135 horsepower. The suspension and chassis were similar to the 166 Inter. The bodies were lightweight, small, and built to endure the grueling requirements that racing requires. Initially, Ferrari intended the 166 MM to be a customer racing car. After a number of 166 MM models captured a large number of class and overall victories against stiff competition such as Maserati, Cistiralia, and Alfa Romeo, Ferrari commissioned the creation of the 166 MM as factory works cars.

Touring of Italy was commissioned to provide the coachwork for most of the 166 MM, and many were given Barchetta bodies. The name 'Barchetta' came about because of the size and design of the car. Barchetta in Italian means little boat.

Clemente Biondetti and Giuseppe Navone drove a 166 MM to overall victory at the Mille Miglia in 1948. A year later, Biondetti and Ettore Salani captured the victory at Mille Miglia in a 166 MM. Giannino Marzotto and Marco Crosara capture victory at Mille Miglia in 1950, driving a 166 chassis with a bigger 195 engine. In 1949 a Ferrari 166 MM, entered by Lord Selsdon and mostly driven by Luigi Chinetti, captured overall victory at Le Mans.

The 166 MM's were a powerful, reliable and competitive automobile. Their historic accomplishments are legendary and their designs are elegant, beautiful and breathtaking. VIN #002C, a 166 Spyder Corsa, is the oldest Ferrari car still in existence.
By Daniel Vaughan | Feb 2007
For more information and related vehicles, click
here
The Trident is Raised
One of Italy's most famous marks, and perhaps most troubled, the trident-bearing automaker continues to provoke passion through its search of excellence. Five brothers would come together in December of 1914 to found a motor company bearing their name—Maserati. Alfieri, Bindo, Carlo, Ettore and Ernesto had all demonstrated a passion for automobiles, particularly racing, during those early years at the turn of the 20th century. The foundations of the company would actually begin ...[Read more...]
1982 German Grand Prix: Unfortunate Fortuity and Great Loss
On the podium at Imola in late-April of 1982, the look on Gilles Villeneuve's face would speak volumes. Then there would be the tragic events at Zolder just a couple of weeks later. But while many would want to point fingers at Villeneuve's teammate, the sad fact of the matter is that Didier Pironi and Gilles would compliment each other in so many ways that it would be inevitable there would be friction, perhaps even a collision. In fact, they were so connected, so complimentary of each other, t...[Read more...]
Gooding & Company Amelia Island Auction Preview
Gooding & Company, the auction house acclaimed for selling the world's most significant and valuable collector cars, will hold its annual Amelia Island Auction on Friday, March 7 on the Omni Amelia Island Plantation. David Gooding, President and founder: 'Originality was the driving force behind our Amelia Island Auction. As always, our specialists have a keen eye for effective preservation of blue chip category cars. Many of the outstanding examples we selected for this sale are excellent ...[Read more...]
Talk on racing legend Nuvolari set for Nov. 2 at IMRRC
WATKINS GLEN, N.Y. (Oct. 18, 2013) - Legendary Italian racer Tazio Nuvolari will be the subject of a Center Conversations talk on Saturday, Nov. 2, at the International Motor Racing Research Center in Watkins Glen, N.Y. Long fascinated with Nuvolari, Joe Tierno of Honeoye Falls, N.Y., will highlight his free talk, 'Tazio Nuvolari: His Life and Times,' with photographs and film to illustrate Nuvolari's career and the world in which he became a champion. The talk begins at 1 p.m. ...[Read more...]
Historic Jaguar D-Type Leads Growing List of Significant Entries for RM's Monterey Sale
• RM Auctions building towards a spectacular roster of cars for its flagship Monterey sale held during the famous Pebble Beach Concours d'Elegance motoring week, August 16–17, in California • Historic 1955 Jaguar D-Type leads a superb roster of the world's finest sports and racing cars poised for the RM podium • Additional star lots include a 1955 Ferrari 750 Monza Scaglietti Spider, a 1950 Ferrari 166 Touring Barchetta, a 1961 Ferrari 400 Superamerica SWB Coupe Aerodinamico and a 1953 Masera...[Read more...]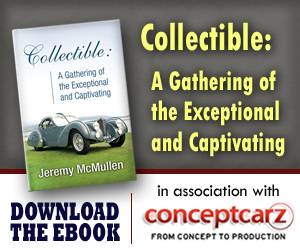 © 1998-2014. All rights reserved. The material may not be published, broadcast, rewritten, or redistributed.